10. F1's first hybrid win (2009)
Amid the hoopla about McLaren going from backmarkers to winners in just half a season, it attracted little attention that Lewis Hamilton's winning machine was equipped with KERS. It was the first time that a car carrying hybrid technology had won a grand prix. While not a sensational moment in itself, it might just be a seminal one in F1's long-term quest for green credentials.
9. Massa's move on Hamilton (2008)
As the 2008 season went on, Felipe Massa won over an increasing number of doubters with his title-challenging performances. Those who questioned his overtaking ability were left in no doubt that he had the racing spirit after the 2008 race.
From third on the grid, the Brazilian made a flying getaway and had a run on pole position starter Lewis Hamilton. The McLaren man defended the inside and Massa braked as hard as he dared on the outside line. He locked up and ran wide, but emerged from the right-hander with a lead and a winning position... had his engine not failed in the dying laps.
8. Alonso makes his mark (2003)
The Spaniard became the then-youngest driver to win a world championship grand prix with a dominant victory from pole position for Renault. "It's a dream come true," said Alonso after the race. "I am 22 years old and I have my first victory. I hope I have a long career with lots more victories."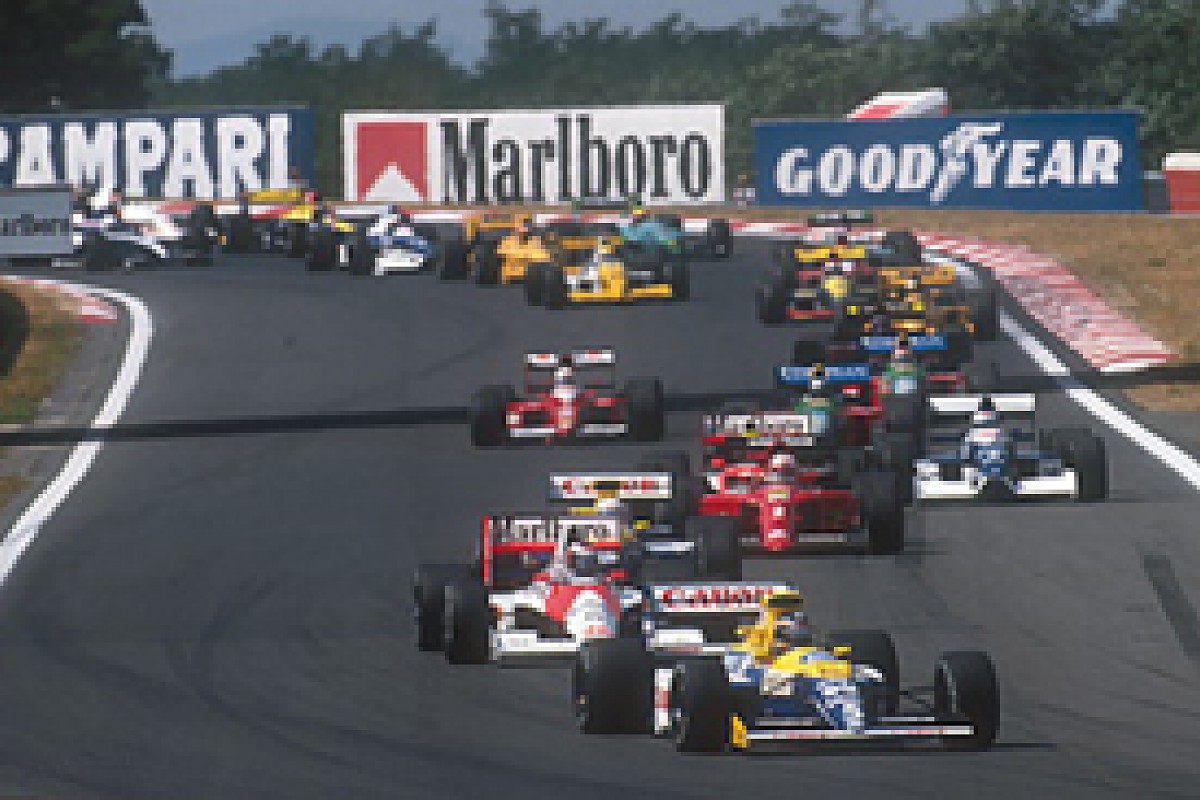 Boutsen leading the field in 1990 © LAT
7. Thierry Boutsen: Immovable object (1990)
Williams flew in qualifying for the Hungarian Grand Prix, locking out the front row. But with the pair's race pace unlikely to be good enough to win, Belgian pole-sitter Thierry Boutsen opted to do the whole race on one set of Goodyear tyres, holding McLaren's Gerhard Berger at bay at the start and leading to the finish.
It wasn't easy, though, and Boutsen had to resist intense pressure from the other McLaren of Ayrton Senna in the closing laps to take his third and final grand prix win.
6. Hill passes Schumacher (1997)
Reigning world champion Damon Hill had endured a dismal season in the Arrows-Yamaha before qualifying third for the 1997 Hungarian Grand Prix. Aided by Bridgestone tyres well-suited to the track, among other factors, Hill dived up the inside of Michael Schumacher's Ferrari to lead on lap 11. And there he stayed until a throttle-related problem allowed Williams driver Jacques Villeneuve to take victory on the last lap.
5. "19 laps, 20 seconds, okay." (1998)
The 1998 Hungarian Grand Prix was surely going to produce a McLaren victory, until Ross Brawn switched Michael Schumacher to a three-stop strategy. When told he had 19 laps to pull 20 at least seconds on David Coulthard, Schuey apparently responded "okay" then proceeded to do just that. A famous win, which kept his title chances alive, was the result.
4. Button breaks his duck (2006)
After years of waiting, many had given up on the prospect of Jenson Button ever winning a grand prix. Despite a 10-place grid penalty, fortune finally gave him the opportunity he craved in 2006.
From 14th on the grid, he climbed to second by staying out during a safety car period, a position he later retained despite making a fuel stop. When Alonso lost his right-rear wheel after pitting for dry-weather tyres, victory was Button's at the 113th attempt.
3. Alonso v Hamilton... in the pits (2007)
McLaren's campaign started unravelling at the seams after Alonso blocked Hamilton in the pit box, preventing his young team-mate from logging a final flying lap. The stewards were unimpressed, penalising pole position man Alonso with a five-place penalty, handing Hamilton a clear run to victory.
2. Mansell's charge from 12th (1989)
It's rare that anyone wins a grand prix from outside the top 10, let alone at such a tight track, but Nigel Mansell showed why the tifosi dubbed him Il Leone with his improbably victory in 1989.
The defining moment came on lap 58, and again it was Senna who was on the receiving end. Emerging from Turn 3, the McLaren driver encountered Stefan Johnasson's plodding Onyx and had to check up, allowing Mansell to jink to the right of both of them and take a decisive lead.
1. Piquet's pass on Senna (1986)
So you can't overtake at the Hungaroring? Nelson Piquet might have something to say about that after passing Ayrton Senna's Lotus to win Hungary's first world championship race. On lap 55, Piquet chucked his Williams up the inside of Senna into Turn 1, only to lock up and run wide.
Two laps later, Senna wasn't willing to leave the door open again and Piquet decided to go the long way around. An impossible move, surely? Not if you're Piquet, who went to the outside, braked too late, turned in ahead of the Lotus and gathered up a huge slide to take the lead. It was stunning.