Whichever way you look at it, the German GP is going to be a huge weekend for Mercedes. There was no home race for the marque in 1955, so in fact this is the first time since Juan Manuel Fangio won at the Nurburgring in 1954 that a full-on Silver Arrows team has competed in a grand prix in Germany.
More so than the 'Ring, Hockenheim is home turf for Mercedes. The company used it as a test track in the thirties, and Stuttgart is not far away. The management - the guys who signed off on the deal to buy Brawn GP - will no doubt be out in force.
Having been convinced that it was the deal of the century, they have surely been disappointed by the way the season has unfolded.
Added to that will be all the hoopla surrounding the return of Michael Schumacher. As we head into the second half of the season, can he finally start turning things around?
"It's clearly our other home grand prix," says CEO Nick Fry. "Numerically the majority of the team is obviously English, so Silverstone is a very big one from that point of view. But obviously the team name [is German], and the support we get from Mercedes is fantastic.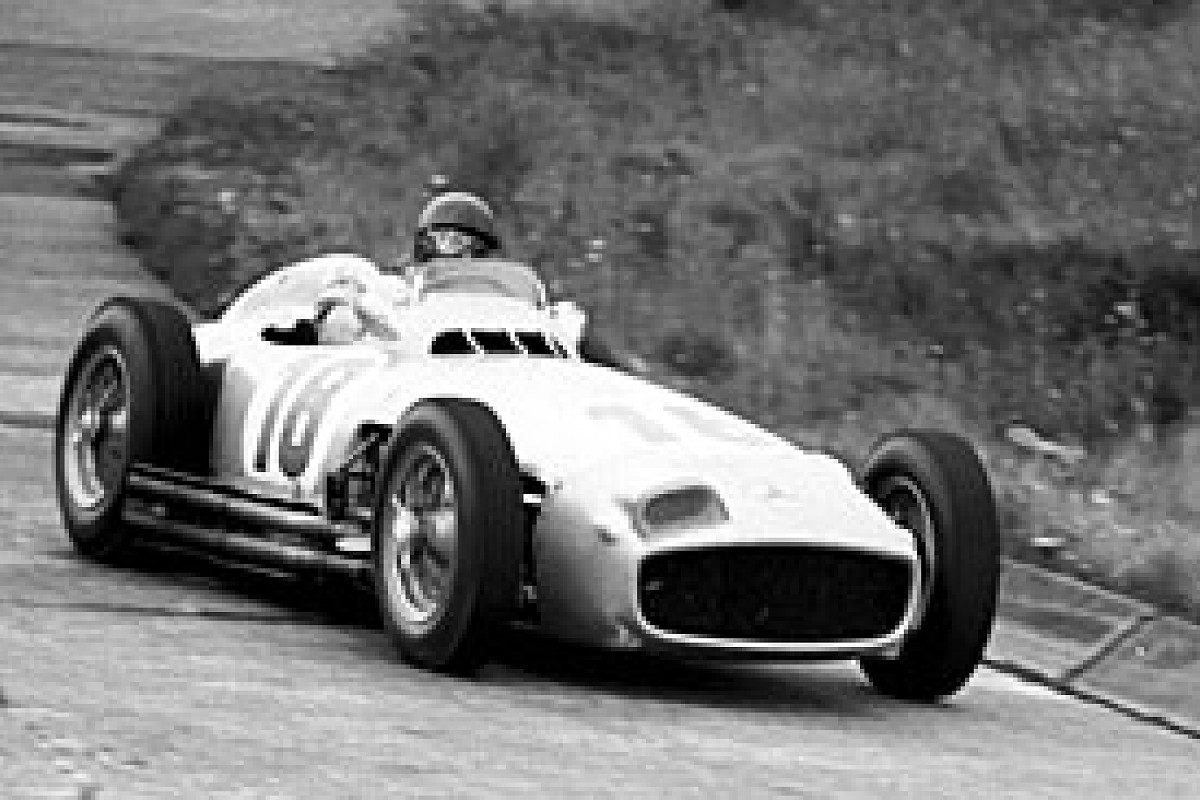 Juan Manuel Fangio en route to victory at the 'Ring in '54 © LAT
"I think we've got about 8000 guests in Hockenheim, which is going to be mind boggling! We've got our own grandstand, and with two German drivers, it's going to be a big occasion. And we've got more improvements on the car, and hopefully if they work we can get ourselves a few more points and hopefully get ourselves on the podium again."
Fortunately for all concerned Nico Rosberg's third place at Silverstone has relieved some of the pressure that has been building in recent weeks. After disastrous races in Montreal and Valencia the team's season appeared to be going off the rails.
"We're back on track," says Fry. "In the last couple of races we probably tried to be a little too adventurous. Valencia didn't go our way at all, and we had to take development parts off the car just before qualifying, which really set us back. So qualifying and the race were really not good at all.
"At Silverstone we had in many ways a more conservative approach. We came to the race just with small developments to put right the things that went wrong in Valencia. Nico drove a spectacular race and the car ran well."
It was a result earned on merit, although obviously Sebastian Vettel's puncture gifted him a place. But Rosberg and Merc beat the Ferraris fair and square.
The team will be under a lot of pressure to get a similar result at home.
"There will be, but there's no point in pushing too hard. We've got a race team led by Ross which is very level headed. Even for a level headed team, Valencia was a good example for us of how not to do it.
"We were trying a little bit too hard, we put stuff on the car which in theory worked, but in practice didn't quite. We had to modify the rear suspension just before qualifying so the drivers went out with a completely different car from the one they'd practised with.
"It was a good demonstration of if we'd had actually stuck with what we had previously, we would have done a darn slight better job than we actually did. What we don't want to do is be pushed into situations which we can't cope with. The car is not to our satisfaction, but it's still a good car. You've got to have a good car to come third, and clearly at Silverstone we got there on merit."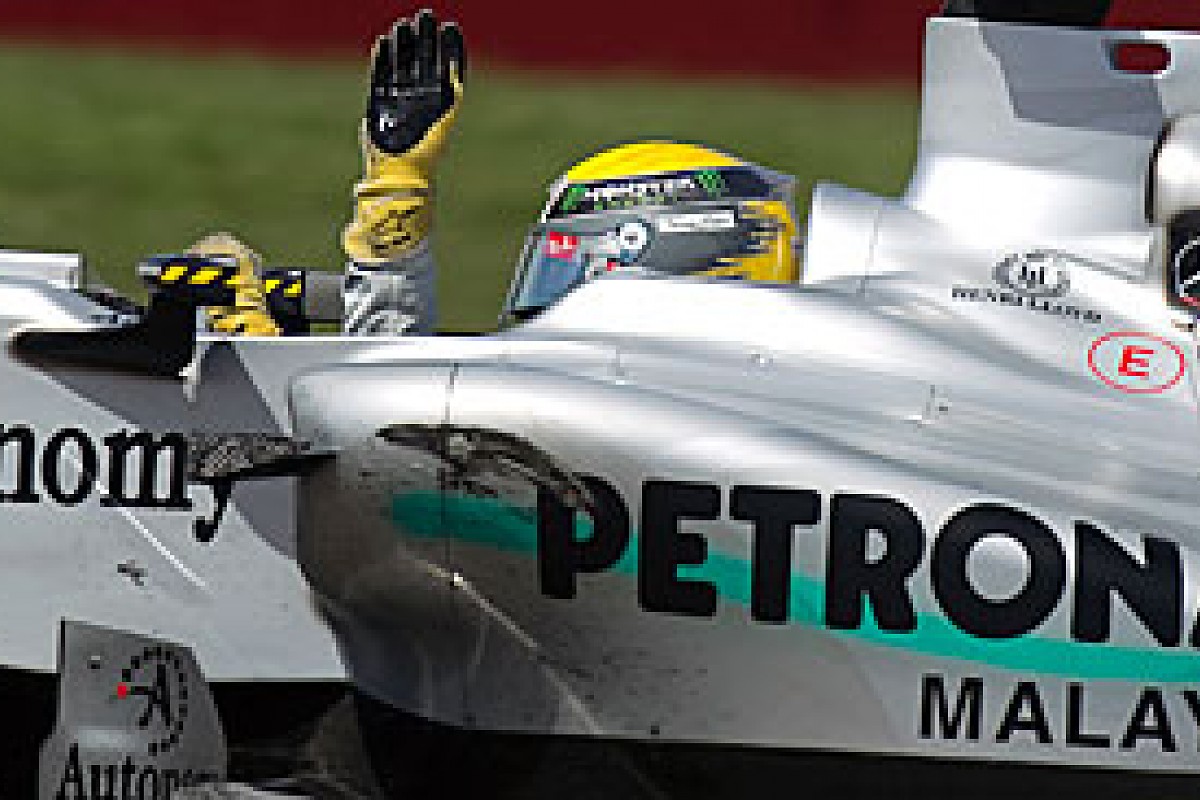 As Fry suggests, Valencia was casebook study in how not to do it. With no testing teams are forced to debut new parts on race weekends, and there's a lot of peer pressure to be seen to be constantly bringing updates. At Silverstone McLaren made a bold and ultimately rewarding decision to abandon its update package after Friday. In Spain Mercedes took the alternative course, and ploughed on.
At Silverstone Ross Brawn gave a fascinating insight into what went wrong.
"We had a number of problems which were very distracting over the weekend," said the team principal. "We had some temperature issues... And we didn't do the fundamentals. And when you don't do the fundamentals, you slip behind a few tenths, and that's it. As we saw with McLaren [on Friday at Silverstone] it's not an easy technology to get on top of. I think this weekend we've learned a lot more about it, and we'll take another step with it in Hockenheim.
"I think this weekend is just because we did a sensible job with the bits we had, rather than Valencia where we lost control of the situation. I lost control of the situation in terms of getting the best out of what we had. If you take a step back further to Canada, there were some tyre issues, but Nico was the quickest car in the race for periods of the race. So we're not desperately far away. But it is so competitive that if you have a poor weekend in terms of set-up or preparation, you're out of the picture.

"There's an awful lot to understand about the [blown diffuser] system, but we've now got everything working properly, so we're not wrapping wishbones in insulation material and all that sort of stuff that we were having to do in Valencia. We've got those problems solved, and we're able just to focus on getting the performance out of the car that's there.
It's not the fastest car on the circuit, but it's a pretty reasonable car, and in Valencia we just didn't get that performance out of it."
Brawn made no excuses for the situation: "The buck stops here. Norbert [Haug] and I have to take responsibility for the team, and when it doesn't function properly, we go away with our tail between our legs and think about how we fix it. Valencia was very poor. We've all been in the business long enough to take a step back and look at what you're doing and realise that the fundamentals have slipped away. The guys in the garage were doing a great job, the cars were reliable, but we just attempted to do too much over the weekend, and didn't manage it."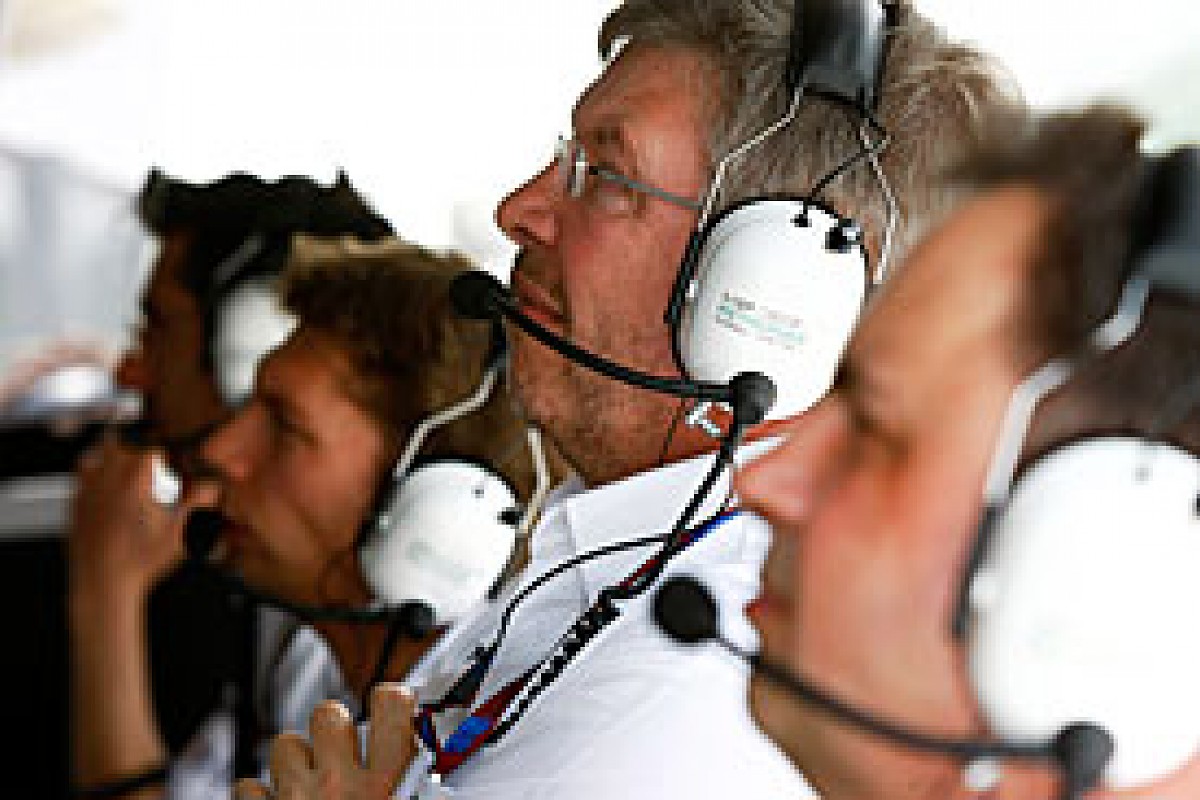 Ross Brawn and co. on the Mercedes pit wall © LAT
It's rare to hear anyone own up to mistakes in such an open fashion, never mind someone of Brawn's stature. The fact that he did so was impressive, and suggested that the team really has sussed where it's gone wrong and what it has to do better in the future.
It was a sign too of the spirit in the camp. It's easy for the management to preach about it, but the two drivers can often be seen interacting socially with their mechanics, and it was clear that there is more than just mutual respect.
"We've got a great team," Fry insists. "I don't see the same cordiality and teamwork in some of the other teams! No matter what people say, clearly there's not the best relationship at Red Bull, and those things will cost those teams in the long run.
"Last year we know from our own experience with Brawn, even though we didn't have the fastest car for probably the second half of the season, both Jenson [Button] and Rubens [Barrichello] did a sensational job. We had great team work, and we came out on top. It's a long old season, and if there isn't the best relationship, then the second half of the year might be a bit tough for them."
Mention of drivers inevitably brings up the subject of Schumacher. His season thus far has been a catalogue of misfortune, and Valencia brought that into focus. Had the pit exit light stayed green Michael would potentially have finished third and proved he could run at the pace of the frontrunners, but instead it all fell apart. He won on his last appearance at Hockenheim in 2006, and this would be an ideal time to have a weekend when everything falls into place.
"It's not coming together at the moment," shrugs Fry. "I think people are probably on the hard side... He's in the top 10 in qualifying, but obviously if you are a seven-time world champion, people expect a little bit more than that. I still think it'll come. He's keeping his chin up, he's great to work with within the team, and we'll just work away with him and I think it will get better. Sometimes these things just don't quite gel. It's not quite coming together, but we'll keep working at it."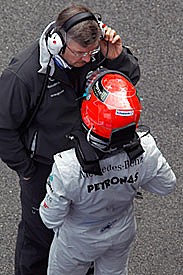 Ross Brawn and Michael Schumacher © LAT
The team long ago gave up any aspirations of chasing the title, but Ferrari is now only 39 points ahead, so third place is a realistic target.
Certainly one that justifies pushing ahead with development on this year's car.
"I think we've gone off track for a couple of races now," says Fry. "And I hope we are back in the right direction. We've got several levels of improvement between now and the end of the year. If we can get in the top three in the championship it won't be the best year of our lives, clearly not after last year, but it will be a respectable performance.
"That's a springboard for next year, we know exactly what's wrong with this car, we know where we went wrong, we know what we've done incorrectly, and we can put those things right next year. And the rest of the package is sensational. The Mercedes engine is as good as the best out there, probably along with the Ferrari. The rest of the package is good, the pit stops are great, the strategy is great, the team ownership is great. And the management probably does a reasonable job too!"