Virgin racing endured a tough start to life as a Formula 1 team. The tripartite venture between race team Manor Grand Prix, car design specialist Wirth Research and bearded publicity-magnet Richard Branson has had its fair share of detractors - and not without good reason.
Reliability, now vastly improved, was woeful. In 20 starts, a Virgin has only been classified as a finisher nine times - four of those in the last six attempts. The embarrassment of having to make significant chassis revisions to accommodate extra fuel, stretching the wheelbase by 185mm and earning the VR-01 the nickname "the limousine" hasn't helped matters.
Lucas di Grassi during the British GP © LAT
Neither has the reaction to the team's much-publicised decision to forsake wind tunnels and use a design and development process almost entirely based around computational fluid dynamics (a path which, remember, Nick Wirth insists is driven as much by making the best use of the available finance rather than some kind of moral objection to the use of 'old' technology).
Virgin has been the butt of paddock jokes in the first half of the season, far more so even than back-row perennial HRT, but at Silverstone there was a welcome sign that the team was getting itself back on an even keel. Talking about the major aerodynamic upgrade that was brought to the car for the British Grand Prix last weekend, technical director Wirth boldly proclaimed "judge us at Silverstone" a few races ago. On that basis, the judgement is positive.
The package, which included new front and rear wings, new brake ducts, a new diffuser and other revised bodywork detailing around the car, did represent a major step forward and allowed Timo Glock to qualify within four tenths of the lead Lotus of Heikki Kovalainen. Now, 19th on the grid might not sound like anything special, but it is proof that the team is at last back on an even keel and capable of thinking about bothering the Lotuses on merit, rather than looking over its shoulder nervously at the HRTs, which have occasionally been able to split Glock and team-mate Lucas di Grassi.
"We've had our knocks this year, publicly, but we know what we're capable of doing," says Wirth. "It was really satisfying to see the upgrades work straight out of the box. It's great when it all works this way because we have been making life difficult for ourselves!
"More importantly, it has got us back into a good fight with Lotus. They are pushing like crazy and to be able to catch up and have a scrap is great."
The progress is real. Look at the table below, which shows the difference between the raw pace of the Virgin and the Lotus in qualifying this season, and, save for Monaco, this is the first time that Virgin has been within striking distance. A clear sign that the team is catching up after having to bite the bullet and introduce its long wheelbase car in Spain.
Gap between fastest Virgin and fastest Lotus in qualifying in 2010:
Bahrain -0.124s
Australia +0.795s
Malaysia +0.250s
China -0.121s
Spain +0.801s
Monaco +0.283s
Turkey +0.507s
Canada +0.704s
Europe +1.428s
Britain +0.370s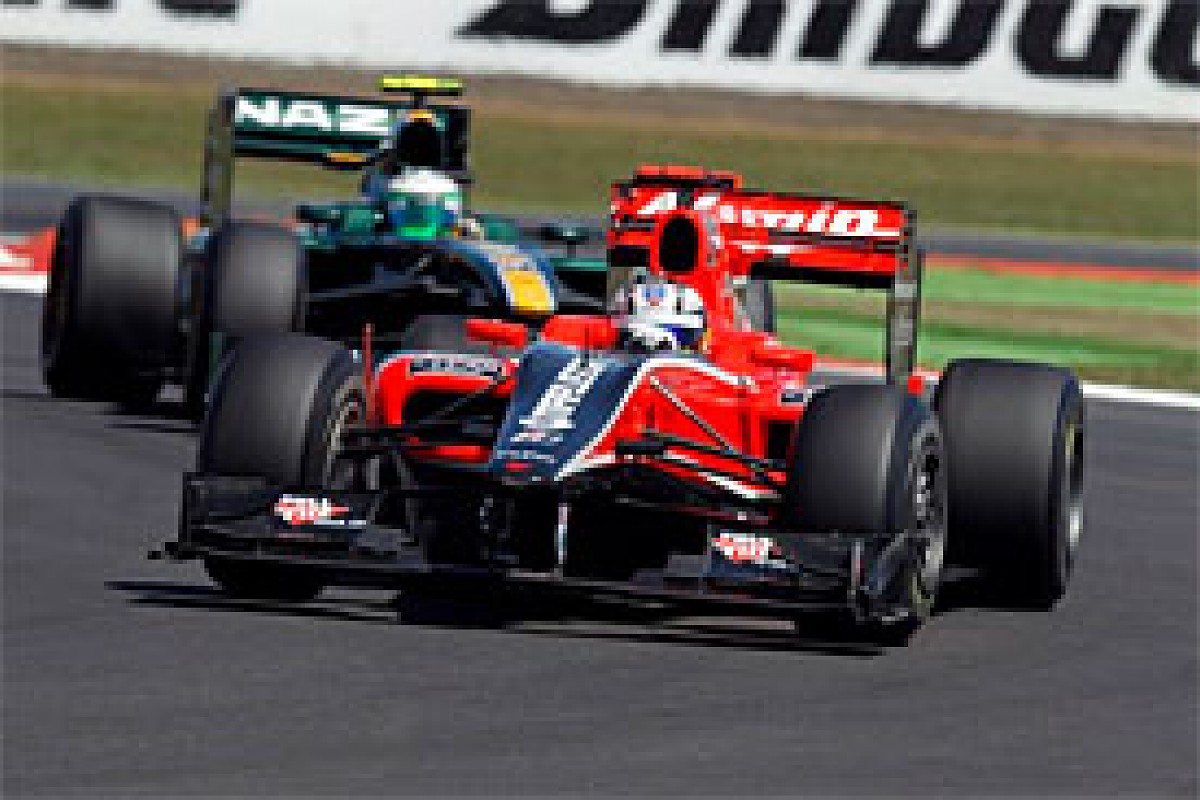 Virgin is closing the gap on Lotus © LAT
Wirth believes that the team's progress has been masked by the need to keep the aerodynamic specification relatively stable while troubleshooting reliability problems.
"The reason this package is such a big step is that as you develop aerodynamically, you do so along a curve," says Wirth. "But if your track specification stays the same for as long as it did, when you put the package on you always leap along that curve.
"If we get the packages out quicker, there will be smaller steps at every race. We know how to make the car faster and we've proved it.
"We want to continue this upward trend and finish off the season as we intended to. When we started the season, we slipped behind a little bit. Tenth in the Constructors' Championship is our stated aim for the season and I've said all along that we can do it. Silverstone showed why I've been saying that. Now we are showing what we can do performance-wise."
While it will take more than once decent weekend to convince the world that Virgin Racing will ever be anything other than a backmarker, the team deserves a great deal of credit. Finally, its ambitious approach to car design is started to yield its rewards and allowing it to think about beating Lotus, where technical supremo Mike Gascoyne has built up an impressive team around what is, by design, a very car with limited potential.
"We have taken on a massive challenge to do this project, to keep the budgets where they are while focusing a lot of effort on the reliability," said Wirth. "But in the background, the aero group has gone about a really challenging task. We've had a bigger and bigger disconnect between what we knew in the company about how fast we can build up a replica of an F1 car and what we put on track. There's been a bigger and bigger gap and Silverstone was the perfect opportunity for us to do that.
"We've had two big upgrades recently, the first one being on the mechanical side in Valencia and then the aero one at Silverstone. We were aware that the jump was going to be big so it was scary to see if we actually delivered it! It was a very interesting week because it was actually a slightly bigger step than we predicted!"
There you have it - the difference between simulation and reality that the critics of Virgin Racing fall back on. To the uninitiated, it's easy to slate the all-CFD approach as pure theory, that it lacks the real-world qualities of a wind tunnel. But wind tunnel development programmes don't always produce exactly the same effects on track as off it, and for all the scepticism surrounding whether computing power and software is powerful enough to displace such technology completely - and Wirth is confident that it is - you can't argue with the results at Silverstone.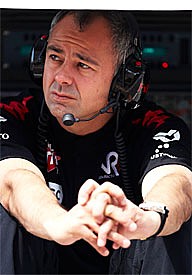 Nick Wirth © LAT
And while correlation between modelling and real-world is a challenge whatever the technology, the all-CFD approach certainly has massive benefits when it comes to dovetailing 2010 car development with 2011 car design.
"That's one of the big advantages of the way we do it," says Wirth. "We don't have a wind tunnel model, so we don't have to convert it. We have lots of models floating about in the digital domain. We're working on next year's car, but we can do both. We're a bit under budget relative to what we planned to spend on development this year, so we're on track to put a lot of bits on the car in races to come.
"We're benefiting from the fact that we have the technology that makes it very easy for us to do lots of things at once."
That all sounds very promising on paper. But even if Virgin does get the better of Lotus this year, or come close to doing so, the real challenge lies ahead. Next year, the new teams will be expected to have made their way into the midfield. This year, that would make you a midfielder. But next year, if you're at the back of the midfield, you're going to be near the back.
Tough business, F1. And Virgin has now shown some signs of being able to hack it.