Mark Webber himself used the word 'karma,' and it somehow seemed an appropriate way to sum up his victory in Silverstone last weekend. He may have announced on his website on Wednesday night that everything is now clear between himself and the team, and he's moved on. But there's no question that on Sunday afternoon, he was a man on a mission.
And that was pretty clear to all at the first corner. Not for the first time this year the Red Bulls swapped positions on the run from the start, Webber helped by the fact that Sebastian Vettel didn't get away as well as he should have.
Mark Webber celebrates victory at Silverstone © LAT
At the time it certainly looked as though he'd left his team-mate with nowhere to go, but further viewings suggested that Vettel made it look a little closer to the edge than it actually was. In fact, neither the team nor Vettel himself had any complaints afterwards.
"They're competitive drivers, they're going for the World Championship," Christian Horner said after the flag. "They did what I asked in that they gave each other enough space. Mark was ahead into the first corner, and I've got absolutely no problems with that..."
"Not much to say," shrugged Vettel when quizzed. "I think we were a little bit out of the window with the clutch. I had a bad start, lots of wheelspin, so I lost the immediate pull away. I tried probably a bit too hard, but that's life, you try always to get the optimum and then into Turn One I had to let Mark past.
"From my point of view, he had a better start. Obviously I moved to the right, trying to defend, and he was already there. I knew that because I couldn't see him in the mirror and I knew he didn't stall. I knew he was there, so there was no point to do something stupid. The race is longer than one corner. It's a shame I couldn't fight him, but it's good for the team - I'm happy for the team.
"People said that Lewis touched me, but I didn't feel anything. Only he achieved this time what he didn't achieve in Valencia! Surely it wasn't his intention to give me a puncture. With a puncture that early in the race and especially in the lap, obviously it's a big minus, so I had to come back slowly to the pits."
It was interesting that Vettel felt that the clutch settings were to blame - in other words, his guys had got their sums wrong. During the debate about the front wing not many observers paid attention to the fact that while the original wasn't damaged through any fault of Vettel, it was his side of the garage who were responsible for fitting it.
Once in front, Webber did an exemplary job. Hamilton might not have had as good a car at Silverstone, but he's not an easy guy to have in your mirrors, and Webber drove faultlessly throughout. He was six seconds ahead when the safety car came out - not a huge amount, but a handy cushion nonetheless.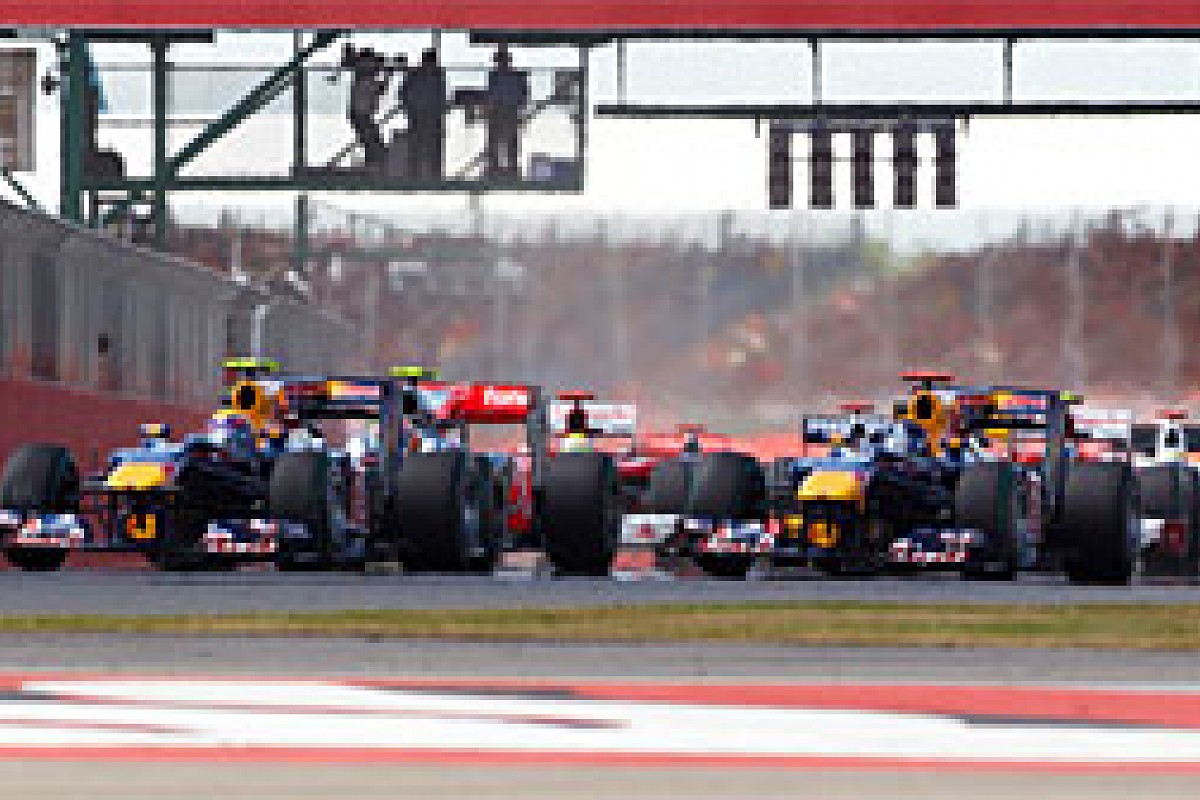 The start of the British GP © LAT
As in Monaco, he saw his advantage thrown away, and as in Monaco he simply went about rebuilding it, stretching the gap to around seven seconds before easing back before the flag.
"That's the most important thing, we've won the race today," said a mightily relieved Horner, trying to steer clear of the controversy. "Mark drove a fantastic race, no mistakes. He got a good start, and excellent pit stops and good strategy was enough to win the Grand Prix reasonably comfortably ahead of McLaren."
Webber can gain extra satisfaction from the fact that he had the legs on Vettel for most of the race. Of course the German might have lost some performance from damage due to the flailing tyre, and he basically had to do the whole race on a set of primes. Nevertheless, Webber made his point.
After his first-lap tyre change Vettel was 83s behind Webber, with a completely clear track ahead and nothing to lose by just pressing on. And yet when Webber stopped 15 laps later, the margin had extended to 93s. With both men now running to the flag, the new gap after Webber's stop was 73s, and by the time the safety car out, it was back up to 80s.
In other words, Vettel lost around 17s to Webber on the road over those first 26 or so green racing laps. Fate played him a hand when the safety car came out, and at the restart he was only 10s behind Webber, and more importantly in a position to work his way up the top 10. In the end six points for seventh was handy damage limitation.
"If you have a puncture in the first corner, you know your race is pretty much over," he said. "I was praying for a safety car, it came, and it allowed me to score some points in the end, which was good. But obviously if you have the car to win then finishing seventh is not ideal. But still, I had especially in the last 20 laps quite an entertaining race, I enjoyed passing people here and there, so it was good fun."
"These things tend to even out over the course of the championship," said Horner. "Today after the first lap seventh seemed an awfully long way, away. But he managed to achieve that with some good moves. It was a like a battle of the Germans at one point! At a track where overtaking is supposed to be difficult, he did a good job."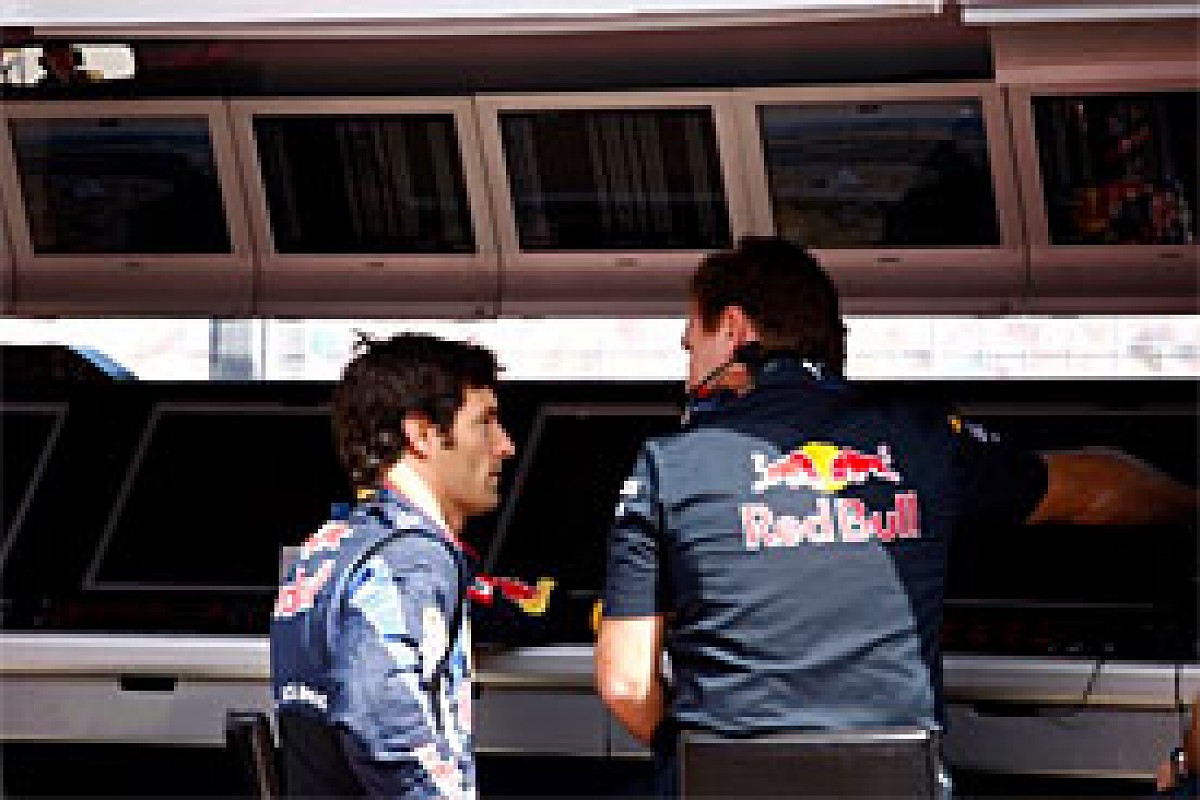 Mark Webber, Christian Horner © LAT
Horner spoke just minutes after Webber made his now infamous 'not bad for a number two' comment. It was well-aimed, but the boss certainly didn't take it as seriously as you might think.
"I think he was trying to make a point with his Australian humour," he smiled. "He was obviously unhappy about the front wing decision, but when you've got one, one into two doesn't go, unless you chop it in half. But he drove a great race and he can be very happy and should be very happy with the job he's done and the job the team's done today.
"We're in a very fortunate situation, and it's a nice headache to have. Many teams would dream have having the situation where we've got two World class drivers that are doing an excellent job.
"Both the guys drive for the team. And the team is bigger than any individual. All we can do is keep pushing, keep trying to add performance to the car. So far up to this weekend we've managed to do it the same across both cars.
"This time we ended up with one front wing that we had to make a decision about. But it's so minimal, the difference. It's more to get the data for the future, and that's the most important thing, and that's why Adrian was very keen to run the wing this weekend."
He had no regrets about the decision, or the way it had been perceived by the outside world, although he conceded that Mark should have been better informed about the choice.
Of course the point was we probably wouldn't have found out about the wing had a member of the Webber camp not made a throwaway remark. It was passed on by a third party to Eddie Jordan just in time for the post-qualifying Q&A with Horner. Until word spread Webber's dour demeanour after the session was a mystery.
"Sometimes difficult decisions have to be made," Horner reiterated after the flag, "as they do in every team up and down the pitlane. Unfortunately this one was made very public, and that's just one of those things.
"But at the end of the day, we're a team, and as a team we've learned a lot out of this weekend. It was important to run that front wing to get information. We ended up having one, not through any intent, but I think that the most important thing is as a team we've won. I'm sure Mark more than anyone knows and appreciates that.
"Mark is a pretty vocal guy, and he wanted to make a point, obviously. But that's Mark Webber. The team is doing everything they can, there are people that are busting a gut to make sure that these two guys have the cars that they have, and that shouldn't be forgotten. When he joined us four years ago we were struggling to make it into the top 10. We've now put him in a race winning car and put him in a position to win the championship. And that's by working as a team, collectively."
Webber has now stated his case on his website, but we haven't heard much from Vettel this week. Immediately after the race he made some loaded comments about their relationship, and in any case no amount of subsequent PR spin could hide what he really thinks.
"I obviously focus on myself, and so does he, I guess. But especially after what happened in the past, people have different opinions. I have my opinion. Sometimes good and bad you get to know people a bit better, and see their true faces. I think I learned my lesson.
"I know myself how to judge situations after what happened in the past especially. I think there is no need for me to keep poking or helping you to invent some funny stories.
"We do have a very great car, and if you race cars with similar pace and similar speed on the track you get to see them once in a while. That's normal, that's racing, that's what it's about.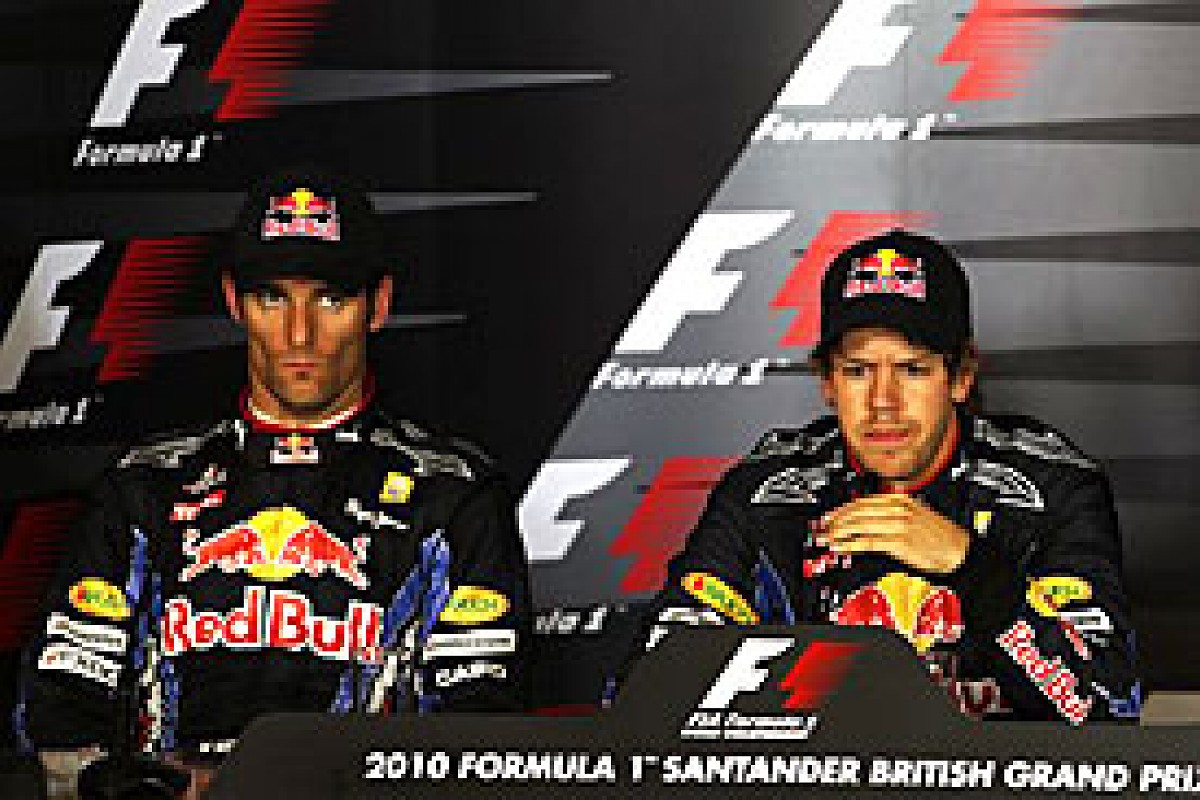 Mark Webber and Sebastian Vettel © Sutton
"I don't want to speak bad or anything about other people. The most important thing is always to keep the respect. I know for myself the races I finished behind him - was slower than him - I know the reason for that. I can fall asleep at night."
That last remark was particularly interesting. Was he just talking about the unfavoured chassis that he dumped (and with which Webber won at Silverstone!), or was there more to it?
Now we move on to Hockenheim. Two years ago there Vettel was just beginning to make his mark with Toro Rosso, and indeed at that very race made an aggressive move on Fernando Alonso as they left the pits, indicating that he was a force to be reckoned with. Last year at the Nurburgring Webber won the German GP. Vettel will surely be out to reinforce his growing status among his home fans.
Horner has no doubts: "I'm sure he'll be pumped up for that one..."