PRACTICE
Practice 1 - Friday AM
The first verdict on the Arena circuit? Bumpy, was the main comment - and those bumps combined with the usual tricky Silverstone wind meant a series of excursions and spins on Friday morning.
Sebastian Vettel at speed on the new Silverstone layout © LAT
Sebastian Vettel was the man who coped best, and he led the way by 0.3 seconds over Lewis Hamilton, with Robert Kubica showing well in third for Renault ahead of Mark Webber and Adrian Sutil.
The other novelty, alongside the new corners, was that Sakon Yamamoto was in the Hispania not just for 90 token minutes, but for the whole weekend. The official line was that the team wanted to give him an 'opportunity', but few believed that was the real reason for Bruno Senna's mysterious temporary ousting on the eve of the race.
Practice 2 - Friday PM
It was Webber's turn to set the pace for Red Bull in the afternoon, despite losing some time with an electrical problem, while Vettel had a spin at Stowe and was third behind Fernando Alonso's Ferrari.
The McLarens slipped to eighth and 13th, amid ominous frowns at the new exhaust-blown diffuser, which was overheating various areas. With the device's performance advantage not conclusive either, the decision was taken to remove it on Friday evening.
Felipe Massa gave Ferrari two cars in the top four, ahead of the two Mercedes and a good run from Renault's Vitaly Petrov in seventh.
Saturday Practice
Red Bull ruled again in final practice, with Vettel and Webber first and second, 0.034s apart. But in the closing moments came the incident that would trigger the weekend's biggest story, as the nose section on Vettel's car became detached at the top mounting point and started dragging along the track, damaging one of the two new front wings in existence...
Alonso and Rosberg stayed in contention in third and fourth, but McLaren was clearly struggling in its hurriedly revised configuration, and was back in seventh and 12th.
The new teams' cars were still proving fragile. Timo Glock's Virgin only managed six laps due to a throttle issue, while Jarno Trulli (whose car had been taken by Fairuz Fauzy on Friday morning) would go into qualifying with just 14 laps under his belt thanks to a series of glitches.
QUALIFYING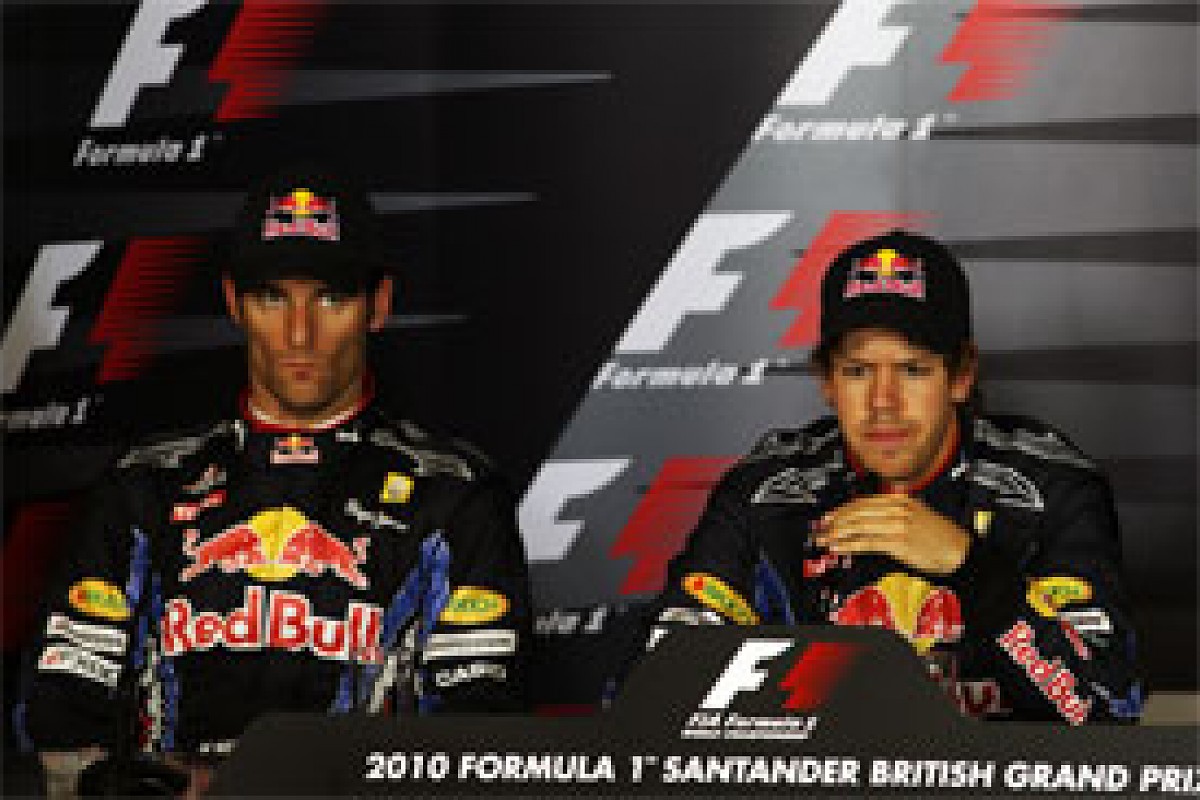 Sebastian Vettel and Mark Webber in the post-qualifying press conference © Sutton
1. Sebastian Vettel, Red Bull
Team-mate qualifying battle 5-5
There was little doubt that pole would be fought out between Vettel and Webber, and it was the German who kept his momentum going by beating his team-mate with an excellent lap that beat the Australian's by less than two tenths. It was not all happiness for Red Bull, however, with the front wing controversy overshadowing the team's dominant performance.
2. Mark Webber, Red Bull
Team-mate qualifying battle 5-5
Having lost pole by around 0.150 seconds, Webber was understandably not too thrilled, but the row over the front wing made the Australian pretty angry, as demonstrated by his post-qualifying reaction, during which he said: "I think the team is happy with the result today."
3. Fernando Alonso, Ferrari
Team-mate qualifying battle 7-3
Given Red Bull's superiority around Silverstone, Alonso had to be delighted with his position as 'best of the rest'. A massive eight tenths gap, however, left no doubt that beating the Red Bull duo in the race would require something major to happen.
4. Lewis Hamilton, McLaren
Team-mate qualifying battle 7-3
McLaren's difficult situation was highlighted by Hamilton's performance, the Briton claiming he had completed the best qualifying lap of his life to secure a place on the second row of the grid. It was another superb effort from Hamilton, who gave his team something to be happy about during a tough weekend.
5. Nico Rosberg, Mercedes
Team-mate qualifying battle 8-2
Rosberg was a happy man after returning to the right end of the field following a dismal European Grand Prix for Mercedes. The German was solid all weekend and emerged as the top Mercedes driver once more following a strong Q3 run.
6. Robert Kubica, Renault
Team-mate qualifying battle 10-0
After a couple of difficult practice sessions, Kubica was surprised to make it so high up the grid with the Renault, with which he was not feeling 100 per cent comfortable around Silverstone. Still, Kubica was once again impressive, although he was staying realistic about his prospects for the race.
7. Felipe Massa, Ferrari
Team-mate qualifying battle 3-7
A disappointing day for Massa, who felt his car was competitive, but who failed to extract the maximum from it. The Brazilian was again struggling to get his tyres working properly and the end result was a massive seven tenths of a second to Alonso.
8. Rubens Barrichello, Williams
Team-mate qualifying battle 8-2
Barrichello was happy with another top-ten effort, although he conceded Williams' updates needed more work in order to be closer to the front-running cars. Nonetheless, from eighth on the grid he was aiming for another strong result after his fourth place in Valencia.
9. Pedro de la Rosa, Sauber
Team-mate qualifying battle 6-4
De la Rosa was on form since the start of Saturday, the Sauber car proving much more competitive around the British track. And the Spaniard made perfect use of the improved performance to make it to Q3 for the first time this season. He was delighted, and with good reason.
10. Michael Schumacher, Mercedes
Team-mate qualifying battle 2-8
Finishing four tenths, and five positions, behind team-mate Rosberg was a clear disappointment for Schumacher, who conceded he had failed to get a perfect lap together. The seven-time champion made a mistake on his first run in Q3 and then tried too hard in the second and final effort and ended up slowest of the ten men.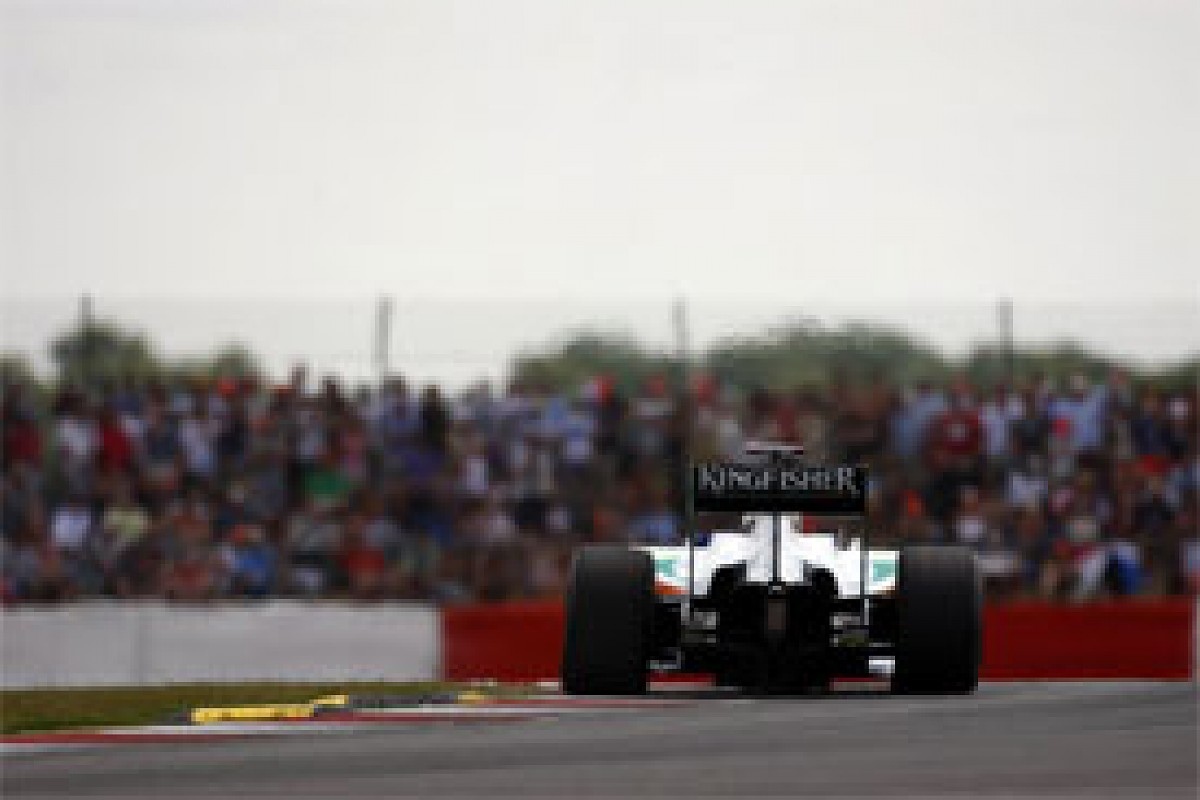 Adrian Sutil, Force India © LAT
11. Adrian Sutil, Force India
Team-mate qualifying battle 8-2
Having posted the fourth quickest time in the first qualifying segment, Sutil admitted he was hoping for more, meaning a place in the top ten. But things didn't work out the way he was hoping for, with a lack of grip hindering his session.
12. Kamui Kobayashi, Sauber
Team-mate qualifying battle 4-6
Although he took admitted his car was a lot better around Silverstone, Kobayashi was knocked out in Q2 after failing to put a lap together. The Japanese said he struggled with a lack of consistency, with grip coming and going during his flyers.
13. Nico Hulkenberg, Williams
Team-mate qualifying battle 3-7
The German was left to lament his issues with traffic - namely issues with Liuzzi - after being unable to match the performance of team-mate Barrichello. That was not Hulkenberg's only problem, however, as he was also struggling with the handling of his Williams.
14. Jenson Button, McLaren
Team-mate qualifying battle 3-7
Button said after qualifying that his car was undriveable, something that reflected the Briton's weekend at Silverstone, where his personal jinx continued to strike. After a good final practice, the world champion was left wondering if there was something wrong with his car during qualifying.
15. Vitantonio Liuzzi, Force India
Team-mate qualifying battle 2-8
Apart from the top-speed issues that returned to his car at Silverstone, Liuzzi was at a loss to explain his team's lack of pace in qualifying, having looked much more promising earlier on. To makes matter worse, he was then hit with a five-place grid penalty for impeding Hulkenberg.
16. Sebastien Buemi, Toro Rosso
Team-mate qualifying battle 9-1
Buemi admitted he was hoping for more from qualifying, but the Toro Rosso driver was having problems with the Option tyres, from which he was failing to extract the maximum. For his final run he opted for the Primes, but they didn't prove to be much of an advantage.
17. Vitaly Petrov, Renault
Team-mate qualifying battle 0-10
The Russian had a disappointing day after some solid performances in recent races. Petrov had a problem with his car during Q2, which meant his engine cut off as he went into the pitlane. His mechanics did a good job to get him back out, but the end result was still not satisfying.
18. Jaime Alguersuari, Toro Rosso
Team-mate qualifying battle 1-8
The Spaniard was another driver left lamenting his problems with traffic, the Toro Rosso driver feeling going into Q2 should have been a straightforward thing. As it was, however, Alguersuari managed just one clean run which wasn't not enough.
19. Heikki Kovalainen, Lotus
Team-mate qualifying battle 5-5
Again the top man in one of the new teams, Kovalainen was satisfied with his position, even though he admitted it had not been his strongest qualifying of the year. Silverstone, however, highlighted the deficits of all the newcomers, and the Finn was no exception, finishing two second behind his closest rival.
20. Timo Glock, Virgin
Team-mate qualifying battle 9-1
The German had a difficult build-up to qualifying, his Virgin hit by different reliability issues that meant he did not have a great set-up for the grid-deciding session. Despite that, Glock was pleased with his effort at the end of the day.
21. Jarno Trulli, Lotus
Team-mate qualifying battle 5-5
After sitting out first practice to give his car to Fauzy, Trulli managed just three laps in the second Friday session due to car problems. He was hit by another gearbox issue in final practice, which meant the Italian was lucky to at least manage to learn the circuit. In the end, finishing four tenths off Kovalainen was a good effort.
22. Lucas di Grassi, Virgin
Team-mate qualifying battle 1-9
Di Grassi was encouraged by the improved pace of the Virgin car thanks to the updates introduced, but the Brazilian had to admit he was unable to put a perfect lap together in qualifying, meaning he was nearly half a second of Glock's pace.
23. Karun Chandhok, HRT
Team-mate qualifying battle 4-6
The Indian felt he could have gone half a second quicker if not for traffic issues. Nevertheless, the lack of downforce from the HRT car meant Chandhok was only fighting against himself, with the rest of the new outfits miles away at Silverstone.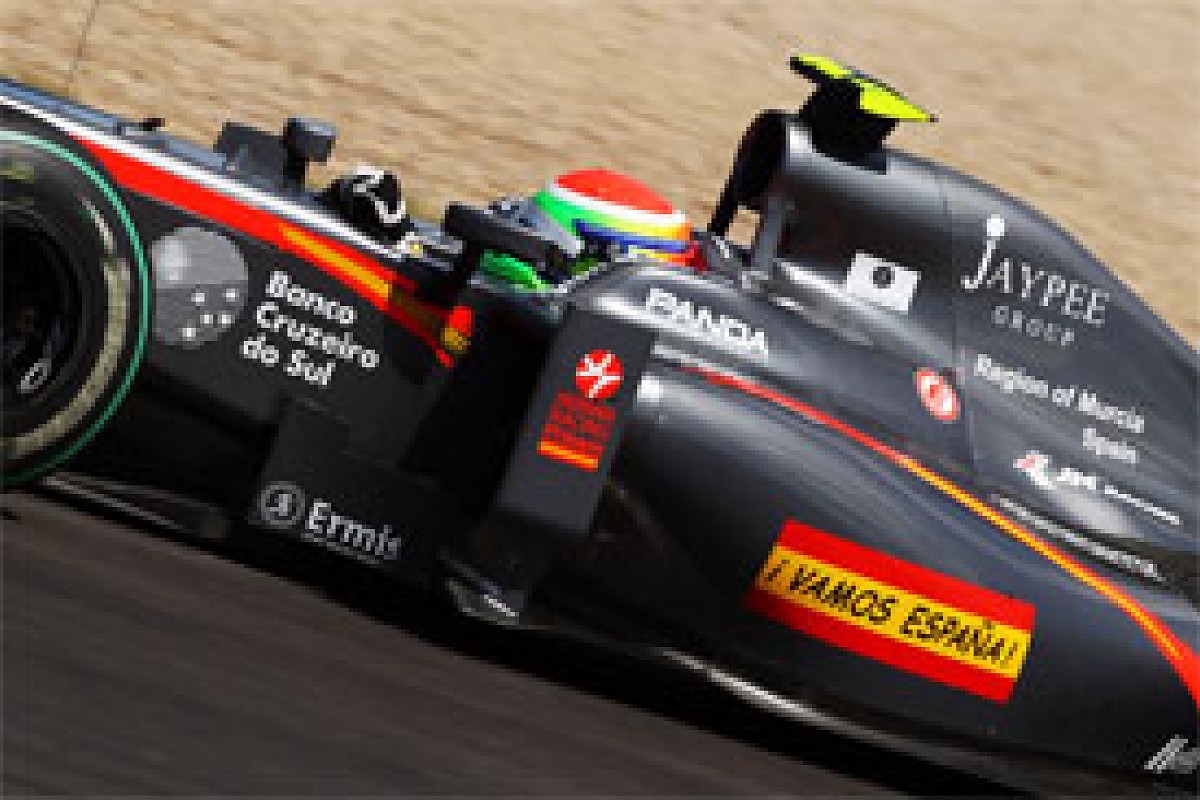 Sakon Yamamoto, Hispania © Sutton
24. Sakon Yamamoto, HRT
Team-mate qualifying battle 0-1
Considering the circumstances of his return to Formula 1 racing, Yamamoto could be pleased with his performance in qualifying, having finished around half a second off his team-mate in his first weekend with the Hispania car. Whether he will have more chances to show he can do better remains to be seen.
QUALIFYING RESULTS

Pos  Driver         Team                   Q1        Q2        Q3       
 1.  Vettel         Red Bull-Renault       1:30.841  1:30.480  1:29.615
 2.  Webber         Red Bull-Renault       1:30.858  1:30.114  1:29.758
 3.  Alonso         Ferrari                1:30.997  1:30.700  1:30.426
 4.  Hamilton       McLaren-Mercedes       1:31.297  1:31.118  1:30.556
 5.  Rosberg        Mercedes               1:31.626  1:31.085  1:30.625
 6.  Kubica         Renault                1:31.680  1:31.344  1:31.040
 7.  Massa          Ferrari                1:31.313  1:31.010  1:31.172
 8.  Barrichello    Williams-Cosworth      1:31.424  1:31.126  1:31.175
 9.  de la Rosa     Sauber-Ferrari         1:31.533  1:31.327  1:31.274
10.  Schumacher     Mercedes               1:32.058  1:31.022  1:31.430
11.  Sutil          Force India-Mercedes   1:31.109  1:31.399
12.  Kobayashi      Sauber-Ferrari         1:31.851  1:31.421
13.  Hulkenberg     Williams-Cosworth      1:32.144  1:31.635
14.  Button         McLaren-Mercedes       1:31.435  1:31.699
15.  Liuzzi         Force India-Mercedes   1:32.226  1:31.708
16.  Petrov         Renault                1:31.638  1:31.796
17.  Buemi          Toro Rosso-Ferrari     1:31.901  1:32.012
18.  Alguersuari    Toro Rosso-Ferrari     1:32.430
19.  Kovalainen     Lotus-Cosworth         1:34.405
20.  Glock          Virgin-Cosworth        1:34.775
21.  Trulli         Lotus-Cosworth         1:34.864
22.  di Grassi      Virgin-Cosworth        1:35.212
23.  Chandhok       HRT-Cosworth           1:36.576
24.  Yamamoto       HRT-Cosworth           1:36.968

All Timing Unofficial

THE RACE
Cold fury is so much more powerful than histrionics. It wasn't so much what Mark Webber said in the post-qualifying press conference, it was how he said it and the mannerisms behind those clipped responses that betrayed how unsettled he was by Red Bull's decision to remove the latest front wing design from his car and place it on team-mate Sebastian Vettel's.
There was logic to Red Bull's argument. It had tried to be utterly fair: it started with a new wing for each car. Vettel's wing was lost due to a component failure, nothing he could have done about it. Now Red Bull had just one wing. Had it arrived at Silverstone in that situation, it would've prioritised the car higher in the championship, which was Vettel. So that was what it was now going to do...
But that meant removing the wing from Webber's car, handing it to Vettel, and putting the inferior old design back on instead. And this was only just over a month after the Istanbul collision and the row over some factions in the Red Bull hierarchy appearing to come down harder on Webber over an incident many impartial observers felt Vettel had triggered. And that's even before the question of who was told to do what with their engines that day was considered...
So Webber was angry. What twist would the story take next? Would that rage boil over into another collision? Would Vettel storm off into the distance with the new wing while Webber simmered in second? Or would Webber turn all that frustration into strength, and blow everyone - including Vettel - away...?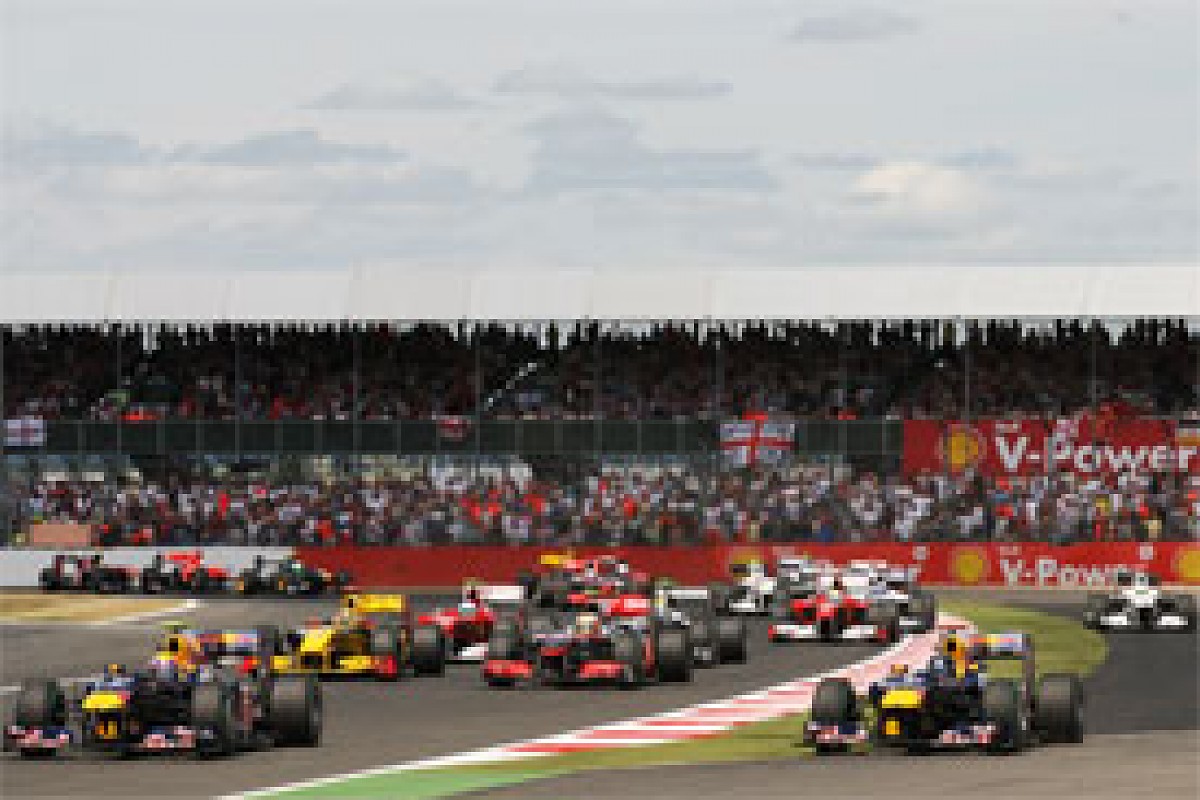 Sebastian Vettel runs wide in Copse © Sutton
At first, it looked like storyline number one was about to develop, as Webber made a better start than Vettel and the poleman immediately eased across and started squeezing him towards the pit wall. But Vettel left enough space ("plenty of room," reckoned Webber, "you could've driven a bus down the middle"), and tried the outside at Copse, where he had to take to the run-off as Webber drifted out wide - as the racing line demands.
Vettel was over the run-off again at Becketts, but this time with his right rear tyre in shreds. As the Red Bulls had battled through Copse, Lewis Hamilton had tried to sneak between them, and the slightest brush between the McLaren's front wing endplate and Vettel's tyre appeared to have been enough to slice through it.
The German had company on his tip-toe trundle back for repairs. Fernando Alonso had bogged down from third on the grid and quickly lost out to Hamilton, Robert Kubica and Nico Rosberg. Felipe Massa fancied passing his team-mate too and tried to slip down the inside midway through the Becketts complex, but instead gave the sister car a glancing side-to-side blow which left Massa with a puncture too, while Alonso continued in fifth - annoyed with himself over the start, but with his car intact.
Webber and Hamilton immediately broke away at the front, lapping a second or more faster than Kubica, who had Rosberg and Alonso all over the back of him, and another train of cars stretching out behind. By lap 10, the top two - now three seconds apart - were 17s clear of the queue for third place, which comprised Kubica, Rosberg, Alonso and a group of cars who had made great progress through the first-lap mess: Rubens Barrichello's Williams, Michael Schumacher's Mercedes, McLaren's Jenson Button (who was particularly swashbuckling on lap one) and Sauber's Kamui Kobayashi.
Alonso hoped an early pitstop - on lap 12 - might vault him forward, but Renault answered Ferrari by bringing Kubica straight in next time around, and the Pole rejoined still ahead.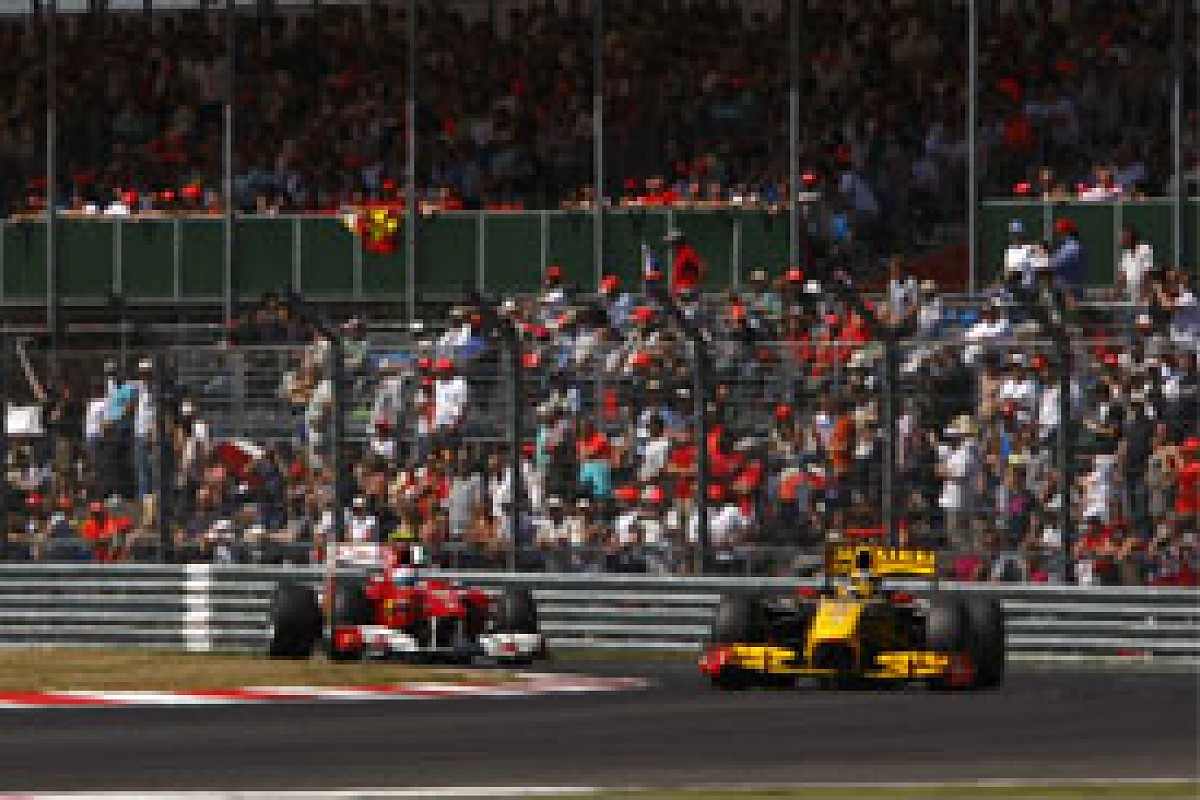 Fernando Alonso chases Robert Kubica © LAT
Recently things have had a habit of tumbling from bad to worse to downright abysmal for Ferrari, and this was one such occasion. With Kubica pitting to fend off Alonso, Rosberg was released, and his blistering in-laps included what was then the fastest of the race, which not only kept him in front of Alonso, but jumped him past Kubica too.
The 'abysmal' bit wasn't far behind. On lap 17, Alonso went down the outside of Kubica into Vale, but the Renault hugged the kerb and came across to take the line for Club too. Alonso went across the kerbs in avoidance and cut the first apex of the corner, rejoining ahead of Kubica and disappearing up the road.
What he should've done was guess that trouble would follow, and quickly wave the Renault back past. That was what both teams were expecting, but it became impractical when Kubica retired with a differential failure three laps later.
Did that mean the stewards would let the incident go as Alonso could no longer hand the place back? No, it meant they would eventually award him a drive-through penalty instead - and to add to the frustration, the safety car then came out, which meant Alonso's penalty dropped him not to about 10th as it would have done before the field was bunched, but to 16th, behind everyone bar the lapped new teams.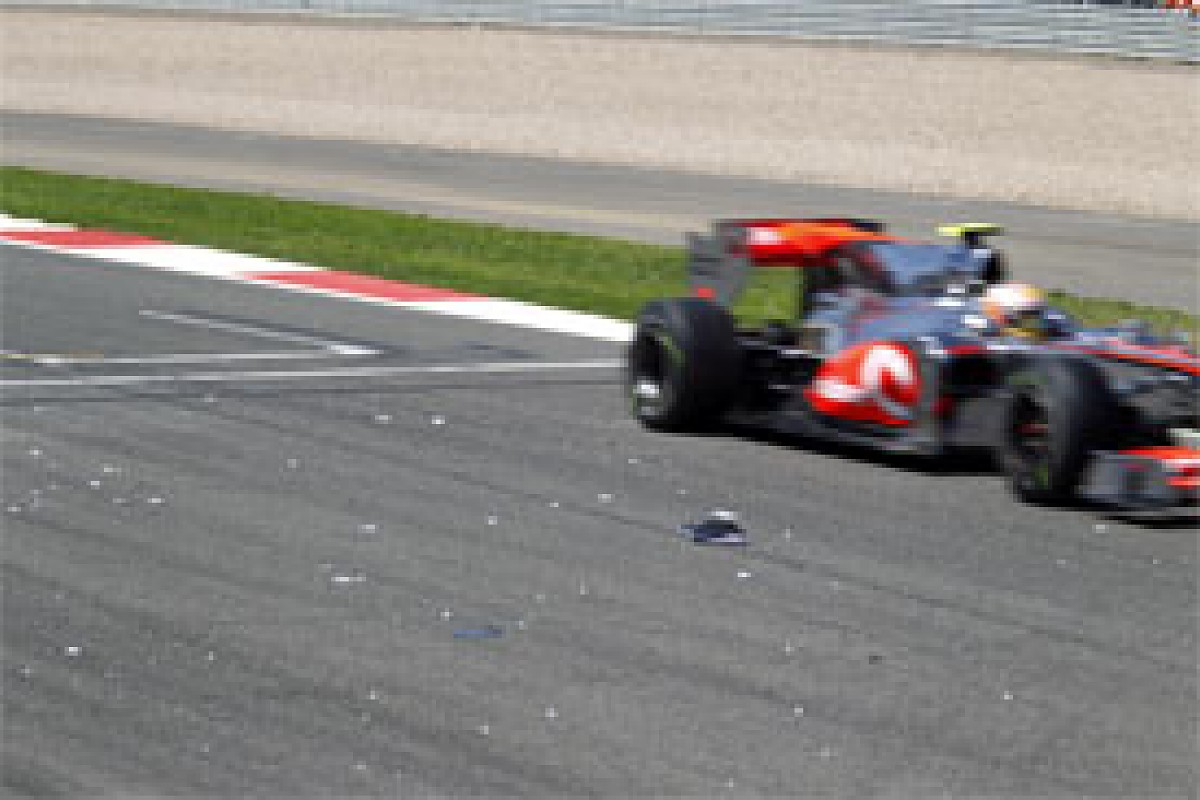 Debris on the front straight after an incident between Adrian Sutil and Pedro de la Rosa © LAT
The yellow was called after a tangle between Pedro de la Rosa - who had been elbowed backwards through the first corners - and Adrian Sutil, who had struggled with the hard tyres at first and made an early stop for softs. The Force India clipped the back of the Sauber as de la Rosa moved defensively on the run to Copse, and the contact left the latter's car shedding bits of rear wing and diffuser in various high-speed places, ultimately forcing the Spaniard's retirement.
Webber and Hamilton soon made their escape again at the restart, helped by having a few backmarkers between them and Rosberg, who now had Button right behind him.
Stopping late had worked wonders for the world champion. While most pitted between laps 12 and 17, Button stayed out till lap 21, banging in quick laps on his soft tyres before taking on hards and rejoining not far behind Rosberg and Alonso. The latter's penalty then got him out of the way, and with Rosberg limping slightly having lost some bodywork when the yet-to-pit Jaime Alguersuari slid into him as Rosberg swept around the outside through Brooklands in a sublime move, it looked like the podium was within Button's reach. But once on light fuel, the handling issues that so perplexed the Briton in qualifying started to creep in again, so the pressure on Rosberg eased and the German could return Mercedes to the podium after a frustrating five-race absence - not that Button was displeased with fourth from 14th on the grid.
Next up were the quietly excellent Barrichello and Kobayashi, taking top six finishes for teams who would've killed for such results just a few races ago. Barrichello was delighted to deliver a fifth for Williams, while Kobayashi found his season-best sixth for Sauber bizarrely easy compared to his Valencia heroics, noting that he didn't even break into a sweat during the race...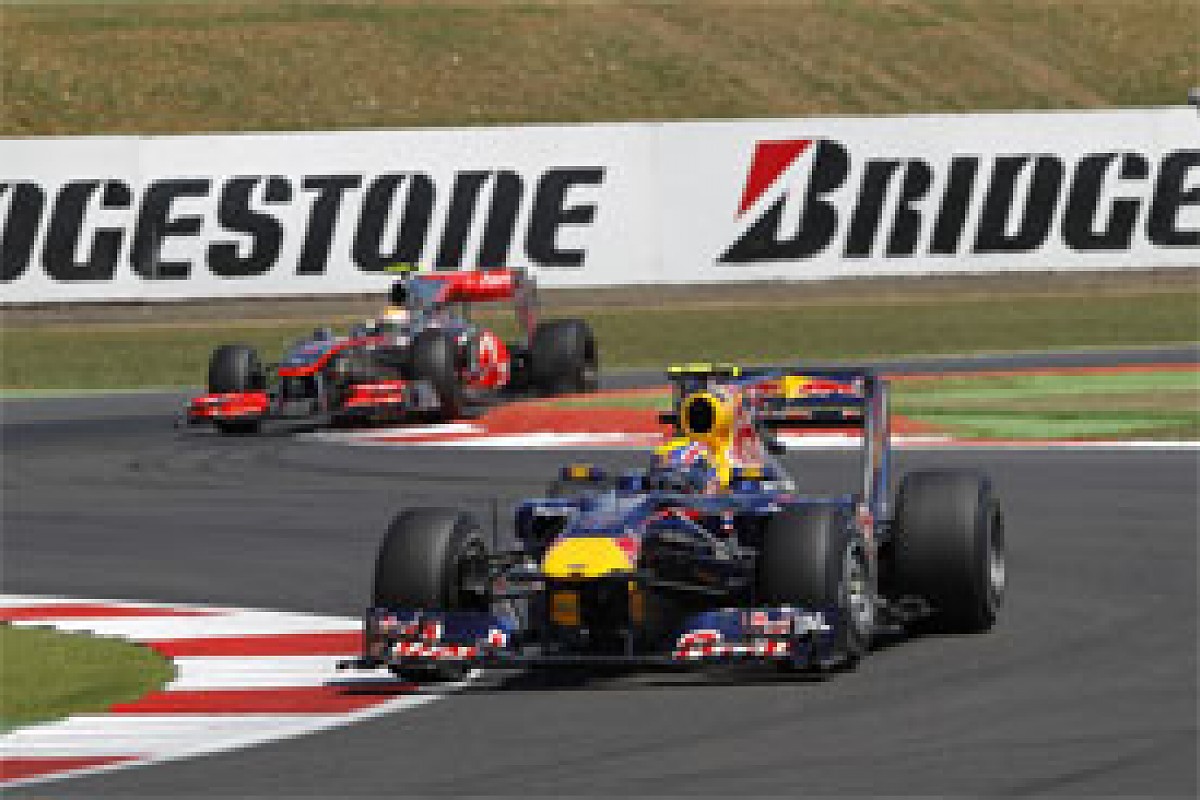 Mark Webber extends his lead over Lewis Hamilton after the restart © LAT
The real action was in the midfield, where the two Ferraris and Vettel now sat, and it was the latter who was on the move. Nearly a lap down by the time he rejoined with fresh tyres following his puncture, the German had been almost invisible in the first half of the race, but now with the midfield within range thanks to the safety car, his afternoon came alive.
The stragglers - and Massa - were quickly dismissed, and he was in the points by lap 37, when Vitaly Petrov ran wide at the Farm kink and relinquished 10th.
Next on the list was Nico Hulkenberg, easily passed under braking for Brooklands, and then Schumacher, who was having another unhappy afternoon. He had pitted earlier than anyone else, on lap 11, to try and make up places, but squandered the chance by going off the road on his out-lap. Then Sutil eased him aside with a brilliant Brooklands dive to take seventh just after the restart.
Now Schumacher had Vettel all over him. The younger German flung his car down the inside at the Loop on lap 40, but Schumacher hung on around the outside until the Wellington Straight, then squeezed Vettel as much he could. It was to no avail, Germany's new number one shrugged off the past master's intimidation, braked later for Brooklands and took the place.
But the next German in Vettel's sights would prove harder to shift. Whatever lines Vettel tried, however late he braked, for lap after lap, Sutil fended him off - with Vettel almost losing it all when he ran wide at Farm in his eagerness to carry more speed into the Arena a few laps from the end.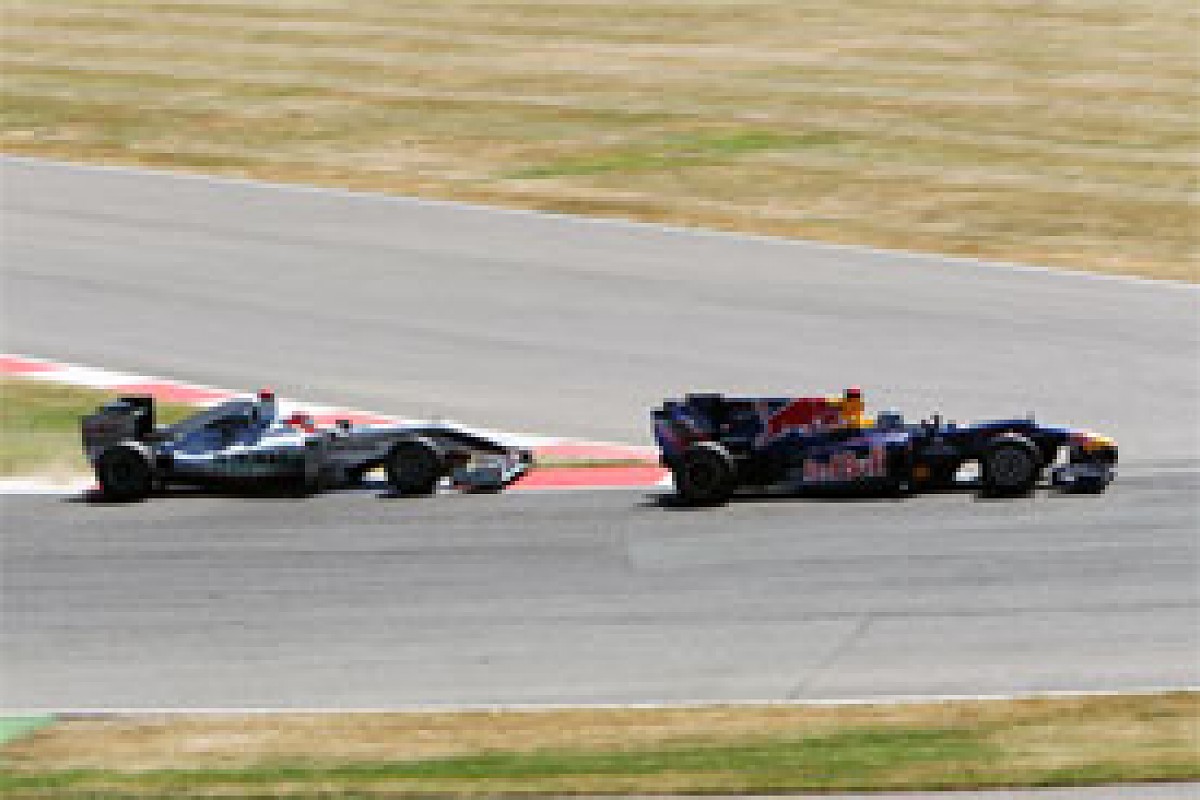 Sebastian Vettel overtakes Michael Schumacher © Sutton
It took until the penultimate lap before Vettel managed to muscle past in the Arena, with a wheel-banging move that left Sutil deeply unimpressed ("he just seemed to drive into me") but secured a seventh place for Vettel that had looked highly unlikely before the safety car.
Sutil still took eighth, followed by Schumacher, Hulkenberg and Tonio Liuzzi. The latter had frustrated Alonso's increasingly overwrought attempts to follow Vettel through the field. When he finally did get alongside the Force India, they banged wheels and Alonso was left with a puncture, which dropped him to an eventual finish of 14th, behind fellow late puncture sufferer Petrov, and ahead of Massa - who surprised his crew by pitting for fresh tyres following a rubber-ruining spin out of Luffield.
Sebastien Buemi was Toro Rosso's sole finisher in 12th, with a brake problem sending Alguersuari off. Lotus took a one-two in the 'new teams class', with Jarno Trulli leading Heikki Kovalainen, who had lost out to the much more competitive Virgin of Timo Glock thanks to a slow pitstop, but regained the place when the German was caught out by a bump. While Virgin's pace was encouraging, its reliability remained an issue, a hydraulic problem taking Lucas di Grassi out within nine laps - though it at least pulled well clear of the Hispania duo, who finished nose to tail as damage from debris left by Karun Chandhok hobbling home just ahead of one-off team-mate Sakon Yamamoto.
Despite the drivers' initial scepticism, the new Silverstone had provided great racing opportunities and some brilliant wheel to wheel moments, particularly via Vettel. But the 2010 British GP will not be remembered for his charge, but for his team-mate's sweet revenge.
Although Hamilton set the odd fastest lap, Webber always had this race under control, answering the McLaren's occasional surges with some stunning laps of his own, and keeping a 6s cushion in the second half of the race.
Webber celebrated his fifth Formula 1 win with real viguor, punching the air and leaping on the podium in both triumph and vindication. "Not bad for a number two driver..." was his riposte to team boss Christian Horner's congratulations over the radio on the slowing down lap. Job done, and point mode: do not underestimate Mark Webber.
RACE RESULTS

The British Grand Prix
Silverstone, Britain;
52 laps; 306.747km;
Weather: Sunny.

Classified:

Pos  Driver        Team                       Time
 1.  Webber        Red Bull-Renault           1h24:38.200
 2.  Hamilton      McLaren-Mercedes           +     1.360
 3.  Rosberg       Mercedes                   +    21.307
 4.  Button        McLaren-Mercedes           +    21.986
 5.  Barrichello   Williams-Cosworth          +    31.456
 6.  Kobayashi     Sauber-Ferrari             +    32.171
 7.  Vettel        Red Bull-Renault           +    36.734
 8.  Sutil         Force India-Mercedes       +    40.932
 9.  Schumacher    Mercedes                   +    41.599
10.  Hulkenberg    Williams-Cosworth          +    42.012
11.  Liuzzi        Force India-Mercedes       +    42.459
12.  Buemi         Toro Rosso-Ferrari         +    47.627
13.  Petrov        Renault                    +    59.374
14.  Alonso        Ferrari                    +  1:02.385
15.  Massa         Ferrari                    +  1:07.489
16.  Trulli        Lotus-Cosworth             +     1 lap
17.  Kovalainen    Lotus-Cosworth             +     1 lap
18.  Glock         Virgin-Cosworth            +     1 lap
19.  Chandhok      HRT-Cosworth               +    2 laps
20.  Yamamoto      HRT-Cosworth               +    2 laps

Fastest lap: Alonso, 1:30.874

Not classified/retirements:

Driver        Team                         On lap
Alguersuari   Toro Rosso-Ferrari           45
De la Rosa    Sauber-Ferrari               30
Kubica        Renault                      20
Di Grassi     Virgin-Cosworth              10


World Championship standings, round 10:                

Drivers:                    Constructors:             

 1.  Hamilton     145        1.  McLaren-Mercedes          278
 2.  Button       133        2.  Red Bull-Renault          249
 3.  Webber       128        3.  Ferrari                   165
 4.  Vettel       121        4.  Mercedes                  126
 5.  Alonso        98        5.  Renault                    89
 6.  Rosberg       90        6.  Force India-Mercedes       47
 7.  Kubica        83        7.  Williams-Cosworth          31
 8.  Massa         67        8.  Sauber-Ferrari             15
 9.  Schumacher    36        9.  Toro Rosso-Ferrari         10
10.  Sutil         35       
11.  Barrichello   29       
12.  Kobayashi     15       
13.  Liuzzi        12       
14.  Buemi          7       
15.  Petrov         6       
16.  Alguersuari    3       
17.  Hulkenberg     2    

All timing unofficial

Lap-by-lap as it happened on AUTOSPORT Live
TEAM BY TEAM
McLaren
McLaren hadn't been quite certain its new exhaust-blown diffuser would be an immediate success - and it wasn't. After a difficult practice session, the car reverted to an older spec rear end for Saturday and Sunday, and it took a massive effort from Hamilton to take fourth on the grid. Button struggled to 14th, baffled by his car's poor handling.
Hamilton was up to second within half a lap, helped a little by accidentally slicing Vettel's tyre along the way, and chased Webber thereafter. He couldn't keep up with the Red Bull, but bolstered his points lead with second.
Button charged to eighth on lap one, gained three more places by running a long first stint, then another when Alonso was penalised, which meant he finished a relieved fourth.
Mercedes
After a run of misery, Mercedes was back on form in Britain, with Rosberg very content with fifth on the grid while Schumacher felt he underperformed on the way to 10th.
Rosberg was the star again in the race, jumping faster-starter Kubica in the pits and later resisting Button to earn an excellent third place.
Schumacher lost ground with a minor off on his out-lap after an early pitstop, then fell from seventh to ninth thanks to gutsy passes from countrymen Sutil and Vettel.
Red Bull
Red Bull had the speed to dominate at Silverstone and did indeed win, but only after a new intra-team furore, caused when the team decided to take its new wing off Webber's car and give it to Vettel - who had lost his example of the component to a practice failure.
Vettel then beat the livid Webber to pole, but the tables were emphatically turned in the race, as the Australian jumped into the lead off the line and proceeded to dominate.
Vettel picked up a puncture in a first corner brush with Hamilton and fell to last, making little progress until a mid-race safety car. He then charged through the field to take a hard-earned seventh.
Ferrari
Ferrari was the closest challenger to Red Bull on pace, but did not have the results to show for it yet again. Alonso qualified third but made a bad start and ran fifth early on. He was then given a drive-through penalty for cutting the Club apex while passing Kubica, and by the time the penalty was awarded, the safety car was about to emerge.
Down in 16th by the time he had taken the penalty at the restart, he then sustained a puncture in a touch with Liuzzi and dropped back to finish 14th.
Massa tried to pass his team-mate through Becketts on lap one but made contact instead and picked up a puncture. His recovery was hampered by a spin that flat-spotted his tyres and forced a stop that caught Ferrari off-guard, leaving him 15th.
Williams
More progress for Williams, with Barrichello qualifying eighth and having a highly competitive and trouble-free run to fifth in the race.
Hulkenberg might have been with his team-mate in qualifying had he not been blocked by Liuzzi in Q2, leaving him 13th. But he moved forward amid the midfield mess in the race and ended up scoring a point for 10th.
Renault
Kubica wasn't entirely happy with his Renault in qualifying after some strong practice times, so felt sixth on the grid was a surprise result. His team-mate Petrov had an electrical glitch and a disappointing Q2 lap, leaving him 17th.
Kubica surged up to third off the line, but lost out to Rosberg in the pits and then when Alonso jumped the apex at Club. He would have been handed that place back had a broken halfshaft not caused his first retirement of the year shortly afterwards.
Petrov worked his way up to 10th before running wide and losing places. He later picked up a puncture and fell to 13th.
Force India
Another disappointing qualifying session saw Sutil and Liuzzi, the latter complaining of straightline speed issues, only 11th and 15th, which became 20th in Liuzzi's case when he was adjudged to have impeded Hulkenberg.
Sutil drove another storming race, though. He didn't get on with the hard tyres at the start so abandoned plans for a long first stint on them and switched to softs, then survived a collision with de la Rosa, put a great move on Schumacher, lost out to Vettel after a vast battle and finally finished eighth.
Liuzzi spent a while among the new teams then tigered through to 11th, despite clashing with Alonso.
Toro Rosso
A low key weekend for STR, with Buemi and Alguersuari only 16th and 18th on the grid. Buemi made it through to 12th in the race, while Alguersuari chose a long first stint and appeared in the top five for a period. He dropped out of the points when he pitted and later retired with brake problems.
Lotus
Kovalainen held off a stronger threat from Virgin than of late to top the new teams group in qualifying by taking 19th, while Trulli recovered from a litany of practice glitches to take 21st.
Despite only having 14 laps pre-race, Trulli emerged as top new team driver in the race, leading home Kovalainen in 16th after winning a tough battle with Glock.
Hispania
The first shock of an eventful weekend was Senna's abrupt suspension for Silverstone in favour of test driver Yamamoto. It was soon announced that Senna would be back for Hockenheim, whatever issue had been at stake obviously having been resolved.
After that it was business as usual for the team, which brought up the rear for the rest of the weekend. Chandhok's car was damaged by debris and he finished 19th, just ahead of Yamamoto.
Virgin
Virgin's updates brought it back onto Lotus's tail, with Glock splitting Kovalainen and Trulli in 20th on the grid.
He fought hard with them in the race, but a slight error dropped him behind the green cars to finish 18th.
Di Grassi qualified 22nd and barely featured in the race thanks to a very early hydraulic failure.
Sauber
De la Rosa was unhappy on Friday but delighted on Saturday, when he took ninth on the grid - his best result with Sauber yet, and three places better than Kobayashi.
But it was the latter who starred in the race, with a great start and consistent pace taking him through to a season-best sixth, while de la Rosa dropped back on lap one and eventually retired with damage from a clash with Sutil.