When I was a kid, I used to come to the British Grand Prix and camp with my dad, and it was the best weekend of the year. You would look forward to it for months, whereas it's very different now I'm working in F1.

The weekend is always one of the busiest of the year - but I still enjoy it to be honest. You don't dread it, but you know it is going to be very busy. It's a flat out event and there's always a sense of relief when you get to the end of it.

In terms of pictures, it's not the best. But it comes alive on race day. It is a bit like the Spanish or Italian races - it is a proper event, but until Sunday it doesn't really pick up. However, when the grandstands fill up and you get a proper crowd and atmosphere, it is a great race and a great grand prix.

The classic shots
Becketts remains one of the great places to watch F1 cars from - wherever you are at the corner.

I am a man who is stuck in a bit of an F1 time warp and I remember pictures from the 1970's and '80's - coming around Club, or through Becketts with a big lonely sky. You can still recreate shots like this - and I have done here.

For this shot, I was standing halfway between Copse and Maggotts. It is a nice picture and even standing there the F1 cars look so spectacular. You can see them loaded up - the tyres are sometimes distorted and you can really see it in a still picture. It is a great place to watch.

Bridge corner always used to be good. There was that classic Silverstone shot where they came over the brow after Abbey - and it was probably one of the nicest shots at the track, but unfortunately that has gone with the revisions they've made.

Copse is also good on race day because the grandstands are packed there. But until then, it's not great a place.

If I was a spectator coming on race day, I think one of the best places for a good picture and a good view is down through the Vale and Club. You can see quite a lot of the track from there.

My favourite shot from today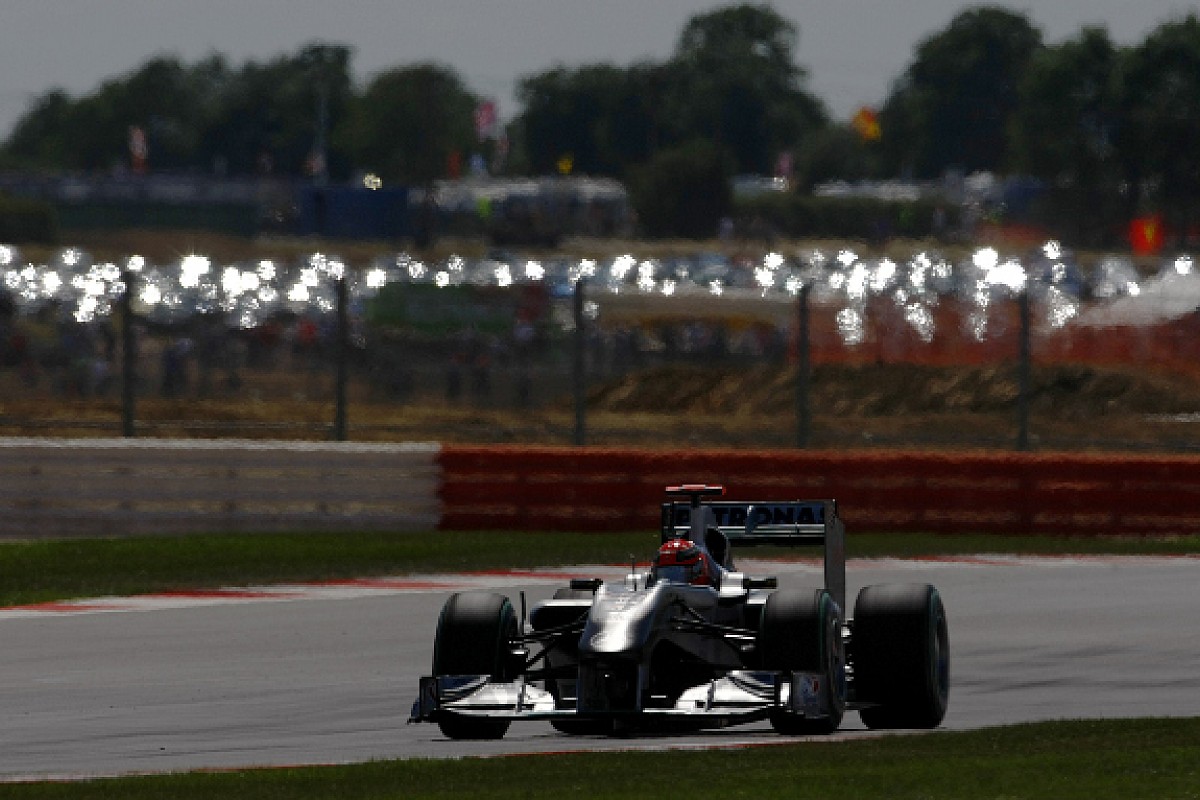 Whenever a new circuit layout is used, it is always an interesting day. I had walked the track on Thursday and I wanted to do a picture from the new bit of track because it is something a bit different.

I must admit that I was a little bit concerned about whether or not I would be able to take anything good. You really are so far away from the track that it's quite hard.

But when I went there, the grandstands were full - which was good. And I got this nice shot of Michael Schumacher under braking for Village Corner.

I like the way the heat is shimmering off the cars in the background and how that mirrors the Mercedes GP car. It really was a hazy-mazy day, very hot, and it looks really hot.

Everyone moans about the new tracks and how far away the photographers are, but I always think it is the same for everybody and it does separate the men from the boys. However, I was concerned that the day would leave me looking like a six year-old boy.

My favourite shot from Silverstone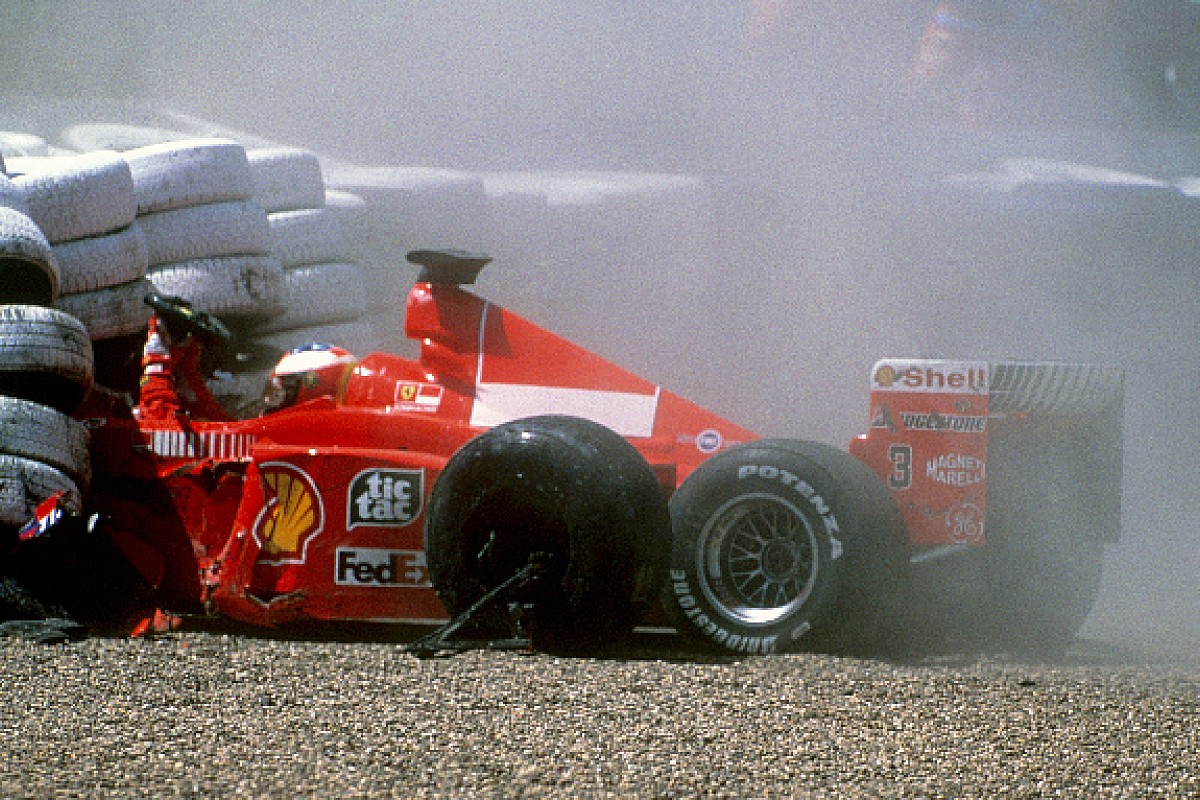 Sometimes pictures are remembered not because they are beautiful, but because they capture a really important event - like here when Michael Schumacher broke his leg in 1999.
I was doing the start shot down at Stowe Corner and there was only myself and one other photographer down there.

It is actually quite an exciting place to do a start shot because you are on the railway sleepers with the fence behind you. The cars come howling down Hangar Straight and if anything happens, you haven't really got anywhere to go. That gives you a real buzz.

The cars all went past and I spun around when I saw the dust flying. It was obvious that someone had gone off. When the dust cleared I saw that there was a bit of red, so I thought it must be a Ferrari.

I first thought it was Eddie Irvine, but then when the dust completely cleared I realised it was Schumacher. It was obvious then that it was quite a big crash, by the fact that he was stuck in the car.

It is moments like that when you realise that what you are taking is quite a big picture. That is when the adrenaline really flows!

I remember the following morning I was sat on my sofa eating my toast for breakfast and on the television they were reviewing the morning papers. They then pulled a paper up and said, 'And this one is leading with the Michael Schumacher accident...' I realised it was my picture!

Although in my job I get a lot of front covers of motorsport magazines, there is something quite different when you get a shot used in a national newspaper, which will not be seen by just the motor racing fans.

It was exciting seeing it on the TV. I finished my toast and ran down to the newsagent and bought every copy! It was a big picture.