Great Britain personal scoreboard
• Jenson Button will start his 180th race, reaching Ralf Schumacher at 14th on the all-time list. He has never led a lap or finished on the podium in his home race. He's also failed to qualify in the top 10 six times in 10 years.
• Lewis Hamilton sacrificed his race strategy to take pole in his first British Grand Prix, eventually finishing third. In 2008, he won by more than a minute from Nick Heidfeld. Last year he could only finish 16th. Hamilton has also won at Silverstone in GP2 (twice) and in Formula Renault.
• Michael Schumacher has won three times at Silverstone (1998, 2002 and '04). He has qualified in the top 10 in all his 15 participations.
• Nico Rosberg will start his 80th race at Silverstone. He scored his only points in Britain last year with a fifth, but has won at Silverstone in GP2.
• Sebastian Vettel dominated last year's race with pole, victory and fastest lap. He turned 23 on July 3 with seven wins to his name. At the same age, Fernando Alonso had won only one race and Lewis Hamilton four. Michael Schumacher, the all-time leader for wins, had none.
• Mark Webber scored just one point in his first seven British GPs, but finished runner-up to Vettel last year. He qualified second in 2008 but spun at Becketts on the opening lap.
• Felipe Massa has never started from the front row or finished on the podium at Silverstone.
• If Fernando Alonso completes the first lap he will pass 40,000km raced. He is also looking for his 100th points finish, which would equal Nelson Piquet. Schumacher leads that stat with 195.
• Rubens Barrichello is second only to Alain Prost and Michael Schumacher for podium places in the British Grand Prix. He has six to their seven. Barrichello won in 2003 and started from pole in 2000 and '03.
• Heikki Kovalainen scored his maiden pole at Silverstone in 2008, finishing the race in fifth - lapped by team-mate Hamilton.
• Bruno Senna won the 2008 GP2 sprint race at Silverstone and finished on the podium there three times in Formula 3.
Teams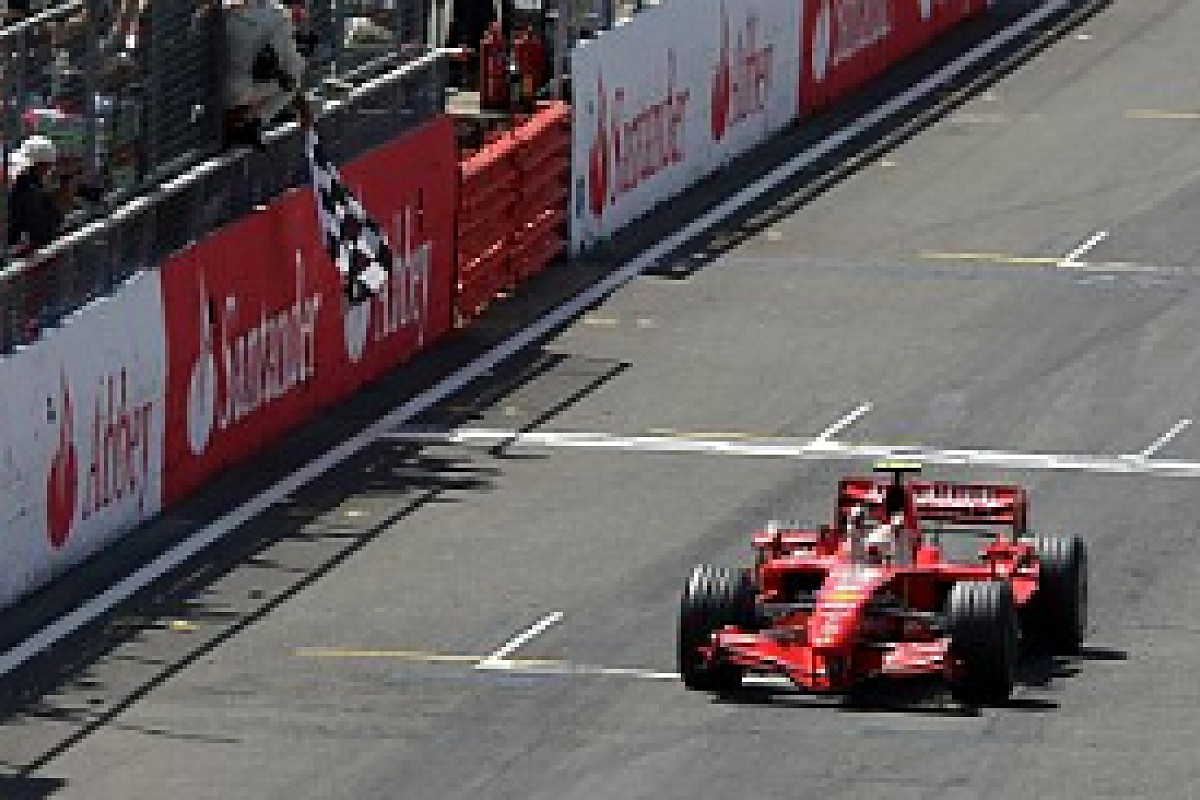 Kimi Raikkonen © LAT
• Ferrari is the most successful team in British Grand Prix history, with 15 wins to McLaren's 14. The last was 2007, with Kimi Raikkonen. A Ferrari hasn't started from pole here since 2003.
• The last Formula 1 win for a Lotus was in the 1978 British Grand Prix, with Carlos Reutemann at Brands Hatch.
• Both McLarens qualified outside the top 10 last year for the first time since 1983.
• Red Bull last year dominated the race with pole and a one-two, leading every lap and setting the fastest lap.
• A Toro Rosso has never finished the British GP inside the top 10.
• Williams scored its 100th win here in 1997.

Other notes
• This is the 10th different version of the Silverstone track. The first one measured 4649m with eight turns, now the length is 5901m with 17 turns.
• Alfa Romeo (1950), Ferrari (1951), Vanwall (1957) and Williams (1979) all scored their maiden wins at Silverstone.