Montreal and Valencia were two tracks that were not supposed to suit Red Bull, and in retrospect that perhaps explains some of the tensions surrounding the Turkish GP. There, everyone in the camp realised that a priceless opportunity had been wasted ahead of two potentially tough races that could give the opposition a further chance to take advantage.
Canada was indeed a stressful weekend for RBR, and fourth and fifth places were seen as successful damage limitation. But in Valencia expectations were exceeded as the team swept the front row and Sebastian Vettel won in superb style.
While Mark Webber's accident meant that the Aussie failed to score, of greater importance was the fact that the RB6 passed this most public of crash tests with flying colours.
"The first feeling is relief that Mark emerged unscathed from a very nasty looking accident," team principal Christian Horner told AUTOSPORT after the flag. "The chassis held up to the impact and did everything it should. So that was the biggest result out of today.
"It's been very important for Seb to get a good result here. It's good for his confidence as we approach the heart of the championship over the next four or five races. He had a bit of bad luck recently, whether it be with roll bars [Turkey qualifying], gearboxes [Montreal race] or whatever."
Better than expected
After qualifying, everyone at Red Bull had a spring in their step. The numbers suggested that two cars on the front row simply wasn't supposed to happen at this particular venue.
"It was complete surprise to have the performance that we managed to have here," Horner admitted. "So to get a one-two grid slot was against all our predictions coming here. And it's testimony to the hard work that's gone on in the factory, getting the updates to the car - primarily the F-duct here - and also both drivers delivering exemplary performances where they were split by less than a tenth of a second."
Horner admitted that even after Vettel topped the times on Saturday morning, the team was unsure about the true potential of its rivals: "It still looked very, very tight, and you never know what your opponents are doing. So we just focused on our own performance as usual and it came together in the afternoon."
In the race itself everything went pretty much to plan, at least for Vettel. It got a little tight at Turn 2 where Lewis Hamilton had a look down the inside, but Vettel survived that moment intact, and indeed the McLaren driver lost a bit of momentum and had to switch his focus to defence.
Vettel was thus a handy 1.6s clear at the end of the first lap, and he'd opened that up to 4.1s by the time the safety car came out at the end of lap nine. Had the race run normally, he would have been home and dry.
The safety car upset things, but ultimately Vettel didn't suffer. He only just missed getting trapped behind the AMG Mercedes when it first emerged, and had that happened both he and Lewis Hamilton would have joined the Ferraris in being stuck at the head of a queue of cars that had just taken a free pitstop. And that would have made for a really interesting outcome.
Instead, he was able to head unhindered round to the pits. Intriguingly, he arrived there 7s ahead of Lewis, having been 4.1s clear at the start/finish line, reflecting a quicker lap under yellows and also perhaps the fact that Lewis hesitated when first confronted by the safety car.
For the restart, Vettel had a new headache. His 4.1s margin on Lewis had become nothing, and what's more, the McLaren driver had replaced the nose he'd damaged at the start, and thus potentially now had better performance. There was also no guarantee that Vettel would still have the upper hand now that both men were on the prime tyre.
Given that situation he can perhaps be forgiven for locking up at the final corner just before the restart, caught out a little by cold tyres and urgency to get going. Hamilton was just 0.4s behind as they crossed the line, but Vettel stayed safely in front on the run down to Turn 2. However he had now had a flat spotted front tyre and would have to carry the problem for another 43 laps.
Had Lewis been able to maintain that sort of pressure, the tyre might have become more of an issue. But his now infamous drive-through penalty - which he took with 30 laps to go when he was just 1.7s behind - gave Vettel breathing space.
So while it's true that Lewis didn't drop any positions when he took his penalty, he did lose a clear opportunity to push Vettel and possibly tip that damaged tyre over the edge. Instead, the German had a margin and could pace himself. The gap subsequently fell from 14.5s straight after the penalty to 3.8s on the penultimate lap, before Lewis backed off.
"Sebastian's drive was very, very strong," said Horner. "He controlled the pace from the front, he was able to respond to whatever Lewis was able to throw at him. He locked the brakes pretty badly at the restart and that created quite a large flat spot for the remainder of the race. So despite shaking his fillings out, he always had enough in hand to control the gap. So it was a very controlled drive from him.
"To be honest with you, I'm pleasantly surprised at the pace we've had this weekend, because it was a circuit that we did fear would expose some of the weaknesses of our package. But I'm really delighted with the way that the team has responded.
"We haven't made a big song and a dance about what we've been bringing to the races, we've gone about it in a much more circumspect manner. We've brought a few bits here, and they've all worked, which is testimony to the work that's going on in the factory. It's very gratifying to see the team work coming through and contributing to the car's performance."
Adrian Newey agreed that the win was especially gratifying.
"For the last couple of years here we have struggled a bit," conceded the technical boss. "A combination of all slow speed corners and long straights has not generally been our forte. I think this circuit is slightly unusual because it's slow speed corners and long straights. Every single corner is a second gear corner.
"In truth we were expecting to be probably at similar level of competitiveness to Montreal, so actually to be slightly further forward was good. We've had a couple of parts on the car, with the F-duct and the new diffuser, and maybe that was enough to make the difference."
The F-duct: Did it give RBR an edge?
Sometimes we get a little too excited about a high profile development such as the F-duct, which may well obscure something more significant that the team has quietly been working on. But there's no doubt that that it did give the RB6 a little extra performance in Valencia.
"It certainly helps, and anything that helps on a circuit that has got some long straights is a benefit," Horner admitted. "Historically, it's a track that both with RBR4 and RB5 we've struggled at, and it's great to come here and be competitive.
"We introduced it in a very short space of time, we haven't allowed it to compromise other development projects that we've had ongoing and we've managed to get it onto the car and add performance, which adds up to the kind of result we've seen here.
"It's now at a stage where it's contributing to the car's performance, so therefore it earns its place on the car, as with any update. For sure the more mileage we've done, the more understanding and knowledge we've built up."
On Friday in Turkey the F-duct didn't work as planned, which is why it was taken off the car. In essence it wasn't behaving itself in the corners.
"Basically the F-duct is trying to replicate a transistor, it's a pneumatic transistor," Newey explained. "So you're trying to switch between two different states. In truth trying to get that to act in a digital fashion so it's either on or off, without leaking one way or the other, is not easy. In Turkey it was stalling well on the straights, but we were losing performance in the corners even when the driver wasn't operating it.
"It's a small straight-line speed advantage which translates into a small amount of laptime. For us it was a slight improvement in our competitiveness, but it's not a massive step. But still worth having."
"It's still quite immature so we know we've got some improvements to come in that area," said Horner. "But as I said it earned its position on the car this weekend. It was definitely a step forward."
Mark Webber: Bad luck... And good
Mark Webber's problems began at the start when his second place was lost off the line. After that everything that could go wrong did go wrong, as he found himself hung out to dry through the rest of the lap and was bundled down to ninth.
With the nature of the Valencia race the team knew that he would probably gain very little from there, which is why he was brought in as early as lap seven for prime tyres. The aim was to find him a few laps in clean air with which to bang in some quick times and jump at least some of the cars ahead before they made their own stops.
It was a sound plan, given that stuck behind Nico Hulkenberg, he was lapping around 1.5s slower than the pace that Vettel was demonstrating the RB6 was capable of. Just a handful of clear laps would have allowed him to pass both Williams drivers and possibly even Jenson Button as well, depending on how soon those guys reacted with their own stops. RBR gave its opposition a gift however as a front left wheel problem meant the stop was around 4s longer than optimum.
"It was a shame for Mark," said Horner. "Things got off to a bad start and he dropped a couple of places to Fernando and Lewis, and then he got knocked about a bit at the next two chicanes, dropping further places. We elected to pit him early with nothing to lose to have a crack at putting in some good laptimes on the prime tyre. We had a slight problem with a front wheel nut that cost him a little bit of time."
We'll never know how well the plan would have worked. None of his rivals ahead reacted by stopping, but the delay gave them some extra breathing space, so they may have decided to wait.
Instead of emerging in an empty 11-second window between Kamui Kobayashi and Heikki Kovalainen, the delay meant that Webber came out behind the Finn. And Kovalainen was lapping around 3.5s off the RB6's potential (Vettel's clear track) pace.
"He caught Kovalainen extremely quickly and with a huge performance difference between the cars. Unfortunately an incident happened where Kovalainen's braking point just took Mark completely by surprise. He was right in his slipstream and it was a very dramatic outcome, being launched over the back of his car. So it was not a very nice moment at all, and a great deal of relief for us that he was okay."
Horner ran Kovalainen in the Arden GP2 team in 2005 (he finished second behind Nico Rosberg) and has a lot of respect for him. As such he's probably a little more cautious in his criticism that he might be with another driver.
"It was a difficult situation for Heikki because he's in a car that is slow," said Horner. "Theoretically they're racing, but they're not, because there's such a time delta between the cars. He just braked at a point that was probably 80m earlier than Mark would usually brake. And Mark was flat out on the limiter at 308km/h.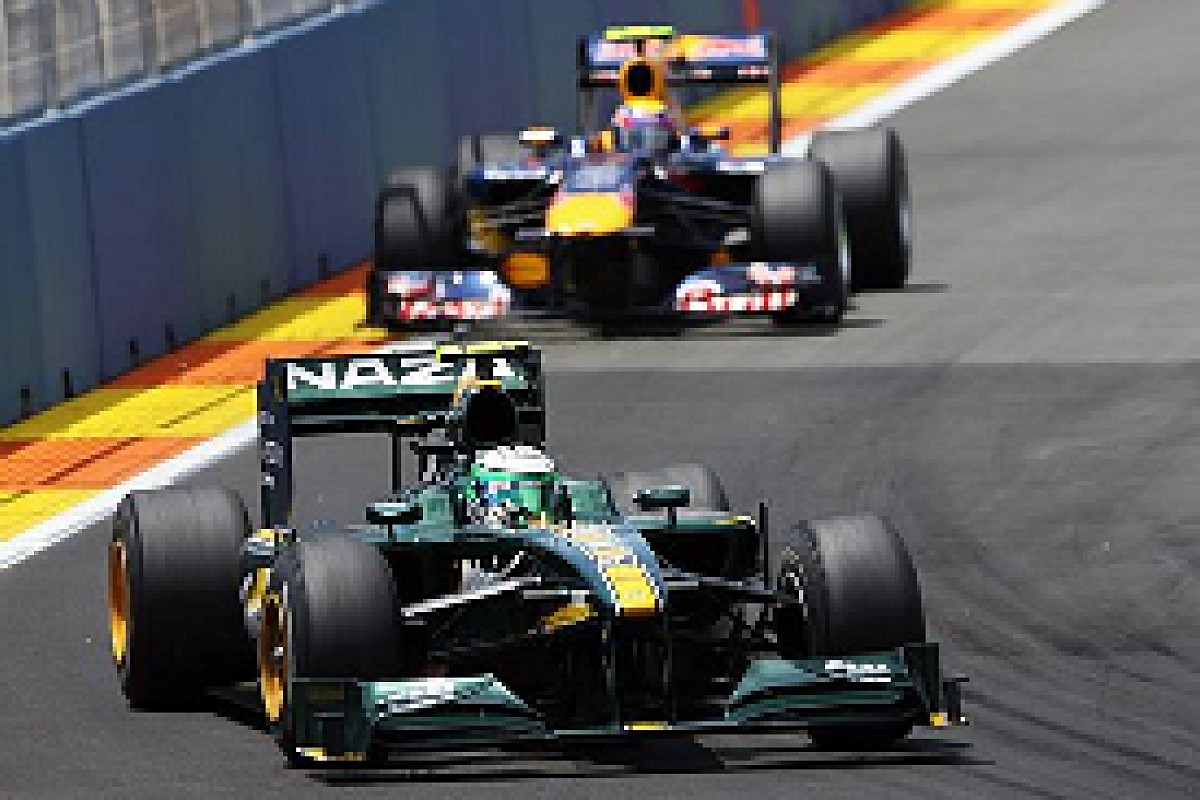 © LAT
"To make his strategy work, Mark needed to go past Heikki quickly and was in a rush to get past him. Heikki was in the middle of the road and it wasn't totally transparent whether he was going to defend to the right or go to the left. Mark felt he still had a bit of time to decide before he got to the braking area. But Heikki braked half a kilometre before Mark thought about braking.
"It's difficult to blame Kovalainen, it's just a situation where you've got a massive performance differential between the cars, and it's caught him [Webber] out."
After Australia and Turkey, this was the third time in nine races that Webber had been involved in costly contact with other cars, although on the previous occasions he at least made it to the flag after a stop for a new nose.
"It's his first non-points score, and it's a shame not to keep up his 100 per cent record. It was just frustrating because there was an opportunity to score well here, but we're just grateful to see that he's okay."
Indeed, while the Barcelona/Monaco winning chassis is now consigned to history, it did everything it was supposed to do. For Newey in particular, the safe outcome was a welcome one, given the scale of the incident.
"Very much so," said Newey. "Whenever you see a car - it doesn't matter whose car, but particularly a car you're responsible for - go into an accident like that, it's heart in the mouth stuff.
"It was a pretty big one because it landed upside down on the front of the chassis and the roll bar, which gave all the roll structures a big test. And then it careered into the tyre barrier, still at very high speed, with no nosebox on it. It's not really designed to hit a wall that hard with no nosebox..."
Silverstone: Will history repeat itself?
Last year at Silverstone, Vettel and Webber scored a superb one-two finish, a result that really gave the German's title campaign some momentum and confirmed to everyone that Red Bull was going to be the team to beat in the latter half of 2009. Everyone assumes that the track will suit the car, but then there's a new package from McLaren, updates from Ferrari, Renault and even Mercedes should be more useful than it was in Spain.
"You never know with the English weather," said Horner. "But theoretically Silverstone is a track that we should go well at, with high speed corners and medium speed corners. It will be interesting with the new layout. But it's very dangerous in this business to underestimate your opposition. We've exceeded our expectations here, maybe others will do that in Silverstone.
"But both the drivers like the circuit, and it's our local race. It will be difficult to beat last year's performance, but we'll try very hard. We've got a few more bits in the pipeline as well, so we'll just keep pushing, keep developing.
"There's no guarantee that everything you put on your car works, but thankfully this year everything we've added to the car has contributed in performance. It's a completely different venue to Montreal and Valencia, but we're reasonably confident that we can do well there."
Newey is confident that the track will once again suit the car. He has no doubts about which of the remaining 10 venues troubles him most: "Monza was probably one of our less competitive outings last year. So we'd obviously like to do a bit better there..."