If you're going to play the chassis blame card, you've got to make damned sure that you perform with your new monocoque.
That's exactly what Vitantonio Liuzzi did in Montreal two weeks ago, qualifying a career-best sixth (which became fifth after Mark Webber's gearbox change) and recovering from a first-corner clash with Felipe Massa that kept going until the second corner to take a point for 10th place after a robust last-lap pass on Michael Schumacher. It was the kind of outstanding performance that last-chance saloon resident Liuzzi desperately needed with the prevailing opinion in the paddock reckoning that it was only a matter of time before highly-rated test driver Paul di Resta was promoted to a race seat.
Although the team won't talk about the specifics of the chassis problem, it's believed that there was a genuine bonding problem in the manufacture of the monocoque. That explains why in Spain he was a country mile off team-mate Adrian Sutil's qualifying pace (to the tune of a second), while sandwiched in-between he outqualified the German at Monaco, a slow track that would mask a chassis weakness.
With the excuse turning out not to be an excuse, but a genuine reason, now he has to turn in Montreal-levels of performance every race after switching back to the chassis used in the opening four races of the season. That doesn't mean he needs to be on the third row every time, but he needs to be getting the best out of a Force India that has been a points threat every race in 2010.
The Italian remains an enigma in Formula 1 terms. No one doubts that there is ability in Liuzzi, but for every person who swears by the Italian's talent, there are plenty queuing up to write him off. On Sunday, he will start his 53rd grand prix. In the previous 52, he has scored 17 points and qualified in the top 10 only four times. Granted, save for recent times at Force India, much of his career has been spent in sub-top 10 machinery, but the raw numbers show that his qualifying record against his team-mates (David Coulthard, Scott Speed, Sebastian Vettel and Adrian Sutil) reads 25-27, while he has scored 70 per cent of the points of those in identical machinery.
On paper, it's not a bad record but it is not a stellar one. To turn those statistics in his favour, he must start getting the better of team-mate Sutil on a regular basis. Over his six years in and around F1, he's shown flashes of that kind of form, but flashes must become a sustained burst. Montreal was a great starting point.
"To put in a performance like Montreal after changing the chassis makes you feel happy because you know that what you have been saying is not wrong," says Liuzzi in a break between sessions at Valencia. "But I had 100 per cent support from the team; they believed in me and they tried to do everything to understand the problem.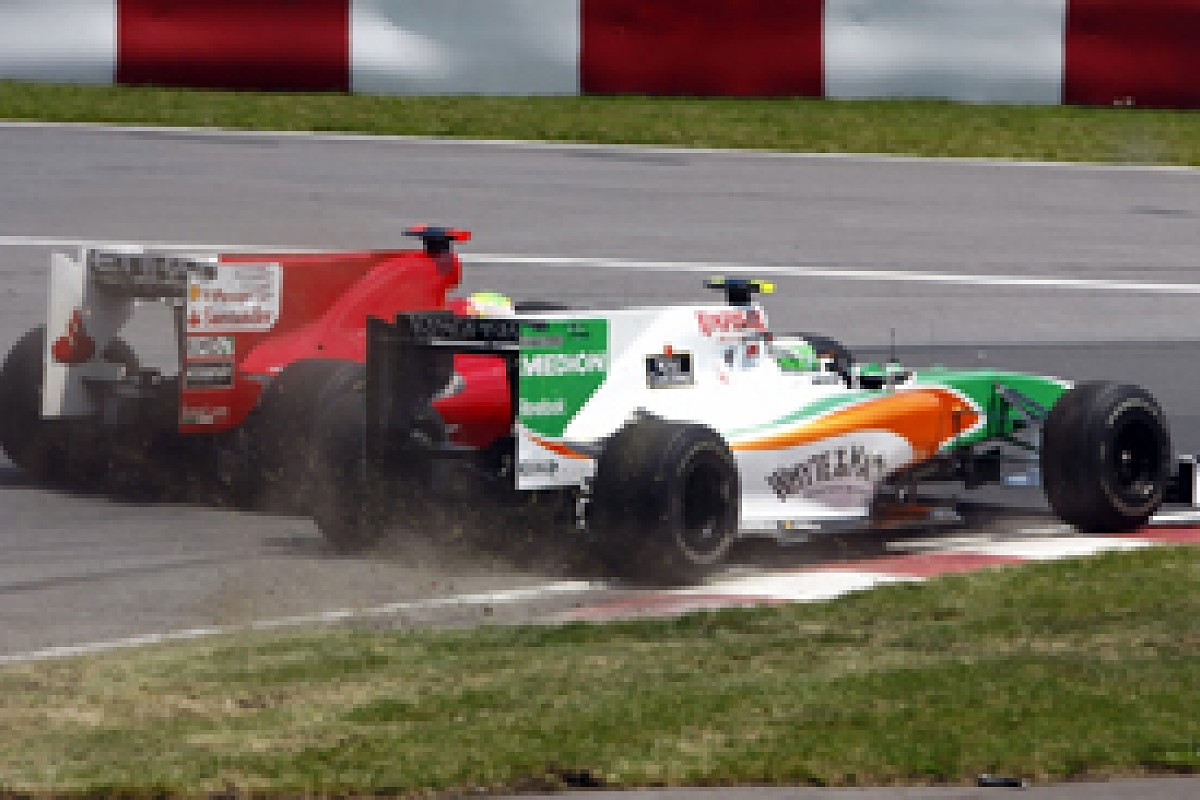 Liuzzi takes on Felipe Massa in Canada © LAT
"In the end, it worked out. In Turkey and Barcelona we had problems and in Montreal we went back to our base from the beginning of the season and started to be competitive again.
"We have to wait until a 'normal' circuit like Silverstone to be 100 per cent sure that we are completely back in business because Montreal and Valencia are downtown circuits will walls where the driver can make a difference. To be sure that the chassis is right, we have to wait because the reason that we originally changed was that this one was good in the corners, but slow on the straights. But it feels good here.
"As a team, our Montreal performance was down to a number of things - the amount of downforce used there suits our car and starting P5 was a strong position for the race. We showed good pace even after the accident in the first corner [with Felipe Massa] even though part of the car was missing!"
After dropping to the back, Liuzzi salvaged a point for 10th place after the late battle with Schumacher. Echoes of his F1 debut at Imola in 2005, when he passed the German on his first lap as a race driver with Red Bull Racing. There are moments like this dotted throughout his F1 career, but they do not occur regularly enough to join the dots and create a picture of a top-line grand prix driver.
So you have to ask why not. One interpretation is that he is only sporadically capable of performing at such a high level, the other is that the harsh glare of Red Bull didn't help him to develop during his two-and-a-bit seasons racing for its main team and Scuderia Toro Rosso. Maybe that's why he keeps emphasising the value of the team's support for him.
"By far," he replies when asked whether the positive reaction from the team differs to the way that previous employers might have responded. "The team reacts to the drivers' requests and do everything they can to support you. It has been like this right from the start when I was third driver doing simulator work or testing.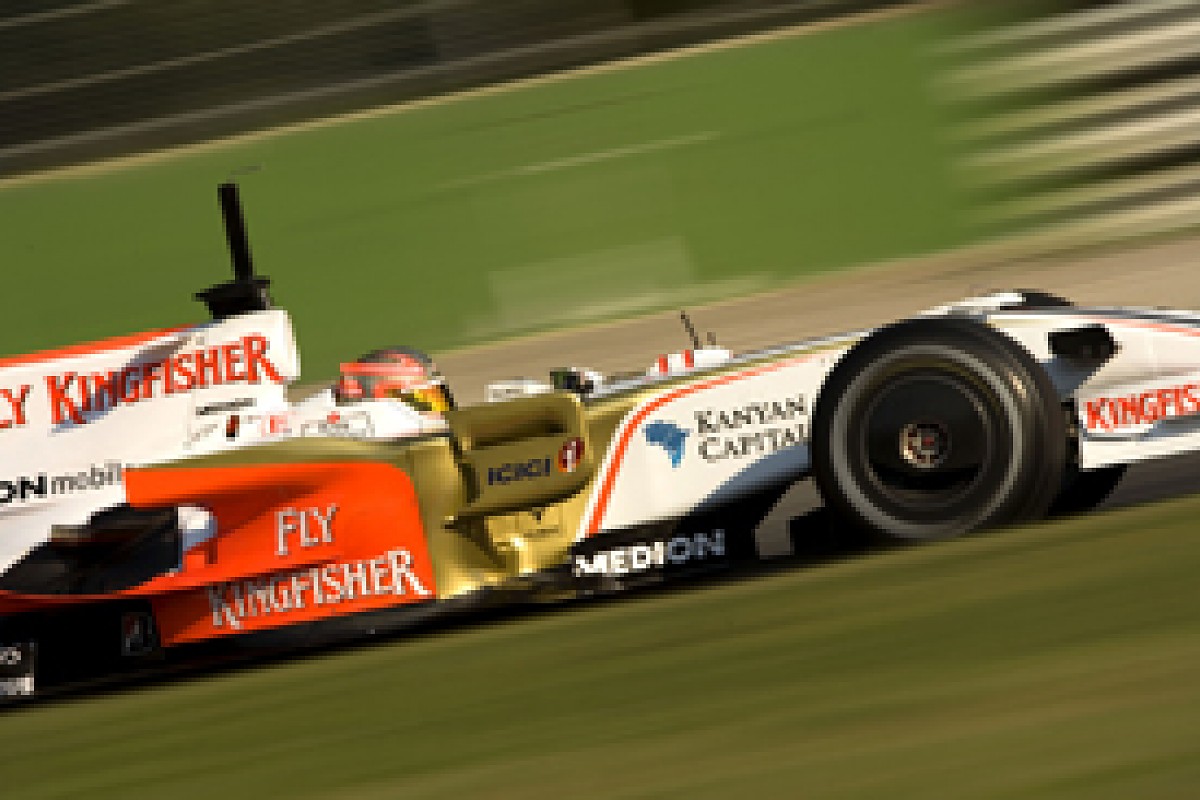 Liuzzi committed to Force India as a test driver at first © LAT
"I signed with Force India before it really started as they were still Spyker when I first had talks with them. I believed in this group of people and, with the right person on top in Vijay Mallya, which has allowed them to develop. In the past, I was with Toro Rosso, I started with them when they were still Minardi and we grew up to a point where, the year after I left, it became a winning team [with Sebastian Vettel at Monza in 2008]. I felt like a big part of that development and here it's the same."
On paper, that sentiment sounds a little like someone basking in reflected glory, but it's said without a hint of malice. To state that the Italian would have been able to match Vettel's achievement at Monza had he still been with STR in 2008 is stretching it, even for a leap of faith, and to Liuzzi's credit he does not come across as a backward-looking sort. Even after being flicked by Red Bull at the end of 2007, he and his manager, Peter Collins, had the foresight to chase a long-term association with Force India. Even back then, 2010 was always going to be the key year for a Liuzzi career revival.
"It was a gamble I took," he says. "There were other opportunities around, but I believed in this team a lot and I was sure that they could become strong. They are showing that this year. Waiting was really tough, but I had to be objective and realistic because sometimes to take a step forward, you have to take a step back. I have changed quite a bit from my Red Bull times and now I'm a different person with a different level of maturity. And I'm in the top 10!"
The top 10 certainly proved elusive during his Red Bull years - save for a points-paying eighth place on that Imola debut - and it's fair to say that his time at Toro Rosso wasn't the easiest. Despite a good relationship with the team, there was a feeling that he wasn't always taking his racing as seriously as he might have done. But that feeling grew out of Red Bull's desire for its young guns to present a certain 'old-fashioned' racing driver image. It was a classic Catch 22 situation.
"At the beginning, they were requesting a different image from the drivers," he says. "Nobody remembers how different Red Bull was in the first two or three years in F1 because now it has changed completely. For the drivers, it was a confusing situation. I felt good in Toro Rosso and would have liked one more year there, which would have put me in a completely different situation, but I'm very happy with being at Force India."
Publicly, the start of Liuzzi's rehabilitation as a grand prix driver started at Monza last year. With Giancarlo Fisichella called up by Ferrari, Liuzzi was in at Force India for the final five races. In the Italian Grand Prix, he qualified seventh despite being desperately short of track time and was on course for fifth place - and, if the cards had fallen right for him - even third place when he retired with a gearbox problem. The final four races of 2009 were nothing special, but Liuzzi feels those end-of-season run-outs played a key role in preparing him for his first full F1 season since 2007.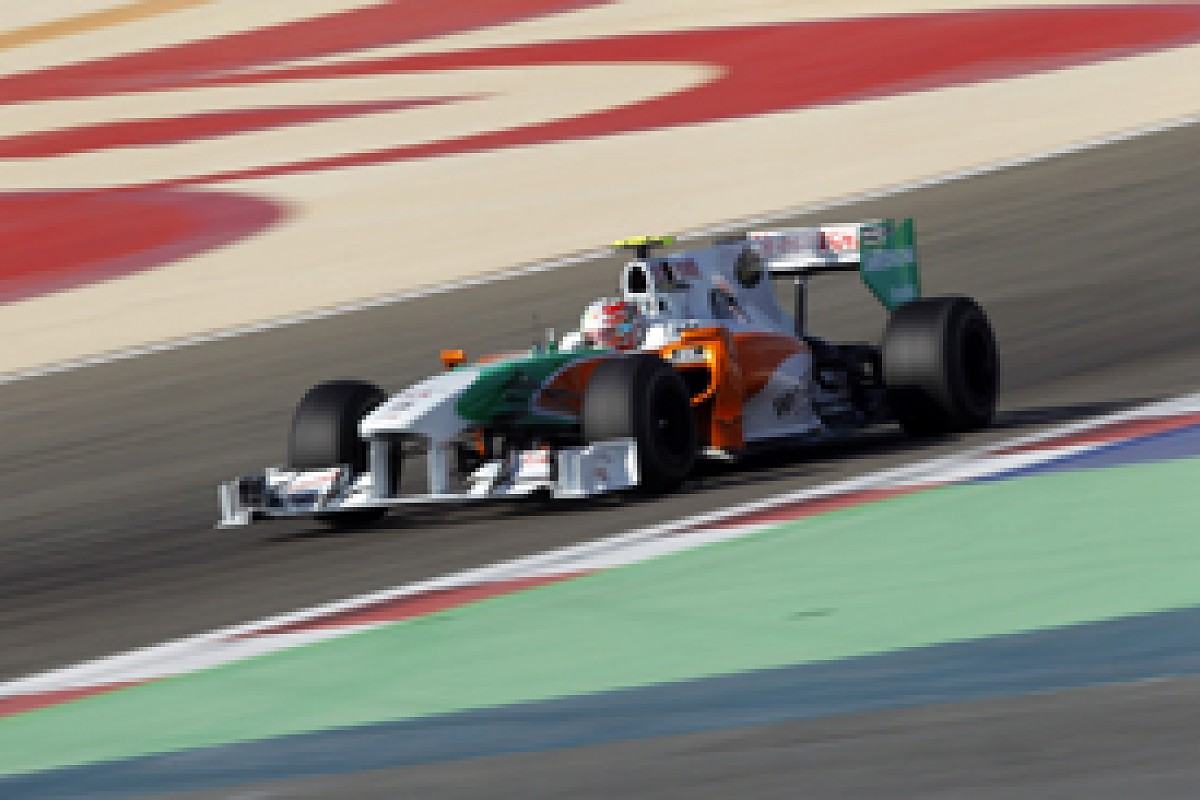 He started 2010 with points in Bahrain © LAT
"It was the preparation I needed to be back right from the first race," says the Italian. "I finished ninth and seventh in the first two races of the year and that was helped by being back in the race mode - especially at the start. That experience really helped me to get back into the rhythm.
"That was a good start, and if we can keep the momentum and keep developing the car as we did in 2009, we've got a great chance at circuits like Spa and Monza to repeat the performance of last year [Fisichella was on pole position in Belgium and finished second] and that of Montreal where, if we hadn't had the incident on the first lap, we would have been close to big points. We can be in a position in four or five races to maybe fight for podiums."
A podium would be timely for Liuzzi (although he is still some way off compatriot Pierluigi Martini's 119-race record for world championship race starts without a top three finish), but the key thing is not one-off results - we know he can achieve them - but sustained, week-in, week-out, success. With the chassis problem behind him and a great performance in Montreal as a starting point, perhaps the stars are aligning for Liuzzi. He would be a late starter, but he would be in good company following the emergence of Jenson Button and Mark Webber as regular winners over the past few years.
"I'm really happy for Jenson and Mark," says Liuzzi. "The speed you can have if you are in a good car - if Fernando Alonso had stayed in a Minardi he would never be world champion - and to get big results is always a matter of the environment. It's good that these older drivers showed the value of their experience. It's a good reminder, not so much for me, but it explains a lot for the watching world."
Like every other driver on the grid, Liuzzi needs no affirmation of his ability. But now is the time that he must show that he can be something more than occasionally successful. Superb weekends like he produced in Montreal - and Monaco, where he outqualified Sutil for the first time in 2010 - show that he has something to offer F1. The next few months will tell us just how much.