Refreshing it was on Wednesday to receive a World Motor Sport Council press release containing more than a few lines. In the recent past, for which read under ex-FIA President Max Mosley's reign, the trend had been towards minimalism, with Formula 1 matters warranting just a paragraph or three, and other forms of motorsport even less.
For example, after the last WMSC meeting held under his direction - in Paris two days prior to Jean Todt's election as his replacement on 23 October last - the F1 word count ran to just 79 words (provisional calendar dates excluded). By contrast, the first under the Frenchman, convened in Monaco prior to the FIA's annual prize giving in December, showed a marked improvement: 204 words, again with dates excluded.
Prior to the season's opener in Bahrain a WMSC meeting was convened in the desert kingdom, and, although the word count fell 33% percent on Todt's first effort, it was still, at 138 words, almost double the October count.
This week's meeting, held Wednesday in Geneva, showed a marked improvement: no less than ten topics were discussed, with the precis running to 604 words. And, remarkably, there had been no substantial leaks of agenda topics ahead of the meeting despite many of the items having been tabled via the F1 Commission - which met on Monday - for WMSC ratification.
A spirit of detente obviously prevails between the governing body and teams, with both sides patently respecting confidences, and, crucially, dumping any hostile thoughts in the bin prior to entering the meeting. This was, in fact, confirmed by a source, who previously had no qualms about disclosing agenda information.
"No offence," he said when asked to comment about the F1 Commission meeting, "but to share with you what was discussed would be counter-productive. We worked hard to get here (to the F1 Commission, which recently seldom met, and - believe it or not - excluded teams such as McLaren), and we intend keeping it this way."
For the record, the 2009-12 Concorde Agreement stipulates the make-up of the Commission, namely: a senior member of each of the competing teams (currently 12, including one who sits on the WMSC as F1 Commission Delegate), three circuit promoters from inside and outside Europe respectively (appointed by the Commercial Rights' Holder, i.e. Bernie Ecclestone), one each promoter from in/outside Europe (appointed by the teams), a delegate representing the appointed tyre supplier (or rotationally if more than one), one member representing engine suppliers (nominated by the Engine Working Group), two members representing different sponsors who have been in F1 for five or more years (currently Philip Morris and Vodafone, appointed by the teams), the president of the FIA (or his appointed alternate), and the commercial rights' holder (or his appointed alternate).
Thus the F1 Commission has 26 members, and 27 should the 13th team slot (ever) be filled. Thus the teams effectively have an 18-strong voice should their appointees vote sympathetically. The 'other' side calls on eight votes through their appointees.
All decisions require at least 18 votes to be carried. Seem cut and dried in favour of the teams, then? Not necessarily, for the team-friendly promoters could well be swayed by the CRH for reasons not unrelated to hosting fees, as could sponsors and tyre companies who occasionally have needs for track-side signage or Paddock Club packages. It is common knowledge as to who controls same...
F1 Commission decisions (plus any other business the FIA or CRH wishes to table) are forwarded to the WMSC for discussion/ratification, and thus this week's meeting in Geneva, at which ten F1-related matters (and a raft of items pertaining to further forms of international four-wheel championship motorsport or their ministration) were decided.
Most discussion points reach the F1 Commission via various FIA working groups or sub-commissions (sporting, technical, overtaking, calendar, etc.), or through FOTA's various executive and sub-committee channels. Motions generally require 70% majorities to be carried forward.
Many of the items discussed Wednesday had been previously been hinted at by team sources, so there were no major surprises coming out of Geneva - unlike previous years, when, for example, Mosley sprung budget caps or downsized engines on the sport, or laughably, suggested that Michael Schumacher occasionally race a Minardi.
There were, though, some surprising omissions, such as no decisions on Sauber's name change request (from BMW Sauber F1 Team to plain Sauber - confirmed by a source within the Swiss team), or, indeed, details of action(s) to be taken against the principals of the liquidated US F1 operation, which heaped so much shame on the sport.
The list of the WMSC (F1) decisions can be accessed here, so to run through them here would amount to wasteful repetition. However, not all resolutions are self-explanatory, while a decision such as the granting of the superlicence to Ho-Pin Tung is not of major interest to the F1 community apart from those with Chinese or Dutch interests - the Gravity-managed Renault F1 test driver's nationalities.
The fuel draining regulation obviously has its roots in the Lewis Hamilton Canadian Grand Prix qualifying affair, while the concept of specific licences for F1 personnel can be traced right back to F1's latest 'Gates': the McLaren on Ferrari spying affair, and Nelson Piquet's crash-test dummy antics in Singapore in 2008.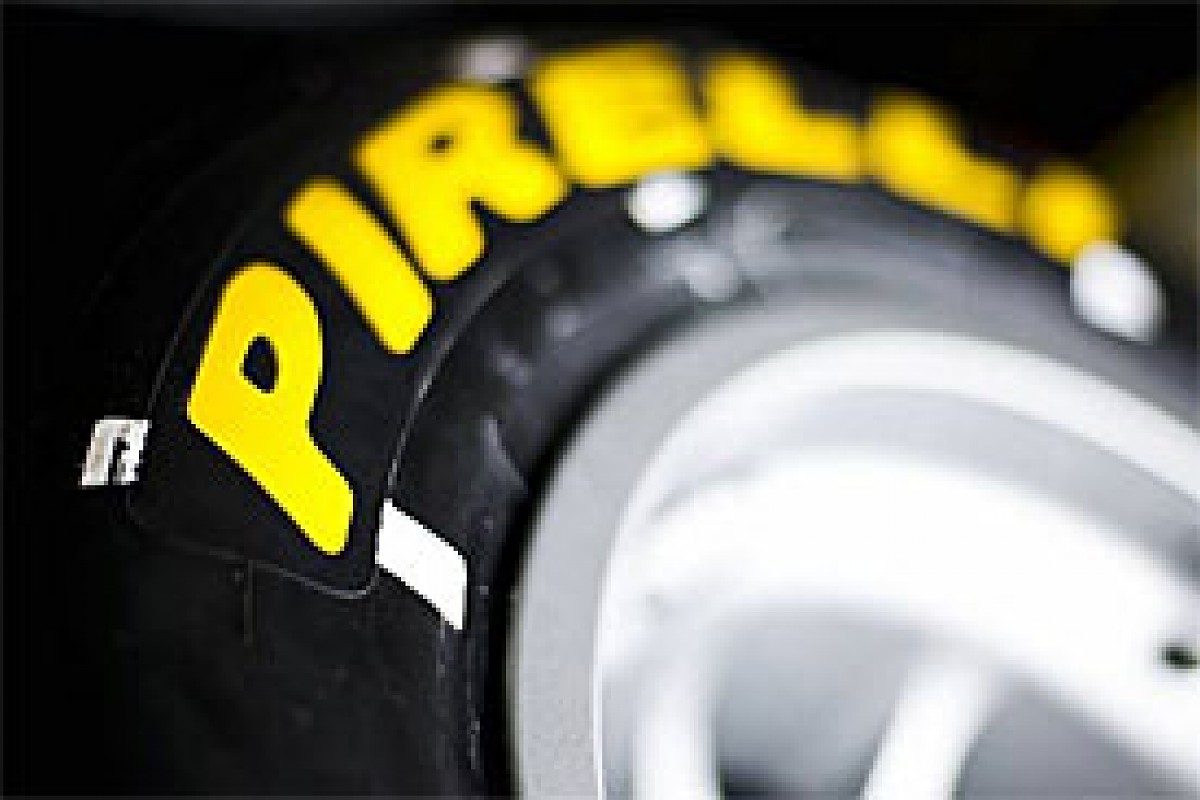 Pirelli will be F1 tyre supplier in 2011 © LAT
The safety car issue arose through Mercedes's singular interpretation of the last-lap rules in Monaco, when Schumacher passed Fernando Alonso despite the race ending under a safety car as defined in the Sporting Regulations. However, why the regulation needed reframing is unclear, for the FIA's Race Director decreed during the last two grands prix rather that the race would end under full yellow flags in the event of a similar occurrence, which seemed a perfectly reasonable solution.
The General Safety issue is simply a reiteration of what is both common sense and applied before, and a return to the 107% qualifying regulation is equally logical, for the concept of grand prix machinery circulating slower than GP2 cars costing a tenth of the price is anathema to fans with true sporting instincts. So, no surprises there, either, particularly as Ecclestone vowed to reintroduce the 107% cut.
Which brings us neatly to the meat of the matter, for hidden in the minimum-weight clause lies the key to the return of KERS. One of the bug-bears of the Kinetic Energy Recovery System was that the mass penalty of motor-generators and storage devices invariably overrode the advantages of its six-second 80 bhp boost.
Despite being legal in 2010, it was not used by mutual agreement - although it remained in the regulations on an optional basis - and the carrot to encourage teams to run this 'green' device lay in increasing the weight limit to partially offset the 30 kilogram penalty of KERS.
Thus the minimum weight of F1 cars increases by 20 kilograms to 640 for next year; but, again, that is not the whole story, for the number and tensile strength of wheel tethers are scheduled to increase for 2011, accounting for around 1.5 kilograms per corner.
Then, additional under-chassis strengthening will be introduced to prevent the so-called Glock Effect (Timo's leg was badly lacerated in Japan when ballast plates unfastened themselves during his qualifying crash), accounting for a further 5 kilograms.
Thus only 9 kilograms remain to compensate for KERS. Whether that will suffice to persuade teams to run KERS is an open question. One team boss fears not, adding that only those majors with production-car technology transfer issues to contend with will avail themselves of the device, with the balance merrily optimising weight distribution by ballasting their cars. So, until KERS is mandatory, it is unlikely to find universal favour despite the FIA's best efforts - but that would require another F1 Commission resolution....
FOTA had pushed hard for a doubling of power - permitting either 80 bhp for 12 seconds per lap, or 120 bhp for six - but that was allegedly blocked by a manufacturer team (thought to be Mercedes), whose existing storage units are said to be unable to handle such increases. Another opportunity missed, then, for a doubling of power would surely persuade all teams to fit KERS.
While a (FOTA-driven) ban on F-ducts or similar driver-operated aerodynamic devices has been on the cards since May, agreement to use moveable aerodynamic device as broadly outlined in the FIA release is a recent development. During a Technical Working Group meeting in Canada, during which the concept was fine-tuned, the teams agreed a delay of two laps into a race before such devices may be deployed, and the specified gap of a second to the car ahead. Thus it seems moveable rear wings, as opposed to simply flapped front wings, will again be reality 42 years after they were originally banned on the grounds of fragility. Can the new moveable wings take the strain? Ask any Airbus A380 pilot...
So onto tyres: during (literally) the Canadian race, FOTA folk were seen huddling over draft tyre supply contracts in company with Paul Hembery, Pirelli's Director of Motorsport. Frantic calls and texts shuttled about the place - in fact, FOTA chairman Martin Whitmarsh is believed to have been involved in negotiations via text messages from his perch in the pitlane - and a trusted source disclosed that evening the deal was as good as done.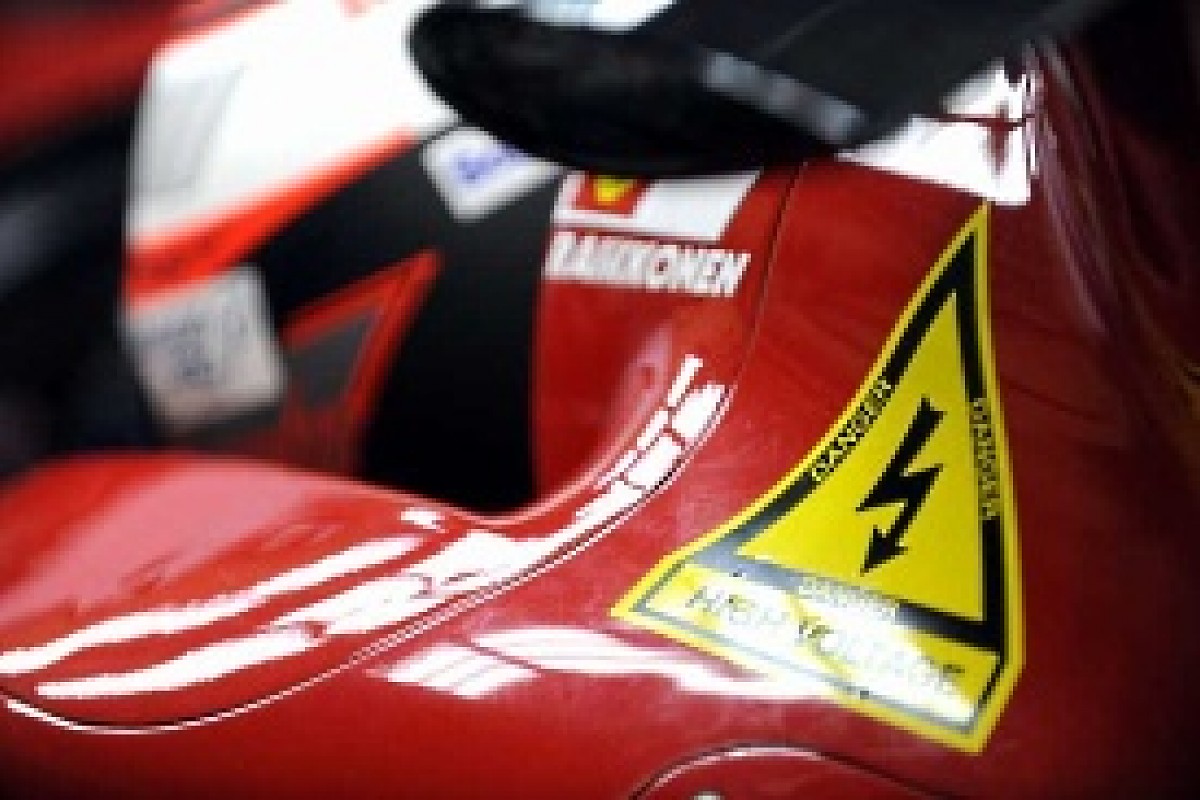 KERS is still a big question mark
But, this column asked, what about the tender procedure to be launched by the FIA? "Won't happen," he said firmly, "Why he (Todt) ever announced a tender is beyond us, because they (the FIA) will ultimately U-turn on the issue. If the teams need to pay for tyres, they will make the decision regardless of what the FIA thinks."
And, so it seems, for no tender has been launched, yet Pirelli was in Geneva announced as sole tyre supplier for the 2011-2013 three-year period.
More is seldom really more in F1, but it seems a fresh new spirit is blowing through the sport, with the result plain to see in Wednesday's release. That all three primary stakeholders - the FIA, CRH and FOTA (representing the teams) - are anxious to prevent a repetition of the past in order to develop the sport in unison is the best news F1 fans have enjoyed for at least six months. Can it really be just 12 months since the height of the FIA/FOTA war in Silverstone last June?