There's an air of change about the Formula 1 paddock as it returns to European shores at Valencia. In Turkey and Canada, McLaren showed that it has the pace to challenge and beat the once dominant Red Bull's, and the brisk temporary circuit around the old America's Cup Marina is expected to better suit the MP4-25 than the RB6. But it's not just about Red Bull versus McLaren, because Ferrari is looking dangerous.
Why? Not because of its Canada form, where Fernando Alonso made the best of the unusual track configuration to drag himself into contention for victory, but because the F10 will feature a significant upgrade package that includes the exhaust-blown diffuser concept that has served Red Bull so well this year.
Fernando Alonso will aim to delight his fans © Sutton
McLaren has a similar upgrade package, but its not going to appear until the British Grand Prix at Silverstone. While the McLaren vs Red Bull battle will be an interesting one, there's a chance that Ferrari could leapfrog them both. Provided, of course, that its development package works when it hits the track after only having brief straightline runs to prove itself.
With Red Bull's advantage now eroded, it will be at Valencia and in the run of European races that follows that the Milton Keynes outfit's failure to convert its seven consecutive pole positions into more than three wins will really hurt. Sebastian Vettel and Mark Webber could, and probably should, be sitting on a comfortable cushion at the top of the drivers' championship.
Instead, they are looking up the table towards Lewis Hamilton and Jenson Button. That's not to say that Red Bull is out of the championship fight - not by a long shot - but the team must now be at the top of its game to be able to win races with probably three teams now capable of winning races.
As for the rest, Valencia is another chance for Renault and Robert Kubica to impress. Montreal was a difficult, and disappointing, race for the Pole, but there's no question that the Enstone marque is one the up. With a nimble car, and one that has plenty of developments - including the exhaust blown diffuser and, word is, an f-duct on the way - there's every chance that Renault can continue to hassle Mercedes in the battle for fourth in the Constructors' Championship.
For Mercedes, this is likely to be another hard race. Michael Schumacher has never raced at Valencia before - remember his aborted comeback with Ferrari last year - and Ross Brawn's team seems to be struggling to get a handle on the fundamental problems of the car. There's no doubt that the team will get there, but Valencia could be a little early to see the turnaround.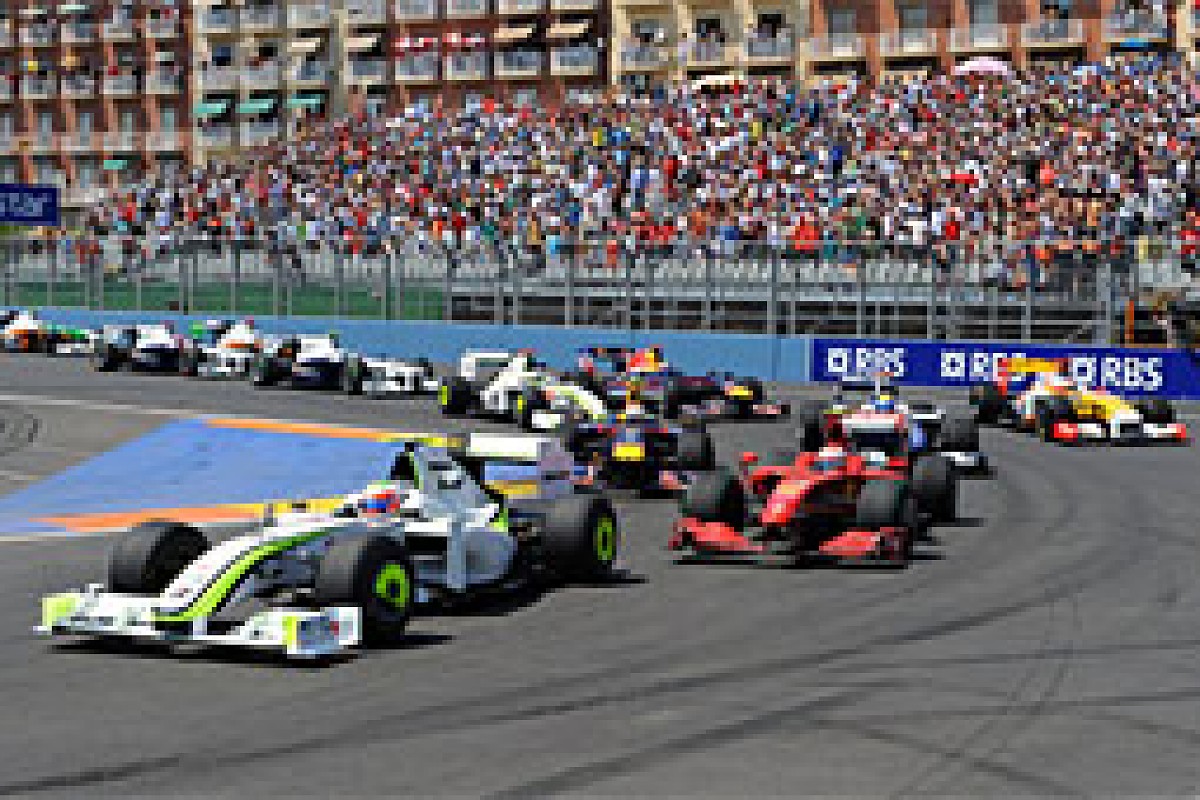 The start of the 2009 race © LAT
Chances are, the race will be almost decided on Saturday afternoon. With qualifying at a premium, keep a close eye on Ferrari's progress in free practice in particular. It's all well and good bringing an upgrade package that is worth over half-a-second to a race, but with track time limited, if the team heads in the wrong direction setup-wise, Ferrari could find itself struggling.
Valencia generally produces little overtaking, and with the pitstop strategies not opening up a window of opportunity like the one that Rubens Barrichello exploited to defeat Lewis Hamilton last year (despite McLaren's pit blunder, the Brazilian was almost certain to leapfrog him anyway), Saturday could produce one of the most important Q3 sessions of the season.
Strategy
Bridgestone is taking its super soft and medium compounds to Valencia. Although this is the same allocation as was used in Canada, don't expect a repeat of the tyre shenanigans of Montreal. The track conditions dictate that this is likely to be a one stop race that has become the norm this season, which could make for a processional race.
Weather