We'll never know what Piers Courage might have achieved had he not been killed at Zandvoort on June 21 1970, but there's no doubt that at the time of his death, Courage was one of the very best drivers on the grid.
He'd long been known as a quick but sometimes erratic driver, but in 1969 he finally really made his mark in F1, scoring two second places with the immaculate private Brabham BT26 of rookie team boss Frank Williams at Monaco and Watkins Glen. He was finally being considered as a serious contender, and potential winner.
For the following year Williams replaced the second-hand car with the new de Tomaso 505, designed by Gianpaulo Dallara. Having access to a bespoke chassis looked great on paper, but the season got off to a frustrating start, as the new car proved troublesome.
Nevertheless a few races into the season, there were signs of improved form, and Piers and Frank went to Zandvoort hoping for better things. Recently turned 28, Courage was fresh from competing at Le Mans - the race filmed for the Steve McQueen movie - with a works Alfa Romeo.
This extract from my book Piers Courage: The Last of the Gentleman Racers - now out in a revised paperback version - tells the story of what happened on that fateful weekend in Holland.
1970 Dutch GP
Along with most of the other leading drivers, Piers and Sally [Courage] were staying in an apartment at the Hotel Bouws in Zandvoort. As folk arrived at the track the talk of the paddock was the accident that had befallen Jack Brabham in private testing on the previous Wednesday.
The triple World Champion had suffered a puncture at the fast right hander before the East Tunnel, and his BT33 had speared off the road into the wire mesh fencing that now protected the angled grass bank.

"We were tyre testing I had a tyre go down," Sir Jack recalls. "I was driving Rolf Stommelen's car. He was supposed to be there for the test and he didn't turn up, and Ron Tauranac said you'd better take his car out and give it a run. A rear tyre went, and I went off sideways into the sand, and of course when the wheel hit the sand it was just like a shovel going in and it rolled three or four times through a wire fence.
"When I came to rest I was upside down and I couldn't get out, as the wire was wrapped around the car. I was sitting there hanging in the seatbelts, I had the fuel running out of the car, although luckily it was disappearing into the sand. Being a test day it took forever for somebody to come over. I had my finger on the fire extinguisher in case there was any sign of fire. Eventually someone came along and started pushing the car up. I thought I'd better undo my seatbelts so I can get out in a hurry, and I fell out of the seat and ricked my neck!"
It was obvious that Jack had enjoyed a lucky escape. There were mixed views of Zandvoort's fencing, for while it had slowed the car, every driver's worst fear was being trapped in a situation that potentially involved fire.
"They had chainlink fencing, and it was a big breakthrough at that time," says Jackie Stewart. "We all thought it was the thing to have."
The entry included three promising rookies. Clay Regazzoni made his Grand Prix debut at Ferrari, while Francois Cevert replaced the recently retired Servoz-Gavin in the second Tyrrell March. In addition Peter Gethin, Piers's Lucas F3 team mate back in 1965, was at McLaren. The team was back after missing Spa [Bruce McLaren had died on June 2], although a brave Denny Hulme was present only in the role of spectator, his hands still bandaged after a recent incident at Indianapolis.
Williams was one of several teams to be compromised by recent problems at Cosworth, a problem with a batch of crankshafts creating a shortage of serviceable engines. Thus the team faced the unusual situation of having two chassis, but just one DFV. Piers started out with the newer wide track car, as raced at Spa. The steering had been revised, following the problems at Monaco, and there were modifications to the fuel system.
Not long after Friday's action got underway there was another huge accident not far from the point where Brabham had crashed two days earlier. The victim this time was Pedro Rodriguez, who wrote off his BRM, fortunately without doing any harm to himself. Once again it was thought that a puncture was to blame, and there was some concern about debris on the circuit. The following day he had a tyre come completely off the rim, which gave Dunlop food for thought.
Piers finished the Friday session in 20th place, having found the revised steering too heavy. Gianpaulo Dallara decided to try the narrow track rear suspension for Saturday, so it was duly borrowed from the spare chassis. Piers was immediately quicker on Saturday morning, but ended his session in the sand after hitting oil at Tarzan, the hairpin at the end of the straight.
The mechanics retrieved the car and cleaned out the sand, and Piers was able to get out for the final session in the afternoon. As at Monaco, he qualified in ninth place. He was 1.8s off Rindt's pole winning Lotus 72, which was now going well in revised form, but nevertheless it was an encouraging position in a field of 24. Zandvoort had been kind to Piers in 1964, when he first made his mark in F3, and in 1967, when he did the same in F2. With a reliable run on Sunday the Dutch track could this time provide a breakthrough for the de Tomaso.
"Piers and Dallara worked well together," says Frank. "By the time we got to Zandvoort, the end of the road, the car was much better, and quite different. Each one was better. That's what the deal would have been, just a lot of development. Dallara was competent, a good engineer, de Tomaso was a very ambitious man, and had fair amount of wealth and money available to him to spend on the project."
As ever Piers was a popular man in the paddock, sought out by friends for a quick chat about this and that.
"It's funny what sticks in your mind," says Chris Amon, "But I do remember talking to Piers about the British election, which had just happened a couple of days before Zandvoort."
"We spoke directly at Zandvoort during practice," says Andrea de Adamich. "I admired Frank Williams, and I was watching the de Tomaso project closely, because originally de Tomaso was interested to be supported by Alfa Romeo on his project, and I was involved."
Zandvoort also allowed Piers and Sally to catch up with Sally Swart, who as Sally Stokes had previously been Jim Clark's girlfriend. In 1967 she married Dutch sportscar racer Ed Swart, who also happened to be assistant clerk of the course for the Grand Prix.
"I first met Piers when he turned up with that F3 gang, who were so full of joie de vivre," says the 'other' Sally. "I admired them - they took life by the horns and lived it at full throttle. Piers was always a very kind person, and he was gentler than most racing drivers. We all had dinner together the night before the race, and I've never forgotten that. Jochen and Nina [Rindt] were there too, and maybe Frank. We went to Bloemendaal, which is a little village north of Zandvoort. It was just a merry dinner, lots of laughter. I don't remember anyone saying anything memorable - we were just having a jolly time."
That weekend there was also a GPDA party, an event that usually saw the presentation of the Wolfgang von Trips prize to the most promising newcomer. Stewart, Mike Parkes, Chris Irwin and Jackie Oliver were previous winners, but this time it wasn't awarded.
Zandvoort was noted for its changeable weather, and Saturday night was pretty miserable, as Denis Jenkinson noted in Motor Sport: "The North Sea mist had covered everything, and any building more than three storeys high was fast disappearing. It was an evil looking mist and obviously did not bode well for Sunday, and the whole of Zandvoort took on a heavy and gloomy atmosphere."
The mist was still in the air on the morning of 21 June. Piers and Sally planned to stay on for the usual prize giving and party after the race, so they didn't check out of the Hotel Bouws before setting off for the track. Meanwhile Dallara, preferring to watch the race at home on TV, headed back to Italy. "I remember before leaving I wished Sally, 'Good day,'" he recalls. "But it was a terrible day."
For a while, there was some threat of rain, but otherwise it was a routine morning. A large crowd began to fill up the dunes around the circuit, confident that with the race starting early they could beat the traffic and get home in time to watch Pele's Brazil play Italy in the evening's World Cup Final.
Austrian journalist Heinz Pruller described the scene his Rindt biography: "Frank Williams, as always on race day, activated himself and his mechanics into a slight excitement. Piers and Sally arrived in the paddock and Piers immediately took up the question of tyres. He was one of the last to roll down to the start. Piers handed Frank his spare goggles and his wristwatch. Piers was no longer nervous but he didn't talk much. Frank gave him a casual thumbs up: 'Cheerio, see you later."
Sally has very clear memories of that morning: "Piers was very funny he always came to say goodbye. There was something very wrong, like he sensed something ghastly was going to happen. He was really weird that day, and there was something very, very unusual about his behaviour. Not being able to talk to even Jochen, things like that, which was very strange for him.
"Normally he always sort of give one a kiss, or pat one's head, see you later, give you his watch, things like that. Don't you go off and start talking to Nina. Try and do some lap times, try and get it right. Before that race, he was uncommunicative, he wouldn't talk. He just gave me his watch and his ring, and he went off. And not a word. Just a funny look, a very funny look. A look like 'I don't think I'll see you again.' But I didn't recognise it as such then."
Sally joined the other wives and girlfriends on the crowded roof of the pits. However, she was not able to sit with her best mate: "I was talking to Nina, and then we had to go back to our respective pits."
Nina recalls it well: "We were always trying to sit together on top of the pits, chairs next to each other, and do these lap chart things. We were always being told off by Piers and Jochen, you can't do that, you've got to go and sit over your pit, and you go there, you can't sit together. So I had to leave her."
Sally settled down in a folding camping chair with her pad of blank Ferodo-supplied lap charts and a pencil. At races she usually carried a book with her in order to fill in any spare time, and to help calm the nerves, and on this weekend she was working on a Nevil Shute paperback.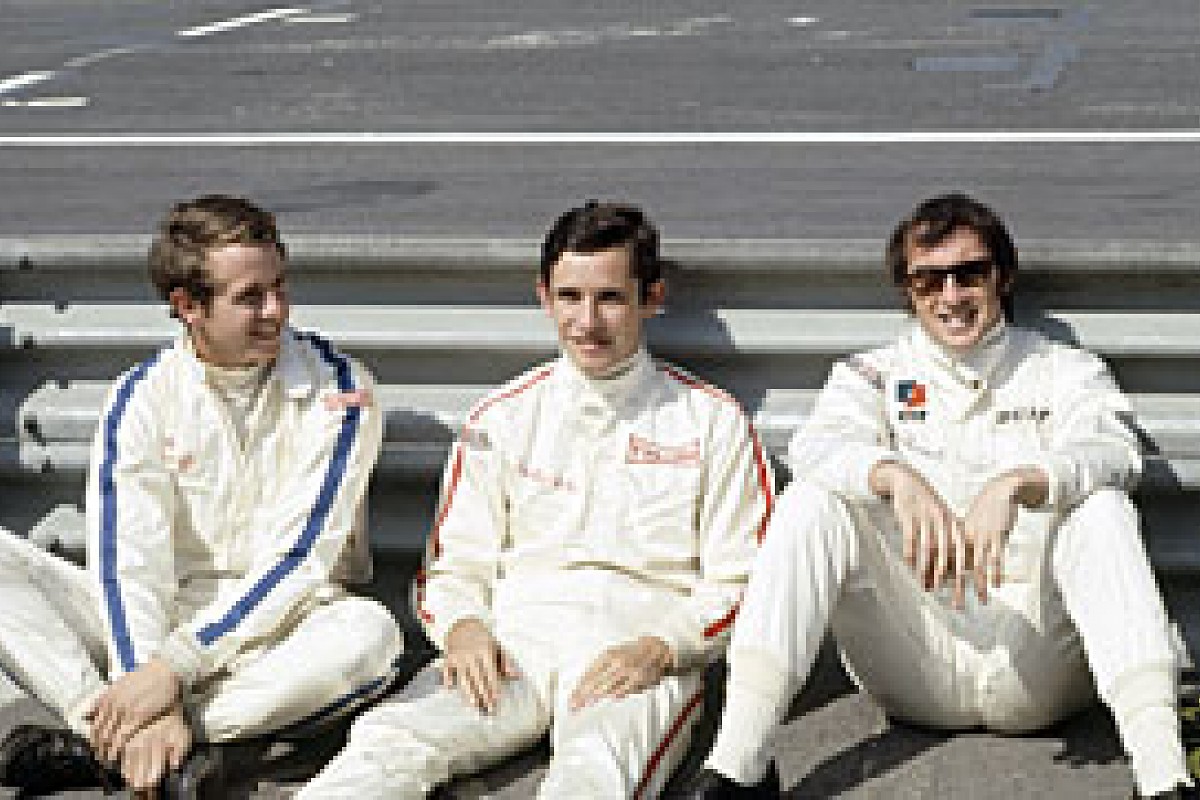 Peter Courage, Jackie Stewart and Jacky Ickx © LAT
The cars left the pit area one by one, some of them performing dragster starts, before making their way round to the grid, where Rindt, Stewart and Ickx comprised the front row. The starter seemed determined to make a meal of his job, standing in front of the field until the last second, before dashing to the pit wall and scrambling onto his rostrum.
Distracted by his antics, some drivers crept forward and dabbed their brakes just as he finally decided to wave the flag. Ickx surged ahead and claimed the line into the first corner, while on the second row a cooked clutch caused Amon to stagger away, giving those immediately behind, including Piers, some anxious moments.
From his ninth place on the grid Piers made a good getaway. He ducked past Amon, and as Regazzoni struggled to get off the line in his first Grand Prix start, slotted into seventh. He held that position for three laps until Regazzoni got back past. A lap after that Beltoise demoted the de Tomaso to ninth, but Piers immediately fought back to reclaim eighth next time round.
Piers was in the thick of a superb midfield dice, harrying Lotus number two John Miles, and confidently holding off Beltoise, Gethin and Pescarolo. On lap 12 he moved ahead of Miles to claim seventh. With some 68 laps still to run, it appeared that he now had a good chance of earning his first points of the season. Gethin then disappeared from the chasing bunch: "It was slippery in the race, because of the sand. I fell off and ended up on top of a dune somewhere."
Meanwhile Piers began to pull away from Miles, and with Regazzoni some way up the road, he was now circulating on his own. But on lap 23, he didn't come round.
"I remember running with Piers for the first 15 laps or so, and then he overtook me," says Miles. "He was flying. There were some fast sweeping corners at the back of the circuit, which were almost all flat out, or nearly flat out. He gained a couple of corners on me. Then I just saw this plume of smoke and passed a burning car. You go past so fast you're not absolutely sure who's crashed. You're so busy, and that part of the circuit was not somewhere where you just drifted past and had time to look."
It was Piers. The de Tomaso had plunged off the road at the fast right hander before the East Tunnel, close to where Brabham had crashed five days earlier in testing. The red car went through the single layer of catchfencing, rolled along the sharply sloping bank, and tumbled back into the fencing from the other side, coming to rest right at the edge of the circuit. Even before it stopped moving, the car burst into flames, and within seconds a thick pall of smoke hung over the sand dunes, as spilled fuel ignited the parched grass.
Fifteen-year-old spectator Rob Petersen was watching with his father from the dunes above: "What exactly happened, nobody could tell, including the people who were surrounding us. But there was immediately fire, before the car really stopped. I assumed that as soon as he went through the fence one of the fuel tanks was broken or whatever.
"Because it was dry, it was summer, the grass caught fire, so it was very difficult to see anything. It was such a heavy fire, because of this magnesium. It was coming out of the car like burning sparks, and it was immensely hot. We were about 20-25 metres higher on the dunes, and it was such a big fire, we had to move. He couldn't have known anything about it."
In fact in the initial impact a front wheel had been torn from the car, and struck the driver with sufficient force to dislodge his distinctive USAF helmet from his head. Piers was almost certainly dead even before the fire started.
In her folding chair on top of the pits Sally automatically noted the numbers of the next cars through - Miles and Beltoise - before realising that Piers was missing. Abandoning her lap chart, she looked back down the long pit straight. And like everyone else, she saw the smoke rising from behind the dunes.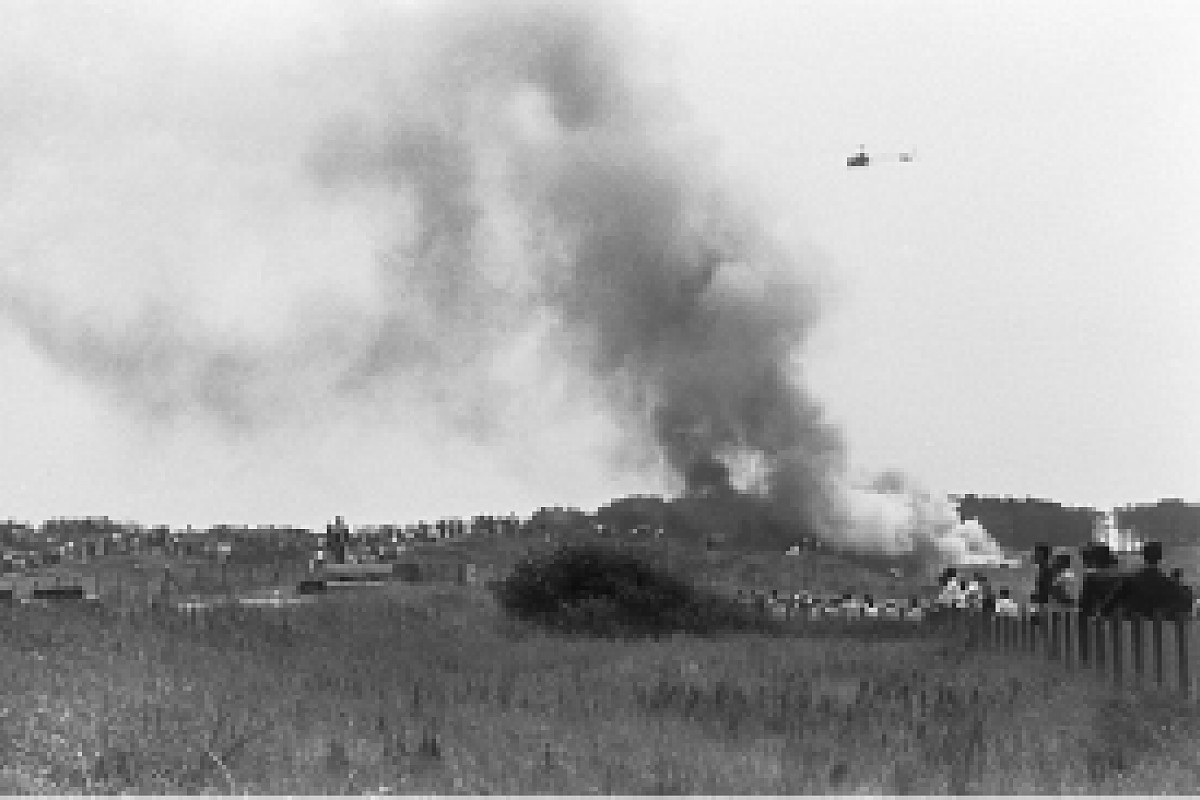 © LAT
Missing at the same time was Jo Siffert, who had been running in 12th place. There was anxiety in the March pits, but it soon emerged that the Swiss driver had stopped with an engine failure just after the accident scene, and was returning to the pits on foot. The smoke was indeed from the de Tomaso.
"Piers was going well at Zandvoort," Frank recalls. "He went missing and I just remember seeing the pall of smoke. I remember thinking it could be him, then it was yes it's him, but he's he out of the car, no problem at all."
Reacting to a report from the trackside, circuit commentator Philip Keller made an announcement over the public address to the effect that Piers was out of the car. Word went round a relieved pit area, and Ken Tyrrell showed Jackie Stewart a signal reading, 'Piers OK.' At some point a Citroen ambulance went onto the circuit.
Fashion photographer Justin de Villeneuve, a close friend and guest of Jochen Rindt and Bernie Ecclestone, was on the pit roof: "I was standing with Sally, and we were having a giggle. Then we saw the smoke rise from the other side of the track. The announcer said that Piers had crashed, but it seemed to be under control."
"We came down off the roof of the pits," Sally recalls. "I can just remember the accident, and seeing this ghastly fire. Nobody knew quite who it was for a couple of laps. I knew something had happened to Piers, because he had disappeared. But I think Siffert had disappeared at the same time... So there was a bit of confusion. Then people came and said, 'It's alright, he's gone to hospital'. That was the most awful thing.
"I was with Sally Swart. We'd heard this announcement that he was OK, they'd announced that he was all right. Frank had already come and said, 'He's OK, and I'll take you to the hospital.' So we went together and we sat in our car. Sally said, 'I'll get you a drink,' and I said, 'Could you get me a vodka and tonic?' I just felt rather shaky. She went off and got me a gin and tonic, and I can't drink gin, so I didn't really drink it. Someone wrote that we drank champagne. It's such a lie."
"I do remember getting her a drink," says Sally Swart. "I can't remember what it was - I don't know where I would have got hard alcohol. She asked for my help, because I lived in Holland and was a local girl by then, and she knew that."
Gradually the grim truth filtered back to race control. Later it was suggested that the crashing de Tomaso had cut the cable that fed the ancient army field telephone at the marshal's post closest to the accident. The report that Piers was safe came from an official at the next corner, who had seen a figure dashing around the car. It was a marshal in a fire suit.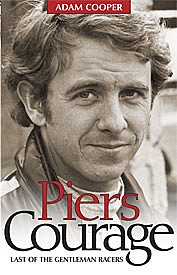 The Citroen ambulance returned to the pits, empty. Frank was desperate to get confirmation of Piers's condition from clerk of the course, John Corsmit.
"Then they were not so sure he was out of the car," says Williams. "I waited around a bit, and then they confirmed a bit later on that he was in the car and had been burned to death. I remember saying to John, 'You must tell me three times definitely is Piers dead, before I can go and tell his wife'. I asked him three times, and each time he said, 'Yes.'"
Piers Courage: Last of the Gentleman Racers (Published by Haynes) is now available in a paperback edition at £9.99.