While F1 truly rocked to full stands and a fantastic race in Montreal, dark clouds are said to be amassing on the horizon as numerous sponsorship contracts come up for renewal this year, their three-season (or even five-year) cycles ending after Abu Dhabi.
Some significant title and secondary sponsorships are due to end soon, with the prevailing economic climate hardly instilling optimism in teams. Due to the long-term nature of most alliances, F1 teams are subjected to 'last-in; last-out' situations, whereby deals struck when the going is good generally end in down cycles - at which point the size of contracts forces companies to hold well back before committing. Thus most deals are signed when the economy is cresting before committing to partnerships. And, boom times generally precede busts...
Williams is still sponsored by RBS © LAT
That some alliances, such as, for example, the Williams/RBS partnership, are due to end, has been public knowledge for well over a year, while extensions to the contracts of others are currently being (re)negotiated up and down the paddock, the trigger being the imminent arrival of 30 June - traditionally the deadline for sorting such deals.
Thus a certain sponsor representative was present in Montreal, and spoke to this column on condition of anonymity. Would said company be renewing? It was the logical question, particularly as the brand enjoys extensive synergies with the sport, and enjoyed a highly visible presence for many years now?
The answer was surprising: "I never say 'never'; however, it is extremely unlikely."
For what reasons? Costs? Insufficient benefits? Team not performing?
"None of the above ... it's just that Formula 1's financial model is tired. Nothing has changed for thirty years. Yes, the TV numbers and global awareness have gone up in leaps and bounds; yes, fans are still as passionate as ever, but the core product is tired.
"When sponsorship came into F1," the source continued, "it was about sticking stickers on a car, getting paddock access and hosting guests. Forty years on, that's still the model, and it's outdated, particularly in the present environment. Look at the Paddock Club: not even the menus change, and to charge such vast sums to entertain key guests is no longer on. Any wonder Paddock Club is down 60% this year?"
Access to the Paddock Club - that high-end $4000/head extravaganza where the great washed get rewashed ahead of taking a stroll down the pitlane prior to nibbling canapes as entree to fine fare and bubbly - had been one of the key drivers for the company's alliance with the sport, and with the greater world's resistance to conspicuous excess, the sponsor was taking its money elsewhere. Quite where was not shared, except that a 'surprise' was promised.
"There's no real alternative product here, so that's us and F1. We'll just stick our money in other segments, likely cultural. I'm looking at all the options, and I am surprised at what opportunities are available out there," were the final words on the subject, said with a sweeping wave across the St Lawrence Seaway.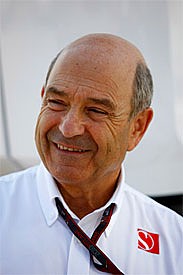 Peter Sauber © LAT
Then, while passing through Montreal's Pierre Elliot Trudeau Airport after the grand prix, a sponsor agent who has seen the inside of more paddock than any contemporary driver, echoed the sentiments. Sponsorship had changed, and F1 - which ironically introduced the concept of commercial sponsorship to the wider sporting and cultural world back in 1968 - had simply not kept pace, he said.
"It is all about B2B (business to business)," he continued. "The days of sticker sponsorship are well over, and F1 needs to adapt to that. What has made it more difficult is that the manufacturers have (mainly) left, so we don't have that platform available to us. But it's not all doom and gloom, there are deals out there, just we have to structure them rather than chase them..."
There was another problem, he said. In Monaco he had been requested by a long-standing target to refrain from making goodwill calls - not because said person was irritated by the attention - simply as his company did not even want to be perceived as considering F1 sponsorship at a time when staff layoffs were imminent.
The question of the Paddock Club arose. "Absolutely," he said when the sentiments of the first source were put to him. "I haven't taken my sponsors into the Paddock Club once this year. I take them into the paddock, we have lunch with the team, then watch the race from there. It's far more experiential, and costs nothing extra..."
Thus it seemed prescient that between the two discussions a media release headed 'Peter Sauber launches Sauber Club One' pinged into F1 media inboxes. At first glance it seemed the Swiss team had formed a fan club; the second thought that was this simply a brand-building exercise. One journalist with a sense of history wondered whether Club One was possibly a rehash of the T-Minus concept which so disgraced the now-defunct Arrows team in 1999.
But, no: where T-Minus was nothing other than a conniving attempt at building a non-existent brand through F1 - predictably it came to nought, while those who truly know Peter Sauber know the Swiss would never be associated with such questionable deals - Sauber's Club One is an earnest attempt at addressing the concerns of the marketplace and exploiting them commercially.
Following BMW's hasty - and some say 'shambolic' - withdrawal from F1, ownership of the team still officially known as BMW Sauber F1 Team (despite relying upon leased Ferrari power units) reverted to its founder. Although the terms of the deal remain confidential, it is thought Sauber (the man) did not benefit from the sort of altruism experienced by Brawn GP after Honda effectively donated the team and a full budget to its management. In fact, there are suggestions that he was forced to buy the team, which he did in order to save his home village of Hinwil, whose mainstay is PP Sauber AG.
Thus Sauber (the team) is believed to have a substantial long-term funding shortfall, leading the team's marketing department to commission Publicis, a leading worldwide marketing agency, to come up with a commercial B2B platform. Club One is the result.
"Formula 1 as a marketing platform has changed over recent years. Formerly, its global reach was primarily used to raise the profile of consumer goods. Today it also serves as a vehicle for business deals and Networking," said the team owner.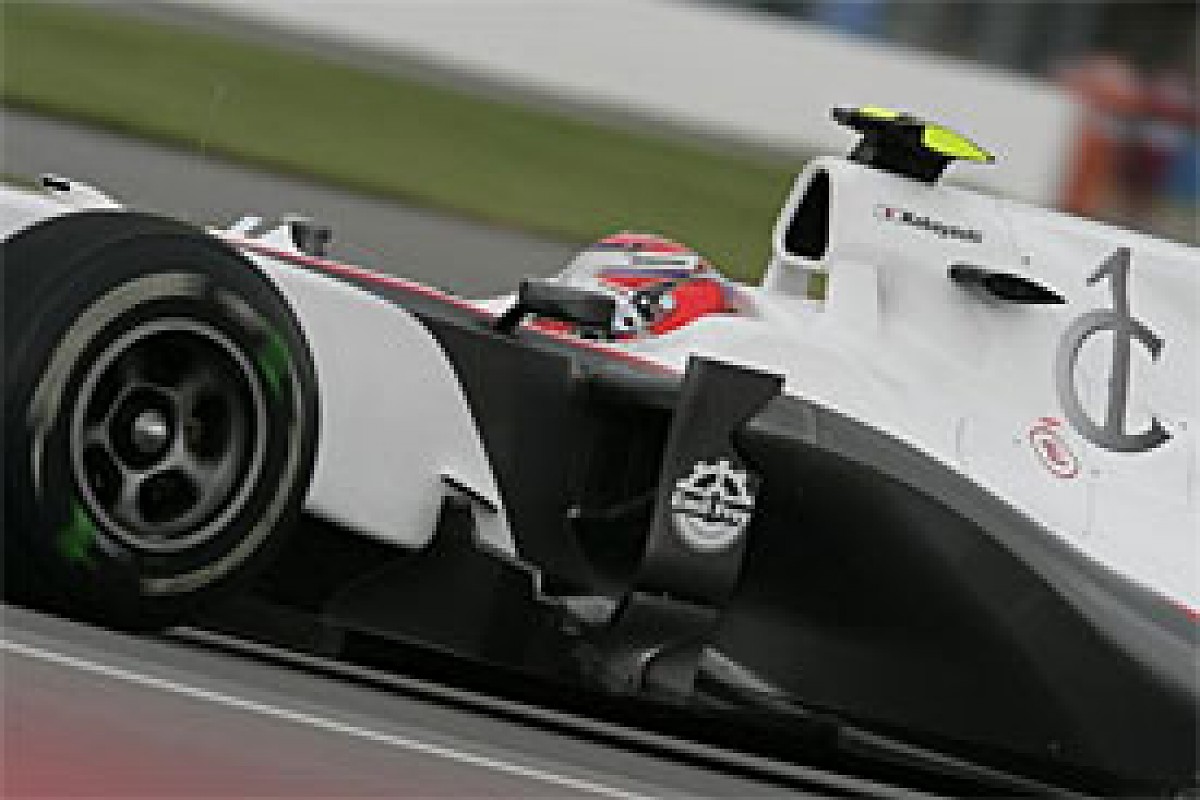 The Club One logo on the Sauber
Where Club One differs from other commercial initiatives is that it is aimed at sponsors who do NOT wish to be seen on the flanks of an F1 car (or team uniforms, etc.), yet have a desire to be associated with a team - and therefore the sport - in other ways.
Their reasons for invisible links could be many - ranging from sensitivity in prevailing times through secrecy (think military contractors) to not being in positions to commercially benefit from exposure - yet such companies/brands may wish to exploit the many collateral benefits offered by F1, such as technical partnerships, ability to access the paddock and team personnel, and access to team facilities.
Companies with a regional focus may simply wish to enjoy team access during grands prix in their territories, while companies based in areas other than those hosting grands prix and have no reason to be seen on 600m television sets across the world, yet have a need or desire to be associated with F1 or a team, provide Club One with further targets.
Simply put, Club One is best equated to timeshare for sponsors: just as many folk desire holiday homes, yet cannot justify (or afford) full ownership, so many sponsors cannot justify (or afford) full programmes. Just as there is a need for fractional holidaying homing, so there is a need for fractional partnerships - and it is this market segment that Sauber aims to target.
The team's plain white car is a blessing in disguise, for there is no risk of conflict. In fact, two competing companies could well be members, for membership of Club One remains confidential unless the company wishes to make it known, while behind-the-scenes broking means introductions and B2B activities can be facilitated discreetly. All very Swiss...
The concept is simple: a basic package provides members with non-grand prix access to team and facilities, and thereafter the sky is the limit within the frame work of the sport. Use of Sauber team for TV commercials? Add $XXX. Peter Sauber or drivers at a corporate function? Can be arranged. Company's Christmas celebrations or sales conference in the Hinwil wind tunnel? Of course. With guided tour? Absolutely.
Next on the options list are activities during grands prix weekend - throughout the season, or on a regionalised basis. Again, menus prevail; again, activities are virtually limitless - including garage/paddock visits, dining with the team, and, if required, Paddock Club and other access. One-off stickers (ala Burger King in Spain)? Can be arranged.
Will Club One work? There are no guarantees in F1, but it certainly addresses many of - if not all - F1's current sponsorship issues, while at the same time providing sponsors with a form of rookie test session during which they can suck F1 and see whether it works for them without committing vast sums in the early stages. Thereafter Sauber is superbly placed to sign the company to a long-term deal.
The concept does not demand that logos appear on international television in order to justify sticker sponsorships - in fact, media exposure is irrelevant - while keeping the list of members under wraps minimises poaching of the type Mercedes did with Petronas.
Thus for team and sponsor there are very few inherent risks. Club One does not preclude Sauber from pursuing traditional deals, while each member adds to Sauber's coffers to a lesser or greater degree. In Montreal Sauber told this column the first member - a multinational with Swiss roots - had already signed on the dotted line, and that further signings were imminent. Who was the first member? Swiss smile...
Peter Sauber and his team blazed the trail in many ways during his Formula 1 career - even if victory in his own right evaded him - and one thinks here immediately of his bringing Mercedes into the sport, of giving Kimi Raikkonen and Felipe Massa their first opportunities and being the first team to carry Red Bull livery, while being the very epitome of his surname - 'Clean' in the German tongue.
Club One's type logo - which resembles the international sign for cents (although dollars would, no, be preferable) - appears on the C29's airbox, raising international awareness of the concept.
Don't be surprised if this is another trailblazer from Sauber.