I saw the future last weekend - and it isn't quite up to it yet.
On the same weekend that Formula 1 began experimenting with filming the sport in 3D, one of the championship's corporate sponsors LG offered a glimpse to a select few media of what the next generation of F1 coverage could be like.
And while F1 in high definition will be amazing when it happens, if you are holding out for the day when grands prix are broadcast in 3D, do not hold your breath.
There has long been a call by fans for F1 to follow the route adopted by many other sports and get grands prix broadcast in HD. In fact, it was top of the wish list put forward by fans in the recent F1 fan survey conducted by the Formula One Teams' Association (FOTA) in association with LG and F1 Racing.
LG is well aware of the HD push, and it has already done some proper HD filming, when it took a camera crew to last year's Monaco Grand Prix to capture some footage for in-store promotional material.
The extreme demands of filming F1 in HD scuppered the plans initially, however, when the vibrations and noise in the tunnel resulted in the hard drives in the cameras skipping - so lots of frames went missing and the footage was useless. LG had to fly out solid state drives as a matter of urgency.
The result of the hours of footage captured was a three-minute advert that is now being displayed in electrical stores worldwide. LG showed this footage off on one of its state-of-the-art 1080P televisions in Montreal - and it was breathtaking.
New on board cameras fitted to a Lotus
The colours were vibrant, the cars and action crystal clear, the detail amazing - you could see bits of rubber flying off the tyres, and amazing deflection of carbon fibre parts as the cars bashed over kerbs.
When HD comes it will be fantastic, but the move from standard definition coverage to HD is far from a simple one - for it is not just a matter of switching Bernie's cameras to HD and fans turning on crystal clear images back at home.
The switchover to HD will involve investment from broadcasters - very few of whom have enough subscribers for HD feed to justify such costs.
Andrew Barratt, who is vice-president of global marketing properties for LG, says he is always asked why he doesn't push harder for HD - and his response is always the same: there are incredible complications in making the switch.
"People say to me, 'you're selling the TVs why are you not pushing harder for F1 to be shot in HD?'" he explained. "I would have asked the same thing before I started working with F1 and I discovered very early on, particularly in Monaco, that it is not as easy as I would have thought to bring that to life.
"Not only it is difficult from the technological point of view to shot around such fast moving cars with all the noise - you also have to consider the number of cameras that exist.
"There is also the question of bandwidth and how this has to upload around the world, with all the satellites.
"Plus, at the end of the day, only five per cent of subscribers actually buy an HD signal. In some countries it is up to 30-40 per cent, but for the most part people buy one of these HD sets, plug it in, then say, 'I have HD' - but they don't actually buy the signal. It is a really complex world. It is the monitors and the signal coming into the house."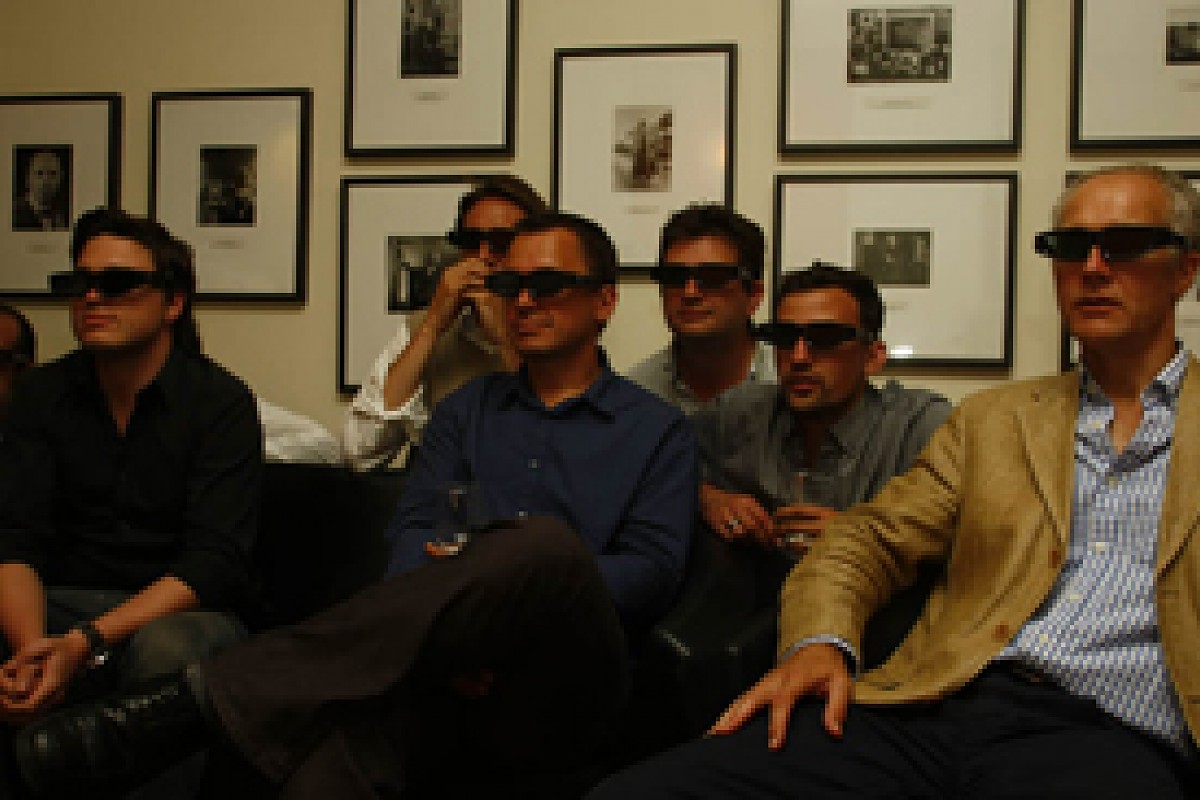 3D glasses won't be needed for regular F1 coverage just yet
During the event Ecclestone predicted 2012 as being when F1 can make the switch to HD - something that Barratt thinks is about right.
"It is an interesting tipping point, and we haven't seen it tip over yet," said Barratt. "None of us in F1 are responsible for that in some ways, because it is the nature of economics. A lot of the broadcasters have incredible expense providing all this content in HD.
"If the pipe you send the data through for a regular broadcast is the equivalent of a straw, then HD is like a drainpipe of information. There is a lot of expense for building the studios, the editing suites, and the broadcast facilities."
Bernie Ecclestone was at the LG event and made it clear that, if the demand from broadcasters was there, then the sport could switch its coverage tomorrow - and he would be willing to invest the money to upgrade all F1's cameras to HD.
But too small a percentage of fans at home are actually able to watch true HD - making it not economically viable.
"We don't want to broadcast unless people want it. I asked in England, the BBC, about it - how many people can receive it?" said Ecclestone. "They said about 20 per cent of the viewers who watch F1. Then I want to make sure that what we produce is top quality. So many people are saying the future is 3D. It is not 3D at all. It is one-and-a-half D.
"I don't think the average public realise that it is not the television, they have to have something to receive it as well. It is like producing a colour signal when people only have black-and-white sets."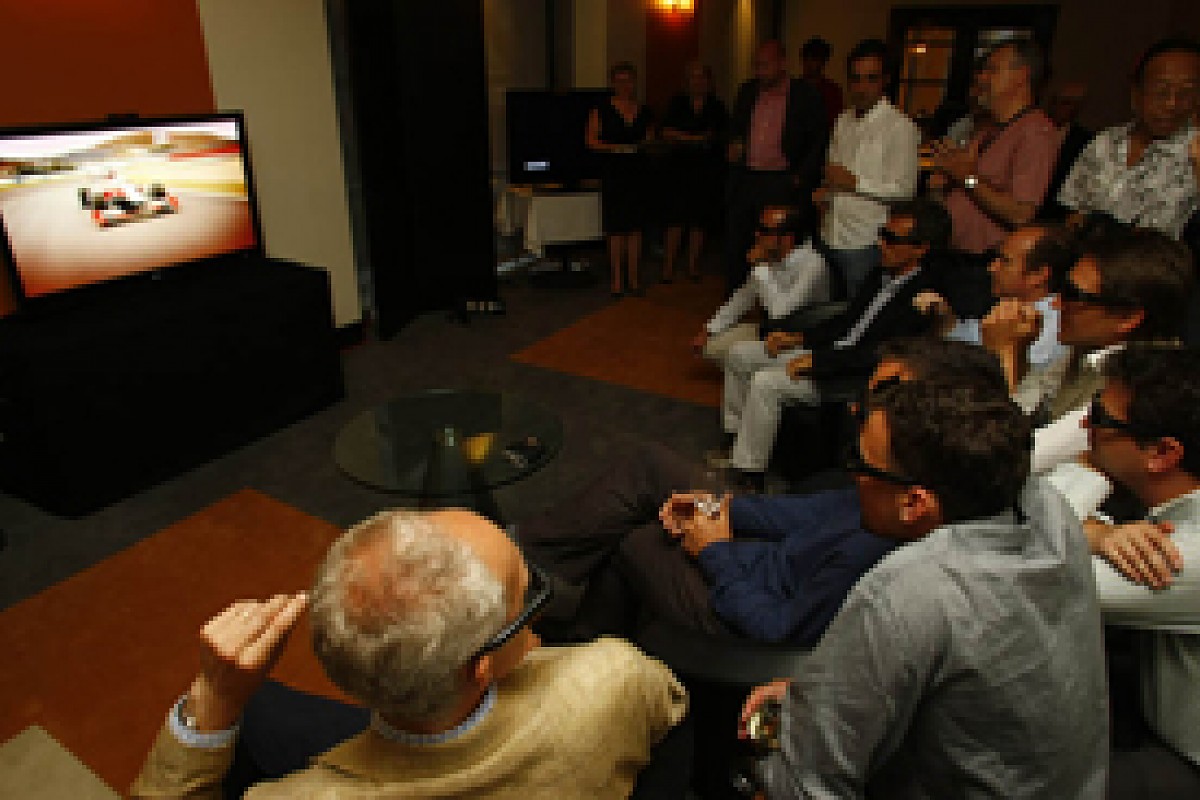 Experiments in 3D footage have already begun
While F1 is still to make the switch to HD, other sports are already trialling 3D - with this year's football World Cup final set to be the first to be broadcast in such a way.
LG started experimenting with its own 3D trials in Canada - with cameras situated trackside and in the pits/paddock, plus on-board footage captured from the Virgin Racing and Lotus cars during Friday free practice.
But while the presence of the 3D cameras got the paddock abuzz about the possibility of F1 going that route soon, the message from LG is that unless the technology improves dramatically in the next years, it could take an age to happen - if at all.
Barratt pointed out that while HD cameras can be pulled out of travel bags and start filming trackside in a matter of minutes, a 3D camera can take six men more than one hour to just assemble.
Furthermore, just to point out the difficulties, 3D cameras at the moment do not have the capability to focus manually - it can only be done with a tape measure from a set distance. So if a car is just one metre off-line, the 3D footage will be totally out of focus - which isn't much use for a fast-paced sport like F1.
"I think the move from SD to HD is a very small step because the camera functionality and technology is relatively similar, you are just dealing with a lot more data with the image," said Barratt.
"When you move to 3D it is a completely different world, because it involves very different technology, very different camera skills, and it is a completely different art form that is going to take a while for people to perfect. At the speeds of F1 it is going to be a very complex task.
"Some day it will come, but the cameras have to come first and then I think the sports coverage can come second. Then remember that F1 has different cameras in F1 compared to other sports."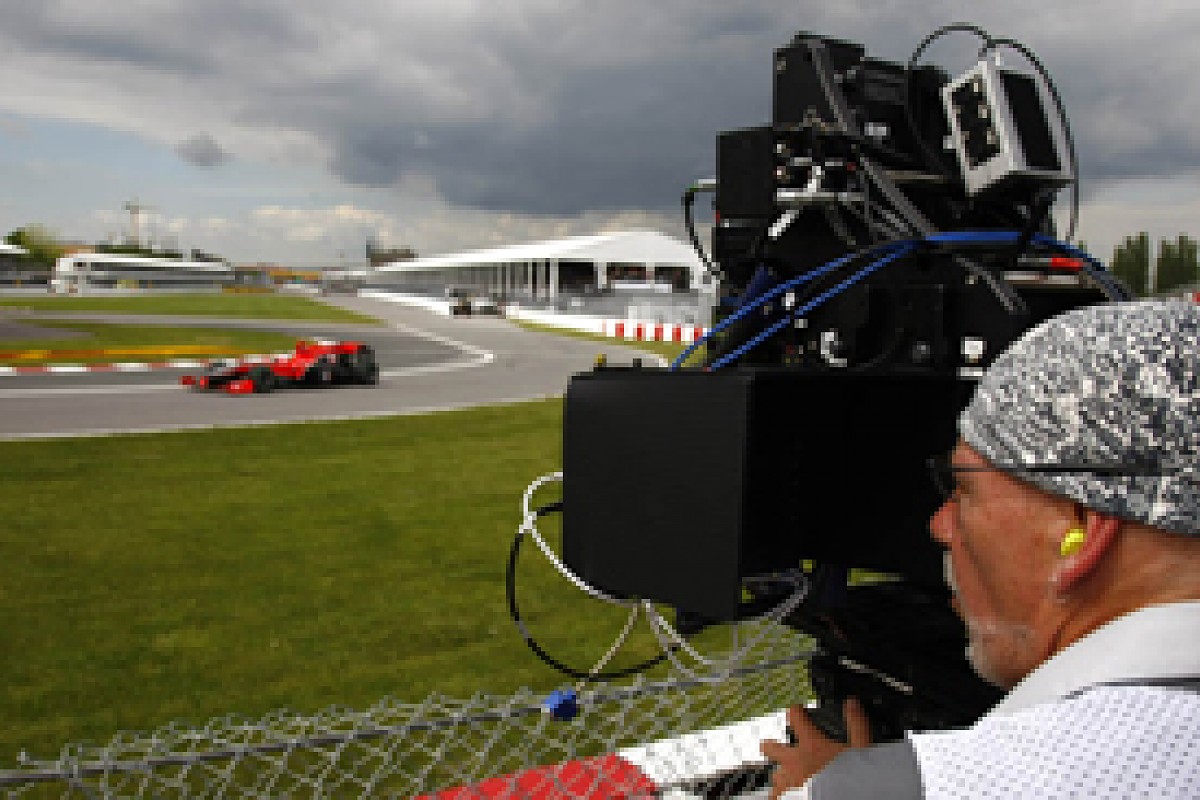 3D cameras are highly complex
LG showed off some early 3D footage that Virgin Racing had captured during Jerez testing early this year, and the results were not that fantastic.
Using the latest 3D glasses and a new state-of-the-art LG 3D set, there were times - especially during tracking shots when the car was coming towards the camera - that it looked everything you would hope it could be.
But most of the time, especially when the car was moving at speed, the footage seemed out of focus - and the definition even seemed much less than the crystal clear 1080P version.
Barratt also showed off an on-board lap filmed by FOM on a Brawn GP car in Abu Dhabi last year, and while interesting, it was not the fantastic experience that would make it an absolute must for racing fans.
Ultimately, 3D works much better with animation - where the images can be doctored and utilised in a way to truly show off the extra dimension. It could well be the future of gaming well before live F1 becomes a possibility.
"This is the gimmick," Barratt said about 3D. "In the real world it is still going to be HD for a long time. There were an awful lot of black and white TVs before it switched to colour, but 3D is the dream of the consumer.
"3D though is a long time off, and maybe never, there are a lot of hurdles to cross to make it happen."
Ecclestone himself is equally sceptical.
"I don't believe in the 3D," he said, having watched the Virgin Racing footage. "You'll be running around your house saying, 'who has got the glasses?' Even when you get a set where you can watch it without them, you have to sit bang right in front of it."
Forget 3D for now. Let's bring on the HD.