Strategically, Montreal was one of the most fascinating races in a long time. McLaren got it absolutely spot-on but, on Saturday night post-qualifying, few thought so.
What they did was to produce quicker Q2 times than Red Bull on both the Option tyre and the Prime, then elect to run the softer Option in Q3 while Red Bull went for the Prime, which looked much better suited as a race tyre. A great lap from Lewis Hamilton got McLaren pole, but when they were nip and tuck on the Prime, nobody could quite understand the 'gamble' of starting on the Option.
Lewis Hamilton, Sebastian Vettel, wait for the start in Canada © Sutton
Estimates of how long the Option tyre would last before demonstrating disastrous degradation ranged from five laps to around 12, depending on car characteristics and such things as ambient temperature. If it was warmer on race day than on Friday or Saturday, you might get a few more laps out of them, but not many.
The thinking in the press room was that with such a short stint there was no way that McLaren would clear the midfield pack after its first stop and would therefore have its race compromised, probably terminally. You suspected they were gambling on the early Safety Car so often a feature of Montreal to get the Option tyre stint out of the way cheaply. If they didn't get one, surely they were stuffed.
Martin Whitmarsh is a human guy, not the sort to sit there smugly proclaiming he is incontrovertibly right when there is an element of doubt, and at McLaren's post-qualifying debrief, he was refreshingly honest.
"We had quite a debate in the team about which way to go," he admitted, "and we'll know in 24 hours if we got it right..."
Very few thought that likely. Most thought they had handed Red Bull a good win against the head at a track which Christian Horner admitted from the very beginning did not particularly suit the RB6.
"This will be an interesting test," he said. "It's a different type of circuit and one that should play to the advantage of, certainly the Mercedes powered teams, and also the teams with the F-ducts, of which we have neither! So we're going to have to look to extract lap time from our car in a different way, as we have done at other circuits. If we can be quick here there is no circuit that we should be fearful of in the remainder of the championship."
Williams technical director Sam Michael, though, could see where McLaren was coming from. He had Rubens Barrichello and Nico Hulkenberg qualified 11th and 12th with freedom of starting tyre choice which, on the face of it, didn't seem like a bad place to be. Of those in the top 10, only the Red Bulls and Robert Kubica's Renault had qualified on the Prime tyre and so when everyone else made early stops to change their Options, the Williams pair could be sitting pretty presuming that they started on the Prime.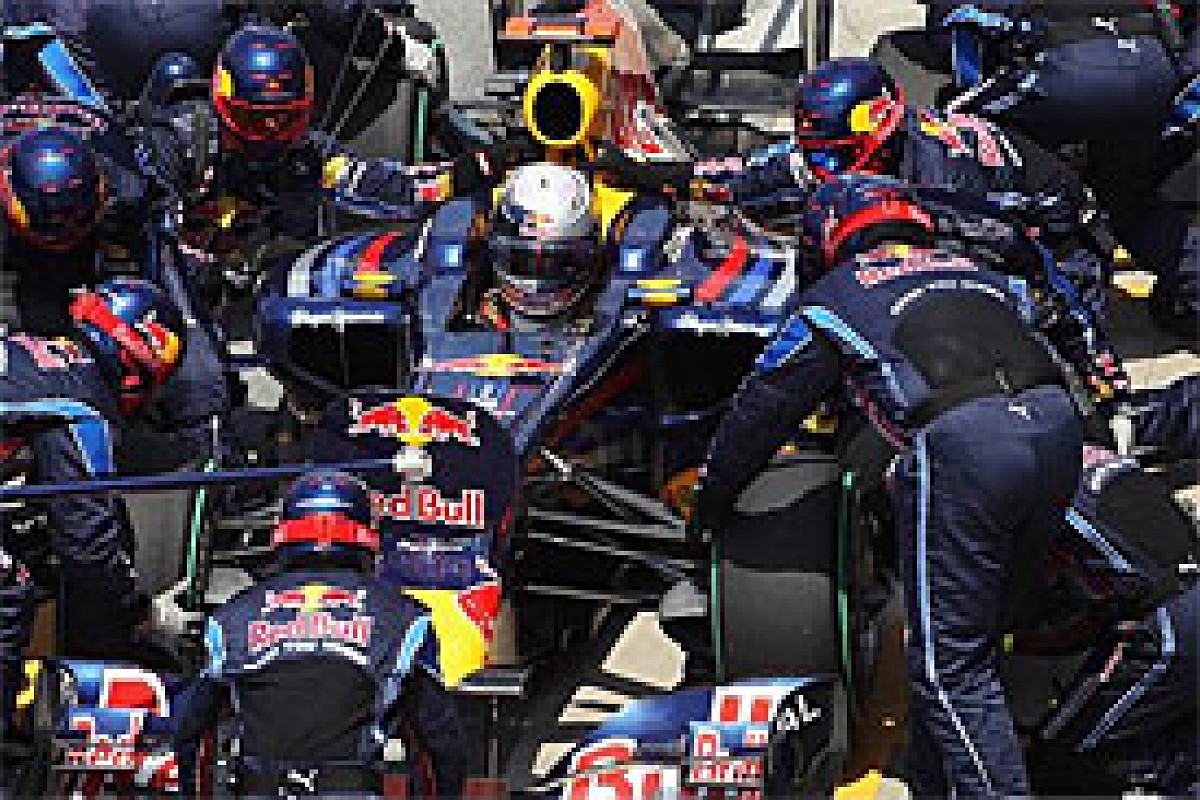 Sebastian Vettel during a pitstop in Canada © Sutton
"Not necessarily," Michael said. "We haven't actually decided what to do. If you think there's going to be a Safety Car you want to be on the soft, so you can get it on the car and off, but if you don't think there's going to be a Safety Car you basically want to do two long stints on the Prime. Nobody is going to do a one-stop, no way. It's going to be a two-stop race because you just won't be able to survive long enough on the Option to do one."
The fact that the whole thing was so finely balanced was reflected by what Williams eventually did, which was to cover all bases and start Barrichello on the Option tyre and Hulkenberg on the Prime.
Down at Mercedes though, there was a bit of contradictory evidence, with Ross Brawn saying that the big issue was whether or not it might be possible for anyone to do a one-stopper after all. The thinking was that if the temperature was higher and the track rubbered in more quickly than expected, it might just be possible. The whole point was, nobody knew, which is what made the race race so enticing.
Looking down the pre-race betting odds, yours truly noticed Robert Kubica and Michael Schumacher both at 28-1, with a fifth of the odds for a podium finish. I thought that was too tempting to resist given Kubica's performances so far this year and the fact that Schumacher had won the race seven times at a track that so often produces a lottery.
Michael had only qualified 13th but all was not lost. Yet. The problem for Mercedes was that they could not bring the front and rear Option tyres in at the same time and achieve a balance on them. So whereas Rosberg qualified ninth on the Options, Schumacher had elected to do his second Q3 run on the Prime, which Ross admitted was probably a mistake, and it had made no difference. He still didn't get a time out of them and missed the Q3 shoot-out for the first time. But, on Friday, the Mercedes drivers had been among the quickest in full tank running on the hard tyre, which looked far more relevant to the race.
I was therefore very optimistic when Robert and Michael, who got away particularly well, survived the first lap nonsense and established themselves sixth and seventh by lap five, with only the Red Bulls ahead of them on the hard tyre. A podium for one of them was a formality, surely...
It seemed to be going to plan when, just as Sam Michael predicted, some of those who'd started on the supersofts headed for the pits as early as lap five. Rosberg came first, quickly followed a lap later by Button and Sutil, then the lap after that, by Hamilton and Alonso. There was Kubica, now third, storming along not far behind the Red Bulls, with Michael right behind. This was looking good!
But not for long. Imagine my dismay when I saw Kubica's Renault heading for the pits at the end of lap nine... Evidently the harder compound tyre was degrading sooner than expected.
"Absolutely," confirmed Renault's chief race engineer Alan Permane. "The rears went away much quicker than we thought. It was a tough afternoon. Quite a few of our lads had money on Robert as well, me included! We'd figured on starting on the Prime, the guys who started on the Option having to come in very early and then coming back into traffic, which didn't really happen, and we'd kind of figured on getting to lap 15-17 before the stop. But there was no way."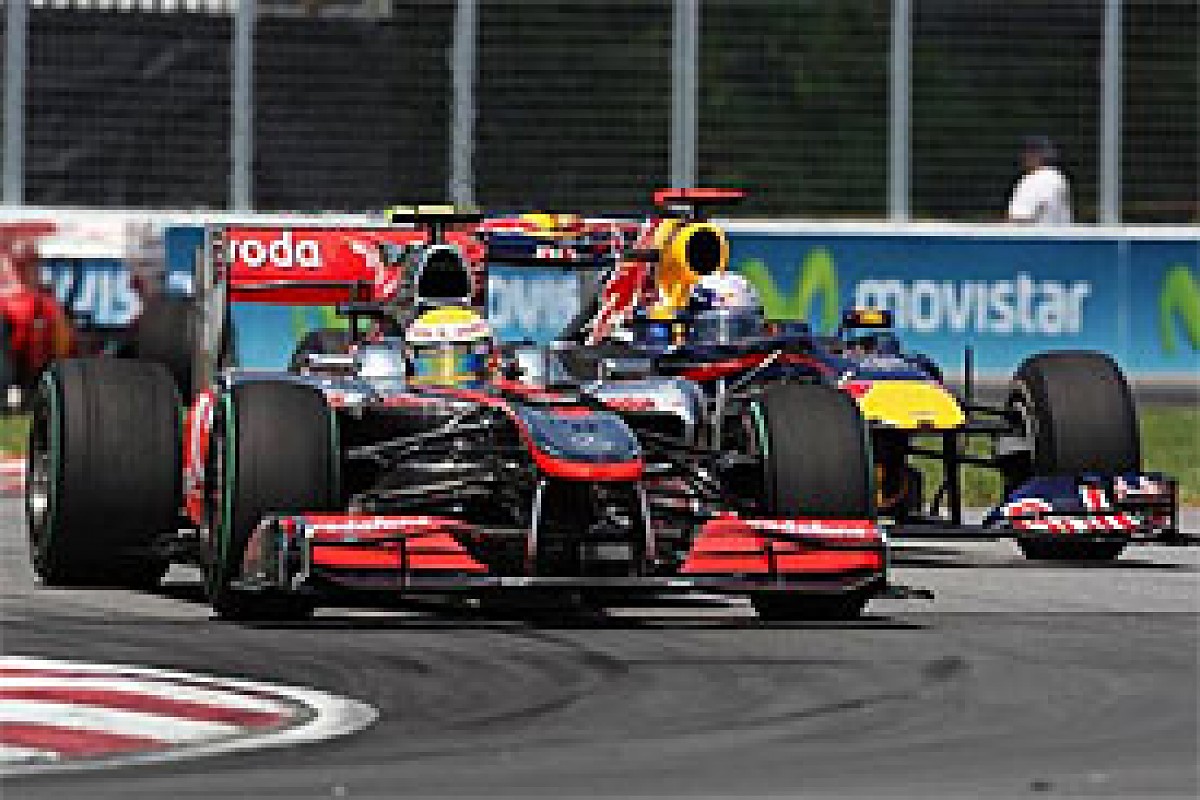 Lewis Hamilton leading the Canadian GP © Sutton
Schumacher got another three laps out of his first set of Primes and then rejoined on the same piece of tarmac as Kubica and I had heart failure as my two long-odds heroes proceeded to beat each other up for the next few corners! By then though, I knew the game was up.
Red Bull too, had been expecting to go much further on its first set of Primes. Webber had lost the benefit of his front row starting position - the fourth time in a row that he had outqualified Vettel - when he was penalised five grid places due to a gearbox change. He'd made strong early progress but, perhaps, a bit too strong. The Red Bull was in for a new set of Primes after just 13 laps.
What was surprising, but maybe shouldn't have been, was the degree to which the tyre behaviour changed as the track rubbered in. To the extent that Hamilton did 19 laps on his first set of Primes, stopped on lap 26 for another set and went to the end on them - 44 laps later!
And he didn't limp to the end either. Lewis set what was then the fastest lap of the race on lap 62, with eight to go, on a set of Primes that had run 36 laps! Compare that with the nine laps Kubica got out of his before the surface rubbered in.
As the race entered its closing phase, you rubbed your hands. The first four were on used Primes and would surely struggle, while there was Webber with a 20-lap stint to run on supersofts with the benefit of a rubbered surface. This could be great! But it never happened. The guys on the Primes were absolutely fine.
Button summed it up afterwards. "We were struggling with graining on the Prime tyre in Friday practice and I think had a good understanding of what would happen to it. We actually thought it was Red Bull that took the gamble in qualifying, not us."
McLaren has suffered its fair share of criticism when it's got things wrong in the past, so hat's off to them this time. Gambling? It's a mugs game...