Canada personal scoreboard
• Since his Formula 1 debut Jenson Button has alternated a race finish with a retirement in the Canadian Grand Prix, being classified only in even years. His best result was a third in 2004, the only time he scored points there. He was on pole in 2005, but ended his race in the infamous "Wall of Champions", the barriers on the outside of the final chicane;
• Lewis Hamilton obtained his maiden pole and win in Formula 1 here in 2007, spending all the race in the lead. He was on pole also in 2008, but retired after a collision with Raikkonen in the pitlane. He is in his 60th Formula 1 race;
• Michael Schumacher, as it often happens, is the record-man for poles and wins in this track (six poles, seven wins); he was able to climb on the podium no less than 12 times out of 15 in Canada, the last seven straight from 2000 to 2006. He also ended up on the Wall of Champions in 1999 and suffered his only terminal mechanical failure in 1996, when a rear axle fell apart in the pitlane.
He could have added one more win in 1995, but an electrical problem in his Benetton put him down to fifth. His qualifying performance is stunning: he has never been beaten by a team-mate out of 15 qualifying runs. In Canada Schumacher will start his 256th race, joining Riccardo Patrese at the second all-time spot;
• Nico Rosberg has always qualified in the top ten in Montreal, but never managed to finish better than tenth (in 2007 and 2008). He was out after only one lap in 2006 after a contact with Montoya. Like his team-mate he has a perfect qualifying score in Canada: 3-0;
• Sebastian Vettel has raced only once here, but was a performance to remember: he had to sit out qualifying because he smashed his Toro Rosso on the wall on Saturday morning; started last and finished eighth;
• Mark Webber counts only two points finishes out of seven races, his best result is a fifth in 2005. His best grid spot is a sixth obtained in 2003 and 2007;
• The best result for Felipe Massa came in 2005 with Sauber: fourth, nearly one minute behind race winner Kimi Raikkonen. He still has to record a memorable performance here as up to now was on the spotlight only for a suspension failure which put him on the tyre barriers in 2004 and a black flag in 2007 for exiting the pitlane with the red lights on. His best qualifying result is a fifth in 2007, but has always been beaten by his team-mate, six times. He is in his 70th race with Ferrari;
• Fernando Alonso had an easy time in 2006, winning the race, but maybe his best performance was the fourth place he scored in 2003 behind Michael Schumacher and the two fast Williams of Ralf Schumacher and Juan Pablo Montoya: he posted his maiden fastest lap in that race. He made also mistakes in Montreal: ended up on the wall in 2005 and 2008 and in 2007 collected four offs in turn one plus a penalty for entering the pitlane with the red light on;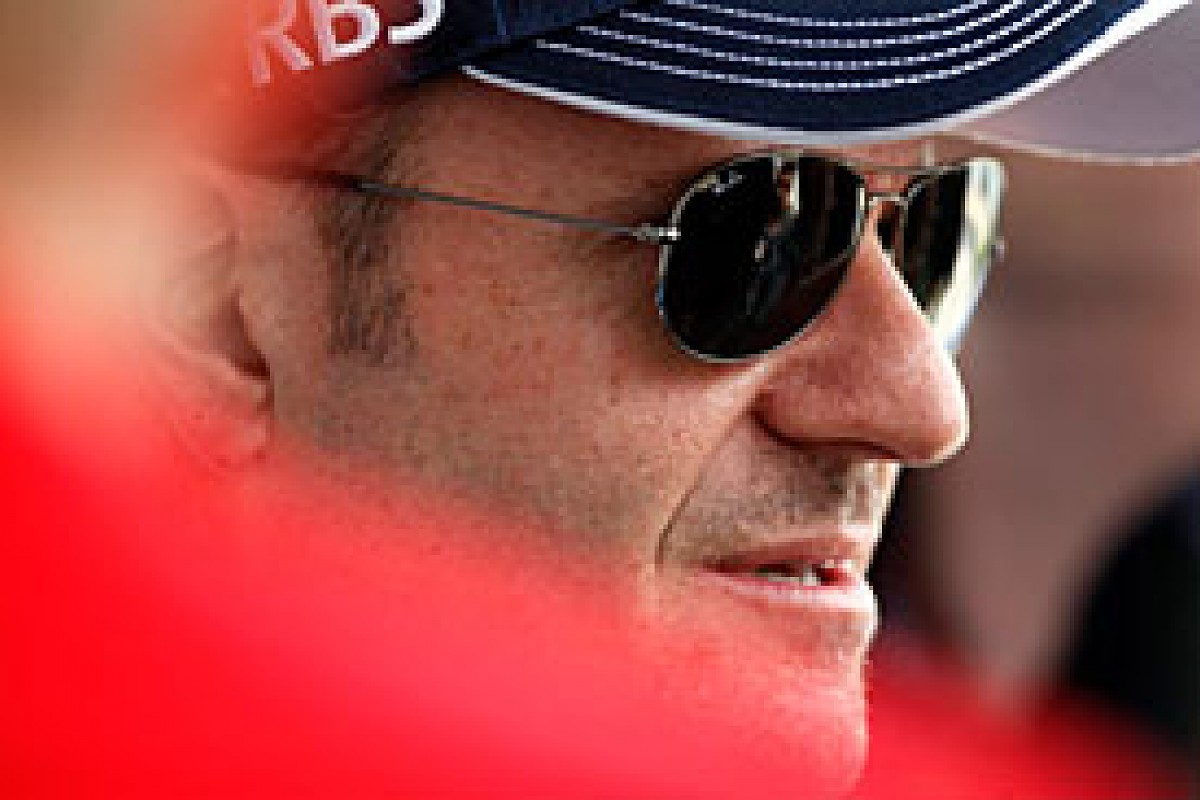 Williams has been impressed with Barrichello © LAT
• If Rubens Barrichello reaches the 59th lap he will be the first man in Formula 1 to have raced 15,000 laps. He scored five podium finishes in Canada, the first one in 1995 behind winner Alesi, the last one ten years later, in 2005, his last year with Ferrari: third behind Raikkonen and Michael Schumacher. His qualifying score against his team-mates is perfectly balanced: 8-8;
• Robert Kubica lived here his best and his worst career race: the best one is his only win to date in the 2008 edition, the worst is the 2007 accident, with his car smashing on the walls and ending upside down;
• Adrian Sutil has never managed to see the chequered flag in Canada, retiring after an accident in 2007 and due to a gearbox failure in 2008. He has raced a total of 34 laps in Montreal, less than half of a race;
• Vitantonio Liuzzi came close to finishing fifth with Toro Rosso in 2007, but ended up on the Wall of Champions on the 55th lap;
• Jarno Trulli has retired seven times out of 12 races run here, two of them (1998 and 1999) in a first-turn accident and two more (2003 and 2007) due to collisions with other cars. When he finished the race he was four times sixth and once 11th. His score against his team-mates in qualifying is 10-3;
• Heikki Kovalainen's 2007 race is the example of the luck you need in Montreal to succeed despite the safety car: he had to start last for an engine change penalty, but with only a few passes and perfect timing with the safety car interventions he finished fourth;
• Pedro de la Rosa has raced here four times, retiring in three occasions. He finished the race only in 2001, sixth with Jaguar;
• Timo Glock finished fourth in the 2008 race. Curiously he was able to climb from the 15th place he occupied in the first laps to the lead of the race without passing a single car, only taking advantage of a longer first stint;
Team performances in Canada
• BMW Sauber won its only race with Kubica here in 2008;
• Ferrari is the most successful team in Canada with 11 wins to McLaren's ten. From 1997 to 2004 Ferrari won six races out of eight;
• Lotus has never won in Canada: its last podium finish here was in 1976 with Mario Andretti;
• McLaren has won ten times, the last one in 2007. The team was on pole with Hamilton in the last two editions of the race;
• Red Bull has claimed only one podium, in 2008 with David Coulthard, in third behind the two BMW Saubers. In qualifying its best performance up to now is a sixth place;
• Renault won the race with Alonso in 2006 in front of Michael Schumacher, but in its last showing here they recorded a double retirement;
• Toro Rosso has scored points here with Sebastian Vettel in 2008 (eighth); in qualifying the team has never managed to reach the top 10 spots;
• Williams won here for the last time in 2001 with Ralf Schumacher, then scored three straight poles from 2002 to 2004; the last podium came in 2007 with Alexander Wurz. In the last race held here it didn't manage to finish in the points.