Amid all the fuss that followed the Sebastian Vettel/Mark Webber collision in Turkey it was easy to overlook the fact that not only did McLaren score a priceless one-two, the team was also in large part responsible for pushing its rival into a mistake.
Had the McLarens not demonstrated the race pace that they did, the Red Bulls would have been able to take it that much easier, and the issue of fuel saving might not have become critical. And had Lewis Hamilton not been right there, keeping a close watch on Vettel's gearbox, then the German (and RBR) would perhaps have been less concerned with getting him in front of his team-mate.
Lewis Hamilton chases Mark Webber in Turkey © LAT
After qualifying in Turkey, McLaren was extremely pleased to have split the Red Bulls by putting Hamilton second, but what really caught the eye was the relatively small time gap to pole man Webber. That gave McLaren something to smile about, but there was a note of caution. Webber had hardly enjoyed a perfect day, losing track time to a technical problem and then having a fairly major spin (to be fair, so did Hamilton).
But more importantly Vettel did not fulfil his true potential thanks to a roll-bar linkage coming loose. In other words, the gap to pole could have been bigger than it was.
The main concern McLaren had was that both Hamilton and Jenson Button were on the 'wrong' side of the grid. And indeed both lost places off the line, only to get them back with some great first lap hustling.
"Unfortunately the start played out to your worst fears," says engineering head Paddy Lowe. "Lewis made a great overtake to get the place back from Vettel, and equally with Jenson and Michael. We had this dreadful feeling we were going to have another Barcelona with Jenson stuck behind Michael for 40 laps, but fortunately he got past as well."
For the rest of the opening stint, Hamilton kept the pressure on Webber, while in turn he had his mirrors full of Vettel. It was clear that the timing of the stops was going to be critical.
"I thought Lewis might have got Webber a few times - it was very close. He'd make up loads of ground and lose it in Turn 8, and not quite make it back by the time he got to Turn 12. That was all obvious on the TV."
In the end it was Hamilton who would lose a place. RBR brought Vettel in on lap 14, and coming in just one lap later, Hamilton dropped behind the dark blue car: "It all got very tight, because it depended what Schumacher and Rosberg were doing. You saw Vettel got trapped behind Rosberg, briefly, and that was the danger at that moment. It was who do you stop first? We nearly stopped Jenson, but in the end, we left him the longest.
"Unfortunately Lewis had a bit of a problem on the right rear, which seemed to be a bit slow. I think if he had a perfect stop he would probably have come out beside Vettel, and probably wouldn't have made it stick, knowing how the corner works. I don't think the pit stop was really the loss of position alone. Vettel, through his strategy, made more time."
After that, it was stalemate for some 25 laps before the infamous collision occurred. Not that there was much time for smiles on the McLaren pit wall: "There was enough drama around us, in terms of had it affected our cars? Lewis was very worried that his car had been damaged, and we were trying to cover that. To be honest that consumed all my emotions at the time, rather than any great celebration!"
For team principal Martin Whitmarsh it was a 'there by the grace of God' moment, not just in terms of the actual incident, but the theatre that followed as the team tried to deal with the fallout. Nobody envied Christian Horner having to deal with that situation.
"Everyone is going to have an opinion on what happened in the accident," he says. "I think the danger in these situations is to immediately, and without looking at the data and being careful about it, take a view.
"What happened was tough and embarrassing, and it could happen to us as well. It was probably amplified by some instantaneous judgements which were openly broadcast, and which probably on reflection, weren't reasonable. And then it's difficult to pull yourself back out, isn't it?
"The satisfying thing for us is in fairness to Sebastian, he was under enormous pressure from Lewis. It was difficult for them to avoid the issue, and I think that's what we've got to do. At the moment we are not qualifying as quickly, but I think we actually had a quicker car in that particular race, so had we got by the Red Bulls, but whatever means, I think we could have opened up a gap and had a comfortable race. It was difficult to get by them, but I think Lewis in particular did the right thing, just keep the pressure on and see what happens then."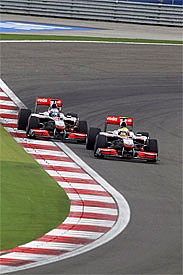 Lewis Hamilton, Jenson Button in Turkey © LAT
The cars might have been running one-two and with no threat from behind, but this race was far from over for McLaren. And indeed the drivers came perilously close to giving Whitmarsh a serious headache. Fortunately, it didn't happen...
Soon after they took over the leading positions it became public knowledge, via the team radio, that both McLaren drivers had to save fuel. This was something the team had seen coming for some time.
"In this new formula it's very important to get the right fuel load," Lowe explains. "And you've got to judge how hard you are going to be pushing in the race. An optimal strategy will require some fuel saving, although obviously you'd rather not be saving fuel throughout the race.
"There was a genuine issue. The thing is they'd been racing hard all the race, with no safety cars, no other issues, and then by definition you're on the limit. So we really had to keep both cars in check."
The sheer pace of the leading cars in the first two thirds of the race was such that the fuel figures were more worrying than had been expected.
"It was tight," Whitmarsh admits. "At the beginning the four top cars were probably lapping a bit quicker than we all anticipated. So certainly both of our cars got to the critical point where, to be honest, had we not moderated the situation, we wouldn't have finished the race. It was tight on both our cars. For a good portion of that race we were following, saving as much fuel as we could.
"Historically you used to do that to extend the range of your first stop. Nowadays you factor into your fuelling strategy the likelihood that you can take it easy towards the end of the race, and even when that's factored in and you start quicker than you anticipated, you can quickly get yourself into deficit. And we were in fairly significant fuel deficit with both cars."
And here's an interesting thing. Red Bull got itself into trouble with a sceptical media and public because Webber was asked to save fuel, while Vettel had apparently done his economising earlier in the race, while in the tow. That meant that, from the point Webber started saving, Vettel could run optimal settings to the flag.
At McLaren this apparently wasn't the case, so both drivers got the same treatment.
"We tried to keep them in check on an equal basis," says Lowe. "So they could still race fairly. We tried to do everything concurrently. There are lots of things you can do to save fuel, whether it's engine settings, the amount of throttle, whether you short shift."
Whitmarsh confirms the 'equal chance' strategy: "What we did was try to synchronise them. Both cars had the same issues, and both cars got given the same instructions at the same time, and the same settings to try and rectify it. So we tried wherever possible to run a consistent approach."
Anyone who thought that all the fuel saving chat on the radio was code for 'hold station' was to be proved wrong, of course. At the end of lap 48 Button got past Hamilton in a move that had everyone on the McLaren pit wall holding their collective breath. He was only ahead for a few hundred metres before the situation was reversed, and thereafter, things ran smoothly to the flag.
Hamilton's demeanour afterwards was not that of a man delighted to receive the victory spoils after the guys in front crashed out. In fact he was far from happy. He'd been told after going to fuel saving mode that Button wouldn't pass. That later became public knowledge when FOM issued a previously unheard radio transmission on the F1 website.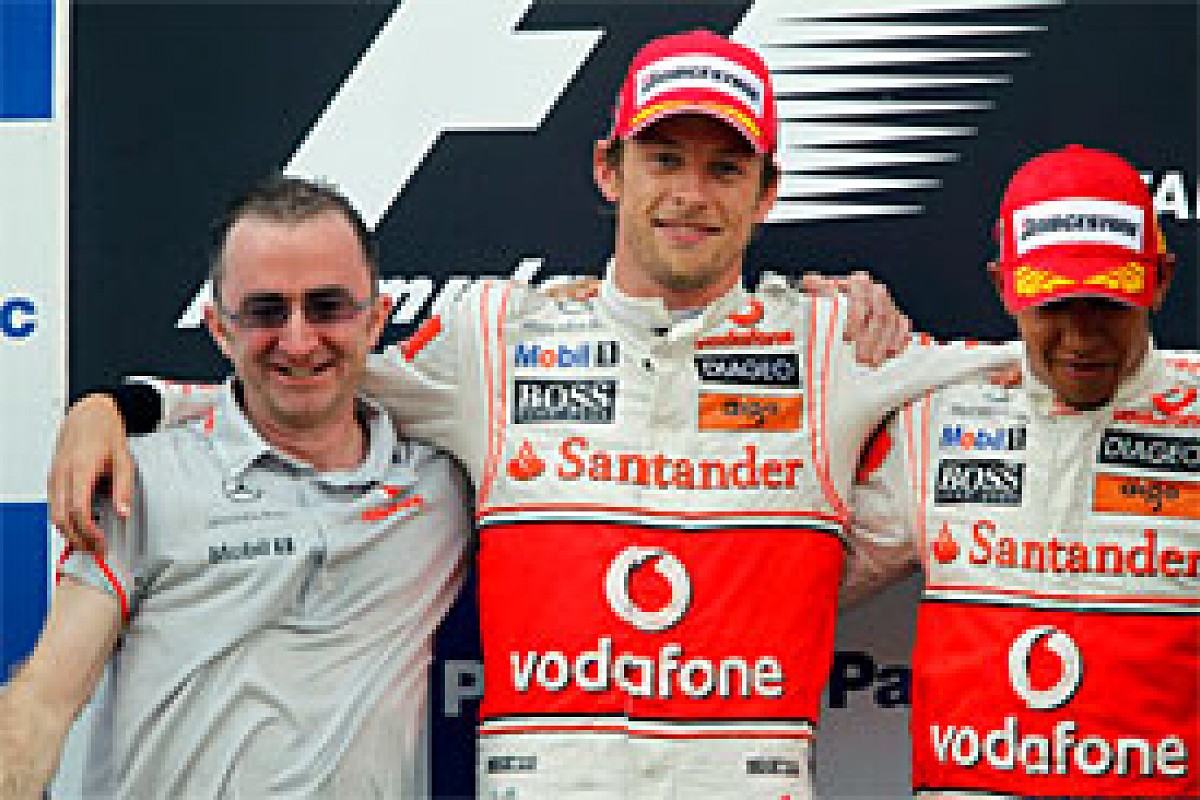 Paddy Lowe with Button and Hamilton in Turkey © LAT
In an effort to clarify the situation, McLaren said this week that while Hamilton's engineer had indeed given that message, it was not one that reflected the management position, or any agreed global strategy. Certainly not one that had also been passed on to Hamilton.
"We had not given any instructions to Jenson not to fight, just as we didn't Lewis in China," Whitmarsh insists. "There were those that held the view that we should do, but we didn't, and it was my decision. So they were allowed to do that. Lewis had short shifted quite significantly. A Grand Prix driver these days has to save tyres, brakes, engine, fuel, so anything you can do. So Lewis short shifted quite significantly in Turn 8.
"That enabled Jenson to get close, and he's a racing driver, so he had a go, and if he hadn't, you'd be disappointed in him! Lewis was quite robust in responding to that. Jenson then took a view on risk management, and made the right call thereafter...
"If you rely on the drivers to figure those things out, I think Jenson wanted to beat Lewis, and Lewis was determined to beat Jenson, but in a very positive way. There is actually a lot of respect between the guys, and they are racing drivers.
"At the time there was a slight dampness occurring as well, and Lewis felt that it was under control, and he could start to look after his equipment. You don't expect an aggressive overtaking manoeuvre by your team-mate... But then in fairness to Jenson, Jenson thought he had made a mistake, missed a gear or had a problem, and thought, 'I'd better have a go at him.'
"I think it was what every racing driver would do if he had the opportunity, and what Lewis would have done if he was in the same position. Lewis was clearly very determined to rectify that manoeuvre, which he did."
That all makes sense, and McLaren can thank its drivers for getting through that sequence of corners intact. In fact, there was clearly a misunderstanding that was potentially as damaging as anything that went down at Red Bull. It demonstrates what a challenge these teams face when balancing the interests of two top drivers, especially in this somewhat unsatisfactory new era of fuel economy motoring.
It's impossible to properly judge to what degree McLaren has closed the gap, as things change by the weekend. Turkey was a track that favoured the F-duct and the straightline advantage it confers, as do the next two tracks on the schedule, neither of which are noted for the sort of fast, sweeping curves that the RB6 loves. The bottom line is that in Istanbul, McLaren was right there.
"We seemed to have the measure of the Red Bull throughout the race on pace," says Lowe. "Obviously for the last few laps we didn't have the comparison. Potentially they might have been quicker on no fuel, but I don't know. Certainly we were hounding them the whole time, which is really encouraging for the next few races."
Whitmarsh is confident: "Everyone is now pushing it harder than they were [on fuel loads], and that was very much the case in Turkey. But I think also there was a race on, wasn't there? Often a race has unfolded a bit sooner than that.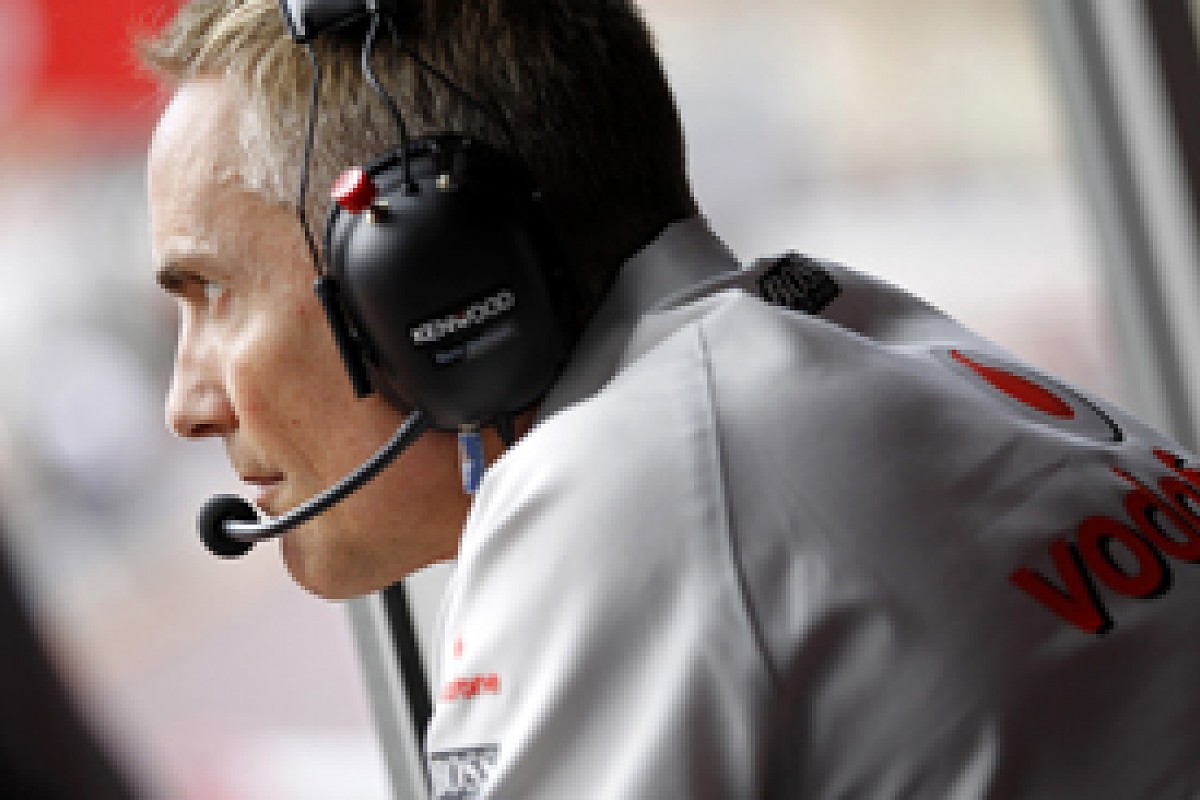 Martin Whitmarsh © LAT
"Even if the Red Bulls had not had that incident we would have been pushing them, and our fuel, and trying to get past them. We may have done anyway. We were quicker in a straight line, we were quicker in lap time. the drivers could comfortably stay in the wake of the other car and drive saving fuel."
It's going to be fascinating to see how aggressive the teams are with fuel loads in the next two races. Montreal and Valencia are traditionally high consumption events - indeed the latter pretty much defined the tank size teams chose for this year. But with all that accelerating out of hairpins and chicanes, nobody wants to carry any superfluous weight.
"I'm confident that we've got a fuel tank that's big enough for the two events," says Whitmarsh. "But we probably won't fill it! The risk that introduce is not a consequence of your capacity, it's a consequence of your judgement on what's going to happen during the event. You don't want to carry 5kgs of fuel ballast just for the sake of it..."