Gordon Murray arrived in England from South Africa in the middle of the bitterly cold winter of 1969. He caught a bus to Hethel, where Colin Chapman had offered him a job, but arrived to find that Lotus was laying off staff. He spent the following months living in a bedsit in a grotty outer suburb of London near Heathrow Airport until he decided to doorstep the Brabham factory in search of work. Ron Tauranac happened to be interviewing for a position in the design office, and Gordon slipped into the queue of candidates. The rest is history.
In 1970, Jack Brabham retired from racing and sold his share of the team to Tauranac, who within a year grew exhausted with the administrative burden. Yearning to return to hands-on engineering, he sold the team to Jochen Rindt's former manager. Like Murray, this man was destined to turn the sport on its head with his energy and inventiveness, albeit in the commercial rather than engineering sphere. His name was Bernard Charles Ecclestone.
Tauranac stayed on as an employee, but he and Ecclestone were too similar in too many ways to get on. He asked if he could take a leave of absence over the winter to engineer for Frank Williams in some races in South Africa; as it happened, he would only return to the Brabham factory to hand back his company car.
Instructed by Ecclestone to build a "completely new" car for 1973, Murray did just that. The BT42 was utterly unlike its predecessors, a short-wheelbase wedge that bore the distinctive signs of the forward thinking that Murray would become famous for.
Since Colin Chapman had successfully used the engine as a fully stressed member of the chassis, the concept had begun to go backwards: Engines and gearboxes had proved not quite strong enough to take the strain and had sprouted spindly subframes to pick up the suspension components. Murray re-cast the Cosworth engine's valvetrain cover so that he could mount the springs and upper suspension links straight onto it; he dry-sumped the gearbox to save power and converted the casing to accept the rest of the suspension links. This design gave an instant improvement in reliability, torsional stiffness, and driver "feel.
For better weight distribution, Murray moved the driver forward so that he could package around 30 percent of the fuel between the driver and the engine rather than in the sidepods. The triangular profile of the tub was intrinsically stiff and aerodynamically slippery, and enabled Murray to shape the rest of the fuel tank so that fuel didn't climb up the sides under g-loadings. The whole car was intended to have an upside-down saucer shape so to exclude as much air as possible from the underside, generating downforce.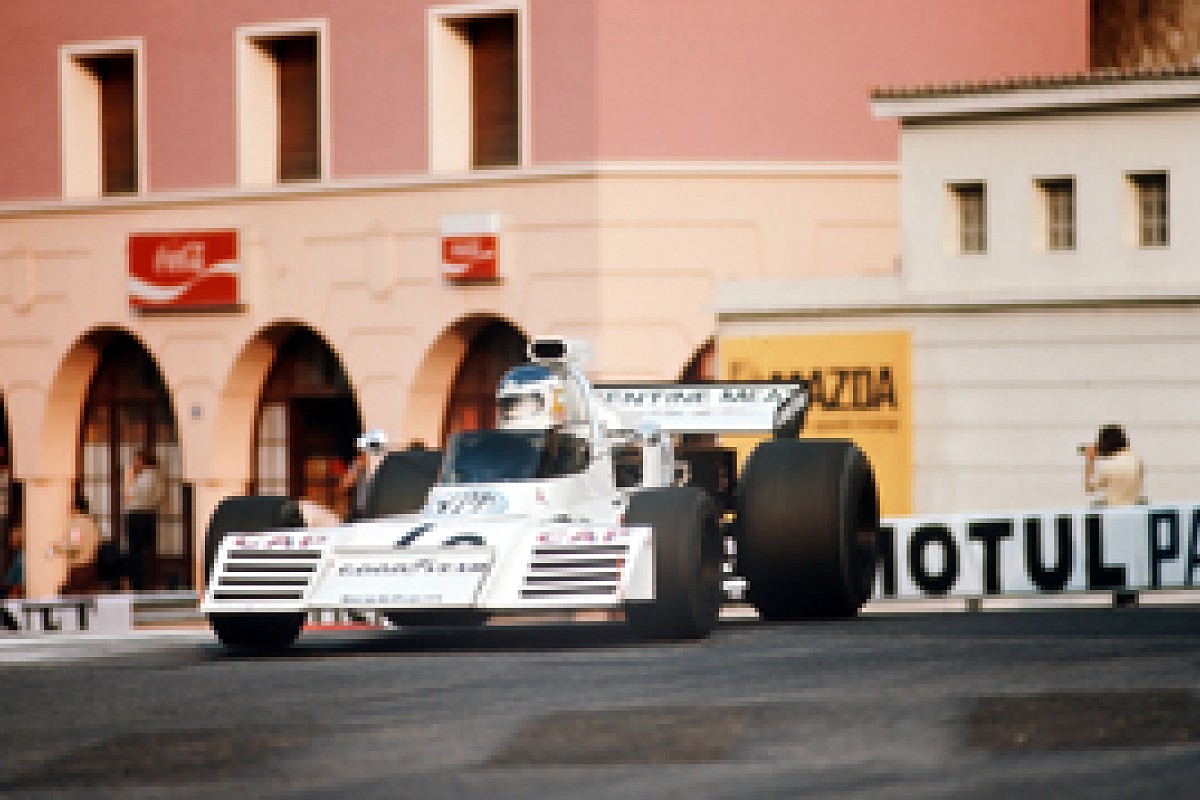 Carlos Reutemann, Brabham, Monaco 1973 © LAT
The BT42 was ready for the start of the European season — the 1973 Spanish Grand Prix at Montjuich Park. Carlos Reutemann was running in second place when a driveshaft failed nine laps from the finish. But this season belonged to Tyrrell's Jackie Stewart and the Lotus duo of Emerson Fittipaldi and Ronnie Peterson. Too often Reutemann was stymied by fuel pressure problems or by being sent out on the wrong type of tyres.
Convinced that he was heading in the right direction, Murray evolved the BT42 into the BT44 (the BT43 was a one-off chassis built for Formula 5000; it's believed to have been dumped in the River Thames during a dispute over unpaid customs duties). The tub was almost identical, but where the BT42 had conventional springs loading the monocoque, the BT44 had rising rate suspension actuated by pullrods.
"I'd come up with the pullrods for a 750 racer I was designing for myself, to give it a low bodyline," says Murray. "I didn't have time to finish it, so I used what I'd been doing on the 44. We tested the BT44 in secret at Kyalami with a sacrificial fibreglass vee under the nose cone, the idea being to achieve a partial vacuum. We checked it with an anemometer. It worked and enabled us to run very little rear wing.
"We kept it secret until the Austrian Grand Prix in 1975, when we had a fuel leak in the pits," recalls Murray. "They lifted the car up — I told them not to — and Alastair Caldwell from McLaren saw the vee. Pretty soon everybody had one."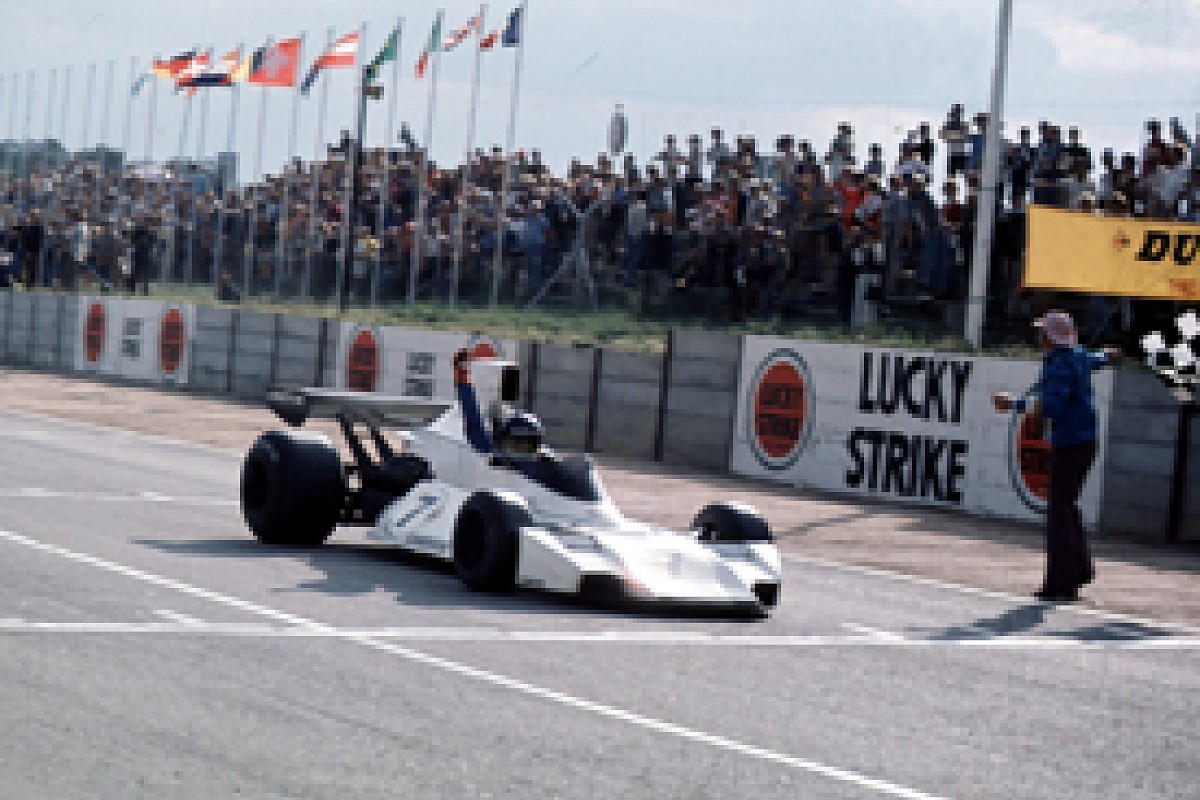 Carlos Reutemann wins at Kyalami © LAT
Brabham's rivals had good reason to pay close attention, for the BT44 was quick from the off. First time out, at Reutemann's home Grand Prix in Argentina, it could have won — but the team had sent Reutemann off without enough fuel and he stuttered to a halt on the final lap, having lost a commanding lead. In Brazil, the team squandered Reutemann's front-row qualifying position — not for the first or last time — by fitting soft-compound tyres that faded during the race. Ecclestone, it is said, was partial to the performance boost offered by soft tyres but didn't adequately understand the issue of degradation.
In South Africa, the hitherto almost-plain-white BT44 appeared bearing Texaco decals. What appeared to be a sponsorship acquisition had a more prosaic explanation: Ecclestone had lost at cards to a Texaco bigwig. Still, the oil company exec's timing was fortuitous: Reutemann won commandingly after Ferrari's Niki Lauda retired.
Reutemann won three championship Grands Prix in 1974 and, in the revised BT44B, went on to challenge for the drivers' title in 1975. Ultimately, though, the championship fell to Lauda. Murray felt that there was more development potential in the BT44, but Ecclestone was on the hunt for a 12-cylinder engine that could match the prodigious output of Ferrari's flat-12. He brought Alfa Romeo back to the sport after a 25-year hiatus, but the Alfa flat-12 was overweight and underpowered — a story repeated when Alfa developed a V12 to replace it. Meanwhile, supported to the hilt by Ecclestone, Murray produced a series of cars that were outrageous and innovative — but usually let down by their engines.
The BT44s lived on until 1976 after Ecclestone sold them to the RAM team run by his associate, John Macdonald. Brabham finally returned to championship domination in the 1980s, when Murray's designs were harnessed to BMW turbo engines of ever-increasing potency.
Brabham BT44
First championship GP
Argentina (Buenos Aires), 1974
Last championship GP
Austria (Osterreichring), 1976
Drivers
Carlos Reutemann
Carlos Pace
John Watson
Rolf Stommelen
Richard Robarts
Rikky von Opel
Loris Kessel
Emilio de Villota
Patrick Neve
Jac Nellemann
Damien Magee
Bob Evans
Lella Lombardi
Wins/championship races entered
5/36
Championship GP wins
South Africa (Kyalami), 1974, Reutemann
Austria (Osterreichring), 1974, Reutemann
US (Watkins Glen), 1974, Reutemann
Brazil (Interlagos), 1975, Pace
Germany (Nürburgring), 1975, Reutemann
Podiums
Germany (Nurburgring), 1974, Reutemann (3rd)
US (Watkins Glen), 1974, Pace (2nd)
Argentina (Buenos Aires), 1975, Reutemann (3rd)
South Africa (Kyalami), 1975, Reutemann (2nd)
Spain (Montjuich), 1975, Reutemann (3rd)
Monaco (Monte Carlo), 1975, Pace (3rd)
Belgium (Zolder), 1975, Reutemann (3rd)
Sweden (Anderstorp), 1975, Reutemann (2nd)
Engine
2,993-cc Ford Cosworth V8, 440 horsepower (est.)
Gordon Murray comments:
"When I started in F1, everyone was using these thin top rockers, which were basically undamped leaf springs, for aerodynamic purposes. And they were flexing, which made the cars handle badly. That's why I came up with the pullrod suspension on the BT44, because it takes out the bending mode; everyone in F1 does that now with pushrods or pullrods.
"It still had plenty more development in it, and we could have won the championship. But we thought we needed a 12-cylinder engine to compete, so Bernie did a deal with Alfa Romeo, and I had to design an entirely new car. The Alfa engines were always overweight and unreliable."

Art of the F1 Race Car is available from www.motorbooks.com, or can be ordered for just £20 with free P&P to the UK (usual RRP is £30) through Grantham Book Services on 01476 541080. In order to take advantage of this offer, just quote 'Art Formula One' when calling.