Dario Franchitti moved up another notch last weekend. Whether there was any physical or mental recognition of it inside of him, we are probably unlikely to ever know, but something clicked during the Indianapolis 500 weekend that allowed the reigning IndyCar champion a free pass to a racer's nirvana. That unfettered access to the synchronicity of performance and good fortune, allied to the security and confidence of a second title. The result was one of the most dominant performances on the biggest stage of all that anyone has seen.
It meant he was able to consistently operate at a higher level than his competitors through at least 400 of the 500 miles - something he has proved capable of countless times before but never been in such a position to demonstrate so emphatically. This was his time.
Franchitti didn't just win motorsport's most coveted single prize on Sunday, he denied his rivals any realistic opportunity of thinking about stealing it from him. Even when the race moved out of a performance phase and became one that relied on the tactical will of the ethanol litre-counters, he remained in control. Tense, but in control.
Aware that another former winner, Dan Wheldon, was manouvering into a potentially advantageous strategical position, the Scot held his nerve and, in a hyper-alert state, demanded second-by-second position reports on the Ganassi team radio in those closing laps. In the end he held it together to win again, following up his rain-soaked 2007 victory, but this time he completed all 200 laps. This time it wasn't somebody else's race to lose. Dario owned it.
Such was the dominance of Franchitti's performance that he vaulted from 59th in the all-time laps-led-at-Indy table to 21st. He has now run at the front for 255 laps over seven starts. That's a better hit-rate than Wheldon, three-time winner Helio Castroneves, Arie Luyendyk and even Indy's own legendary brand name Al Unser Jr. It's only 43 laps less than Dario's hero Jim Clark.
The omens for such a victory had been hovering in the corner of the chrome-wheeled Ganassi transporter through the week building up to the race.
Having been out-paced by Penske's elite squad of championship-leader Will Power and Castroneves, and on occasion Ryan Briscoe, all through practice, Franchitti and his team-mate Scott Dixon had turned around that position during Carburation Day's final hour of running. Critically, the temperature had gone up markedly and this triggered a direct response from the deep red Dallaras. Ganassi had moved ahead. It would be even hotter by race day - on the track it measured 137 degrees Fahrenheit.
It was not long after this, on the Friday before the race, that AUTOSPORT found the 37-year-old in an impromptu autograph session while sheltering under the shade of the Ganassi truck's loading bay door.
Relaxed, and more comfortable with his place in this world than ever, he invited us in for a chat - but not before he'd finished a conversation with a gentleman that had just given him some beautiful prints of Clark running in that '65 Lotus. To Dario, this kind of thing is important, just as his growing collection of memorabilia to do with the great man is.
As a student of motorsport, Franchitti loves Indianapolis. There is a huge lettered sign across the media centre window that faces the crowd on the main straight which states: 'Celebrating 100 years of the world's greatest race track'. That might seem a mite on the isolationist side to a European. After all, the 2.5-mile superspeedway only has four corners and they all go left. It's hardly the Nordschleife. But Franchitti has driven on both, and he reckons Indy is as challenging as any place on earth.
"There are a lot of legitimate contenders," he muses. "Obviously the old Nurburgring, here, Spa - though I've never raced there - but for me this place...
"When you look at it, it's pretty simple. But even on the most calm, perfect day, all four corners are completely different. And then you throw in some wind and the sun on the track, the temperature change in the shade, it's as challenging as anywhere. Because there are only four corners there is quite a narrow set-up window and you have to get the car closer to perfection than you normally would. Obviously then temperature changes or anything like that are magnified - it just makes it so hard."
Okay, so that's the technical aspect of it. But anyone who witnessed poor Mike Conway's accident at Turn 4 will attest that the old 'Brickyard' holds no quarter with incompetence, mechanical fatigue or even plain bad luck. Perhaps it might even be described as the last truly fast autodrome on earth.
"This track is all about balls and skill," explains Franchitti. "It is as hard a track as I have driven. Imagine going to an indoor kart track, and it's one of those slick tracks where you are constantly sliding. Now imagine doing that at 230mph.
"They say that supposedly, if a driver goes to the outside of Turn 1 to watch, he will not get back in the car afterwards. We were doing 232mph turning into it this morning. You just keep your foot flat out. From then on it's just..." He pinches his fingers together and gently moves his hands up and down, mimicking a steering wheel. "It's very, very... delicate. Then you just catch the rear a bit, put a bit more lock in. It's constantly moving underneath you.
"You try and keep the throttle wide open but sometimes you have to lift in traffic or when the tyres wear. The trick is to try and keep your foot in, though."
Franchitti qualified third during the new shortened format for Indianapolis. Qualifying was reduced to one weekend during the 'Month of May' in 2010, and as an exercise in fan entertainment, it certainly hit its target. Crowd attendance was up. "I've never seen that many people on pole day," and it put teams under pressure to deliver. Paul Tracy, a friend of Franchitti's and one of the fastest guys not to have won at Indy (though he still believes 2002 was his win and not Castroneves'), found himself bumped off the grid entirely by the end of the weekend.
Franchitti agreed it was worth it, but described as "frightening" running as many times as the new format demanded with his car trimmed out to the very edge, as teams pulled times and put themselves back in the line to go for a better lap. Qualifying this year got confusing, and not just for the fans.
"I think the result was what we wanted," says Franchitti. "The fans loved it. Overall, a couple of things need tweaking, just to kind of advance it to that next stage. The good thing is that I have already spoken to [IRL CEO] Brian Barnhart about it and he has already got his mind working...
"I didn't like getting pulled out of line, with everybody playing musical chairs," he adds. "That was kind of annoying. I would like to see that stopped because it confused the fans and annoyed us.
"By the time we did that first run, I was ready to go. I was trying to keep myself that way too because, as smooth as you have to be around here, there is a certain aggression you have to have too."
That aggression has come paired with a subtle increase in self esteem, brought on by another title and what in a racer's life one could term as a life-changing 24 months. The disastrous switch to NASCAR, after his first championship win with Andretti Green Racing in 2007, must have made Franchitti ask questions about himself. Drivers by their nature expect to be good at everything they turn their hands to. And, if it involves their hands turning wheels, then all the more so.
But while the Sprint Cup campaign with Ganassi in the first half of 2008 was not a success, the opportunity to come back to IndyCar the following season with the team that had previously won Indianapolis with Emerson Fittipaldi (in a car co-owned by Pat Patrick), Juan Pablo Montoya and Scott Dixon, and presented a united front against the might of Penske for more than 15 years, proved to be the change in life that he had been searching for in the first place.
"I think experience has helped me," Franchitti explains. "I think I have become more aggressive. I know what I want more, so I am not afraid to commit and push for that. Certainly if you look at the last three years, two championships and an Indy 500 win [now two!] the results kind of point to that.
"I'm here to try and win as much as I can. The NASCAR thing came about because I had been doing this for such a long time and I thought I wanted something different. I thought I wanted a new challenge and then the [IndyCar] series got back together and so the tracks that I really missed came back on the schedule.
"The first time I drove the car again, I realised how much I had been missing it. Since then there is nothing that has really turned my head. This is it for me now, this is what I love doing. But also the fact that this is now a unified series, which is something I didn't get to be a part of up until the start of '09, means that I am doing what I always wanted to do."
Franchitti's US single-seater career began after the infamous split between what became the team-owned Champ Car World Series and Tony George's Indy Racing League.
In the early years of that tumultuous decade, Champ Car possessed unquestionably the more challenging cars and a higher level of competition. So when the then 24-year-old joined Hogan in 1997, off the back of an impressive DTM scholarship with Mercedes-Benz, he walked into a field packed full of US racing legends: "I was lucky that I got to race against guys like Alex Zanardi, Jimmy Vasser, Juan Pablo Montoya, Paul Tracy, Scott Pruett, Adrian Fernandez, Al Unser Jr... Greg Moore," he pauses. "That was an amazing field of people."
But even so it was never a unified 'belt'. And when Penske left Champ Car to join the IRL in 2002, it muddied the waters to the point where winning either championship seemed like a diluted achievement. So having won an IRL title in 2007, the opportunity to win another post reunification (2008) was tantalising, and when it was achieved at the end of 2009, thanks to some canny strategy in the final round, it only emphasised Franchitti's own pedigree - something that needed to be on record.
Dario admits that the 'new-and-improved' IndyCar Series still has some way to go before it shines a light on the glory days of CART and recovers the ground lost to NASCAR, but as its champion he has a vested interest in the category's growth - and he believes those days are coming.
"This is a good series now, and it is one series," says Franchitti. "That has provided strength, as has IndyCar's new chief executive Randy Bernard being in charge, who I think has made some good calls.
"I've heard nothing but people talking about the positive experiences they've had with him. He asks you for suggestions, or you bring something up with him and he goes away, does his research and comes back and makes a decision. He either then goes with what you suggest or will tell you why he won't. He's quite an impressive guy."
Bernard faces a decision soon about whether to take the ambitious and futuristic Delta Wing project into the series future, or whether to opt for a more cost-effective chassis solution. As IndyCar looks to make the most of its growing popularity, everything is on the table. Multi-manufacturer engines; chassis innovation; open competition. Innovation is a word you'll hear a lot in the modern day IndyCar paddock and it's one Franchitti endorses readily.
"I can definitely see two sides to the whole thing," says Dario about the Delta Wing. "As a concept, it's wild! But it's got a lot of people thinking. Rather than producing a car that looks the same with a different wing package, people are starting to think outside the box. The Delta Wing and the guys involved in it, one of which is Chip Ganassi, have started the ball rolling.
"Things are different from 10 years ago when we would build cars within the confines of the regulations, but quicker than last year's and hopefully the other guys'. We don't have that anymore, we are building a car that is going to be around maybe five years, maybe longer. So you have got to think in a different way."
But Franchitti believes the return of manufacturer competition is the more pressing concern: "I'd like to see it start with engines. I'm not so worried about the chassis. I'd like to keep that single chassis to start with and then go from there. I think engine manufacturers, if you can get a lot of them interested, bring a lot to the series in terms of innovation."
As for his own level of competition, Franchitti is satisfied with where he is at in 2010. But until Indianapolis, he had not won a race through his title defence and this was a source of frustration to him - as was the bump spring controversy that surrounded Penske's early success after Will Power and Helio Castroneves won the first three road course races.
"I have been frustrated by it," he says. "They have had something for a number of years now that it turns out our team certainly asked for, and going through the approval process, we were told we weren't allowed it.
"There have also been a couple of occasions, in Brazil and at St. Pete, where we thought we had a better car than they did, but we just made mistakes - both myself and the team, and there have been a couple of occasions where they have turned up and been better than us."
Bump rubbers aside, which is what Penske is believed to be running, legally, under the front anti-roll bar along with other teams KV, Andretti Autosport and HVM, Franchitti faced another unrevealed challenge which goes a long way to explaining his disappointing 12th position at Long Beach - a race won by Ryan Hunter-Reay.
"I found out at Kansas that I had broken my thumb at St. Pete," he reveals. "I crashed in practice and I had pain in my thumb. When I went to Barber I really struggled and I kept saying to the guys I couldn't hold on to the car over the kerbs. Sure enough, I had pulled the ligaments away from the bone when I'd held on to the wheel, so that explains why I had such a bad weekend at Long Beach. It's back to 100 per cent now but the key is to remember not to try and ride it all the way into the wall!"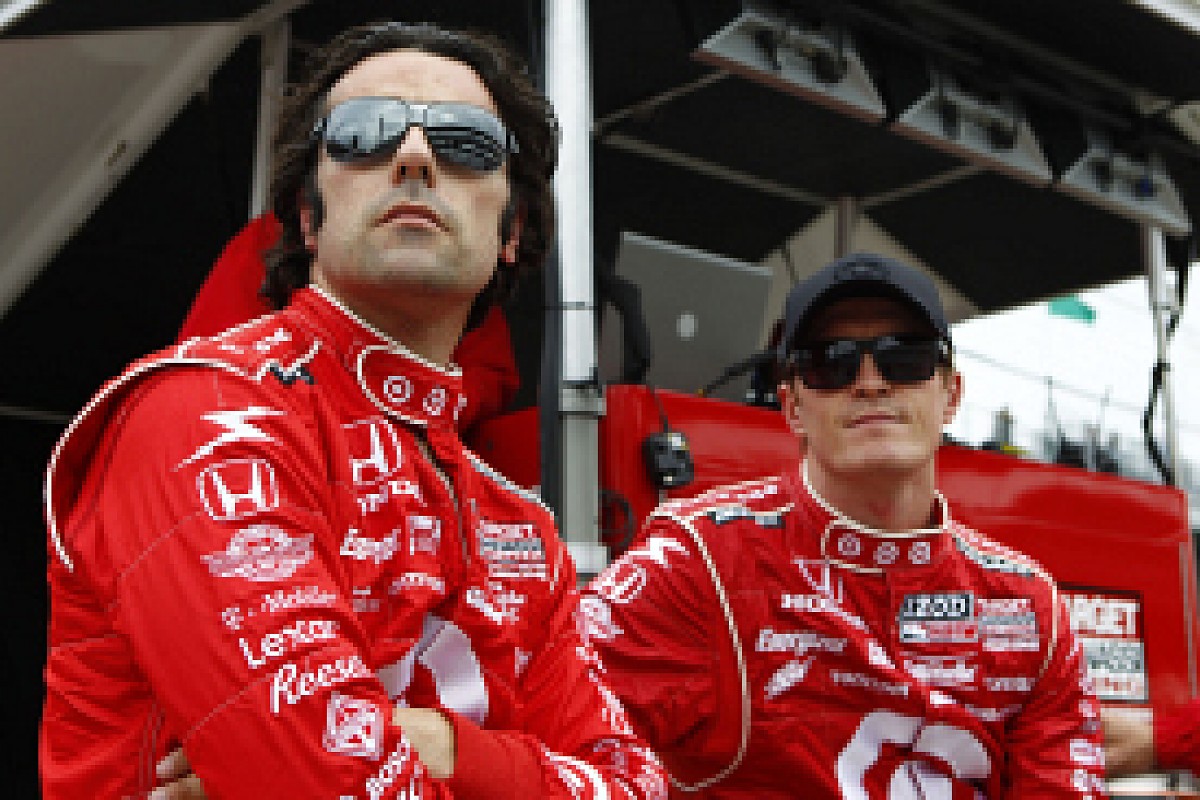 Franchitti with Ganassi team-mate Scott Dixon © LAT
Franchitti, of course, wasn't the first unified champion - that honour went to his team-mate Scott Dixon, and the Scot believes the pair have the perfect relationship and that the Kiwi has been a contributing factor in his own growth as a champion.
"Oh yeah it has," he responds. "We push each other on really hard and we learn so much from each other. It's funny, as many races as we have done between us, we learn from each other all the time. Last year he taught me an awful lot about the 1.5-mile tracks and I've definitely improved my game there. I unfortunately taught him a lot about street courses and he really picked his game up with that this year.
"It is fun to work in that kind of environment and you can never, ever, relax because if you do he'll get you."
As for the future, Franchitti plans to enjoy his lot, keep winning races and make the most of what has been placed in front of him. He still believes there is more to come and that he will improve further. The Indy win could be an indicator for what's to come next...
"I just want to keep operating at this level and get better. I love driving and working with the team. They are bloody amazing people.
"Somebody was talking about Mark Webber maybe retiring the other day, and I thought why the hell would the guy want to retire when he has finally got everything he wanted? He's got a great car and he is showing what he can do. I love seeing that - and Mark deserves it because he is a great guy. I feel the same way, why would I retire now?"