In Turkey last weekend, Red Bull Racing's Christian Horner found himself in the position every team principal dreads. When nightmare scenarios like a collision between team-mates happen, there's rarely time to plan a clever PR strategy or come up with a party line.
These guys are human after all, and thus Christian, the two drivers and Red Bull motorsport supremo Helmut Marko all said what they thought. It was a tricky situation for the team, but for the rest of us it was great stuff - real drama in a sport whose key protagonists are so often criticised for being bland.
You can argue all day about which driver should take all or most of the blame for the accident, but the intriguing questions surround not the actual moment of contact, but what had led to Sebastian Vettel getting himself alongside Mark Webber at that particular stage in the race.
It was Webber himself who suggested there were extra layers to the story when he told the media to do some digging, and that gave momentum to conspiracy theories.
Had the team done something to favour Vettel - either deliberately or otherwise?
By the time Webber was leaving the track on Sunday night, it had became apparent that some two laps before the collision he had been asked to turn down his engine in order to save fuel. The McLaren drivers received a similar request, but the point was they were both told at the same time. At Red Bull there was no such parity.
"I think there were a few laps where there was a bit of a difference," said Webber. "And it's just how we manage that, really. He had a bit more for a few laps. That's why there was a difference on top speed at that point in the race."
Unfortunately for the team, the general perception emerged that Webber was handicapped at that critical stage relative to his team-mate, and that fact was somehow unjust. But were engine settings really the crucial difference that gave Vettel a shot at passing and led to the dark blue cars colliding?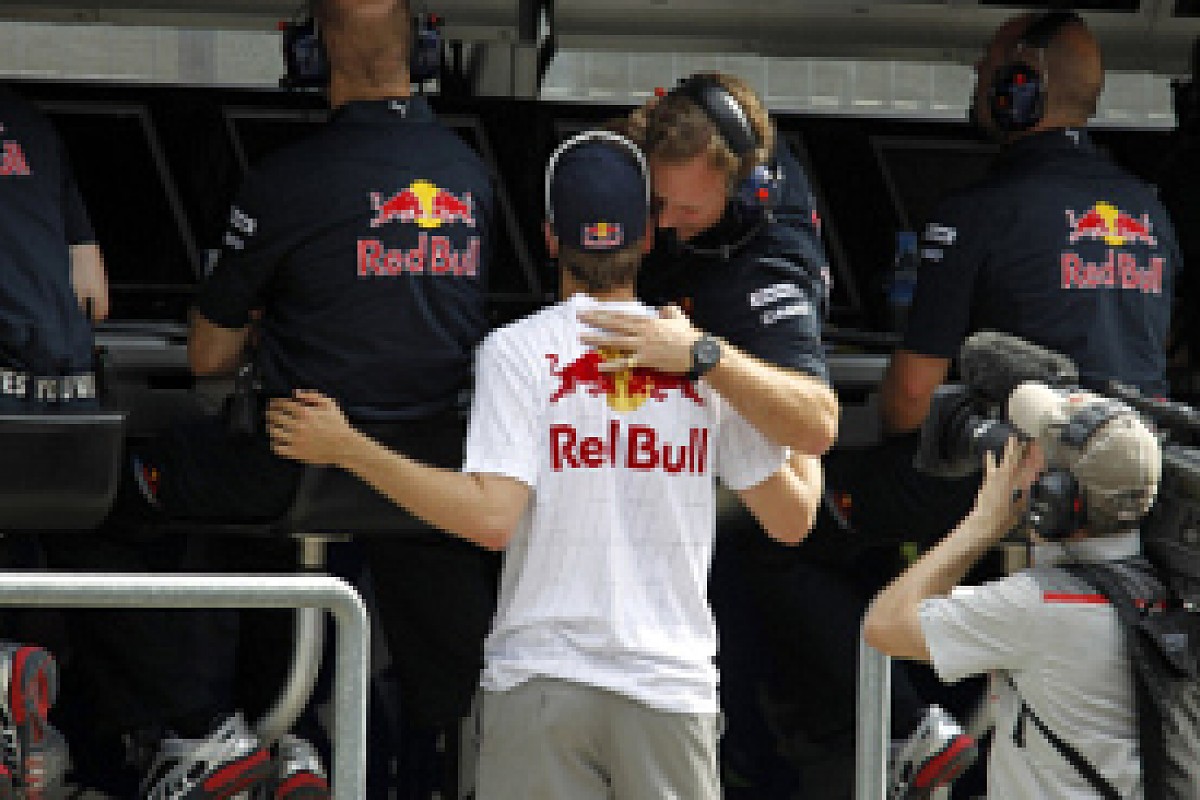 Sebastian Vettel and Christian Horner © LAT
Horner is adamant that it wasn't. He insists that while a mixture change could have given Webber a small laptime disadvantage, it wasn't akin to a significant horsepower boost for his rival.
"The situation is that both cars run the same amount of fuel in the race," he says. "Mark had gone into a different mixture setting, which is managed by the race engineers - it's part of their race plan.
"The performance drop-off is absolutely negligible quite often. When we run the settings on a Friday or a Sunday in the race it's often hard to detect a difference in the laptime, but simulation says that it should be between 0.15-0.20s."
One intriguing thing is that while there was no dramatic drop in Webber's own laptimes in the immediate aftermath of the mapping change, the gap closed from 0.813s on lap 36, to 0.444s on lap 38. However that was in essence because for two laps Vettel dramatically improved his laptimes, by around 0.4s a lap compared to what he had been doing.
One could assume that Vettel had been told by his engineer that Webber had gone to fuel saving mode, and that having seen his chance, he responded. Such a scenario would seem to gel with Mark's suggestion that it was about "how we manage that".
However, Horner says that Vettel didn't know that Webber had changed settings and thus it was not a question of him getting extra motivation from his engineer for that reason.
What Vettel might have noticed is a drop-off in Webber's tyre performance relative to his own - something he may have anticipated after looking at data after long runs in practice. He may then have decided to push in order to take advantage of any tiny mistake or a loss of momentum that might have allowed him to make a run.
Horner makes the intriguing revelation that at the point Vettel had closed up to 0.4s, Webber asked the team that Vettel give him breathing space. The complication was that the German had Lewis Hamilton in his mirrors.
In putting in that request, Webber presumably gave the team the impression that he couldn't outpace Vettel - with or without any setting changes - and that may well have coloured everything that happened afterwards, and certainly the views of Dr Marko.
"We had that discussion on the pit wall," said Horner. "It was quite clear that with the speed advantage the McLarens had on the straight, it was impossible to fall back into them.
"Mark had requested the lap before to ask Sebastian to back off a bit. There was no way you could do that because of the McLarens being right there."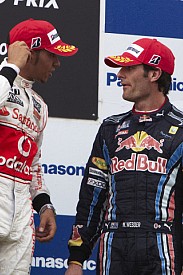 Mark Webber © LAT
Horner implies that the critical moment could well have been inspired by their relative tyre performance at that stage. In other words Vettel did get a better corner exit than Webber.
"It looked like Mark started to struggle with the rear tyres a bit more - that's what it looked like on the pit wall. And Sebastian, between laps 38 and 39, really closed up rapidly to the back of Mark and obviously got a run on him on lap 40, and they both found themselves in a situation they didn't want to be in.
"What I didn't see was what happened at Turn 9, or the chicane, but Sebastian obviously had an excellent exit from there. He got a very clear run in the slipstream off Mark, who kept him to the left, and then Sebastian tried to work him back to the right and the end result was contact."
He says that any difference in engine settings between the two cars was not enough to have allowed Vettel to launch his move, although the counter argument is that, all things being equal between the two packages, any small change to performance had to be a help for Vettel.
"I don't think so," said Horner. "It's not another 20bhp or anything like that. It's the same revs and so on. Yes, there's a very slight performance advantage or disadvantage with running that mode. It should be nowhere near enough to slingshot Sebastian past. It looked like Sebastian just got a very good exit out of Turn 9, got into the tow, got alongside. If he'd waited probably another 100m he would probably have cleared Mark."
One interesting snippet is that the gear ratios - finalised well before Sunday - may have played a part in allowing Vettel to slipstream his way past: "The wind changed direction and wasn't as strong as we expected it to be, and therefore we were slightly lower in the rev range, so you wouldn't be rattling the limiter whilst you were in the tow."
So why did Webber need to save fuel anyway? Under the new rules the top teams are taking things ever closer to the limit, usually starting with a little less than is required to make the flag running the engine at optimum performance. Every kilo not in the car on the grid means more pace in the opening laps, less wear on tyres, and so on.
The assumption is that - if there is no safety car relief - at some point they will have to save fuel, whether it be in traffic early on, or towards the end, when the race has played out and positions are secure.
As we heard on their team radio, the two McLaren drivers were told to turn down their engines at the same time. At Red Bull, that didn't happen, which contributed to the conspiracy theories.
We saw last year that Vettel could sometimes eke out more laps than his starting weight suggested. But this time he clearly wasn't on an economy run. There was little he could do via his own driving style to save fuel, given that he was racing the cars ahead and had pressure from behind.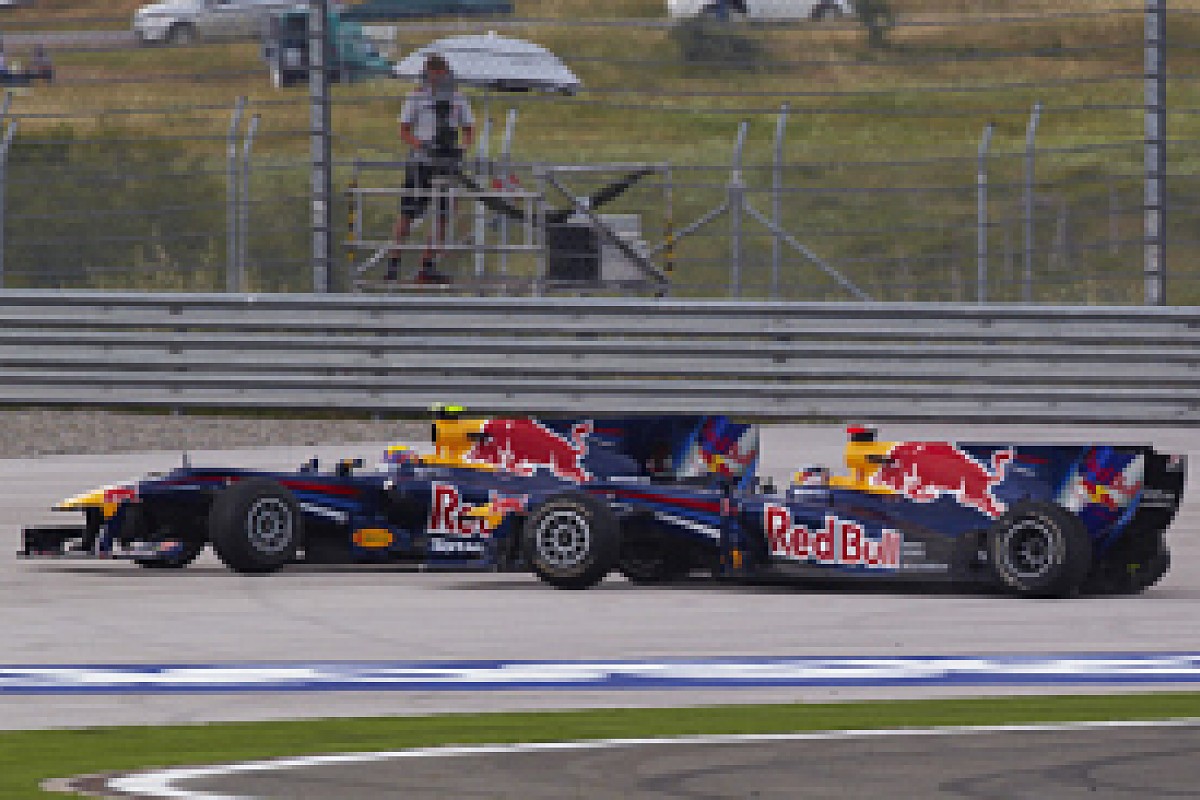 Mark Webber and Sebastian Vettel © LAT
However, he had spent the whole race in the tow of other cars and the laws of physics help you to save fuel. The downside is that when you're behind someone the engine runs hotter, which doesn't always encourage the use of a leaner mixture. But Horner confirms that Vettel was able to turn the engine down, especially in the first stint.
The bottom line is that the drivers and their engineers ran the races in different ways. Vettel did his fuel saving early on, Webber - pressured so hard by Hamilton in the early stages - had to bank on doing his later.
By lap 40, Vettel had saved 1.5kg. Horner says, contrary to what has been suggested elsewhere, he didn't have just a few laps of 'optimum' settings left relative to Webber - the German could run to the flag in the same mode.
"Sebastian was in a situation where he saved just that little bit extra fuel," says Horner. "He was third in the train for the first 15 laps and second in the train thereafter. But I honestly believe that it's a minor issue.
"I don't know what the situation with McLaren was, but obviously we're moving the fuel mixture around all the time to manage it throughout the race. It was a very fast race, the fastest of the year, with times the closest to P2. So fuel consumption based on that was also slightly higher, because the pace of the race was so hard."
That's a crucial point, because the pace was such that all four drivers at the front used more than they anticipated.
Immediately after the race, Horner denied to the media that there had been any difference in the settings at the critical point, although after further discussions within the team he conceded that there had.
"To be honest it's something that's managed between the drivers, the engineers and their engine engineers. The engine engineers dictate when they run what fuel mode. Renault will request a mixture change and it's just a message that's passed on to the car. The performance drop, unless you wind the engine right down - which we tend to do at the end of the race - is so negligible you tend not to take any notice of it."
So what next? As team boss, Horner now has to ensure that there's a fresh start in Canada, with the ground rules understood by all concerned.
"The most important thing is to let things calm down, have time for a little bit of reflection, and then move on from there.
"The frustrating thing is, prior to that, it was the closest race we'd had all year. McLaren pushed us really hard and we'd 'outstrategied' them - we'd managed to get Sebastian ahead of Lewis and keep Mark ahead, which under the new regulations is pretty complicated to do, and we were looking good.
"The priority for the team is to win the race. If Hamilton had been there, he would have had a go at Mark as well. The situation is you're never going to stop two guys racing each other, especially when you're also competing for the world championship. The one thing the team has consistently always asked and dictated is that if they find themselves running together, show some respect for each other and give each other room."
The biggest challenge Horner faces now is to ensure that both drivers - and the world at large - believe they still have an equal chance of winning the world championship.
"We're fortunate that both our guys are mature, balanced individuals. Obviously emotions were running high on Sunday, but they're both professionals.
"They are probably not going to be down to the pub for a drink together, but they will continue to work professionally in the manner that they have done in the forthcoming races. They work for the team at the end of the day and they know what the rules are."