The great thing, we said at the start of the season, is four competitive teams all with competitive drivers. We rubbed our hands in anticipation. Might all get a bit combustible, this...
The favoured venue for aggravation had to be Ferrari - a couple of Latins in the red cars, one of whom, throughout his career, has been distinctly unimpressed whenever a team-mate got the better of him. On the surface, Red Bull looked as if it was on a more even keel. Fernando and Felipe have had a couple of minor spats but, in Turkey, war proper broke out at Red Bull.
It had to happen sooner or later. What you need to appreciate is that Red Bull is owned by Dietrich Mateschitz. He's an extremely competitive Austrian with a vision. He wants to take on the best in F1 and beat them. Which is why he's invested heavily and paid for men like Adrian Newey and Peter Prodromou, the highly-rated aerodynamicist who formed a formidable partnership with Newey at McLaren.
Mark Webber, Sebastian Vettel crash in Turkey © LAT
The other cornerstone was protege Sebastian Vettel. The Red Bull energy drink is one of the world's great marketing success stories and has made Mateschitz a billionaire. Marketing types warble on about 'brand fit' and I'm told that extreme sports and a youthful image is where it's at for Red Bull. Vettel is the perfect fit apparently.
Webber by contrast, is 33. Hardly pensionable but not the stuff of 'yoof' icons. All a load of old cobblers, I reckon. I'd be much more likely to swig a can of energy drink or tip it into whatever potent brew I'm supping if I thought it might sustain an Aussie who looks like he's been cloned from an Action Man figurine, rather than a baby-faced German fresh out of the pushchair who might have eaten too many E-numbers with his Smarties. But you get the picture. Red Bull is Vettel's team. Webber and Mateschitz are both keen sportsmen and they get along, but Mark came with the Jaguar package that Mateschitz originally assessed but had committed to Williams by the time the deal was inked. Webber wasn't meant to win the world championship. His speed is proving a tad inconvenient right now.
Vettel, in fairness, comes across as a thoroughly decent guy albeit one who is still capable of ejecting his toys from the pram. And obviously he's darned good. But how good? Should he be given priority status in a team containing Webber?
Peter Sauber admits it was a mistake for BMW Sauber to release Vettel to go to Toro Rosso. He wasn't on a piece of Red Bull elastic and BMW could have kept him. To do so, they had to find a drive for him and pay €5m a season. Toro Rosso would not take him for a single season, insisting on two, so to keep hold of him BMW needed to cough up €10m. Their testing data was telling him that he was half a second slower than Nick Heidfeld and Robert Kubica. On reflection, Sauber thinks, that was to be expected in anyone's first year and they should have paid up. Instead, they decided to put their cash into the technical side.
Vettel developed and became confident and formidably quick but you wouldn't say he's Ayrton Senna reincarnate. Webber is certainly not up for playing second fiddle.
In Turkey, a lot of things didn't add up to a level playing, no matter what the team might say. Afterwards, Helmut Marko, Mateschitz's eyes and ears in the team, came down squarely on Vettel's side and it was obvious from the body language of the major players in the team that Webber was not flavour of the month. Which was odd considering the accident itself was solely Vettel's fault.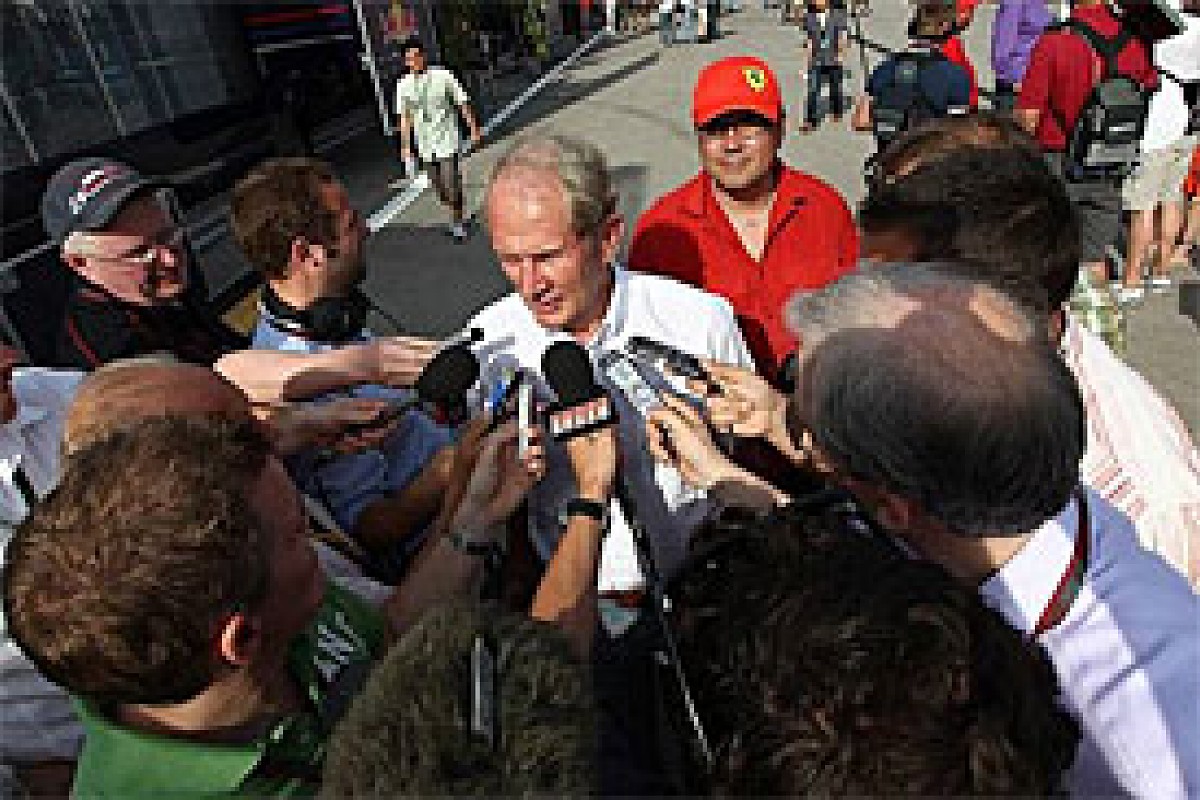 Helmut Marko faces the press in Turkey © Sutton
After Vettel was outpaced by Webber in Barcelona and Monaco, the team said they had found a fault with Sebastian's car and he would have a new chassis in Turkey. Vettel was happier with it - dubbed 'Randy Mandy' - and he was quicker than Webber in Q1 and Q2 at Istanbul Park. Mark admitted he'd gone into Q3 on the back foot but he came out of it with his third successive pole.
Sebastian, after setting superior sector one and two times on his first Q3 run, was surprised by a locking wheel at Turn 12 and lost time. As soon as he started his final run he knew the problem was still there. It was later traced to a broken rear anti-roll bar mounting. So Webber enjoyed a stroke of good fortune there as Hamilton split them on the grid.
The full second deficit between Red Bull and McLaren evident in Barcelona had been all but wiped out in Turkey, albeit that the cars achieved similar lap times in very different ways. McLaren had a new, more efficient rear wing, intended for Montreal but brought forward for Istanbul, and Red Bull had been forced to make some suspension changes.
The Red Bulls, with more inherent downforce, were stunningly quick through Turn 8, while the McLarens, with their Mercedes engines and F-ducts, enjoyed a significant speed advantage all the way from there, through nine, ten and eleven and throughout the long drag into Turn 12.
What didn't stack up was why Webber, having been able to successfully defend against Hamilton's more potent McLaren in that section, had Vettel tow up so easily on that fateful lap when they came together, not having looked vulnerable at any time previously. It was the burning question for Webber post-race: is there any reason why he had a jump on you on that particular lap?
Webber: "Hmm. Maybe."
Did you come out of the previous corner a bit slower on that lap, make a mistake?
"I wasn't too slow, no. You guys need to dig more, somewhere else..."
Webber was in a difficult position. He had to be politically correct as far as the team was concerned. But the sudden speed differential, not there for the previous 25 laps, was highly suspicious. The obvious thing was different engine modes. The race had been run flat-out among the four Red Bull/McLaren drivers and consequently the fuel consumption was marginal. It looked suspiciously like Webber had been told to turn down his engine and Vettel had not. Maybe because Sebastian, running behind other cars all race, has used a mite less fuel.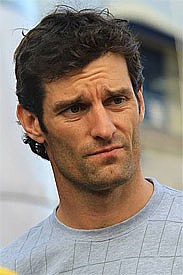 Mark Webber © LAT
Not the case, said Christian Horner afterwards, insisting that they were on identical engine modes. In fairness to Christian, at the time he was descended on by the media pack, he may not have known otherwise, but the story changed later - after many journalists had already filed their copy...
Marko's take, meanwhile, was this: "It was unnecessary, the whole situation. It wasn't a situation where we were racing each other, we were under enormous pressure from the McLarens. They were much faster on the straights and so we had to gain our advantage in the corners. Sebastian had to attack otherwise he would have been overtaken by Hamilton. It would have been completely different if the McLarens had been 10 seconds behind, but that wasn't the case."
So the obvious question was whether the team had put through a call to Mark to let Sebastian through?
There followed a suspiciously long pause from Marko. "Obviously there was not the right communication going on..." he said, somewhat enigmatically. There was more to this than met the eye.
Webber, obviously, was not acting like a man intending to let his team-mate through. Faced with Vettel up his inside, he behaved as any racing driver would. He gave him a car's width and no more, holding him on the dirty part of the track to force him to take a tight line into T12 and hopefully give Mark the chance to re-pass on the run down to Turn 1 - precisely as Hamilton did to Button when Jenson passed him - by dint of more effective braking on the racing line and a better exit from the last complex of corners.
Why should Webber behave any differently with Vettel, a man with whom he shared the world championship lead? Any accusation from the team that he did anything wrong can only mean that he shouldn't have been racing. Which, of course, we all hope is not the case...
Vettel, obviously, did not wish to brake on the dirt and was impatient to move Webber across so that he could take the optimum line. The problem was, he hadn't cleared Webber's car and he moved too soon. It was cack-handed at best. Vettel paid the price by recording a non-score while Webber salvaged 15 points which, overall, was a just outcome.
Where was Marko coming from? It was fine because Vettel was under pressure from Hamilton? What? Of course he was, it was a motor race, but he hadn't succumbed at any point since the pitstops 25 laps previously, so what was the panic now? Webber admitted that he wasn't quite as comfortable on the prime tyre but his lap times weren't exactly slow. It seemed odd to suddenly compromise the bloke who'd led the race from the start.
Webber, you feel, wouldn't have been impressed by Vettel being called first for a tyre stop either. You could defend that on the grounds that the team got Sebastian ahead of Hamilton but you might not have been too thrilled if you'd been the guy leading...
Neither did Webber seem particularly impressed by his stop and reckoned he was fortunate that McLaren didn't have a smooth one with Hamilton either.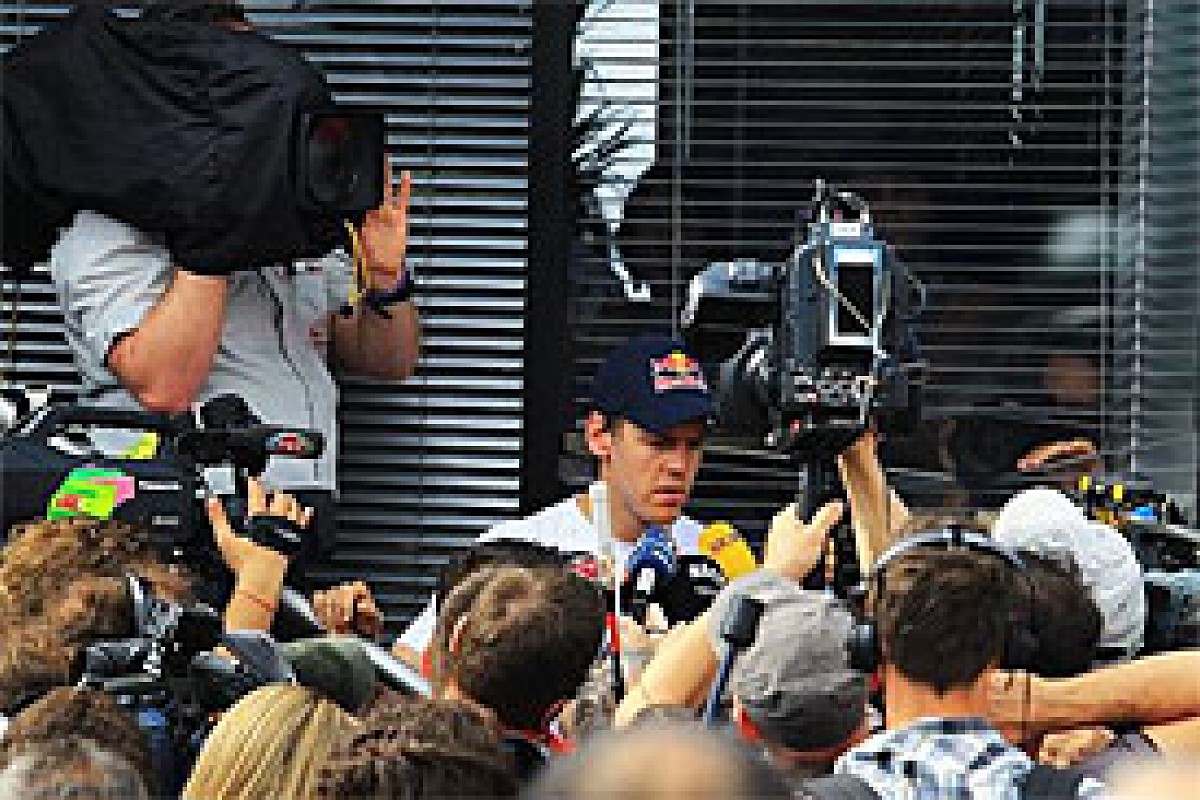 Sebastian Vettel, Red Bull, Turkish GP © Sutton
"We put fuel in, I think, at the pitstop..." he said drily. "My guys weren't quick and I thought 'Lewis's guys are also having a bit of a break...'
Marko had obviously been on the phone to Mateschitz after the contretemps and everyone wanted to know the team owner's response.
"He's not amused," Marko confirmed. Obviously not. But it did seem a bit rich to blame Webber. Marko denied that there are divisions within the garage, with one faction backing Vettel and the other, Webber. But it's always like that when you have two quick guys in a race-winning car.
Often, as with Senna and Prost, it boils over, but I'd say that Sebastian and Mark are far more evenly matched than ever were Ayrton and Alain. Let's hope for the sake of the sport that Turkey doesn't poison the whole thing. Let's hope they put it behind them and rise to the challenge of the rest of the season as sportsmen, not marketing men. Both Webber and Formula 1 deserve that.