Qualifying notes
• Third straight pole for Mark Webber: a sequence of three pole positions wasn't recorded since 2007, when Massa was able to start from pole from the Malaysian to the Spanish Grands Prix. Webber is running also his personal best sequence of starts from the front row: six;
• For the second time in his career Sebastian Vettel was beaten in three straight races by his team-mate, the other one being his debut from the US to the Turkish Grands Prix in 2007;
• For the first time in 2010 Lewis Hamilton was able to qualify on the front row;
Lewis Hamilton, McLaren, Turkish GP © LAT
• Best result of the season for Michael Schumacher, fifth;
• Best career result for Vitaly Petrov, ninth, for the first time inside the top 10;
• Felipe Massa, despite the overall lack of performances by Ferrari, confirmed his feeling with the track: his score against his team-mates in qualifying in Istanbul is 5-1, he was beaten only by Raikkonen last year;
• Jarno Trulli took part in all six Turkish Grand Prix and always qualified in front of his team-mate;
• Twelfth pole position for Red Bull, which enters the all-time top 10, going level with Alfa Romeo in ninth place;
• Two cars inside the top ten for Renault: it didn't happened since the 2008 Chinese Grand Prix (Alonso fourth, Piquet tenth);
• For the second time this year Vitantonio Liuzzi was knocked out in the first qualifying session; his team-mate Sutil, on the other hand, has never fared worse than eleventh.
Race notes
• Lewis Hamilton won his 12th race going at the 20th all-time spot with Mario Andretti, Carlos Reutemann and Alan Jones and climbed for the 30th time on the podium, reaching Felipe Massa at the 27th all-time spot. Hamilton counts three more wins and podium places than his team-mate Button, who started his career seven seasons before him;
• This was the 210th win for Great Britain;
• Hamilton is the fifth winner this year and for the fifth time in seven races a team recorded a one-two finish;
• Lewis Hamilton, before the Webber-Vettel tangle that put him in the lead, had never led a lap this season;
• The streak of consecutive laps in the lead for Mark Webber ended when he stopped for tyres after fifteen laps: he led from lights to flag in Spain and Monaco and with these fifteen laps his streak stopped at 647 km., 11 shy of the sequence recorded by Kimi Raikkonen in Spain, Monaco and Europe in 2005 (658). Red Bull up to now has led two thirds of the km. run this season (1416 out of 2108);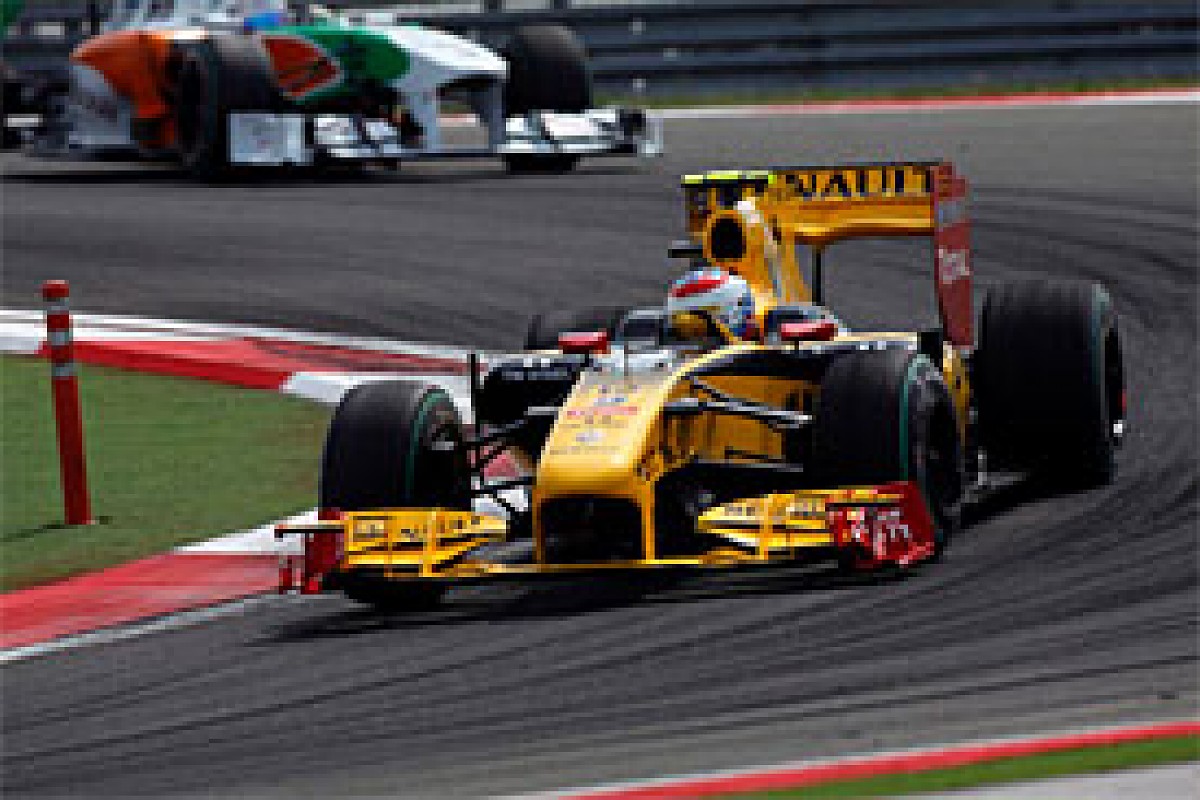 Vitaly Petrov during the Turkish GP © LAT
• Vitaly Petrov posted his maiden fastest race lap, the first one for Russia, the 21st country to post a fastest lap in F1 history;
• This was the 30th fastest lap for Renault and the 30th straight race with a Renault engine in the points;
• First point of the season for Kamui Kobayashi and Sauber; de la Rosa took his best result of the season, 11th, recording the first double finish for Sauber since last year's Abu Dhabi race;
• Both Williams drivers recorded their worst result under the chequered flag of the season, Barrichello 14h and Hulkenberg 17th;
• For the third straight race both HRT's failed to see the chequered flag, despite Chandhok being classified both in Monaco and Turkey due to the distance completed;
• Both the HRT's and the Lotuses retired with mechanical failures: all the new teams now count double mechanical DNF's after Virgin posted four in the first six events;
• Even if the points system this year has varied significantly from the past, it has to be noted that Michael Schumacher is the first man to pass the 1400 points mark (1403).