This week's announcement that the US GP will be held in Austin from 2012 came out of the blue. Many potential venues had been discussed since Indianapolis dropped out of the picture, but the Texan city had not been on the radar.
Only days before the announcement, the Monticello venue in New York State had made its interest public, and while the 'country club for car freaks' seemed an unlikely venue, it did at least exist. In fact, it seems Bernie Ecclestone had some time ago opted for Austin, and Monticello's indiscretion may well have pushed him into making an earlier-than planned-announcement on the official F1 website.
Can Texas become a successful F1 venue? © LAT
The lack of detailed information had us all guessing for a day or two. Surely this couldn't be for real? Was this some kind of game from Ecclestone, lending his name to a tenuous project as a part of a bigger power play?
One of the problems was and will remain the Donington effect. There was a time when if Ecclestone's approval was attached to plans for a new race, it meant it was going to happen. But Simon Gillet's total failure with Donington has led us all to be a little more cautious.
After some determined Googling, I managed to track down Tavo Hellmund, the man behind the project. When he called me back he reminded me that we'd met at Brands Hatch some 20 years ago, when he was a struggling Formula Ford driver.
Our 90-minute conversation ranged over all aspects of the Austin project. His enthusiasm for the city and the plans for the race is infectious, and you can see how he's got people to share his vision, whether it be Bernie or the Texas governor.
Of course at this stage no one has seen any hard evidence that this is really going to happen, and naturally a lot of people both in Texas and the F1 paddock have their doubts. But the 44-year-old makes a pretty convincing case.
"This has been long in the works," he says. "This deal is a real deal, everything is in place."
So who is Tavo Hellmund? First of all, he is a racer. Born in Mexico, but with Austin heritage on his mother's side, he grew mostly up in the USA. His father was a sports promoter who brought the ChampCar series to Mexico City in 1980-81, and was also involved in the 1986 World Cup and later the return of F1 to the country in 1988.
"My dad was involved in some Indycar races and TransAm," says Hellmund. "He brokered the deal for the Mexican GP with Bernie, and the Abed brothers ran it until 1992. My family was also involved when the World Cup came to Mexico. As a company we moved into large scale music events - festivals that draw 70,000 people - large scale balloon stuff, some of the Mexico/USA soccer friendlies, World Cup qualifiers, anything that was a big event."
Meanwhile, Hellmund raced karts and midgets before trying his luck in the UK. He made it as far as the British F3 championship.
"I did a little bit of Formula Ford, I did some Vauxhall Junior, and then some F3 [in 1995]. I was always on a shoestring! They were always partial seasons. Even though I spent four or five years over there, with the funding I couldn't do every race.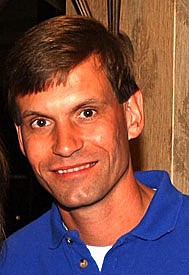 Tavo Hellmund
"I shared a house with Luis Garcia Jr in a little cul-de-sac in Cambridge where that little group like Rubens Barrichello and Helio Castroneves lived. The two guys that I played tennis with and trained with were Cristiano da Matta and Gualter Salles. They used to take the piss out of me because they were all Brazilians, and half the time I couldn't understand what they were saying..."
On moving back to the USA, Hellmund raced in the NASCAR lower leagues.
"I came back to the States and did some NASCAR Grand National. By that time I had been doing a lot of my father's business with music and other sporting events. I was kind of split between the two.
"It looked like for while in the early 2000s that I might get a Cup ride or something, but it never materialised. By that time I was 35, so I thought these events are all going really well, so let's keep doing that. So really over the last seven or eight years I grew the business from crazy balloon stuff to soccer tournaments to small regional racing."
His company, Full Throttle Productions, is best known for running events at Thunder Hill Raceway, a small oval just outside Austin: "Either we have either partnered with groups, or totally owned the properties ourselves. We brought the USAC sprint cars and midgets back to Texas for the first time in 60 years, and it's gone like gangbusters."
The move from local events to a grand prix is a huge one, to say the least. But Tavo's trump card is that over the years he has kept in touch with Ecclestone, who has remained a friend of Hellmund Sr since the Mexican GP days.
"I've known Bernie since I was a little kid, and maintained a relationship with him over the last 30 years."
He says the Austin project has been in progress for three years, a number which ties in with the announcement in June 2007 that there would be no more grands prix at Indianapolis.
During that time we've heard about many potential projects. Ecclestone always said that the sport needed to go somewhere that had much more to offer outside a race, a 'destination' venue such as New York, Las Vegas, California or Florida. Most if not all of those places were explored over the last three years, with would be promoters of varying degrees of credibility regularly knocking on Bernie's door.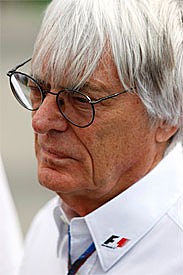 Bernie Ecclestone © LAT
Meanwhile, Hellmund was working quietly away. He convinced Ecclestone that Austin would be a suitable venue, and found a site close to highways and the airport, and just a few miles from downtown.
And it's the town that is at the heart of this project. Austin is the 15th largest city in the USA by population, and as such, it is larger than higher profile places such as Vegas, Boston, Miami, New Orleans, Seattle and Washington DC, all of which could have been credible homes for an F1 event.
It ranks fourth in Texas behind Houston, Dallas and San Antonio. But it is the state capital, and more importantly it's a vibrant, thriving place. Don't take my word for it - just last month Playboy announced Austin as the number one university party town, and it figures close to the top in lists of US cities in terms of quality of life, safety, and so on.
The place justifiably calls itself the live music capital of the USA, and thanks to a co-operative local government, it's become a focus of movie making. Only this week the Coen Brothers are there doing a remake of True Grit with Jeff Bridges and Matt Damon. Musicians and movie stars such as Willie Nelson, Harry Connick and Sandra Bullock have homes there, giving the place a little extra glitz.
"Sixth street has got 150 live sets of music in the bars. It's like Mardi Gras every night. The big thing is it's a cool place to come even as a family, there are a lot of hill country resorts."
It's also a major business centre, mainly for technology firms, with HQs for the likes of Dell and Ferrari sponsor AMD. But it also has a something of a bohemian edge - there's a popular local campaign called 'keep it weird,' instigated by folk who don't want the city to become a faceless, huge metropolis.
It's also by all accounts a very attractive place, far from the image that you might have of Texas: "Austin is completely different from the rest of the state in terms of topography. This isn't flat, this is hill country."
It certainly sounds like it has a lot going for it, and while one could make arguments in favour of alternatives - notably New York - the bottom line is Ecclestone has been there, seen it, and failed to do it.
"All the things that are important for an F1 event, the only place that I could think of that you could make an argument for is a street race in downtown New York," says Hellmund. "It's the only place that could rival Austin's infrastructure and connectivity and the economic aspect. The NFL would hold the Superbowl in downtown Manhattan if they could!"
On that subject, while Austin is famous for the exploits of the football team of the University of Texas, it doesn't have a professional sports franchise. That could be important, because it will always been harder for F1 to gain a foothold in a city that has any combination of high profile football, baseball, basketball or ice hockey teams.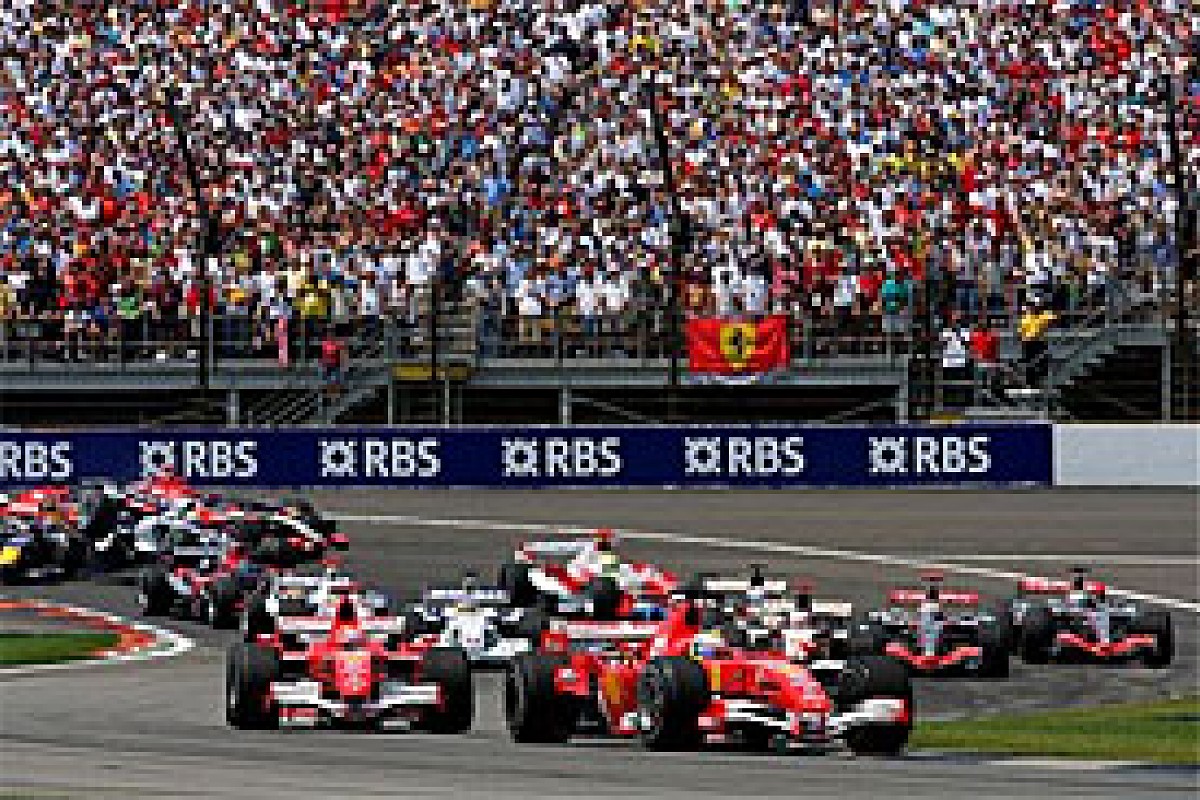 The start of the last US GP in Indianapoils © LAT
"We have the University of Texas, and it's the best athletic programme in the USA, and their infrastructure is phenomenal. But imagine going to Dallas and having to compete with the Cowboys (NFL), Mavericks (NBA) and Stars (NHL). And by the way, there are a couple of NASCAR races!"
Hellmund insists that the key to his event is that it won't be a temporary facility. It's often been said that F1 shot itself in the foot by running on street courses in the USA, which are hardly conducive to seeing Grand Prix cars at their best. The Brickyard gave some impression of the true potential, but on the other hand fans were used to seeing Indycars running 225mph laps at the same venue.
"I've always said F1 has to go back to one of the true great road courses in America, whether it be a Road Atlanta or a Laguna Seca, one of these great traditional tracks. An American audience doesn't like a flat track unless it's an oval, where they can see everything. It doesn't show off what F1 is. So you've got to go to a beautiful, natural road course. Watkins Glen was the heyday of grand prix racing in America."
That's what he hopes Hermann Tilke can create on the 800 plus acres he has been given to play with. Used to remote deserts and swamps as starting points, this time he has hilly countryside, complete with lakes. Hellmund says the design is over three miles in length, with challenging corners that replicate some of the best in Europe.
"It's going to be holy s*** fast," he insists...
The name 'Tilke' generates a surprising amount of hostility among race fans who have not enjoyed the move to seemingly homogenous new venues in recent years, as the forum on this website testifies. But these days he is the logical option for any would be promoter simply because having done it so often he knows every last detail about what how to create pit buildings, grandstands, access road and the like.
"I signed a deal with him a long time ago. They know where FIA and FOM want every plug, literally. They've already done the design, there's already a masterplan, and we have unbelievable land, a few miles from the airport. It's a killer location."
Hellmund says that Tilke and his people have been regular visits to Austin over the last couple of years, and with the race now confirmed, the company is looking for office space in the city. A lot of the time consuming red tape has already been dealt with, which makes the 2012 deadline - a tight one by any standards - a little more realistic.
"We optioned the land nearly three years ago with this in mind. We've already got the permitting for utilities, water and waste water, and those are the biggest things to get sorted. None of the land is developed, but it already has the infrastructure, roads and that kind of stuff."
But who is going to pay for all this? There are two distinct elements - the creation of the venue, which Hellmund suggests will cost around $200m, and the running of the actual event, which will of course involve a hefty annual fee paid to Ecclestone.
In terms of the race, Hellmund has attracted some local government support. The Texas Major Events Trust was set-up to help cover expenses incurred by events such as the Superbowl. The law was recently changed to make F1 eligible, and $25m per annum has apparently been budgeted for by the state government, which will go some way to making the race viable.
Without allowing for inflation or an escalator, that will equate to $250m over the 10-year life of the current contract. Not surprisingly, those numbers have already attracted some criticism even in wealthy Texas, where there inevitably been cutbacks over the last few years.
As for the track, which will be named either after the city or the state, Hellmund says that it will be built with private money. It's easy to be sceptical, especially after Donington, but he says he has investors, wealthy individuals and other parties, and the budget is in place. It's enough to do the job without some of the superfluous 'bling' that we've seen at government-backed Tilke venues: "We've got the funding, but we don't have a billion dollars to build an Abu Dhabi."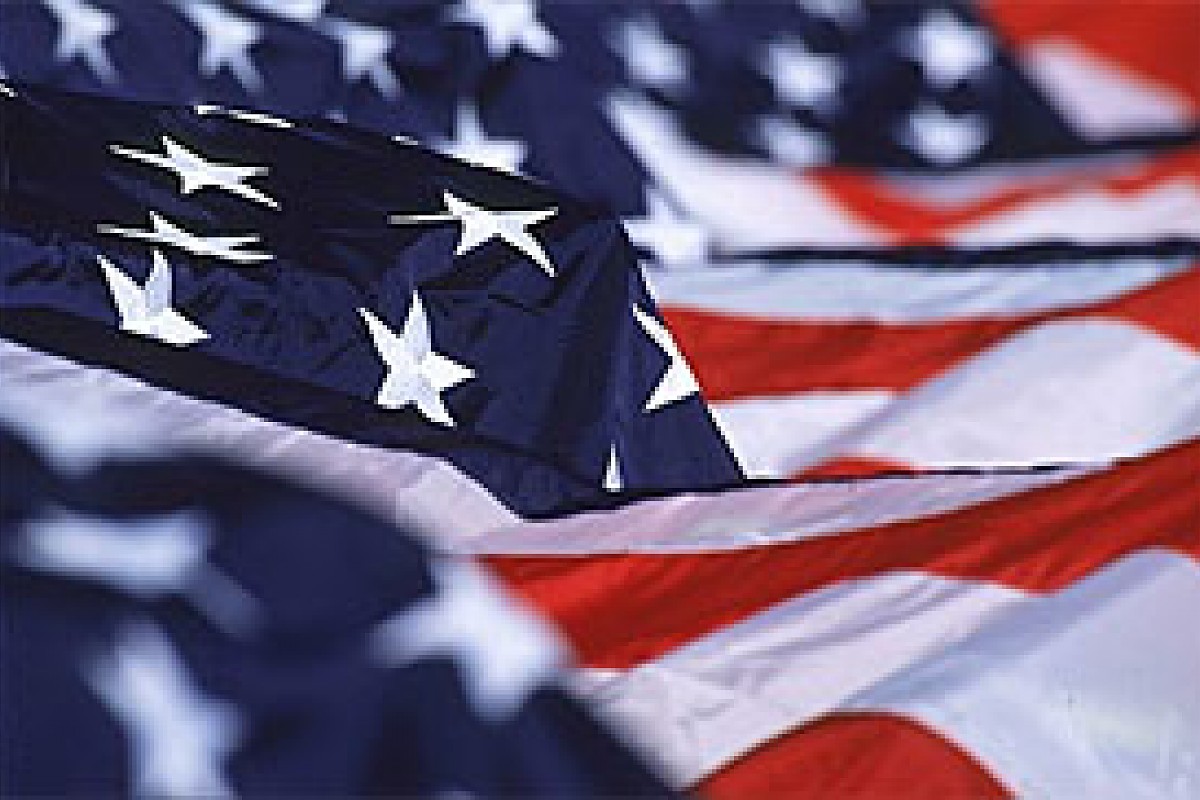 American flag © LAT
Because it's a permanent venue he's seeking other year-round uses for the track, and one of the key elements will see it used as a proving ground for alternative fuels - a natural fit in a state where everything is based on oil: "The way the track can be divided up, with different configurations, it's going to be in use a helluva lot."
Hellmund is the first to admit that he can't run the whole thing himself, and he says a professional management team is being put together, with people who have come from sporting organisations and major corporations. He remains the dynamo at the centre, the man with the connections with Ecclestone on the one hand, and the Texas authorities on the other.
"I'm just trying to do a good job. I've done a decent job with what I've done so far with my events, I think we've handled this project well and not lost our cool, and I think we've got it structured where it can be here for a long, long time."
So let's wait and see if he can really do it. That first race, likely to be combined with Montreal, is just two years and a week or two away...