It was not until the final days of the US F1 saga earlier this year that Parris Mullins' name emerged as a key player in attempts to keep the team alive.
As close friend and confidant of YouTube co-founder and US F1 investor Chad Hurley, it was Mullins who was given the responsibility to try and put together a rescue package that would secure the future of the team and its personnel once it became clear how far behind the team was in the preparation of its 2010 car.
But despite his best efforts in opening talks with other teams and leading figures in the sport, US F1 had gone too far beyond the point of no return. Adamant that he should stick only to the kind of settlement that he and Hurley were happy with - which meant doing a deal to safeguard the team's personnel - Mullins could not find reach suitable terms and had to accept that the US F1 dream was over.
Despite that setback, Mullins has not given up on F1. And although he has stayed out of the spotlight for several months, in his first interview since the US F1 collapse he has revealed how he is putting together a fresh attempt with investors to break into grand prix racing.
Speaking exclusively to AUTOSPORT, Mullins unveils how he would have been made US F1's team principal if he had managed to save it, how he believes American interest in the sport can be reignited and why the United States has huge untapped-potential for F1.
Q. Your name emerged in the final days of Team US F1, when you worked hard to try and put together a rescue deal for the outfit. Can you tell us a little bit about what your role was then?
Parris Mullins: My role with US F1 was always hard to define as I had my hand in many different areas, but I was involved since the very beginning before the announcement was even made. Ironically, I was never given an official title, but my primary areas of focus initially were business development, and driver development.
On some days I would be working hand-in-hand with our commercial director, Jason Markham, and on other days I was working alongside [sporting director] Peter Windsor and [team boss] Ken Anderson on other projects.
I never had anything to do with the design and manufacture of the car, but I had a great interest in those areas. I would regularly pay the boys in the design office and composite department a visit to try and learn, and extend my knowledge of their craft.
Towards the end of US F1, my role became a bit more defined, as I embarked on my search for solutions to enable the team to move forward and continue. Later, it was mentioned in a meeting with all our department heads, that if we were to go forward, that I would assume the role of team principal. So that was a pretty defining moment for me.
I learned a lot during this period - and the team trusted me to have its best interests in mind. I read some of the things that were being reported at the time, that it was just Chad and myself and somehow we had gone rogue and independent of the team to try and save his investment, and that was just all wrong.
Our goal was to save the team, and we were not acting alone. Aside from the entire staff being behind our efforts, I had assembled a core group of individuals who met with me on a regular basis. We worked into the late hours every night exploring every possible solution from every angle.
Q. And you were flying back-and-forth to Europe weren't you trying to put together something that would help save the team?
PM: The first solution that presented itself, when we figured we weren't going to have cars and we knew we weren't the only team struggling, as Campos had defaulted on its payment to Dallara, was to go and look at that.
I went to Dallara with two well-known experts, Guenther Steiner, former technical director at Red Bull Racing, and Joanna Moss, former Toyota aerodynamicist who was close to Gian Paolo Dallara from her days working on the Toyota GT-One project in his wind tunnel.
We actually negotiated a deal and then Jose Ramon Carabante, the primary investor of Campos, stepped back in and purchased the cars. So that took that option out.
At that point we were only left with two options, which was a merger between [Zoran] Stefanovic or one with Carabante.
I didn't go to Serbia to meet with Stefanovich as everything we did with him was over the phone, but Carabante - I actually flew to Spain and negotiated with him.
We went back and forth with both parties to try and put something together, but it really had to make sense. As I said before, this wasn't about saving Chad's investmen, it was about saving the team, so it was important that there was full retention of the Charlotte staff, the facility - and a clear direction of where we were heading and how this team was going to be sustainable.
The vibe I got from Carabante was that he wanted to find a way to build more value into his investment, so he could get his money back out of it. And Stefanovich, I don't think he had a really clear direction at all.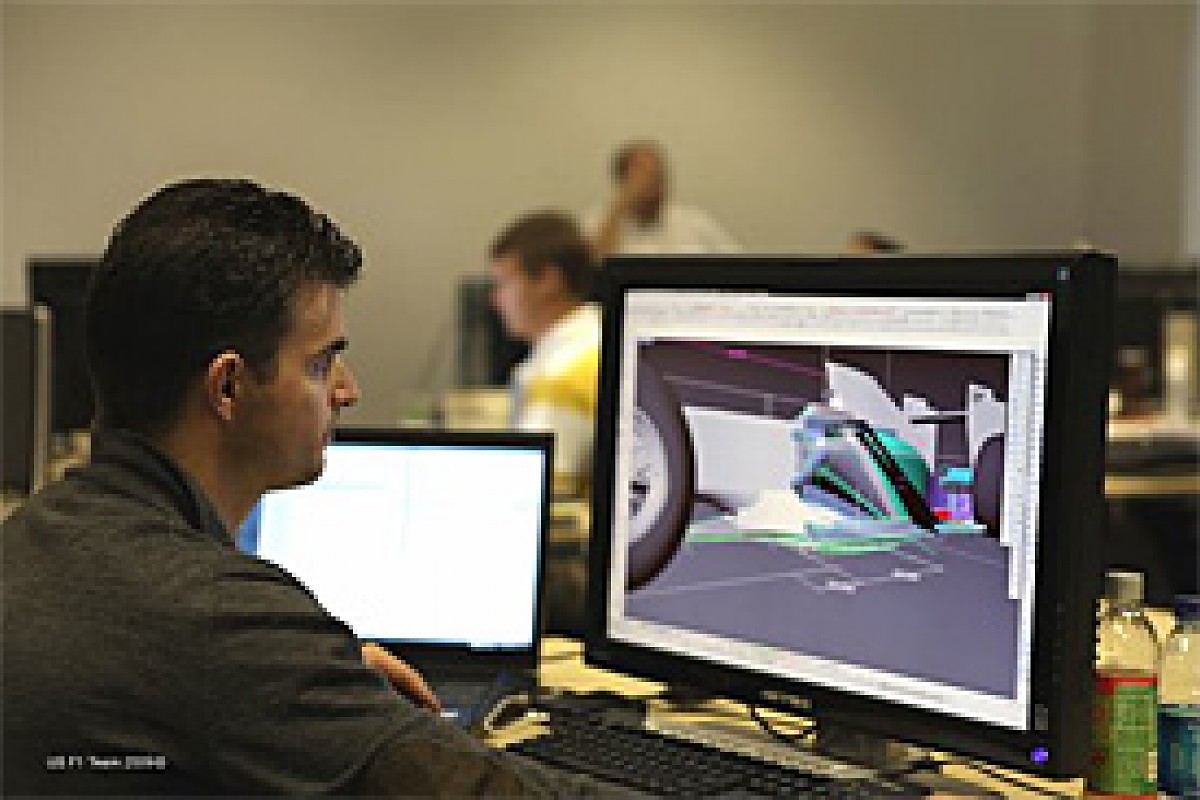 US F1 design office
Q. You and Chad worked very hard in those last days to try and save it. How big was the disappointment when you realised that couldn't happen?
PM: I can only imagine what Chad was feeling - and I can only speak for myself on the matter. I think disappointed would be putting it lightly. As a young American whose biggest passion is F1, this was a dream come true - the chance of a lifetime for me. I had high hopes for what we were trying to accomplish and there wasn't really a single person within the team who didn't share that very same feeling.
I can't explain how hard it was to say goodbye to the amazing men and women that we assembled from all over the globe to put this effort forward. It was definitely one of the darker moments of my life.
Q. What are the lessons that you learned from the US F1 affair?
PM: The thing I took from it was the amount of support that was there for us within F1. We had tremendous support from fans all around the world, not just US-based fans. But there was also a great deal of outreach from a lot of different teams.
That much was clear obviously in some of the press that was coming out - with Martin Whitmarsh saying that FOTA had to do everything in their power to help these teams get to the grid. Ferrari president Luca di Montezemolo made a similar comment at the unveiling of the F10 - that he wished he could supply an American team with a chassis. Bernie Ecclestone reached out several times - and we were offered the Toyotas before Stefanovich, and that was something that Bernie was trying to put together.
As much as F1 has a cut-throat appearance, really everybody is in it for the greater good of the sport. It has a competitive nature to it of course, but everybody wants to see each other turn up at the races - and that was extended to us. It wasn't just an old boys club. That was the main thing I learned.
But there are a lot of other lessons that can be taken away from US F1 too, like don't go to the trouble of assembling a brilliant group of people if you are not going to allow them to execute. I don't think any one of us signed up to work under a dictatorship - and that is effectively what happened.
You also need to follow through with your promises, and there were a lot of false promises made, not just to fans but also to the sport, to employees. It is one thing to have dreams and have hopes, but there needs to be clear direction and a set path. And there needs to be structure. We were lacking that.
Q. Even though it fell over in the end, you haven't give up on F1, have you?
PM: As I said before, this is my dream. I am lucky that I have youth on my side, so I will always try and get in the sport. And I would be lying if I said that I haven't been exploring other ways of entry into this sport - but of course by means of a much more realistic and sustainable project of course.
Q. So what can you say about your plans?
PM: I am part of a project right now that is trying to enter the sport. I can't give away any specifics right now, but I can say I don't believe a start-up team is possible.
That is definitely a topic that will be debated for some time until a practical solution is found, but I think personally, given the current state of the sport and its rules, then a competitive start-up team simply isn't possible.
This sport is all about knowledge and you need to apply the experience gained from the previous years of competing in the sport, and the team needs to be operating in a cohesive environment.
I think a great example is the Honda/Brawn situation last year. Here was an existing team that was taken over, the necessary changes were made and it was turned into a championship-winning team the following year. And that is no different from what we have seen in the past - with Red Bull Racing, Force India and Toro Rosso.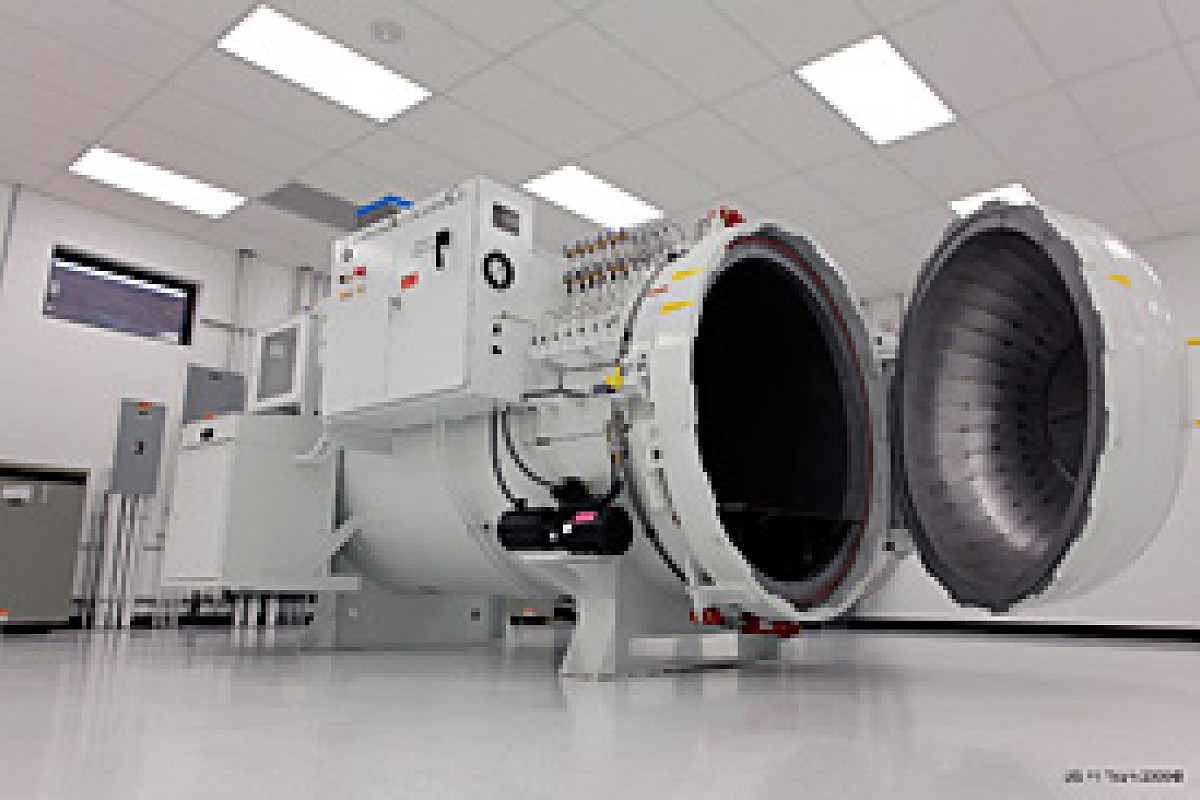 US F1 factory © LAT
You also look at the new teams this year: they are made up of experienced F1 personnel, but look at the performance gap to the established outfits. I have a tremendous amount of respect for the new teams and can relate to the incredibly tight timetable which they were given to work with - their appearance on the grid alone is am amazing feat in itself. But, unless everyone is willing to give them the time to grow, with the growing pains, that gap is always going to be there.
If I had to give an opinion on what I felt would be a quick fix, then a possible return to customer cars would make sense. A great example - Frank Williams got his start in 1969, he started with the Brabham chassis and he purchased, later in 1971, the March chassis, and it wasn't until 1972 that he built his first car. The rest is history.
There is no reason why new teams could not start out now in a similar fashion. A customer car programme is not sustainable by any means, but for a new team to come on the grid and have something like that for two or three years would be good for giving the team enough time to gain the necessary knowledge from the established manufacturers - then eventually they can launch their own programme. This would also open an additional revenue stream to the teams to be able to sell some of their IP.
Even if new teams were to buy a customer car, they would still be responsible for the development of that chassis - and that right now is going to take a rule change and something quite large for it to become a reality.
But what we have seen with other new teams entering the sport, like with Brawn, is that the best option is for a takeover of an existing team and making the necessary changes. Limiting the number of teams is necessary as well.
Let's not forget, Formula 1 is the most exclusive sports franchise in the world, I don't think it will ever be an easy task to enter the sport.
Q. And is that an option for you? What sort of entry platform are you looking at?
PM: For me, I am interested in entering the sport in any way that I can, and contributing in any way that I can.
One example of a concept that has potential is Renault - which sold a majority stake to Genii Capital. We might see more situations like that in the future. Whether it is a group of experienced F1 people defecting from a team and acquiring the capital to take over another, or whether it is simply a major sponsor doing it, or a group of investors buying a team - I am exploring all of those options.
We got pretty far along with a lot of different companies and I think there are a great deal of people this side of the pond who want to be involved in F1. And frankly, they are all thinking global - so why not do it in a global sport like this? It reaches so many people all over the world. My background is being based in the Silicon Valley area, and I think every major company in Silicon Valley should somehow be involved in F1. It's not just a sport; it's a TV show and a lifestyle. I think most companies can find relevant placing within the sport.
Q. And this is not just some pipe dream, is it? Do you have investors close to committing?
PM: I do. The nice thing is that US F1, even though it is such a tragic story, I don't think it really hurt any attempt from the US to get into F1. There is still talk of having a US Grand Prix, and that can only help. But I think it is really coming down to education.
Just because F1 is not that big in the US, companies are looking at ways of expanding - and that was Chad's interest. He could have bought a NASCAR team or IndyCar team - but he was driven by this global idea. And I think everybody is - they want to find a way to be global and environmentally friendly. And when the sport makes certain changes, like making the show more attractive and increasing the level of 'green' in the sport, you will see the return of certain sponsors, or new additions that you never thought would have been there.
Q. And is Chad Hurley supporting you too?
PM: For Chad right now, I can't speak for him. There are still parts of US F1 that need to be put to bed. He has his existing responsibilities with YouTube and he has other ventures that he is working on that are not motor sport related. As a good friend I would love to work with him again in this sport. I think he has some great ideas and we have collaborated on some great things. I am looking to surround myself with a good group of people, and make another attempt at this - but a proper way.
Q. What timeframe are you looking at for getting your plans in place and making the move into F1?
PM: The sooner the better. I would love to see myself and whoever I decide to team up with make a comeback in 2011. But it is really however long it takes. But I think now is an exciting time to return to the sport.
I think the show is really good right now and there are a lot of changes that lie ahead, and I would like to get in there before that - to help give some input and see if I can be a part of those changes. Given what we know about the rules that will be changing for 2013, a lot of exciting things are going to be happening - and I would like to be there for it.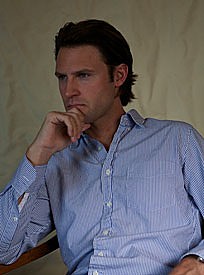 Parris Mullins
Q. What is the support like from inside F1? Is it true you had contact with Ferrari?
PM: When I met Stefano, obviously Ferrari was not a solution for US F1 for 2010. But they pledged whatever support they could give within the rules - whatever they could provide. We had a Cosworth engine contract, but they know that America is their largest market and they were keen to work with us.
If there was one thing I learned on my adventures in those final days, it was about the level of support and willingness to help out the underdog that was there. On one hand you would be reading in the press that Bernie Ecclestone was bad-mouthing US F1, but I was there with him sitting across the table from him in his office and he said: 'Whatever I can do for you, to get you guys to the grid, I will...'
I just think Bernie was not too pleased with how US F1's entry to the sport was being handled and the lack of truth coming from Ken regarding our progress and the reality of our situation. Once we had reached out to him, which we did until Chad and I had exhausted all options, he was more than willing to take a meeting or answer the phone. He was very instrumental in negotiating both possible deals with Stefanovic and Carabante, and I feel if I went to him and had a solid project that he would be just as enthusiastic to help.
Q. Do you believe that the US and F1 can still embrace each other, despite the failure of US F1?
PM: Absolutely. The US is such a large market and in terms of F1, is relatively untapped. The absence of a grand prix here is pretty big - and you really need to attend a race to understand the whole experience and what F1 has to offer. However, alternatively, I think there is a way to bring that into people homes.
There have been a number of US companies within F1 and there are a number of global companies that are based here, and I think there is a great deal that can be shared between F1 and the US, and the US and F1. That is what Chad was looking at doing, with social media and things like that. I really think he could bring about some exciting changes in the sport and its interaction with fans and how F1 is delivered to the world, not just the US.
The US has a lot to contribute and I think it will, eventually. It is really an educational project and that is what I am hoping to do - being one of the many people that bridges that gap and can bring it across. A lot of it, however, comes down to the return on investment.
It is not just being a technology partner or supplier, teams need to have sponsors and they need to have funding in place. And it comes down to the fans - and fan is another word for consumer. So I think one of the things that needs to be explored, is that other than the sponsorship and activation that goes on around a traditional grand prix weekend it is about ways of building values for these companies. It is activation above and beyond what goes on on a grand prix weekend - whether it is viral videos, some type of social media interaction, or some type of experience.
Those are all the types of thing that need to be explored to bring value, other than saying simply: look, the sidepod is worth X amount on the side of our car. It is something that will come from the workings of [FOTA's] Commercial Working Group. Each team will find its own way to do it, but everyone needs to help one another for the sport to achieve its maximum potential.
Q. Has the US F1 affair made it more difficult to achieve your targets, or has it woken the sport up a little to the sport?
PM: I think it has definitely woken people up. I think it has opened itself up to a lot of criticism - and there will be constructive and unconstructive criticism. It really hasn't thwarted me in my efforts.
It left a bad taste in a lot of people's mouths and I think the fact that the name, US F1, was attached to it - rather than Anderson Grand Prix - didn't help the situation. But anyone who follows the sport realises this was not an effort that really should have been named US F1. I have my own thoughts and feelings about how much the All-American aspect was played up.
Q. Whatever form your project takes, are you keen to keep up this idea of an 'American' theme?
PM: I would like to see some retention of that, but it is not so much doing things American for the sake of being American. There are definitely things I learned from US F1 - that you can only be so American, and realistically you can only operate so much from the US. Logistically it is much more difficult than most people imagine. Having said that, most people within F1 already knew that.
There really does need to be a proper base in Europe that you can operate from, but it doesn't mean you cannot have some type of headquarters based in the United States that houses a marketing team, design office and show car programme. I would just like to see more American companies getting into F1 - but by no means do I plan on going into the sport waving the Stars and Stripes.
I remember speaking with my father about what the environment at US F1 was like and how there was a great deal of non-US personnel, not like how it was being portrayed sometimes in the press as the All-American team. I told him how much I loved the mixture of nationalities and backgrounds in which he replied "You are America's team, driven by the world". I thought that was so brilliant that I called Chad shortly after to share that with him and he said "That is what I'm talking about, that is my vision."
Q. If a deal does come off, what sort of role are you looking to play?
PM: That is all dependent upon which way I make my return to the sport. Ideally, I would love to assume the role of team principal. Luca di Montezemolo was my age when he first managed the Scuderia and most of the iconic figures in F1 today that I have admired and looked up to, like Ron Dennis, Frank Williams and even Bernie, were my age when they entered the sport.
Some of the brightest ideas and start-up companies are coming from my peers and my generation. These are companies that are not just producing more products for us to buy, but are shaping how we live and go about our day-to-day lives. This sport needs an injection of youth, other than the drivers, and it could use another young team principal like Christian Horner.
My generation will eventually inherit F1 and the sport needs to change with the times. We are talking about the pinnacle of motorsport and automotive technology. We just need to apply that same thinking to the rest of the show. I think the short answer to your question is the role I am looking to play would have a great deal of influence and ability to make change, not just for my team but for the greater good of the sport that I love so much.