First there were none. Then one, two, a third, the fourth belatedly threw its hat (back) into the ring, then, finally, late last week, a fifth rubber company decided to join the fray by offering a supply of tyres to the world of Formula 1.
After Bridgestone gave its obligatory one year notice period of withdrawal from the sport last November, after three years as the sole official tyre supplier, F1 was thrown into turmoil. It does not require rocket science to realise those round black things on each corner are as vital to the sport as are engines and fuel. A hovercraft world championship is, after all, unlikely to attract the sort of patronage enjoyed by F1, while running on bare alloy rims is unlikely to be fast despite the undoubted spectacle.
Thus the acquisition of a suitable supply of tyres for 2011 is of the absolute highest priority on the Formula One Teams' Association's to-do list, ahead of 'green' initiatives and means of 'spicing the show'.
Tyre marks in the Monaco pitlane © LAT
While many key personalities within the sport were surprisingly sanguine about finding a replacement for Bridgestone - the overall feeling in the Bahrain and Melbourne paddocks was 'don't worry, one thing is sure: we'll have tyres; Bernie (Ecclestone) will sort it - the fact of the matter is that with just eight months to the start of 2011 testing in February, the sport does not even know what tyre sizes to prepare for, let alone the brand(s).
Culpability for this situation surely lies with the FIA's World Motor Sport Council, overseen at the time by departed president Max Mosley, for the WMSC myopically forced through a three-year sole supplier deal at a time when a five-year extension to the Concorde Agreement, the tripartite document which governs the technical, administrative, commercial and sporting aspects of F1, was in the throes of renegotiation.
Thus, either way, there always would be overlap - and therefore potential severe disruption - during the period of the Agreement.
At the time Michelin - hounded every which way by Mosley after the 2005 USGP debacle when the French company supplied teams with a tyre specification unable to resist the stresses of Indianapolis - declined to tender. The French company statied (correctly in the view of most paddock pundits) that it wished to compete in F1, not merely participate as beholden supplier. The company left the sport at end-2006, leaving Bridgestone as sole (though not official) supplier to the formula.
With no other company remotely in the running, Bridgestone was subsequently confirmed as official tyre supplier for the 2008 - 2010 period, coinciding with the end of the 1998-2007 Concorde Agreement while a five-year extension was under negotiation. As outlined here, official supplier status was/is a poisoned chalice if ever there was one, and thus Bridgestone's notice of exit came as no real surprise.
With the company adamant there was no turning back, the search for a replacement began - and one hoped against hope F1 had learned of the folly inherent in sole supply. Various parties suggested Ecclestone would purchase Bridgestone's equipment and technology, thus ensuring continuity whilst turning a profit for F1's tsar.
Heck, he could even stick his flying 'F' on the sidewalls to create a new brand, suggested some...
Then, during the Malaysian Grand Prix, news broke that Michelin was interested in returning on two conditions: that F1 adopt 18 inch diameter rims in place of the archaic 13-inch dimension presently specified, and that competition between tyre companies be permitted.
The offer came with a high price tag - to teams - attached, with the company cutting side deals. Thus, according to sources, Renault, Mercedes and Ferrari would receive substantial 'kick-backs' on the back of original equipment deals.

A fortnight later, in China, it emerged Cooper Avon, A1GP's original supplier, had entered the race by upping the stakes in that it made no demands save to be considered. If F1 wanted 13-inch tyres and/or competition, no problem, and, as a sweetener, the price was bargain basement. The company was also rumoured to be supplying through a third party, and here the International Race Tyre Services was mentioned.
IRTS was established to supply Avon tyres during the height of the FIA/FOCA war in the early eighties - by Ecclestone - but 'peace' eventually scuppered the deal...
A choice between the two would be made by the Spanish Grand Prix weekend so as to enable F1 to get on with the task of planning for 2011, for the Michelin option would involve significant engineering changes to cars, reported sources. Then, in quick succession news surfaced that not only Pirelli, winner of 42 grands prix during various campaigns in the fifties and 80s/90s, submitted a proposal to the FIA (seemingly bypassing FOTA and the teams), but factions within Bridgestone were pushing for an about-turn.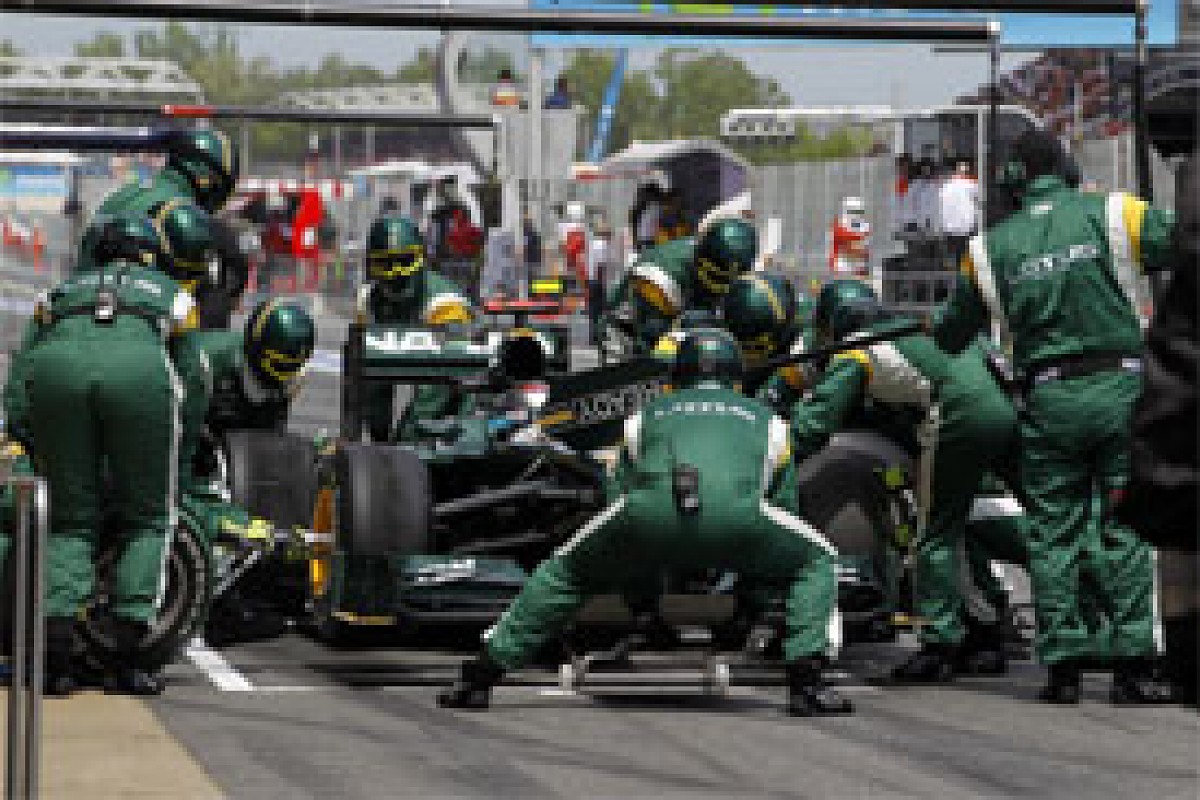 Jarno Trulli pits for tyres during the Spanish Grand Prix © LAT
Rumours of an about-turn by Bridgestone are interesting, not least as they come at the request of the company's many friends within the paddock. Notably present in Spain was Bridgestone's newly-appointed Europe CEO Makio Ohashi, who made it his business to meet all team principals in Barcelona.
However, to persuade a Japanese board of directors to do a 180º about-face won't be the work of a moment and the question is whether both the sport and the company have that amount of time in hand. "My feeling is there is not enough time left," said one team principal in Monaco, "I'm afraid they've left their come-back too late..."
Finally, in the wake of the Spanish Grand Prix came suggestions that one of Korea's tyre brands was considering entry into F1, and, like Pirelli, had submitted an application to the FIA body. Sources however suggest that the FIA is not the ultimate arbitrator in the matter for it is says Frank Williams, "a commercial matter, and therefore up to the teams and FOTA".
A FOTA source concurs, however adding the caveat 'FIA and FOM can certainly influence the matter even if the final decisions lies with the teams', adding that there existed various technical and regulatory considerations. Bernie Ecclestone's Formula One Management group, the sport's commercial rights holder, meanwhile is obviously keen on a supplier willing to commit to signage, hospitality and TV packages.
Whether or not rumours of interest from Hankook or Kumho - the two Korean brands in question - have legs remains to be seen, with the feeling in the paddock being that it could all be a PR stunt - after all the easiest way of amassing column inches in F1 is drop such hints, then ride them. It would certainly not be the first time a company has benefitted thus, and will certainly not be the last.
That said, with the inaugural Korean Grand Prix scheduled for October, a Korean brand may well show F1 the colour of its money.
That said, it is doubtful whether last-named has the financial muscle to mount an F1 challenge, for the company's share price is trading close to a 52-week low, having virtually halved over the last year, plus for the last month the company found itself embroiled in an industrial relations dispute over a stalled debt-restructuring program.
By contrast, in 2009 Hankook was the only one of the world's top ten tyre companies to post growth, which enabled it to consolidate its position as the seventh-largest tyre manufacturer. Thus it follows that should a Korean rubber company be in the running to supply tyres to F1, it is likely to be Hankook.
With each of the 12 teams having its own agenda matters are even more complicated and reaching a final decision will be far from easy, yet one needs to be taken urgently if F1 is to race at all in 2011. A FOTA meeting originally planned for this weekend has not been confirmed as, according to sources, they 'are still waiting to get all relevant papers together'. And, a lot of 'papers' they will need to consider all the options. In chronological order they are:
Michelin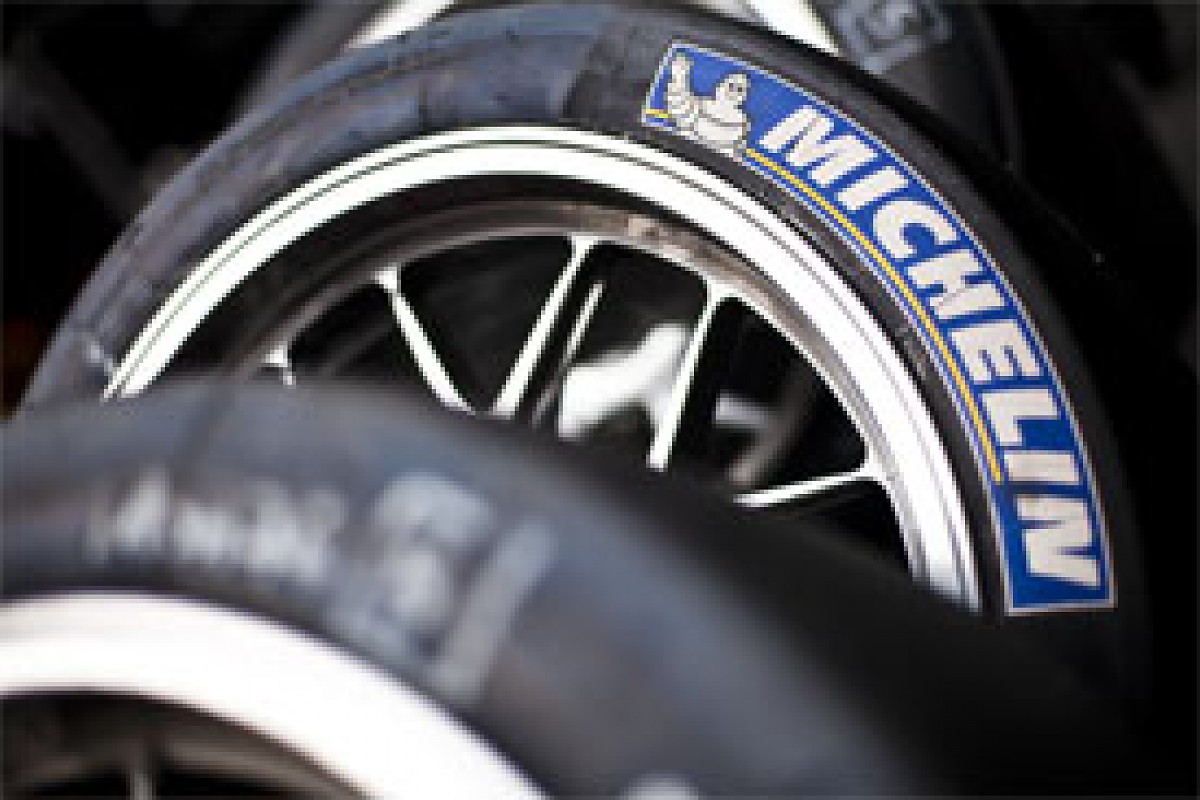 Michelin tyres for endurance sportscar racing © LAT
French company with proud heritage in F1, having won 102 grands prix during its 1978 - '84 and 2001 - '06 campaigns. Its first championships (1979) came via Jody Scheckter and Ferrari. Following its withdrawal from F1, the company's motorsport division has concentrated primarily on sports car racing, for which categories it developed a range of tyres 370mm wide of 18-inch diameter.
Pros:
- Blue-chip international brand; asset to F1
- Recent F1 experience and necessary infrastructure (2001-06)
- Recent international single-seater experience via A1GP (2008)
- Current sports car racing experience; recent WRC experience
- Technologically-driven company; enormous OE presence
- Cutting edge race tyre technology via 18 inch range
- Prepared to offer commercial deals to major teams
- Has many friends within the paddock
- Insistent on competition via abolition of sole supplier contracts
- Would support FOM commercially - 50% of which flows to teams
- Eager for greener technology in F1

Cons:
- To fully exploit advantages of 18 inch technology requires complete/costly redesign of suspension systems
- Costs to teams - although these said to have reduced in wake of offers from competition
- Insistence on competition means testing costs will increase unless contained
- Relations with governing body not the best
Cooper Avon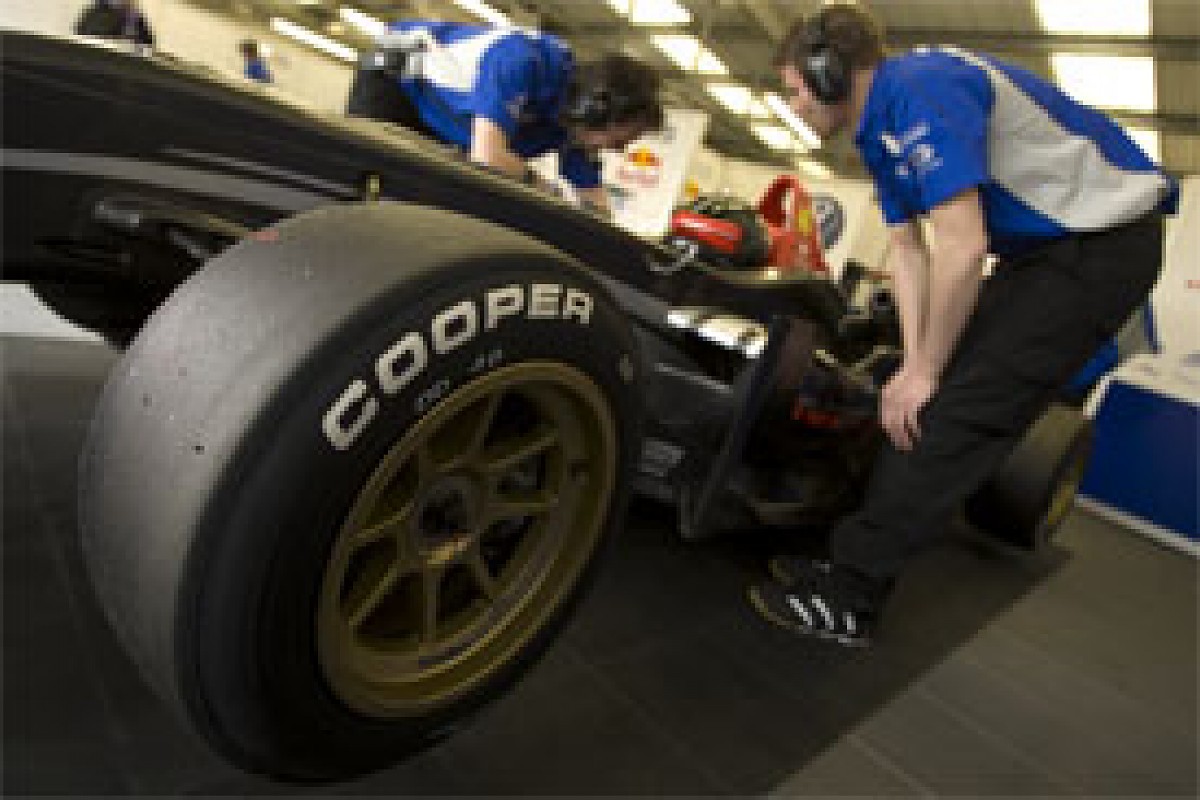 Cooper F3 tyres © LAT
No recent F1 pedigree - last provided tyres for backmarker teams in 1981/82 (Tyrrell, ATS, Ensign, Theodore and March). An unknown brand in most international markets, the company has the advantage of being in a position to produce a range of 13 inch tyres relatively speedily on account of having suitable moulds and tooling from historic F1 programmes. But, sources within the paddock question whether motorsport's highest-profile and most brand conscious formula should be reduced to racing on what are no-name brand tyres. Questions about its ability to fully satisfy the demands of F1 also remain.
Pros:

- Recent international single-seater experience via A1GP (2005-07)
- Cost advantage
- Use of 13 inch technology, thus no redesign cost implications
- Open to competition
- Could do deal direct with commercial rights' holder, thus appeasing additional faction
Cons:
- No F1 experience save for historic racing and early eighties project
- No F1 infrastructure
- No-name brand internationally
- No OE incentives or appeal
- Restricted support commercially
- Questions about 'fit' with F1 image
Pirelli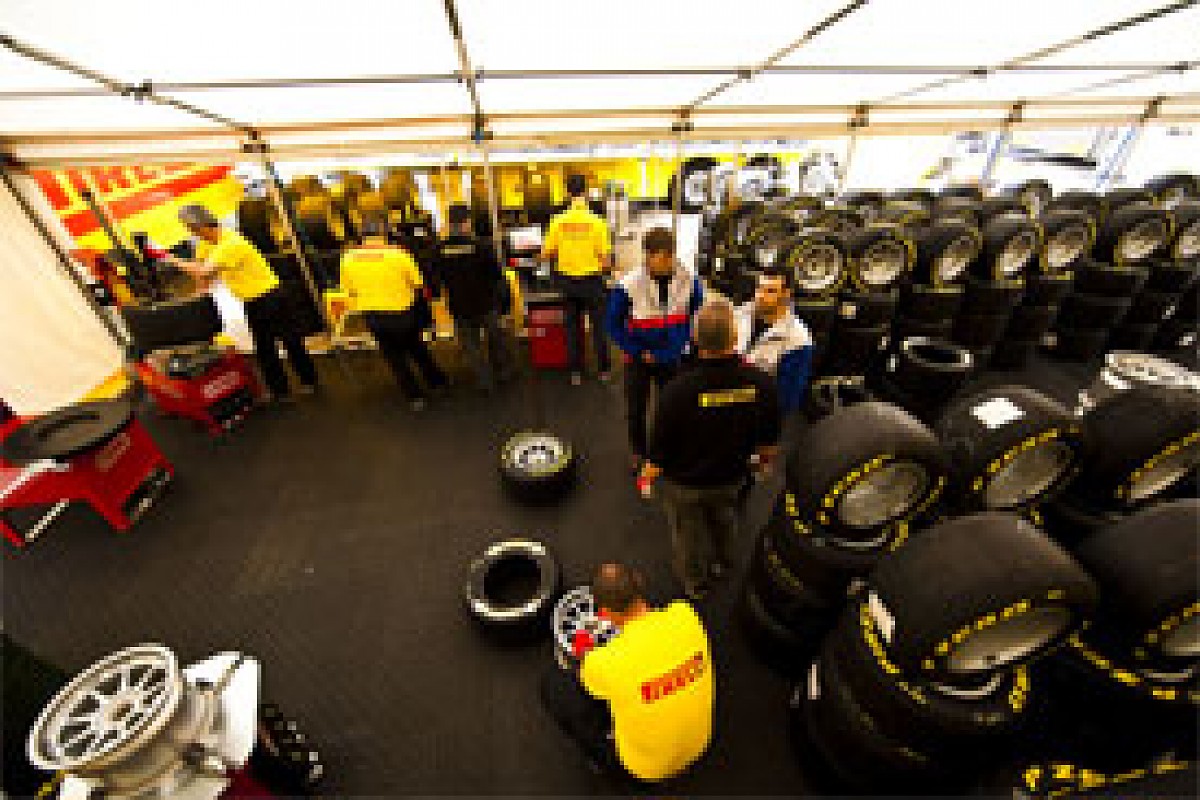 Pirelli GP3 tyres © LAT
Well respected company with strong motorsport affiliations, including winning grands prix with Bernie Ecclestone's Brabham team and Benetton. Extremely active in other branches of the sport, but can the company adapt rapidly enough to the demands of F1? Would be ideal 'shadow' competitor in a two- (or more) company scenario.
Pros:
- International brand with OE contracts
- Could offer OE incentives
- Competitive pricing
- Could support FOM commercially - albeit comparatively restricted
- Flexible on competition and dimensions
- Recent international motorsport experience, currently in GP3
- Current WRC experience as sole supplier
- Could develop infrastructure relatively quickly
- Some F1 experience, albeit almost 20 years ago

Cons:
- No recent F1 experience or infrastructure
- Did not make friends by by-passing teams/FOTA
- Possibly too little too late
Bridgestone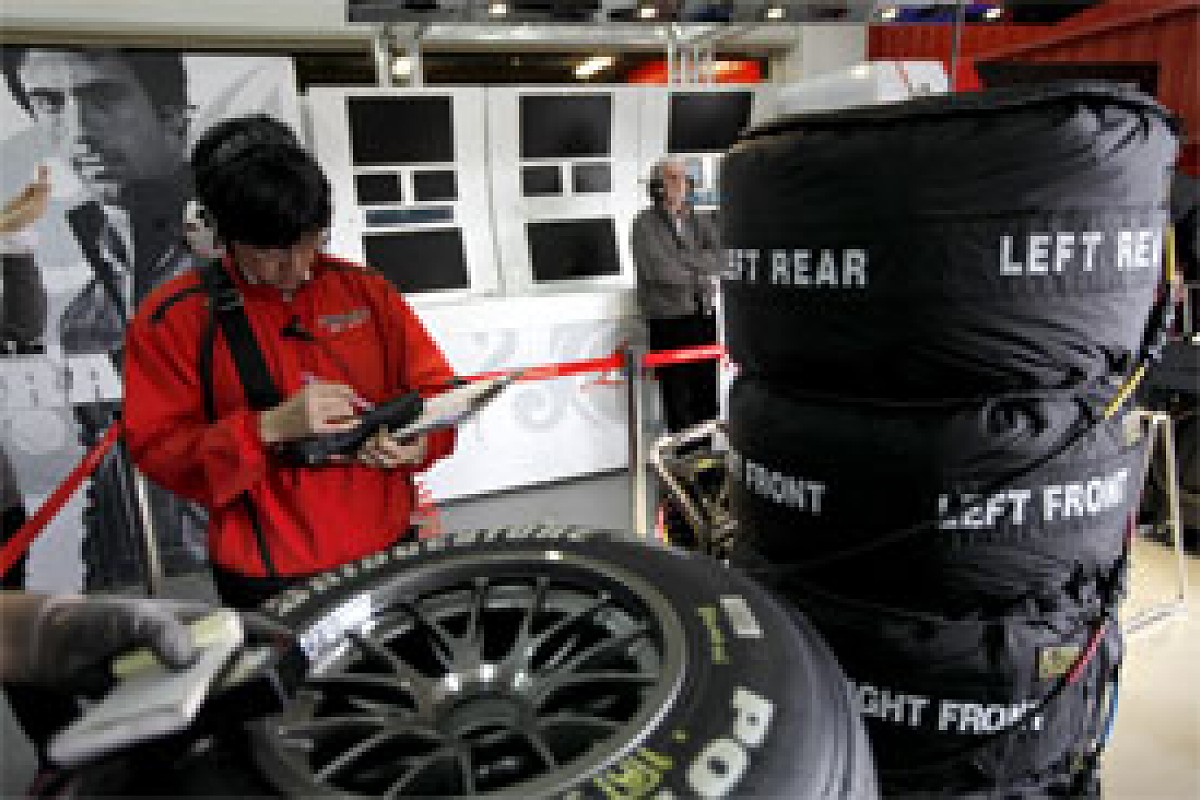 Bridgestone technician in the Virgin garage © LAT
In F1 since 1997, the company has built up an enviable reputation, but (officially) the main board chose to exit the sport to pursue environmental ideals. Although a U-turn is difficult to imagine, such a scenario is not impossible. Would, though, need to be convinced F1 will become progressively 'greener' in future. Has the muscle, infrastructure and products to solve F1's immediate problem, and been requested by the teams and FOTA to do so. Should it not relent, risks being blamed for leaving the sport in a quandary after years of building goodwill.
Pros:
- International, blue-chip brand
- Popular in paddock
- Current supplier, therefore knows 13 inch technology
- Has current F1 experience and infrastructure
- Supports FOM commercially - would no doubt continue
- Eager for greener technology in F1
- Presently supplies teams at no cost - and would likely continue to do so
- Wide-ranging OE contracts
Cons:
- Not keen on competition
- Doggedly wishes to continue with 13 inch dimensions
- An element of same old, same old...
Korean brand - Hankook (possibly), Kumho (unlikely)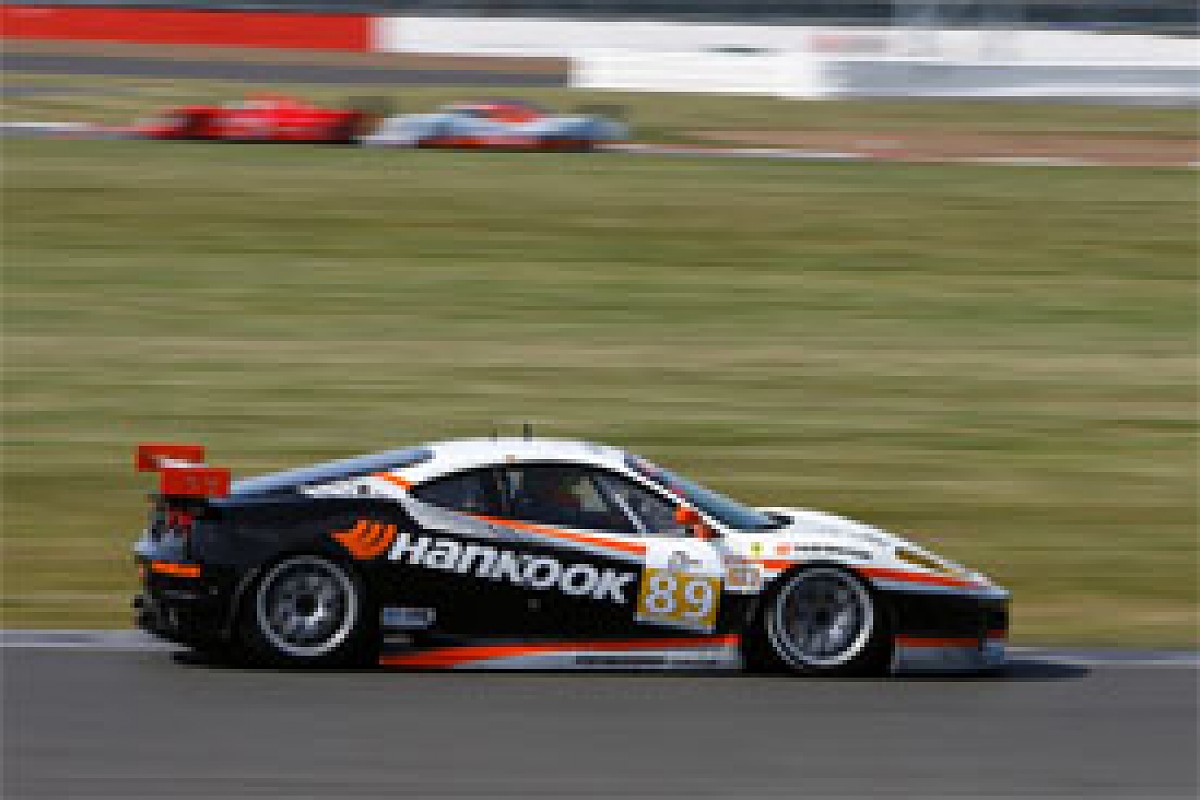 Hankook shod and sponsored Ferrari 430 GT2
Only one (Hankook) has the financial muscle to sustain an F1 programme, but even here it is doubtful whether the company would consider without a race in its single biggest market, namely the USA. However, a Korean brand would be a welcome addition to the flavour of F1, and would surely receive support from FOM.
Pros:
- International brand with OE contracts
- Could offer OE incentives
- Fit with Korean GP - could entice further Korean companies into F1
- Could support FOM commercially - albeit comparatively restricted
- Flexible on competition and dimensions
- Recent international motorsport experience
Cons:
- No recent F1 experience or infrastructure
- Did not make friends by by-passing teams/FOTA
- Possibly too little too late