Formula 1 may be a sport governed by physics, but it's the chemistry of human relationships that can be just as important when it comes to achieving success.
When a team and driver totally click - which means having total faith in the job each does - then the surge of confidence and momentum it brings can deliver as much performance as the extra downforce that comes from a tweaked front-wing endplate.
Robert Kubica, Renault, Spanish GP © Sutton
It's such strong chemistry, that feel good team-driver harmony, that seems to be flowing at Renault this year as Robert Kubica and the French car manufacturer continue to raise eyebrows with the progress they are making together.
Here was a team that at the end of 2009 was pretty much on its knees. Its R29 had slumped down the order, leaving Fernando Alonso and the team disillusioned even before the nuclear bomb of the Singapore race-fix controversy erupted at Spa.
Then came the winter of uncertainty - when no one knew whether Renault would pull the plug on the operation and follow BMW and Toyota out of the sport.
A deal with Genii Capital, and the installation of the then relatively unknown Eric Boullier as new team principal, may have ended such doubts about the future, but few outside the outfit believed Renault would be able to do anything sensational on track - a feeling that was reinforced when the team had a low-key run in winter testing.
Coming into the season, however, the reality was very different. New-signing Kubica had not only assured the team of his commitment for 2010, but he was also really enjoying what he found inside the garage.
Boullier, working well with right-hand men chiefs Bob Bell and James Allison, had helped lift spirits at the team and instigated a super aggressive development push for the R30.
And while the baseline of the car was no match for what Red Bull Racing, Ferrari and McLaren had produced, the team's rate of progress with it has certainly been impressive. So too has the way it has worked at events - with race strategy decisions serving to see the team punch above its weight on Sunday afternoons.
Most important of all, though, has been the way that Kubica has gelled with the outfit. Everyone knows that the Pole can be a demanding man to have onboard - his relentless bid to do better and improve things sometimes rubbing people up the wrong way.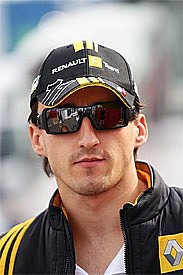 Robert Kubica © Sutton
But Renault has loved it - just as he has loved working in an environment where he is respected, and appreciated.
"For sure it makes a big difference if the team listens to you," says Kubica, perhaps hinting at the troubles he sometimes faced at BMW Sauber. "After that, they can agree with the things or not agree - but at least they listen.
"On some issues I was very happy with how the team reacted, on other things they took maybe a bit too long - but finally I managed to convince them!
"It was also not easy because I was coming from a completely different team with a completely different mentality, and in the end the team did not know what I am capable of doing and if the feedback or my ideas and direction were good.
"I think the time shows that I am getting more or less the right direction and the right improvements. And my feedback gets confirmation on the race track, which is very important. This helps to build confidence between myself and the engineers."
Renault is a team that has a good amount of momentum behind it at the moment. Kubica split the Ferraris and Mercedes GP cars in qualifying in Spain last weekend - leaving him to suspect that perhaps the 'big four' teams had now become the 'big five'
"Yes, maybe," he says when asked about that idea. "What seems good for us this year is that we are consistently there, so for us we don't have big up and downs and I hope it will stay like this all year.
"It means if someone is struggling, like Michael [Schumacher] was in China, then we are able to qualify in front of him. If someone does a mistake or doesn't get everything right then we are able to be there."
Renault may still need to find good downforce improvements before it is going to be ready to take podium finishes on pure merit, with a big update scheduled for the Turkish GP, but if any team looks like its ready to grab an unexpected opportunity when it comes its way it's Renault.
The bond between team and driver is strong - and when chemistry like that kicks in, the results can be explosive.