1. Webber's survival up front
This isn't the first time this year that Mark Webber has out-qualified Sebastian Vettel. In Malaysia, Webber had pole but his young team-mate picked his pocket on the inside of Turn 1. The effectively useless outboard wing mirrors were blamed for that mishap, and with inboard mirrors firmly attached to the chassis now, there will be no excuses this time
If it's dry, a Red Bull will win. Chances are, whichever Red Bull driver leads at the end of the first lap will be the one doing the winning. It's been frustrating for Webber this season, with Vettel always seeming to have an answer for him. The Aussie will be desperate to get one over on him and make sure it's Vettel that has to force a smile through gritted teeth on the podium this time.
2. Red Bull versus itself
Red Bull's nearest challenger in qualifying - Lewis Hamilton's McLaren - was nigh on a second back. On pace, the rest haven't got a hope of winning, but fortune and reliability haven't favoured Red Bull this year. In Bahrain and Australia, problems cost Sebastian Vettel probable victories and the team's 25 per cent win rate belies the prodigious speed of its car - particularly following a comprehensive aerodynamic upgrade that has further optimised Adrian Newey's masterwork.
When Red Bull is leading, team principal Christian Horner's foot tends to develop a nervous jiggle - expect there to be a lot of that if his cars are leading near the chequered flag.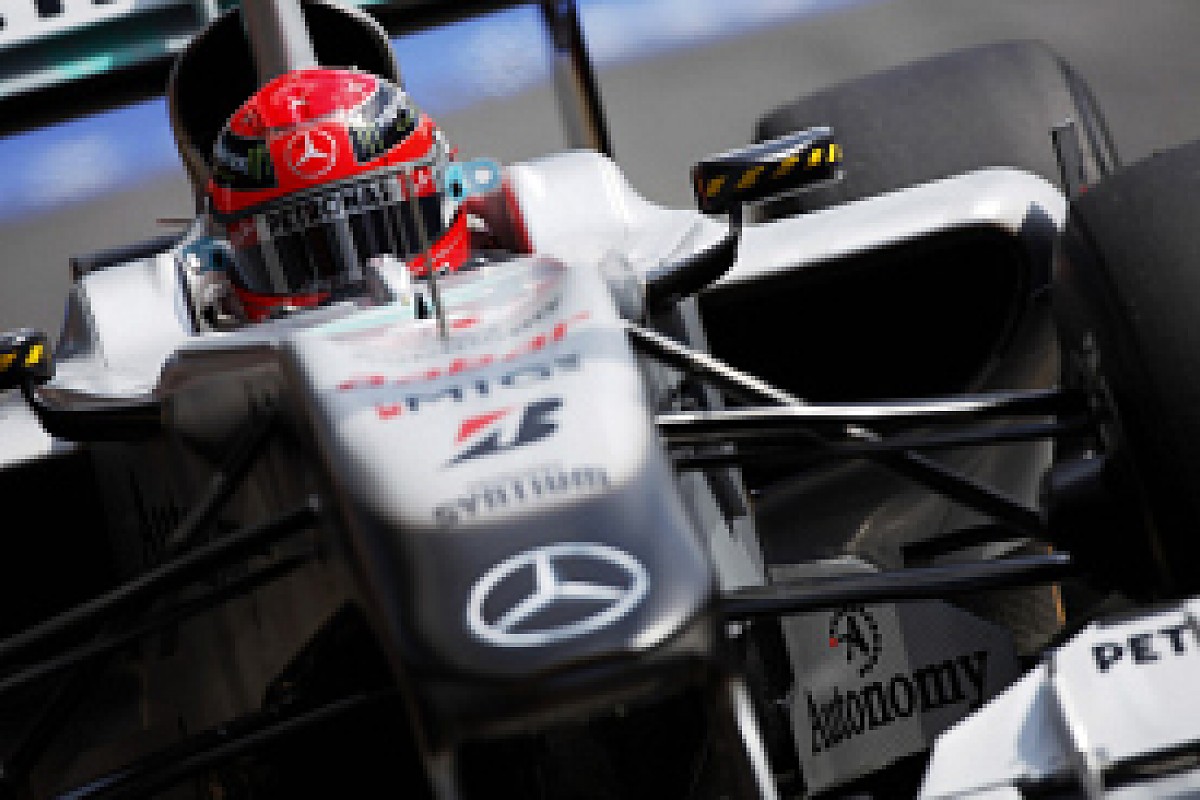 Michael Schumacher © LAT
3. Schumacher is back
Michael has been consistently faster than Nico Rosberg this weekend, out-qualifying him for the first time this season by over one tenth of a second. The Mercedes has been significantly revised - the new airbox design the most obvious alteration - while the front suspension has been angled forward to increase the wheelbase and therefore shift the weight distribution backwards.
With the car the way it was in the opening four races, Rosberg got the best out of it while Schumacher struggled. Now that the seven-time world champion has the car more to his traditional liking for very pointy handling characteristics, he looks like the Schumacher of old. He's got a different chassis too, having switched to the one used in pre-season testing, and the team has accepted that the patched-up damage might explain the lack of grip he suffered in China.
More confident on track, he also looks like he belongs as a race driver in the paddock too. The car isn't good enough to win - even if Schumacher drives the best race of his career - but a decent finish ahead of his team-mate tomorrow will be the perfect antidote to a difficult start to 2010.
4. Massa must rise to the occasion
Felipe Massa was gutted to be down in ninth on the grid, having expected to be in the top five, a massive sixth-tenths off team-mate Fernando Alonso. He has admitted that things aren't quite right for him and found himself increasingly struggling with the handling of the Ferrari F10 - not what he needs when there are factions in Ferrari who are pushing for the Scuderia to recruit Renault's Robert Kubica in place of the out-of-contract Brazilian in 2010.
With overtaking tough at Barcelona, he needs a good first lap to have any chance of finishing near Alonso, and chances are he's going to have a long, hard afternoon at a time when he most needs results. But with Massa needing to make up places during the race, the introduction of Ferrari's F-duct system could have come at just the right time.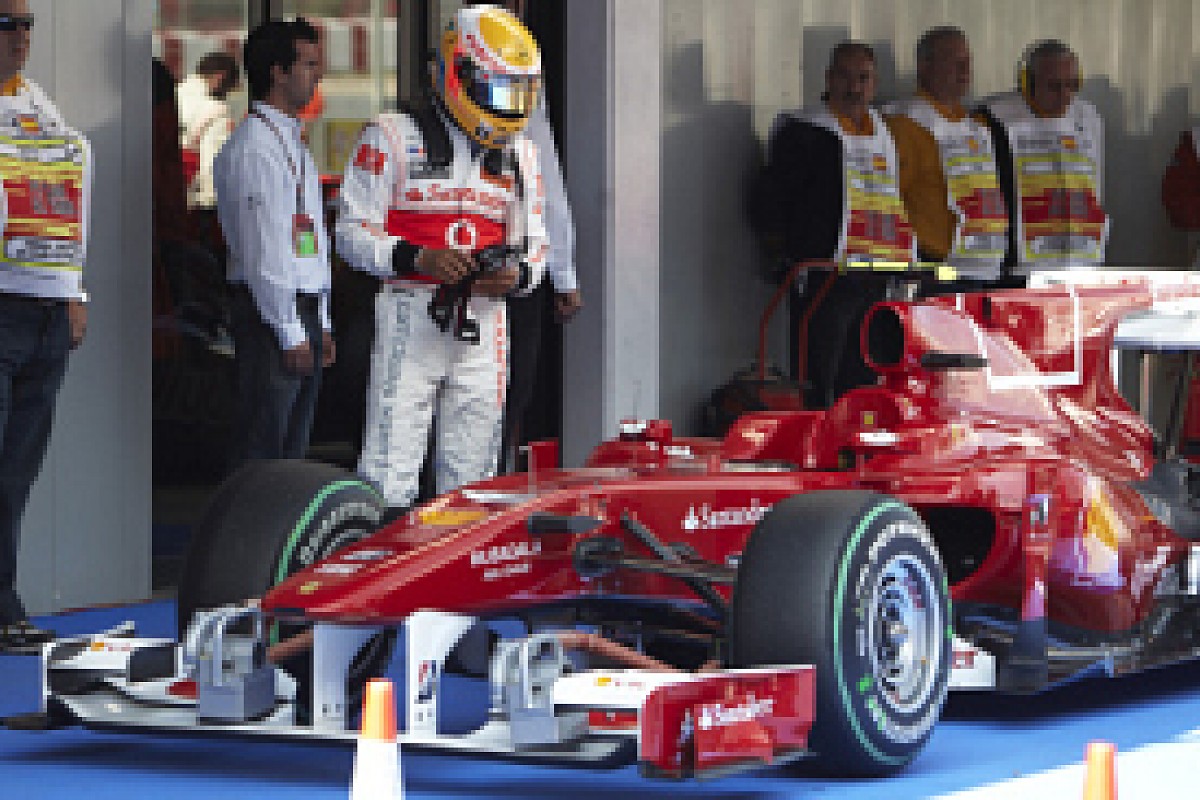 Lewis Hamilton © LAT
5. McLaren surpassing Ferrari
McLaren has overhauled Ferrari in the battle to be the second fastest team - just - but like most, it is astonished at the step forward Red Bull has taken this weekend. If Webber and Vettel clear of as expected, the real battle will be between Fernando Alonso's Ferrari and the McLarens that sandwich him on the grid.
McLaren's race pace has generally been far stronger than its qualifying pace, but today each of its cars out-qualified a Ferrari. If Lewis Hamilton can't get the Red Bulls at the start, then third - ahead of Alonso - is likely the maximum result. Though Ferrari's own F-duct means the McLarens might have stronger opposition when it comes to overtaking that it had in China.