There's no question that Nico Hulkenberg graduated to Formula 1 this season with the best credentials of anyone since Lewis Hamilton. If anything, his stellar junior career, which included title glory in Formula BMW Germany, A1 GP, F3 Euro Series and GP2 fractionally eclipsed Hamilton in terms of achievement.
So why has this year's rookie of the year in waiting had to play second fiddle to Renault's Vitaly Petrov, the man he comfortably beat to the GP2 crown, in the battle of the newcomers so far this year? The answer is straightforward - so far, while the Renault R30 has exceed expectations, the Williams FW32 has proved, by the team's own admission, to be something of a disappointment and the Grove squad's new Nico has struggled to get the best out of a tricky machine.
Hulkenberg has scored only one point this season and has generally struggled to match veteran team-mate Rubens Barrichello in qualifying, not the results that those who had been thrilled by some stunning drives on the way up the ladder were anticipating. Inevitably, it's harder to live up to sky-high expectations than to exceed low ones (as Petrov and Renault have proved), and the dice have been loaded against Hulkenberg making a big impact early on.
Legendary Williams director of engineering Patrick Head suggested that Hulkenberg had the potential to make a Hamilton-esque impression on F1 prior to the start of the season - albeit with a very big caveat that captures the reasons for his underwhelming start.
"It would be wrong to set overly-high expectations, as obviously Hamilton was in a very good car in his first year and was absolutely electric," said Head on the eve of the first test of the 2010 Williams. "If our car is good, then Nico could have a similar time. But there will be a lot of good cars at the front and Nico has to earn his spurs."
There are indeed a lot of good cars in front of Williams, which based on the last race in China has the sixth or seventh fastest machine. Not only is the car not strong enough to make a massive impression, but a less competitive car is often more difficult to drive than a frontrunning one - so Nico is serving a double penalty that has caused him to struggle to match Barrichello in qualifying. The statistics paint a disappointing picture for Hulkenberg, for despite being far closer to the Brazilian on race pace, qualifying is regarded as the best indicator for outright speed in F1.
Qualifying comparison
Bahrain
P11 Barrichello, 1m 55.330s
P13 Hulkenberg, +0.527
Australia
P9 Barrichello, 1m25.217s
P15 Hulkenberg, +0.513s
Malaysia*
P5 Hulkenberg, 1m51.001s
P7 Barrichello, +0.510s
*wet qualifying
China
P11 Barrichello, 1m35.744s
P16 Hulkenberg, +0.903s
"It doesn't make it easier that our car is pretty difficult to drive, especially in qualifying," says Hullkenberg, matter-of-factly. "It's a bit loose and there's a very sharp edge that you can fall off easily if you make a little mistake - that easily costs you a couple of tenths. In Melbourne, if you have a very nervous car, the walls are very close and it's hard to find the confidence to push to the absolute limit every lap.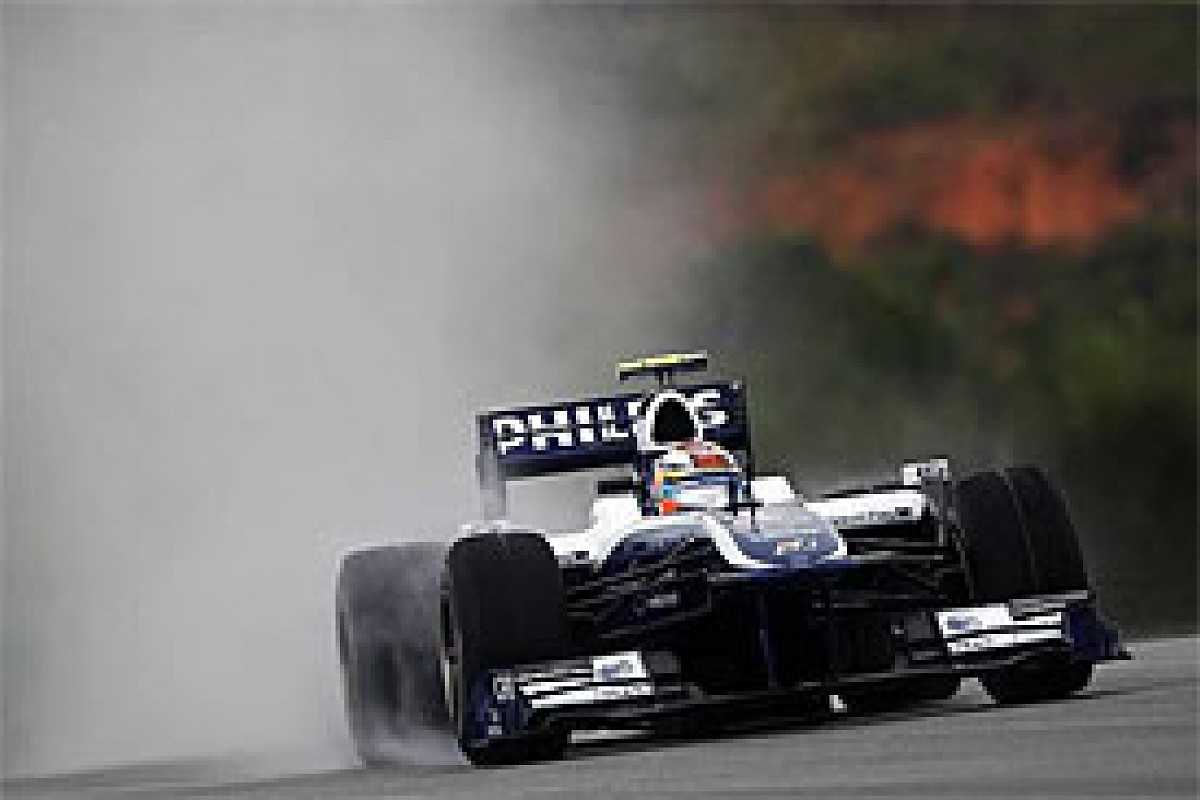 Nico Hulkenberg during the Malaysian GP © Sutton
"That's where Rubens's experience comes into play, because he's done so many qualifying laps and been in that situation so many times that he can get the best out of it. I'm learning a lot from this. Rubens is dealing well with this because of all of his experience and I can learn a lot from his driving by looking at the data. So if I stay in F1 for the long-term, I will benefit from this.
"I am not the kind of guy who lets his head drop and complains that the car is too slow. I want to try to turn it around and get the most out of is - that's all we can do."
His attitude and bearing convinces you that he's right about his positive attitude. In Barrichello, Hulkenberg has undoubtedly the most experienced driver in terms of starts and arguably the best development driver in F1 to learn from. The active interest that he takes in understanding his craft (remember, it was his idea to spend time in various parts of the factory to learn how F1 cars are put together during his test driver days) leaves little doubt that he will get on top of the car even if it remains tricky to drive. Unlike some younger drivers in motor racing, he knows he has to put in the hard work and knows that he has to put in the time to learn from what Barrichello is doing.
"Rubens is not my dad and he's not my driver coach; he is my team-mate," says Hulkenberg. "We have a lot of respect from each other but at the end of the day we want to beat each other. So he doesn't come to me to tell me I could turn in a bit later and that's something that I wouldn't want. But I can look at his data, his set-up, his comments and the direction he is going and follow it. That's how I learn from him.
"Developing the car is something you have to learn because you can give the team a direction. That's a lot of responsibility. It's a good thing to be in that situation. Again, it's very useful to have Rubens there because if I've done a weight distribution or aero test 10 times, he has done it 300 times."
Hulkenberg is not afraid to admit where his inexperience hurts him in comparison to Barrichello and that's one of the traits that encouraged Williams to put its faith in him a few years ago. Speaking in Barcelona, he's in good spirits despite the slow start to the season and his work ethics is there for all to see. Such a difficult start to the year after promising performances in testing might have crushed the spirit of some drivers, but not Hulkenberg. For he sees plenty of positives in the season so far and still has the firm support of the team.
"It is a hit and of course people are disappointed, but we don't cry about it - we have to stand up and try and improve," he said. "We have seen the first four races and we know where we are.
"I've finished most of the races - not easy races - driven the car, gained the experience. I enjoy working with the team and having fun driving and being here but I'm just motivated and looking forward to the next races and hopefully improving myself and the team to get better results.
"Williams showed their faith in me by putting me in the car and so far they haven't complained! I still have a very good relationship, they are not giving me a hard time for the results I've had and I feel very comfortable in the team."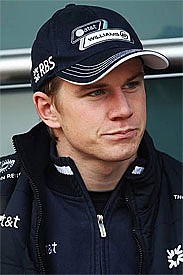 Nico Hulkenberg in China © Sutton
The prospects for this weekend don't point to an immediate turnaround. Williams has what might be termed a standard upgrade package - worth a tenth here or there - and its performance in Friday practice was nothing special. Hulkenberg's confidence won't have been helped by wiping out his nosecone by losing control on the throttle after running wide and spinning into the tyre barrier. With no reason to expect a boost in form, this might be another weekend that is most valuable in the memory banks.
"It's a circuit that is more familiar to me and I have a lot more experience here, but every team has this," says Hulkenberg. "Every team brings an update, so from that point of view it's going to be tough to catch up to the top guys.
"If we want to score points here, we need luck on our side and for everything to go right. We need a good race with no mistakes and good strategy - then it could be possible to score points."
As for the rest of the season, Hulkenberg needs to close the qualifying gap to Barrichello having been over half a second off in the three dry qualifying sessions held to date. But for those who doubt the German's promise, his fifth on the grid in the wet qualifying for the Malaysian Grand Prix stands as a glimpse of what he might be able to achieve on a more regular basis in the future.
It took him a few races to get on top of GP2 machinery in the main series last year and he also took a while to crack F3 after starting out on a tight budget in the German series in 2006. A similar pattern might just emerge in F1 this year.
It's been a tough start for Hulkenberg, but F1 is tough. And anyone who has paid attention to his junior career knows that he is up to the challenge.