Since the launch of the Lotus team this winter, technical director Mike Gascoyne has been saying 'wait for Barcelona.' The Spanish GP is traditionally when every team brings a major step, and for this year's three newcomers - all of whom faced a huge challenge in just getting through the opening four races - it was always going to be the first real opportunity to make use of the knowledge they gained.
But by putting so much emphasis on the mods planned for this weekend, Gascoyne has very much put his team in the spotlight. That doesn't seem to concern him.
"Yes, it puts more pressure on," he acknowledges. "But one of the things we said to Tony [Fernandes] when he agreed to fund the team and we've done everything we said we were going to do, and this is now the next step of that. I'm pretty confident that we've done the next step of what we said we were going to do, so I'm fairly relaxed about it."
Mike Gascoyne © Sutton
Like Virgin and HRT, Lotus obviously has a lot of scope to make progress, since there's a huge time gap to be closed. But despite the lack of pace, the team did prove a point in the opening races, looking like a professional outfit and logging some valuable finishes.
In China, Heikki Kovalainen briefly ran sixth after staying out on slicks, and while he couldn't hold back the tide of quicker cars, it was fun while it lasted.
"It was sort of what we expected," says Gascoyne of the season so far. "I'm disappointed that we had the reliability issues, because that's what we pride ourselves on, although it wasn't our parts. The hydraulics were done by Xtrac. We're getting to the bottom of it, but certainly the system didn't operate as it should do from their design. We've done a lot of rig testing there, made some suggestions, we have some bespoke parts, so we're getting there.
"The drivers haven't made any mistakes. Heikki running sixth in China shows that the pit wall is making the right calls, and two cars nearly to the flag in the first race was a hell of an achievement from nowhere. I think we very professionally did what we set out to do. I'm very pleased with where the team is."
In the end the only thing that counts is the timing screen, and Lotus has a huge deficit to make up if it is to get close to challenging the stragglers among the existing teams. This weekend's package is fairly comprehensive, as Gascoyne explains.
"New front wing, new diffuser, new sidepod inlets, new turning vanes, new brake ducts front and rear. There was going to be a new rear wing, but that's going to be Turkey, because we couldn't get it all done in time. We had our first seven post rig test, so obviously a lot of information from that. We did a full K&C test [kinematics and compliance] and identified several areas we know we can improve. Everything was done in such a short space of time.
"Now we've got all that data we can just push things more. For instance, for the first four races we had to run big brake ducts, because you didn't know what trouble you were going to be in with the fuel load etc. Now we've got much, much smaller ones.
"It would be no good having them in Bahrain and having two cars in the wall because the brakes wore out. So we took the view that we'll get the results by finishing in the first four races. And we're 10th in the championship, because that's what we did. End of story."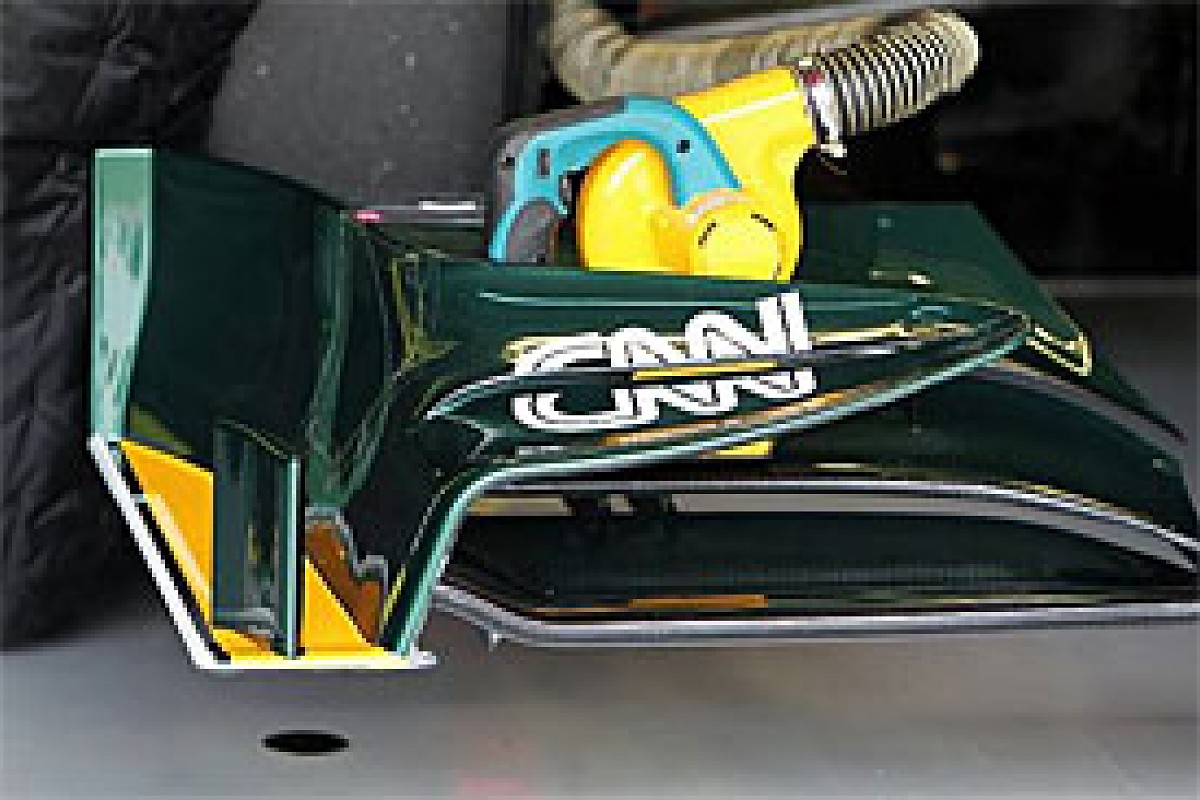 New Lotus front wing in Spain © Sutton
Although it was hard to draw too many conclusions on Friday morning, he's convinced that there will be a big leap: "Every team will talk about their package here, and every team will bring something that's worth two or three tenths, and they'll all move up. We think it's going to be about a second and a half. It's a second in aero. The other stuff is more difficult to quantify, but we think it's going to be pretty significant."
All three new teams have a benchmark in the form of Williams, without whom it would be much harder to judge the true potential of the Cosworth V8.
"I think we know where the engine is, and we know it's not our problem at the moment. Yes it's helpful to have Williams there. Let's see how close we can get to them this weekend! I think at the end of the day if we finish the season less than a second away from Williams, as a new team, you'd say that we'd done quite a good job.
"Cosworth have done a good job. Their initial performance is good, reliability hasn't been bad. The engine degradation is probably a little bit worse that expected, but they're working on that. We need to push them, and they are pushing, but we're happy with where they are."
The frustration for Gascoune and the rest of the team is that many of this weekend's updates have been in the pipeline for some time. Was it frustrating having to wait for those gains to reach the track?
"It will take time. We still need to get weight off the car, move the weight distribution forward. It has been frustrating in some ways, in other ways it's quite comforting. We're sitting there thinking we've done a sort of sensible job and we know we're not going to be back here for long, we know we're going to take a step.
"I think we always said we wanted to end the season at the back of the pack. The difference with what we've got now is that hopefully, we're not going to be racing the people behind. We won't qualify any differently, because we're in that hole, there's a two second gap. Even if you do make up one and half seconds, you are still in the same grid position.
"But you're now racing the people in front, not the people behind. At the moment if we get in front of people, they just drive past us. When you're closer, they can't do that, and you can defend. So if you do make up some places, you can race there. That's what we want to do for the rest of the season.
"Things are just coming through now. The logistics of the first four races meant that you just had to go and put up with it. Now it'll be rapid development. But we've also got to look at next year. There's an element that says if you can cement 10th place, and you're never going to get ninth, put all your effort into next year. With the rules changes, that's when you can make a step."
There's a lot of logic in that approach, but backing off on 2010 might not sit too well with the drivers. Jarno Trulli and Heikki Kovalainen knew that this was going to be a tough baptism, and the start of a longer term project, but things have been harder than either of them expected.
"I think they both knew that and understood it. I think the frustration for Jarno is not being able to get stuck into the races and get on with it and get a decent finish. For any racing driver, that's going to piss you off. It does seem that he's had all the bad luck going, and we need to put that right such that he enjoys his racing. I think they can put up with where the car is, but when the race starts, they want to have a car to go racing with.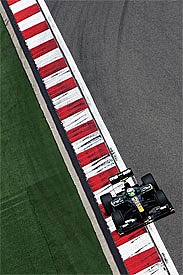 Heikki Kovalainen, Lotus, Chinese GP © Sutton
"Heikki takes a very long term view of it. I think he's revelling in the freedom of the team, I think he enjoys it here, he enjoys working with the people. Jarno is obviously older, he's at a different stage of his career. The team has to give Jarno the car to keep him interested.
"If we get a car that is maybe half a second off someone, Jarno is the sort of driver who can actually do something he shouldn't really do. If anyone can nick a place and get you into Q2 with a car that shouldn't really get there, he's the driver who can do that. I want to give him a car where he can do that, and then I think you'll see Jarno perk up."
Next stop after Spain is of course Monaco, a race where anything can happen and where all of the new teams can realistically target a top 10 finish if they can have a clean run. It's also the first track we'll go this year to where Lotus comes face to face with its history.
Meanwhile the world is getting used to the idea that the name is back. Revivals of famous brands haven't always been accepted, but the new team seems already to have garnered respect from all corners.

"I think the initial scepticism about us just using the name and all of that has gone away a little bit. I think people see we are doing a good job. The Chapman family are very supportive, links with the factory are getting closer. Also we are being seen as doing a good, professional engineering job, and that's what Lotus was about."
"We're not the old Lotus, we're the new Lotus. But the biggest thing is that all the old drivers, like Mario and Emerson, are really keen to see it come back and do well. That's been really heart warming. If those guys want it to come back, then it's right that it comes back."