As the first 'old world' venue to welcome Formula 1 in 2010, there's something reassuringly permanent about the Circuit de Catalunya. Aesthetically, it has the look of a late-20th century European circuit and its no-frills functionality is a refreshing counterpoint to the Shanghai International Circuit that hosted F1 three weeks ago.
You don't see the Spanish littering motorhomes around an archipelago that requires a map to navigate and a canoe to find the quickest route from A to B. There was a bigger crowd in the main grandstand today too - and this is on a Thursday! Spain might be the nouveau riche of European grand prix racing, but the enthusiasm is very genuine, especially coming off the back of a Chinese Grand Prix that few in the host country seemed to care about.
The Circuit de Catalunya has been a fixture on the F1 calendar since 1991, the year that Nigel Mansell and Ayrton Senna waged their wheel-banging, sparks flying scrap on the start/finish straight. Despite a reputation for the paucity of on-track action that is well-deserved based on the evidence of the 19 F1 races that have been staged here, it's a great place to watch F1 cars.
The track is relatively compact - certainly more so than it appears on television - and undulates in a way that, while not exactly matching the Nurburgring, makes the cars even more spectacular. The run up to the fifth-gear right-hander at Campsa is steep, and the cars plunge back down to start/finish straight level in the final three corners.
It's a genuine driver challenge, something that is often overlooked by the drivers jaded by pounding round for tens of thousands of miles in testing (at least those who have been around long enough to remember in-season running away from grands prix). Turn 3, for example, is a classic on-the-borderline flat out corner in qualifying, although the placement of the left-right Turn 14/15 combination before what used to be an awesome final corner has eroded a little of the track's driver challenge cache.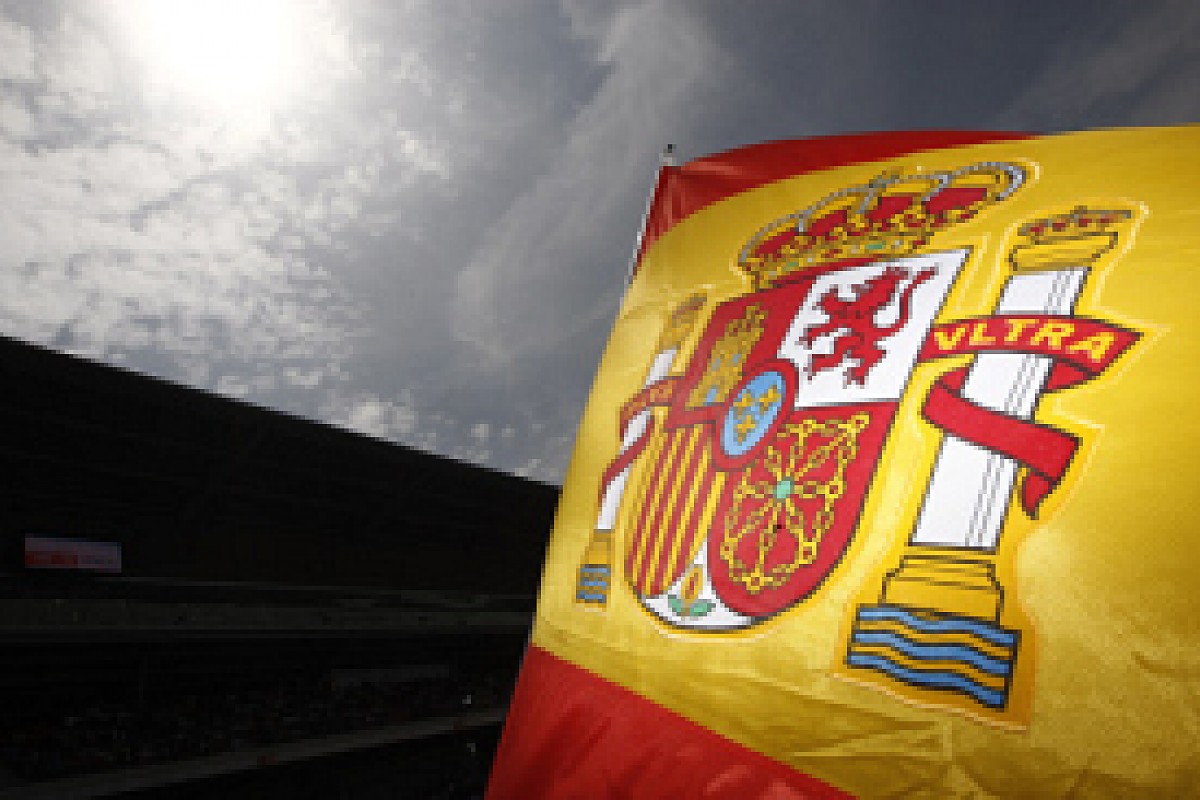 Fernando Alonso has played no small part in F1's boom in Spain © LAT
Spain is a relative latecomer to F1 in terms of mass appeal, despite holding a grand prix as long ago as 1913 (that's before even six-time Spanish GP winner Michael Schumacher started racing), but the rise of Fernando Alonso over the past decade has created a strong following; a following desperate for more success after two disappointing years during which Alonso's highlight on home soil was a fuel load-assisted front row start in 2008.
Pedro de la Rosa, 39, and Jaime Alguersuari, 20, posed together after the Thursday afternoon press conference like a proud father and son, but they are mere support players. This is not the Spanish Grand Prix, it's the Fernando Alonso roadshow - why else would a merchandising stand claiming to offer a wide range of F1 gear offer a selection of caps, shirts and oddments from Ferrari, Ferrari and... Ferrari. Scuderia Toro Rosso and Sauber gear is somewhat harder to come by.
Unfortunately for Spain, a first victory for Alonso on home soil since 2006 is far from a foregone conclusion. There's a good reason why Barcelona is such a popular test venue for F1, besides the good weather, because it's arguably the most aerodynamic-dependent track on the calendar. And where aerodynamics are God, Adrian Newey is the Pope - good news for Red Bull, provided there is no divine intervention when it comes to weather on race day.
Fortunately, there's half a chance of some precipitation during practice and, possibly, qualifying. This would likely mix up the grid a little and produce a dramatic race. Then again, most of the home crowd would be delighted if Alonso could duplicate his triumph in the Boring - sorry, Bahrain - Grand Prix. Appropriate really, as it might need a problem for Sebastian Vettel and Red Bull for him to notch up a second triumph of the year.
But you never know. Alonso is a Spanish hero, so why not a little (Red) Bull fighting? Although this time, it seems the odds are stacked in the Bull's favour.