This was one of Mansell's greatest. A race he had to win, a race he did win. Nigel goes to Japan with a thread of hope for the world championship, and must trust that at Suzuka Senna's fortunes go as in Spain.
Building site racing strikes again! After the mud hills and bulldozers of Estoril, the Formula 1 circus raced across the Iberian Peninsula and set up shop to the north of Barcelona. It is a city in the midst of massive reconstruction, in preparation for the Olympic Games next year.
Everywhere there are new roads being laid, buildings rising from wasteland. The impressive Olympic Stadium is already completed, everything else is rushing to catch up.
From the air, as you fly in, you can see the work in every part of the city and, away to the north, in the valley which disappears across the horizon to the French border, you can see another massive earthwork - Montmelo, the Circuit de Catalunya.
The valley is one of Europe's great strategic alleys. It was down between these very hills that Napoleon marched his armies to invade Spain. Today the valley of the Rio Congrost is a rush of old roads, new roads, motorways and railways, linking Spain with the rest of Europe. In this valley industry has sprung up. It is not exactly a natural game park, but it was here that the Royal Automobile Club of Catalunya decided to build its new circuit, to replace the once-great Montjuich Park.
The Spanish Grand Prix has spent the last 15 years in exile at Jarama and Jerez, but with Montmelo it has returned to its spiritual home, where there are real crowds and an enthusiasm for the sport. And now the fans have a temple of motorsport to visit.

A great temple it certainly is, for the design of the track is good. Perhaps, in a few years, they will call it great - for a modern circuit. It makes the drivers work, brings talent to the fore. The problem is that it isn't quite finished yet.
That's no great criticism, for the work will be done, but the circuit wasn't quite ready for this year. On the Wednesday before the race there were fearful storms all across the Barcelona region. The city stopped dead and up at Montmelo, the water and the mud mixed and poured. It was not a very optimistic moment.
On Thursday, however, the sun came out and began to dry the land. Ditches were dug and odd cleaning machines took to the track, their brushes dispersing the mud. In a few months there will be grass everywhere, but mud and rain do not a good combination make.
Despite all this, the F1 teams wheeled out their million-dollar toys on Thursday and the valley reverberated to the sound of grand prix's finest music - its engines. It was meaningless, of course, for the cars were merely cleaning the track, but it was symbolic. F1 has found a home in Barcelona. It is here to stay.
Practice and qualifying
Thursday gave Michael Schumacher the chance for a new moment of glory. The young German, used these days to being the sensation of the moment, was fastest in the first of the two sessions. In the second Nigel Mansell was back on top. It was business as usual. With, perhaps, one exception. Pirelli tyres looked good again, after a string of disastrous races when nothing seemed to go right for the Italian tyre-maker.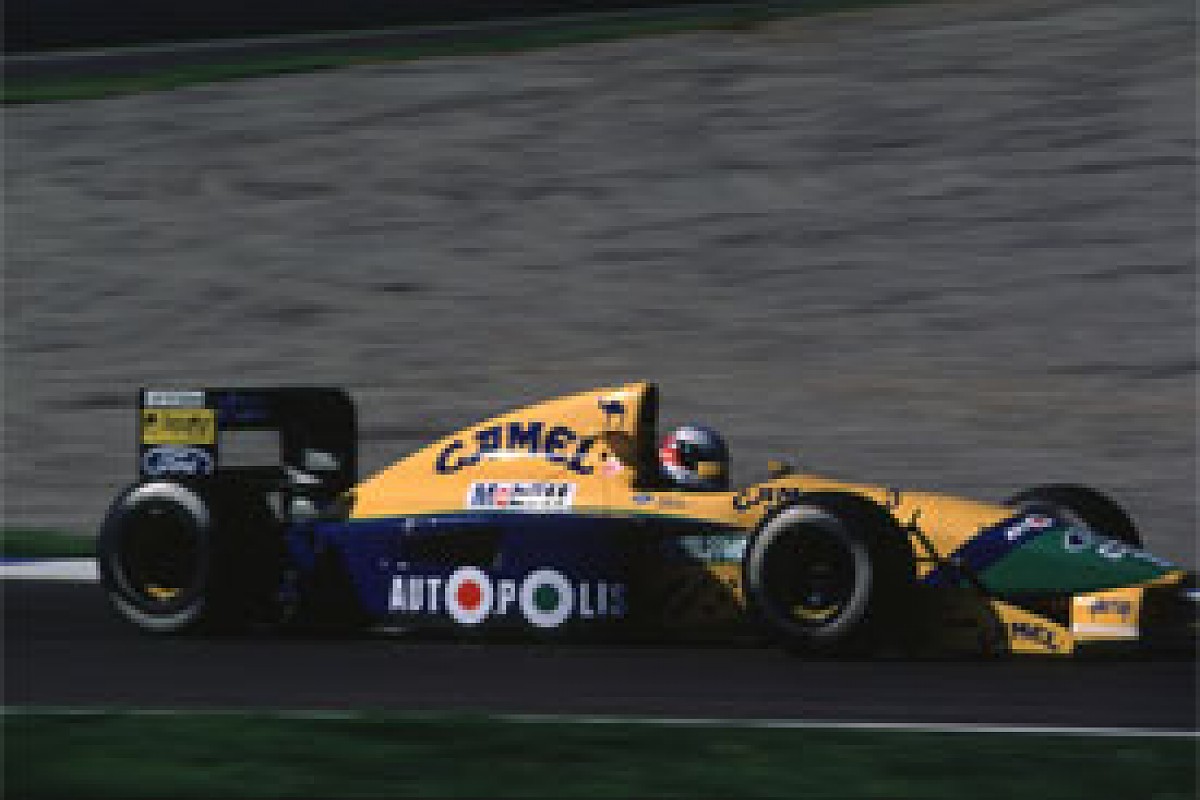 Michael Schumacher, Benetton B191 Ford © LAT
But up front on Thursday, when all was said and done, were Mansell and Ayrton Senna - the World Championship challengers. It was as it should be. Schumacher was third, but at the expense of a Benetton chassis, which will not be seen racing again, for the German had a huge shunt in his moment of glory.
Friday was when the real, serious, business began. Not perhaps in pre-qualifying, which was its usual dull self. The Brabhams made it (and so they should) as did Gabriele Tarquini (in a Fondmetal, not an AGS) and Michele Alboreto. Alex Caffi did a good job this time, but missed out. But pre-qualifying is merely the overture for the real opera of the full F1 field.
It was misty when the cars came out, but the pattern of the session was similar to many others in recent months: it was McLaren Honda versus Williams-Renault. Mansell was fastest with Gerhard Berger next up, ahead of Riccardo Patrese and Senna. Many drivers complained that they had been shown a red flag, but this was put down to local over-enthusiasm.
It didn't really matter, of course, as morning sessions count for nothing but pride. It is the 60 minutes in the afternoon that are important. They were awaited with excitement.
Things began slowly, as is often the case, with the Pirelli runners out on the track, with more runs available than the Goodyear men. Schumacher was fastest and it was something of a shock when Jean Alesi came out in his Ferrari and did not beat the German, Somehow Ferrari is such a legendary name that you expect results.
Senna was the first of the Big Four to venture out but he was way off the pace - almost 1.5s shy of Schumacher. Could the impossible happen?
A few moments later Patrese laid to rest that idea with a lap a couple of tenths under Schumacher's best. Berger and Mansell, however, failed to beat the German.

With 15 minutes to go the second runs began. Mansell was first to try and, despite his Williams smoking badly for most of his lap, he went quickest. The first man into the 1m18s.
"The engine started to lose its oil," explained Nigel. "In the last three corners it was spilling onto my own tyres. I am confident I can go quicker and obviously happy, and relieved, to have finished the lap."
Berger tried again, but it was good only for second. With just ten minutes to go it was all eyes on Senna as he went for it on his second set, but this was not even a lap which registered on Ayrton's Richter Scale of Impressive Achievement. It was fifth fastest. Something was clearly wrong. Very wrong.
Next it was the turn of Patrese to try, but he could only take third. In normal circumstances it would all be over, but, with the super-slippery track, Goodyear runners had the chance of a third run, on 'mixed' used qualifiers.
Berger, Senna, Alain Prost and Alesi all went for a third run. Gerhard took provisional pole on his run.
"The car was fine," commented the Austrian. "Now that the track has some rubber on it, there is more grip and it is more enjoyable to drive. My engine was strong but I over-revved it on the first run and after that I lost some power."
Whatever the case, Gerhard had pole. The others were out to topple him. One by one they failed. Senna slid horribly. "I changed cars," explained the Brazilian. "And I really wanted to use a mixed set of used tyres, but due to a misunderstanding the team fitted my original set. I really don't know if I could have equalled Gerhard's time. I lacked a little bit of commitment."
The chequered flag fell and Gerhard was fastest - and delighted to have beaten his team-mate.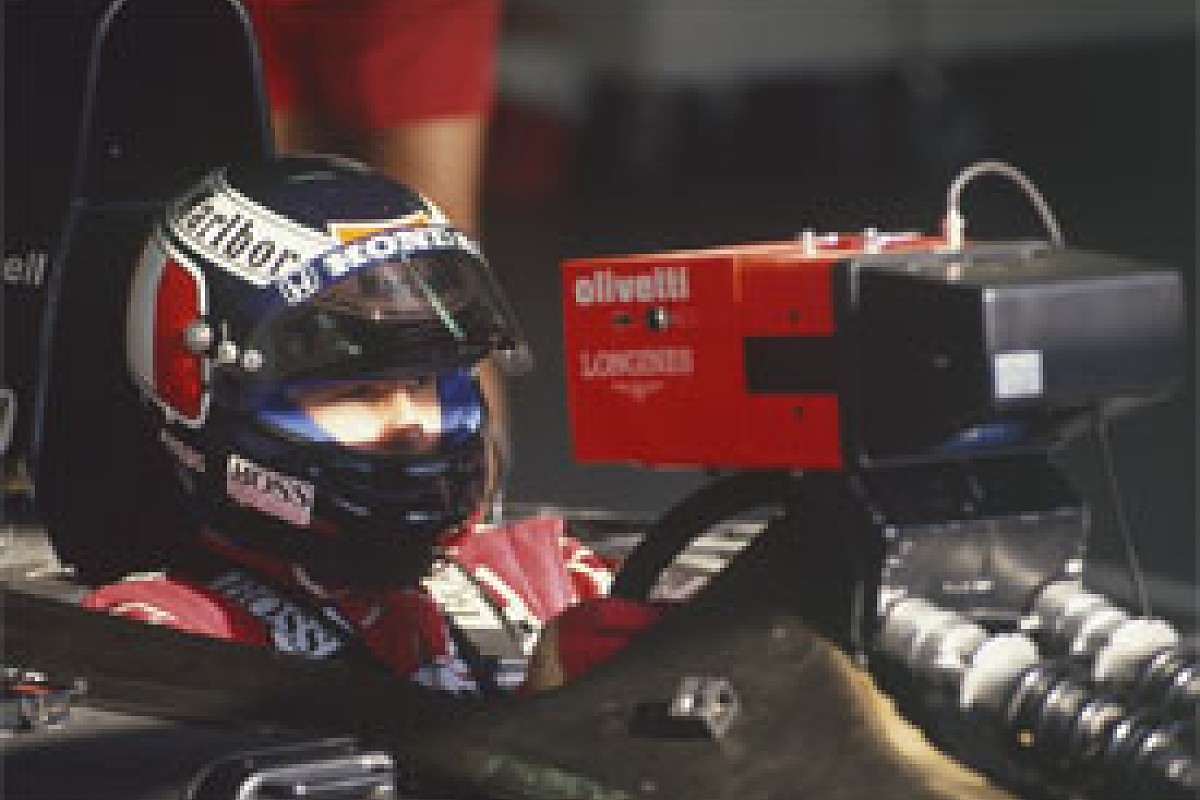 Pole-sitter Gerhard Berger studies the times © LAT
Mansell was second with Senna third and Patrese fourth. Schumacher was a remarkable fifth, followed by the two Ferraris, Stefano Modena's Tyrrell and Nelson Piquet's Benetton.
Down through the paddock everyone had the same thought. It had been a scrappy qualifying. If the weather was good, Saturday would be different.
Saturday morning was cool and overcast with a fresh breeze blowing down the main straight. The track ought to be better, no doubt about it, but the wind might cause problems. Mansell was quickest from Senna and Berger. The conditions made little difference, while Patrese was way down the order, having suffered gearbox failure.

Mansell might have been quickest, but he had problems. On Friday night he had taken part in a football match and had sprained his left ankle badly. He was limping about.
"The track was very slippery," admitted Nigel. "But we will be using our qualifiers better this afternoon."
The weather had barely improved as the cars took to the track for final qualifying. There were a few early improvements in the midfield, but the front-runners found it hard to break through. Mansell and Senna both tried but there was no improvement, and so the pattern remained.
After 32 minutes Senna set out on his second set of qualifiers. Coming down the hill, into the hairpin, there was a puff of smoke. Seconds later his engine blew mightily, coating the track with oil. Five minutes later there was a red flag. The rescue car, on a tour of the track, nearly spun. It was very slippery. But not everyone agreed.
"To stop the session for one car and one team when there was just a bit of oil on one corner and the car was stopped in a safe place," said Mansell, "is wrong." The marshals, keen to do well, put down far too much cement dust. "The rest of the session," said Mansell, "was a waste of time."
And so it was. People emerged from the pits for a warming-up lap and went straight back into the pits. There would be no improvements. So the grid was set. Gerhard Berger had pole position.
"I think the track was quicker today," said Gerhard. "But in the first half of the session no-one went out. Everyone was waiting until the end when the rubber would go down and it would be quicker. Then Ayrton dropped some oil and it was clear that the track would be slower."
Others did not agree.
"I/m not happy with the situation we had in practice yesterday and today," said Patrese. "Yesterday there was a misunderstanding with flags and today the track was slower. I think they could have tried to clean it overnight. When they put down the cement on the oil left by Senna I think it would have been better to do nothing. What they did meant we carried the cement dust over the rest of the circuit and all the grip was gone."
Whatever the case, Berger had pole with Mansell alongside, Senna third and Patrese fourth. Schumacher was fifth, having failed to better his Friday time, and Prost was sixth, having shaved a few tenths from his time.
There were some notable improvements, not least from Ivan Capelli and Emanuele Pirro who moved up to eighth and ninth on the grid before Senna's engine blow-up.
All in all, the feeling was that, despite Berger's fine effort on Friday, his pole had been a fortunate one, won as others had made mistakes or been handicapped by conditions.
It had not been a very satisfying qualifying, for the fight for pole position had not been clear-cut, nor particularly exciting. That was a shame, for the circuit offered the potential for a far greater battle than was actually seen.
The race, clearly, was going to be dictated by tyre choice. Unless the weather intervened.
How did Gerhard feel about the start, with Mansell alongside him? "We all have to move onto the grass," he joked, mindful perhaps of Nigel's forceful getaway in Portugal a week beforehand.
Race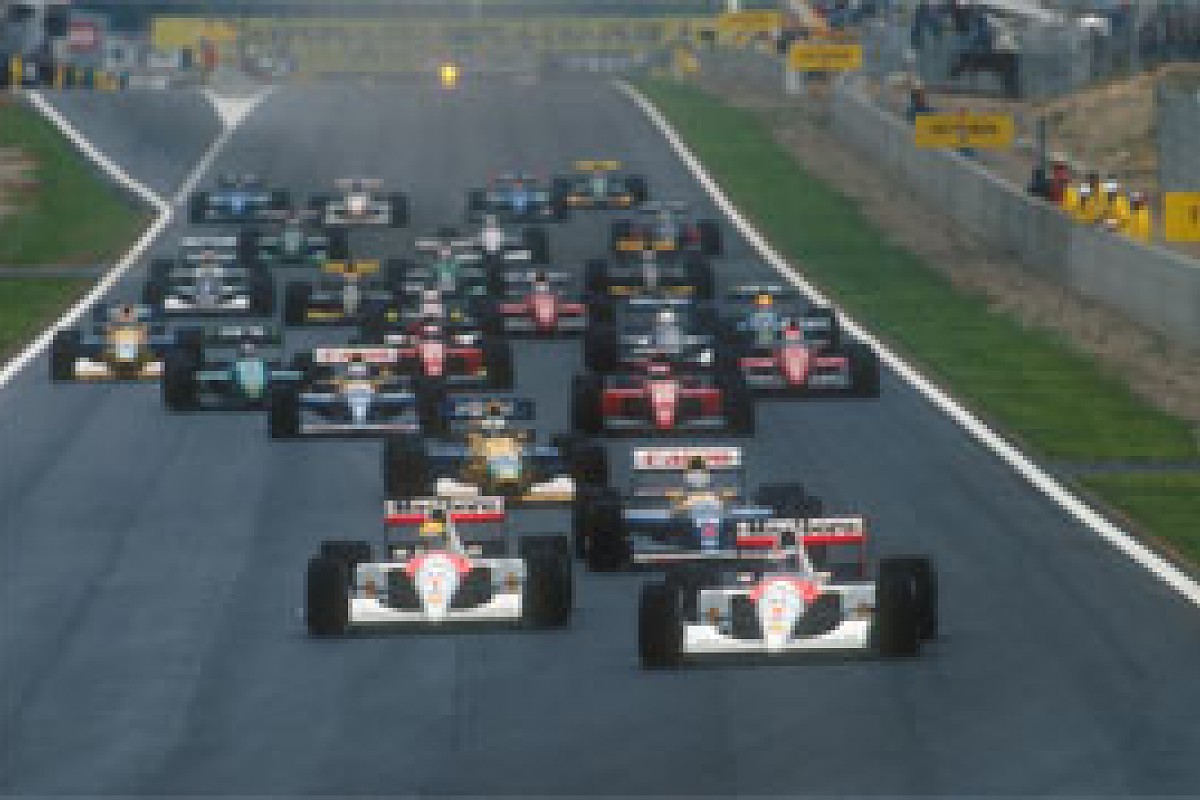 The start of the first grand prix at Barcelona © LAT
The dark clouds matched the mood of race morning. As we considered prospects for the Spanish Grand Prix, there was some sense of foreboding in the air. At mid-morning, folk emerged from the drivers' meeting wide-eyed, a little stunned at what they had recently seen and heard.
"If the race is anything like that," one team manager said, "make sure you find somewhere very safe to watch from - and make it a long way from the track."
It had been, by any standards, an acrimonious gathering - indeed, before it so much as began, there were words between Mansell and Berger. But it reached real unpleasantness as the FISA president made reference to the first corner incident at Estoril. If there were examples of similar driving today, he warned, those responsible would be penalised. He was mentioning no names, but...
Mansell spoke up at this point. Jean-Marie Balestre was clearly referring to him, but why, he wanted to know, were these matters always raised when he was supposedly in the wrong, but never when it was something questionable by Senna?
The world champion was on his feet like a jack rabbit. If that was the game, then FISA should study all the races from the last couple of years, which would show that Mansell had been involved in many more 'incidents' than had he, Senna. Then he loudly compared Nigel with a large quantity of used food. Unfavourably.
The same term of abuse was later used by Nelson Piquet. He had been listening to it for years, he said, from FISA, who promised all kind of safety changes, then forgot about them. Clearly, he suggested, someone had to get killed before anything would be done. Balestre did his best to placate Piquet, without success. After more unsavoury discussions from a variety of sources, the meeting finally broke up in disarray.
"It was pathetic," the team manager said. "A kindergarten full of millionaires." And it prompted again the thought that hype has its price, that where there's money, there's muck.
The foreboding came from another though: that these people, in this frame of mind, were going to race each other in the afternoon.
Earlier on, the warm-up session had been somewhat inconclusive, save that Mansell was fastest, which surprised no-one. But where Friday had been hot, and Saturday warm, Sunday was damp, and the drivers were finding out about the Circuito de Catalunya in slippery conditions. Times were going on half a minute longer than in the qualifying sessions.
Piquet's Benetton followed Mansell, then Berger's McLaren, and then, remarkably, Comas' Ligier. He may have been starting from the back row of the grid, but Erik thought his car wonderful on the greasy surface: "The balance of the car is usually nice. What it lacks is power and grip - but when the track's like this, that doesn't matter so much. I hope it stays wet."
It did. As they assembled on the grid, the cars wore wet tyres, and the stewards formally declared it a wet race. And, in the cockpit of his Ferrari, Prost was fuming. "I wanted to start on slicks, because the rain had virtually stopped, and I felt I had to try something different to have any chance of winning this race. But this was within five minutes of the start of the race, and they" (a term of blanket condemnation for Ferrari personnel) "told me it was too late to change."
Green light. Berger took off well from pole position, and the opening seconds were not good for Mansell, as he was out-dragged by Senna down to the first corner. More than that, he was overtaken by Schumacher, whose Pirellis were already working wonderfully.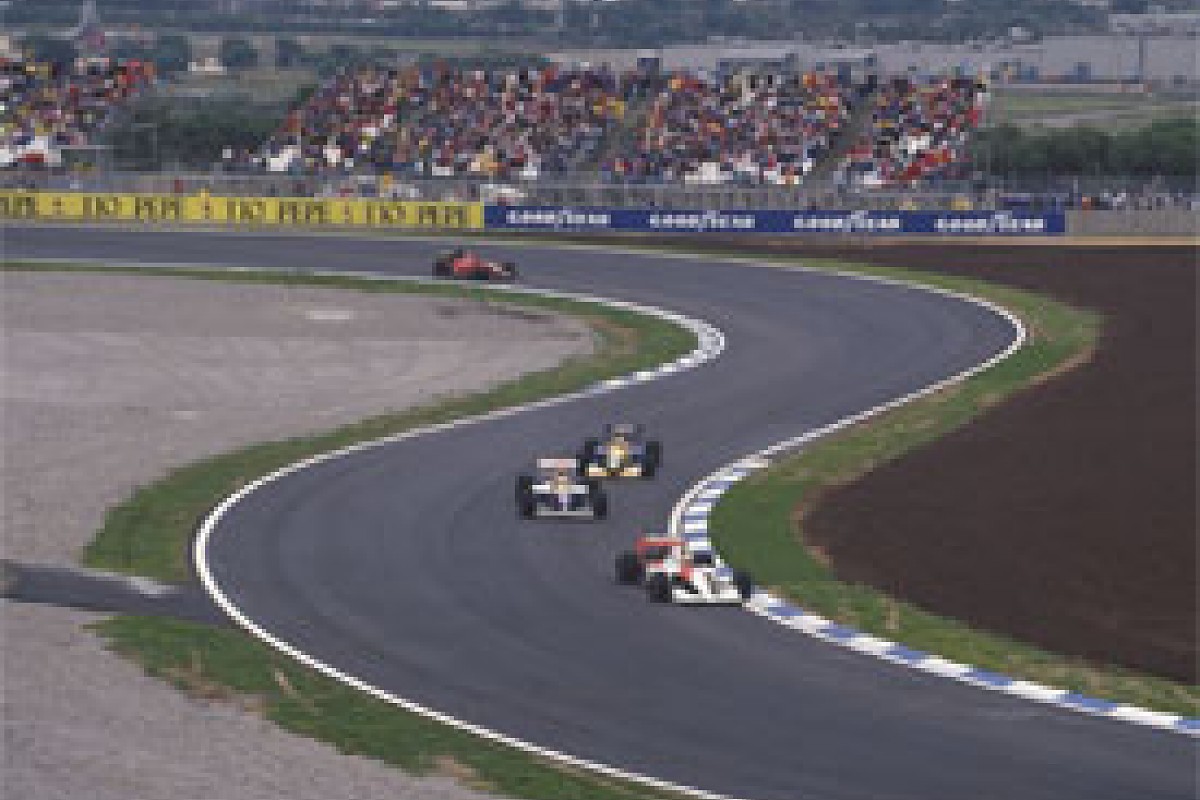 Ayrton Senna, McLaren MP4-6 Honda; battles with Nigel Mansell, Williams FW14 Renault; and Michael Schumacher, Benetton B191 Ford; battle for position © LAT
"I didn't make a great start," Nigel admitted. "Perhaps because I was on the right of the grid, which was the dirtier side of the track. I tried to dive inside Senna at one point and...well, let's just say the track moved. Then Schumacher decided to dive in front of me! I thought, this is going to be a real fun day.
"The thing is, I can trust a lot of people, but I don't know Schumacher's driving that well yet, so I didn't fight him, particularly as my tyres weren't fully up to temperature."
On lap two Schumacher tried to get by Berger for the lead, but spun in the attempt, falling to fourth place. And Mansell moved up to the tail of Senna's McLaren, so that everyone looked on with apprehension.
Somehow, even at this early stage, Senna looked vulnerable this day. Berger had left him behind, and was away into a race of his own, which is not standard procedure in the McLaren scheme of things.
For two laps Mansell hounded Senna, clearly quicker but unable to find a way through. Then, at the end of lap four, he came out of the final corner buried under the McLaren's wing for the long pit straight. He was out from behind early, got alongside Ayrton, then seemed to freeze there.
Absolutely flat out, the two cars approached the first turn, side by side, with very little daylight between them. In light of their conversation that morning, the moment was scary, but in the end each man had sense enough to avoid intimidatory tactics. When they got to the braking point, Nigel was on the inside, and claimed the corner. That was Senna dispensed with: now he set out after Berger.
Gerhard, though, was nine seconds up the road, which was now drying rapidly, so that everyone would soon need a change to slicks. Prost, indeed, had been in as early as lap three.
"It seemed the right thing to do," he said. "I'd wanted to start on slicks, after all, and then I was held up at the start. Jean made a good start - maybe too good - and I had to back off when he came across in front of me. Five or six cars overtook me, and I was way back, so there was nothing to lose by coming in."
After his stop, Prost fell briefly to 19th place, but immediately began to go very fast indeed. "The only problem was that I rejoined in the middle of a lot of traffic, going slowly on rain tyres, and that lost me a lot of time."
Still, it was obviously the smart thing to do, and at the end of lap eight Berger came in. At 16s, it was a very slow stop, but perhaps not too disastrous, for soon the other front-runners would change, too.
After being passed by Mansell, Senna did not immediately fall away, but stayed close to the Williams. At the end of lap nine, both cars came in, nose-to-tail, Mansell first. When they came out, their positions were reversed, and again the comparative weakness of the Williams wheel change was exposed.
"It was a bit frustrating, of course, because I'd got past Senna once and now I had to do it again," Nigel shrugged afterwards. "But it didn't worry me too much. I just thought, 'we've had a great pit stop, I've come out of the pits with all four wheels!'
"In fact," he went on, "I had a lot of sympathy for the boys today. There was a lot of pressure on them, after what happened at Estoril..."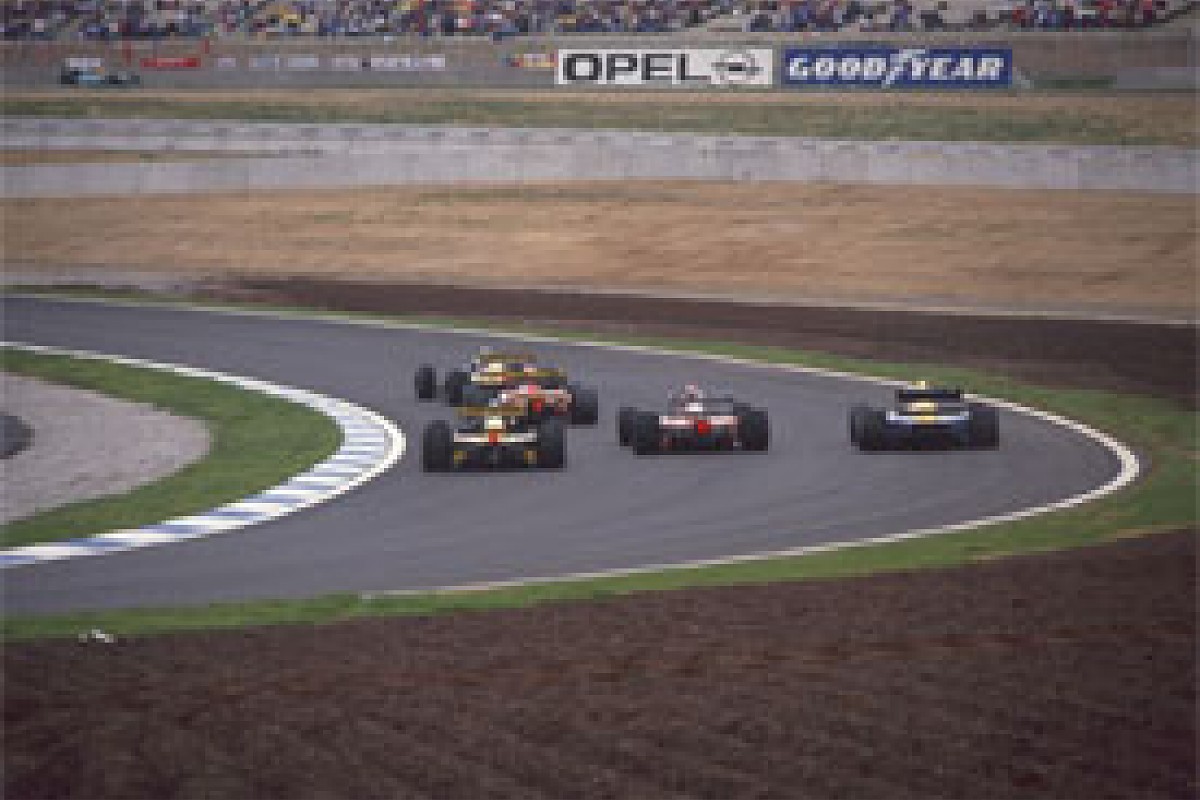 Action at the back of the field © LAT
Lap 10: Patrese in, having led momentarily, and also Alesi. When the leading stops were all done, it was Senna in the lead, followed by Berger, a swiftly closing Mansell, Prost, Schumacher, Piquet, Martin Brundle, Alesi, Patrese, Andrea de Cesaris and Mark Blundell. And now, with everyone of consequence on slicks, it began to rain lightly again.
As it did so, Berger passed Senna for the lead once more. Mansell had been moving closer to the McLarens, and quite evidently Senna was holding up Berger.
To put the world championship effectively under lock and key, Senna needed Mansell not to win, remember, and his best hope in this regard was that his team-mate could take the 10 points. Berger went through, therefore, and clearly Senna's intention was to keep Mansell back for as long as possible, allowing Gerhard to get away.

The plan failed absolutely. At the end of lap 13 we beheld the novel sight of Senna in a wild spin.
"I'll admit that I began to smile," Mansell related. "When I saw him go into the corner off line - but then he began to spin, and I didn't know which way he was going to come back. Fortunately, I guessed right."
Oh, the indignity of it all. On changing from wets to slicks, every Goodyear runner chose Ds all round, save Senna, who went against the tyre company's advice, played it more conservatively, and took the harder Cs on the left.
"On the slippery surface," Ayrton said, "I was struggling for grip, because the left hand tyres were too hard..." It was his choice.
By lap 16 Mansell was right with Berger, and trying to go by into the first turn, as with Senna earlier in the race. But Gerhard was in doughty form at Barcelona and looking more closely at a win than for a long time. In the braking area, Nigel decided that he needed to be closer, and dropped in behind the McLaren, content to stalk patiently for a little longer.
Both Williams-Renaults had gone to the grid with 'dry' suspension settings, but Gurney flaps on the wings were a concession to the uncertain elements, and when the track was slippery Berger found himself unable to run at Mansell's pace. On lap 21, the lead changed, and quite luridly.

"We both dived very deep into the corner," Nigel said. "And we both got a bit out of shape and lost traction. It was pretty close, actually, but we just missed making contact."
Now he seemed home free. As the track dried out, Berger's car came back into its own, but Mansell was able to maintain a lead of around 3s, and Gerhard was glad to be free of the menace of Schumacher, who had climbed again to third, tried to pass the McLaren, then spun once more. At which point the irrepressible young man spat on his hands and started all over again. It was, he grinned later, "good experience."
Lap 29 and Alesi was in the pits, and not for any mechanical reason. The stewards had taken exception to his weaving away from the grid, and decided on a 10s stop-go penalty. Jean then took the Ferrari down the length of the pitlane at some unimaginable speed, having dropped from fifth to ninth. There was great anger in his driving from now on, but anger channelled into something constructive. The remainder of his Spanish Grand Prix was brilliant.
Berger, sadly, was out on lap 33. A disappointed but satisfied man, a driver back from the wilderness. "My engine started to lose a bit of power, then went onto nine or 10 cylinders. In the dry, I felt I had a shot at Mansell, but we'll never know. A pity." Why, Gerhard must wonder, do his Hondas fail in the race, where Ayrton's seem only to disgrace themselves in practice?
Mansell was now left with a 15s lead over Prost, with Senna a distant third, Patrese a closing fourth, Alesi a charging fifth, Schumacher an undaunted sixth. Could Prost close on Mansell at all? For a few laps he did, but Nigel was able to respond.

"The car went quite well," Alain commented. "But not all the time. The balance kept coming and going, and towards the end of the race the car began porpoising, which it has always done as the fuel load gets light. My water temperature was also very high, and I lost some power. That, together with the fact that I ran more wing in the uncertain weather conditions, meant I was very slow on the straight. I wish I'd kept to 'dry' settings, I must say, but even so I couldn't have caught Nigel."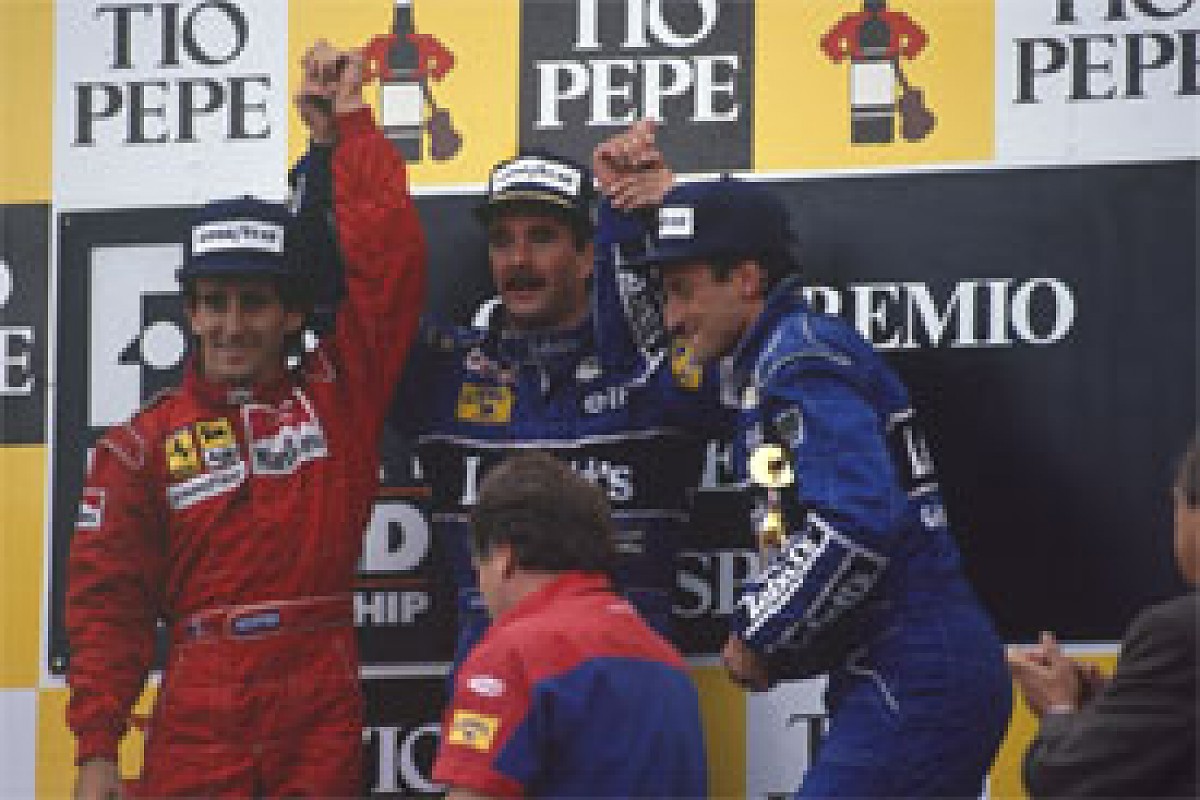 Alain Prost, Nigel Mansell, and Riccardo Patrese on the podium © LAT
In the late stages Prost was being caught by Patrese, who himself was coming under threat from Alesi. At the flag, though, they finished two-three-four in that order, with Senna a yonderly fifth and Schumacher sixth. Eleven seconds clear at the front, though, was Mansell, winning his fifth race of the year.

There were plenty of hard luck stories at Barcelona. Brundle drove the wheels off his Brabham-Yamaha (metaphorically this time), running as high as sixth on occasion, but falling back towards the end as his engine repeatedly cut out. The same problem eliminated Comas, quite brilliant in the Ligier, when the track was at its most treacherous, but perhaps the longest faces were in the Minardi pits.
Only three laps remained when Gianni Morbidelli tried to put a move on Alessandro Zanardi, whose F1 debut for Jordan had been impressive. The cars touched, and the Minardi went off the road, rejoining it just in time to collect the sister car of Martini...
At the press conference Mansell again refused to say much about the world championship. He could only give it everything he had, he said, but a 16-point deficit was a lot to make up in two races. What was good, though, was that the battle was at least going to Suzuka, where these things are traditionally settled. And that, inevitably, would put pressure on McLaren and on Honda.
On Senna too. This was as close to a lacklustre performance as we have seen from him. When the Williams-Renault lasts, it usually beats the McLaren-Honda. Both cars lasted in Barcelona, and Ayrton has three weeks to think on that. And on the five points he still needs.