The Sunday Times Rich List, that vulgar but interesting approximation of how much money Britons or people living in the UK have, celebrated its 21st birthday this year - obviously a good reason to publish another solely surrounding sport, which duly appeared on Sunday. It is dominated by footballers and motor racing personalities.
Dave Whelan is the man they're all chasing, on £190m. Whelan, now 73, played for local club Blackburn Rovers in the 1960 FA Cup Final. That, however, wasn't the catalyst for a lucrative sporting career. Blackburn lost 3-0 to Wolves, Whelan broke his leg in the first half and after a lengthy recovery, was sold to Crewe Alexandra.
Eddie Irvine at the 2002 US GP © LAT
What he did, was spend his meagre compensation payout on Whelan's Discount Stores, which he ultimately sold to Ken Morrison for over a million, when that was a lot. Morrison's is now the fourth largest supermarket chain in the UK of course.
Whelan also bought a local sports and fishing store called JJ Bradbury before turning it into the UK's biggest sports retailer, JJB Sports. He also bought Wigan Athletic Football Club.
Some £65m in Whelan's wake is David Beckham (£125m), closely followed by the first of the wheel men, although, as the Earl of Bute, Ayrton Senna's former Lotus team mate Johnny Dumfries (£110m) is cheating a bit!
Boxer Lennox Lewis has £95m before, in fifth place, the first 'proper' racing driver, one Eddie Irvine (£80m).
Right from his FF1600 days you always figured that if Irv ever made any money out of motor racing he'd multiply it many times over. Buy-to-let mortgages were a mid 90s phenomenon but Irvine was at least 10 years ahead of the game and, seeing where the property market was going, had a whole string of mortgages when you were only supposed to have one.
He then drove for F1-style money in Japanese F3000 and was already doing very nicely by any normal standards when he came back to Europe to drive for Eddie Jordan in F1 at Suzuka in '93 and got himself punched by Ayrton Senna.
"Just wish he'd hit me properly and done some damage! Could see the dollar signs in front of my eyes!" Eddie joked at the time. Then there was Irvine's surprise move to Ferrari at the end of 1995, which all happened very swiftly after a deal between Jean Todt and Eddie Jordan. The story goes that Irvine, realising there was no doubt a 'transfer fee' involved, refused to sign the Ferrari contract and risked scuppering the whole deal until Jordan agreed to pay him 50%.
Four years at Ferrari swelled Irvine's bank account nicely and facilitated many shrewd property investments, as did Jaguar's willingness to pay handsomely for Eddie's driving and Ferrari know-how when the Big Cat came into the sport's highest echelon for its ill-starred attempt.
It all coincided with Jac Nasser's first year as CEO of the Jaguar-owning Ford Motor Company in Dearborn, Michigan. The Lebanese-born Australian had first joined the Blue Oval as an analyst in 1968. By the time he got his feet under the desk to do the 'big job' he was reputed to be a sharp cost-efficiency strategist. And so, looking down the roster of employees and their salaries, he allegedly gawped at a retainer significantly larger than his own, called in a flunkey and demanded to know, "who in the hell, is E. Irvine!"
Although Irvine has enjoyed the trappings of wealth, with helicopters, boats and jets, his has never been reckless expense. The boat is a proper steel-hulled one, 'not one of those depreciating plastic things', the plane had to make sense from a leasing point of view, and his many business interests were quoted at the weekend as including Jenkins Shipping, Chrishardzoe Developments, a property company, and the Eddie Irvine Sports Complex in Bangor.
It's no small affair, this. As well as an indoor karting arena it can boast six indoor Astroturf football pitches and a Force Dynamics virtual F1 simulator. As well as being shrewd, Irvine has a reputation for being careful with his money. I've no idea whether the story about him spending quarter of an hour re-arranging the silver paper inside the Kit-Kat wrapper before putting it back in the mini-bar is true, but I can tell you that the Eddie Irvine Sports BizKarts have all been converted to derive their 9bhp from LPG!
When I spend £3k converting a motorhome engine to LPG, obviously it runs too lean, lunches itself and costs me three times what I've saved in fuel, but you just know that Eddie's karts will still be running in the 22nd century. Life's not fair...
Twenty million behind Irv, it's all getting highly competitive. Not content with being the 1979 world champion, Jody Scheckter dwarfed his motor racing earnings with his FATS (Firearms Training Systems) business and now, on £60m, is well into project number three, his wide-ranging organic farming business. Speaking from experience, the Gourmet Kitchen sells his burgers, his mozarella's good and there's not much wrong with his beer!
David Richards is seventh, with £58m. The Prodrive boss has obviously heeded the warning that the only way to make a small fortune out of F1 is to start with a large one. The Rich List obviously suggests otherwise, but with tobacco companies no longer involved and cost caps not exactly coming through in quite the way that Max suggested, DR is holding off.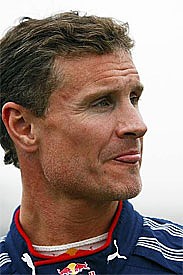 David Coulthard © Sutton
The highest point-scoring British driver of all time, David Coulthard, and he who won the most races, Nigel Mansell, tie for eighth place on £50m, some £7m clear of reigning champion Jenson Button, whose fortune is estimated at £43m. Button, in fact, heads the under 30s list, £3m clear of Michael Owen. Lewis Hamilton (£35m) is ranked third in that list, a couple of million ahead of Wayne Rooney. After that, unless you're Andy Murray, to feature high on that list it seems that you have to play football for Roman Abramovitch.
Robbie Fowler, now playing for Perth Glory FC in Australia - obviously - appears to have gone AWOL from the big list and now no longer qualifies for the under 30s. The former Spice Boy did, however, make a significant fortune from his property portfolio, some of it Manchester-based, but this may have headed south amid the credit crunch. When Fowler spent a short time at Manchester City, the fans humorously reworked 'Yellow Submarine' to chant 'We all live in a Robbie Fowler house, etc.'
Jackie Stewart is reckoned to be just outside the top 10, with his personal fortune estimated at £41m, while another scot, Indycar ace Dario Franchitti, is listed at £36m. One web poster, however, suggested that you'd pay £50m for Ashley Judd and so, wife-adjusted, Dario jumps to the top of the racing drivers...
Richest golfer is reckoned to be Sir Nick Faldo (£32m), just clear of Padraig Harrington (£31m) and recent US Masters runner-up Lee Westwood (£28m). Behind Lennox Lewis, Ricky Hatton (£29m) is the wealthiest fighter, ahead of Joe Calzaghe (£15m). Hatton, incidentally, is reckoned to have earned £12m for the six minutes he lasted against Manny Paquiao last year. Anyone who saw the left-hand that pole-axed him and also factored in what three months without a beer must mean to Hatton, probably thinks it's a fair return...
Must admit, I didn't read the rules of engagement but what I don't understand is what happened to Mr Ecclestone, who should be towering over all and sundry at #1. Probably something to do with active participation and Mr E's racing exploits in the early fifties not qualifying him. Seems a bit odd though, given that Dave Whelan is probably worth five percent of a Bernie, on a good day!