Since China things have no doubt been a little hectic in Woking, Brackley, Maranello and elsewhere as the top teams try to find that little bit of extra performance with which to take on Red Bull Racing in Barcelona and beyond.
This time last year most teams were in a rush to add double diffusers to their cars as they sought to close the gap to Brawn GP. This time things are a little more complex as rivals attempt to fully understand the reasons behind RBR's qualifying pace, which once again left everyone scratching their heads in Shanghai.
The one crumb of comfort that the opposition has is that RBR has failed to take full advantage of the speed of the RB6. It's hard to believe that, despite a string of poles and a brilliant win in Malaysia, Sebastian Vettel lies only fifth in the World Championship, 20 points behind Jenson Button. Under the current system that gap can be closed pretty quickly, but in failing to fully capitalise on its form out of the blocks, RBR has given rivals a huge gift.
After the engine problem in Bahrain and loose wheel in Australia, China's mediocre result remains something of a mystery. Of course, the team lost out from the early strategy call to go on to inters. But the fact remains that immediately after that first set of stops both Vettel and Mark Webber were ahead of Lewis Hamilton. While the Briton ultimately finished second, the dark blue cars ended up in sixth and eighth.
The pace just wasn't there in the damp, and given what happened a year earlier - when Vettel and Webber scored a superb one-two in a soaking wet race - it's no surprise that the team was frustrated by what transpired.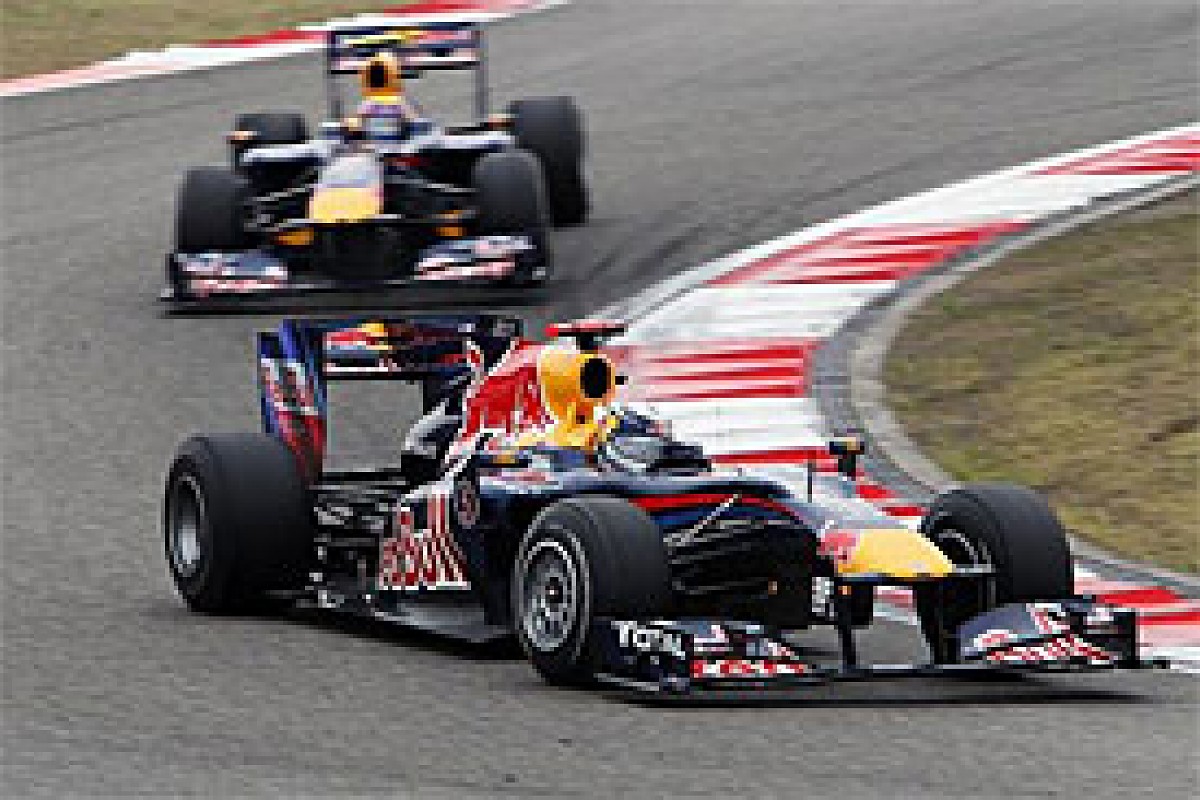 Sebastian Vettel, Red Bull, Chinese GP © Sutton
"Unfortunately when you're starting first and second if it's one thing or the other (wet or dry] you can react to it," says Christian Horner. "But when it's like that, it's a bit of a lottery. And unfortunately starting where we did, you can only lose..."
The team can't really be faulted for its early decision to rush in for inters, since all but six drivers did the same thing. Unfortunately matters were made more complicated by a mix-up in the pits, despite Vettel slowing down and arriving as late as he could behind Webber to avoid having to queue for long.
"Both drivers were adamant that they wanted inters on lap two, and it looked the right thing to do," Horner explains. "Mark unfortunately hit the front jack hard, damaged the jack, damaged his front wing, which then delayed both his stop and Sebastian's, because they were obviously queuing up. In fact Mark did quite a bit of damage to his front wing endplate, and thereafter he seemed to be struggling quite a bit for pace."
When it became obvious that a switch back to slicks was necessary, Vettel became embroiled in a spectacular fight with Hamilton in and out of the pitlane, and he actually won it.
"At the second stop they went back on to slicks. To me it looked like a marginal box release from McLaren to put Hamilton there in the first place. We were ahead of Hamilton after the second stop, but Seb unfortunately went the wrong way around Sutil and lost quite a bit of time..."
Vettel was certainly wrong-footed behind Sutil, but having lost a place to Hamilton he got his own back, passing the Force India and leaning on him enough to help Webber get past as well.
As noted earlier, having made that crucial pass Hamilton went on to finish second, over 30secs clear of Vettel. And while three of the other drivers who beat the German had the advantage of getting the strategy right at the start, Vettel also lost out to Fernando Alonso, who had taken a drive-through. After taking his penalty the Ferrari driver was some 10 seconds behind Vettel, and yet he crossed the line more than 20 ahead.
The fact that both Hamilton and Alonso ultimately did a better job will have given RBR much to think about over the past couple of weeks.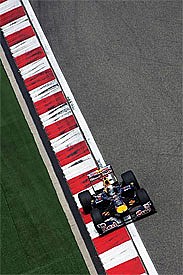 Sebastian Vettel, Red Bull, Chinese GP © Sutton
"Hamilton had the same strategy as us," says Horner. "Jenson in fairness read the race pretty well. But when you start first and second you've got more to lose in those kinds of conditions than when you're starting sixth and seventh. I think it was damage limitation in terms of points. We know we had a very fast car during the weekend, and you've got to focus on the positives.
"It's a long championship and both cars ran faultlessly in the race. On days like that it's very difficult to predict and to read."
Afterwards Vettel made no excuses, admitting that he didn't really know where the performance had gone. He insisted that - given the confusing circumstances - he was happy to get away with sixth. He was running less downforce than Webber, and he certainly used that to his advantage in a few passing moves. Equally, that choice couldn't have helped when things were really wet.
"I don't think it was frustrating," he said. "Yes, we started on pole, one-two actually, and we didn't finish there. But I think the race was very chaotic, and in the end to take sixth can be quite important. Obviously our main competitors finished ahead, so that's not nice.
"I think it was a difficult race. I cannot talk you through everything, I don't even remember, I think! There has been nearly every second lap a different car to pass, or that I got passed by, so very, very tricky conditions."
He didn't regret his early tyre choice: "Jenson clearly got an advantage over Lewis because he was staying out, at the time it seemed to be the right choice to come in, that's why all the people that came in came in, and the people who stayed out, it turned out to be the faster solution.
"I think both of us struggled quite a lot in some conditions. Once we were in clean air, I think our pace was decent. But it's very on-off in these conditions. It's a lot just to maintain track position.
"We need to have to understand why we were not able, especially after the restart every time out of the pits, to really be there straight away. We were lacking a little bit of temperature in the tyres I guess..."
The list of fastest laps told an interesting story. There was a window around lap 13-14 when the track was at its driest, and everyone set their best lap times before the rain returned. At that point Hamilton set the fastest lap of the race - but Vettel and Webber were second and third overall, their cars clearly preferring the improved conditions.
"It's very difficult in these conditions to say you've done right, you've done wrong. You always try to minimise the risk you take, on the other hand you have to take a gamble and try something to do it better than the others. Once we were in clean air and the tyres were up to temperature, we were not slow, not at all... But it was just the conditions changing all the time and us adapting, we were not in great shape."
What we did see from Vettel was some aggressive race craft, not least when he got caught up in the pitlane drag race with Hamilton.
"I was in a similar track position than he was after the first stop, and we fought our way through the field. At the stop I was ahead, I don't know why he was keen to touch me! I thought hopefully I don't suffer a puncture after that. I don't really understand, because I was a bit ahead. He turned out to be a little bit faster on the track anyway..."
At least Vettel came out of the weekend in better shape that Webber. Having taken pole in Malaysia, only to lose out at the start, he made his point by getting ahead of Vettel off the line. By being ahead for once he also got first call in the first pitstops behind the safety car. Ultimately it was to little avail as he slipped back to eighth, finishing 19 seconds behind his team-mate. His luck must change soon...
Finally, a mention for someone who didn't get a lot of coverage after China. Nico Rosberg led the race in great style early on, although ultimately the Mercedes lost out to the McLarens. Nevertheless it was another sign of his increasing confidence and maturity.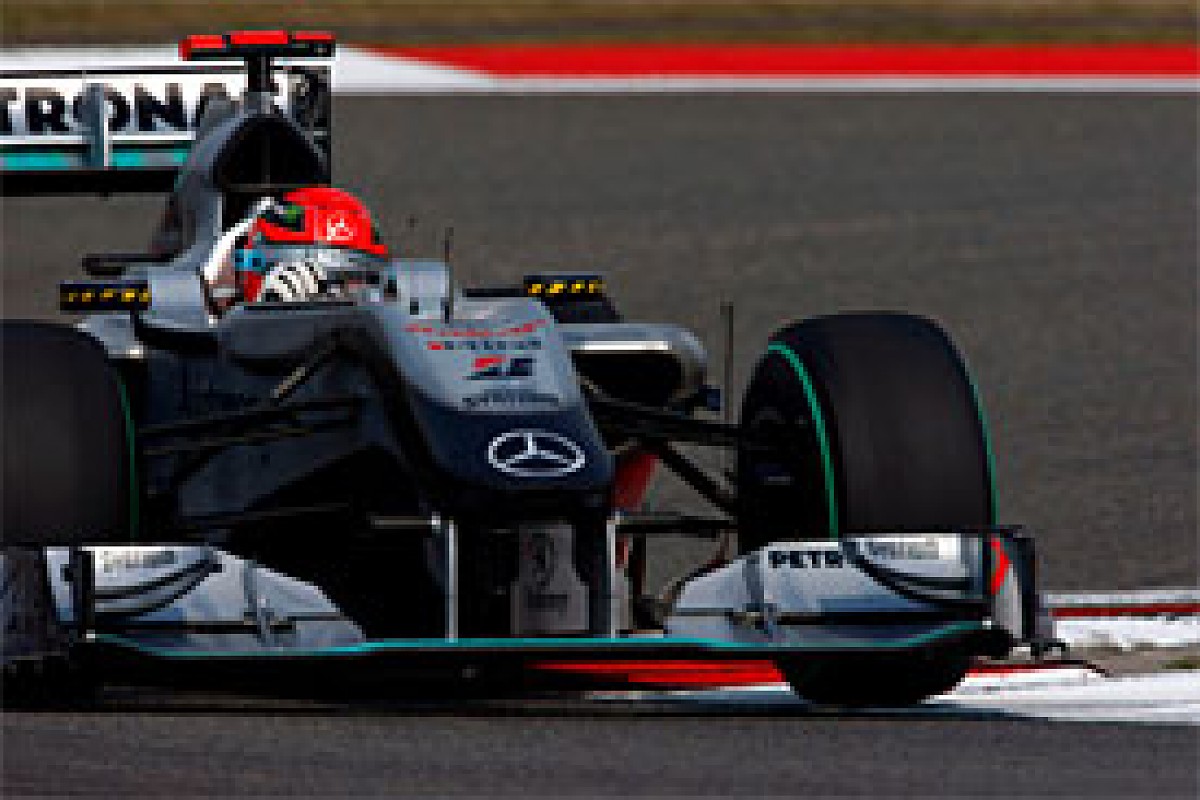 Michael Schumacher, Mercedes, Chinese GP © LAT
"I think we made some good calls and he made some good calls," Ross Brawn said after the flag. "We talked about it and said there's no water down, if we put these tyres on they could burn up straight away, and obviously he was a bit uncomfortable, as a lot of them were, which is why they came in. It was obviously a good call.
"We had a slow pitstop which may have cost us a place. There was a little part of the race where we just weren't quick enough. A small mistake from Nico, and then the safety car came and got rid of all the advantage he'd built up in the early part of the race! So it was a bit frustrating."
Brawn also made an interesting comment on Michael Schumacher: "Whatever the issue's been this weekend, it was there in the wet, and maybe even amplified. We've got to understand what it is. There was too much discrepancy between the two cars."
We now know that Schumacher will have the use of a different chassis in Barcelona, and the update package includes a longer wheelbase. Fourteen years ago, in a soaking wet race, the German scored his first win for Ferrari in Spain. Will his season take a turn for the better?