While it may be melodramatic to suggest the sight of Michael Schumacher plodding around a sodden Shanghai International Circuit in tenth place in a Mercedes Benz - apparently easily capable of making the podium in the younger hands of Nico Rosberg - was akin to watching Muhammad Ali get thrashed by Larry Holmes and Trevor Berbick in his twilight years, the fact is it was a sad performance.
One Schumacher openly admitted to not being particularly proud of after the race.
Michael Schumacher, Mercedes, Chinese GP © Sutton
It is not, though, the seven-time champion's first disappointing race since making his much-vaunted comeback: he has been outqualified and outraced by Rosberg in every one of the four GPs this year. His team-mate, 16 years his junior, currently has 50 points for an average of 12.5 per race against Schumacher's 10 (2.5 per-race). A 500% difference, that...
For those not pre-occupied with finding the quickest way out of Shanghai, in the wake of travel chaos caused by volcano E-15, Schumacher's performance was a talking point post-race, with three possible reasons being identified:
1. The King has simply 'lost' it, physically and/or mentally
2. His particular chassis has a latent defect, which can (will?) be identified during the two-week break to Barcelona
3. Something else entirely
Taking them in order, it is fundamentally inconceivable that a driver once as great as this has unlearned how to push racing cars to the limit. While age brings with it physical deterioration, as FIA Institute medic Dr Steve Olvey previously told this column, modern nutritional and training regimes, coupled with massive advances in sports medicine, enable the stars of our sport to compete at the top level until well into their fifties. As Mario Andretti once said: "If you can drive, you can drive. Period."
That said, driving and racing are two different disciplines, and Sunday it was noticeable that the Shanghai Schumacher did not appear to be the racer of old, one who cut and thrust and parried endlessly with the likes of Mika Hakkinen, Jacques Villeneuve, Kimi Raikkonen and Fernando Alonso.
The 41-year-old's intimidation of others, practised to such great effect in his first career, doesn't seem to work as effectively as once it did. There was a time when the sight of a red helmet in a red car (invariably carrying number 1) filled most his peers with absolute dread, particularly when the car was beside or behind the lesser mortal going into a high-speed braking zone.
That 'respect' was simply not in evidence in Shanghai on Sunday, with the likes of Sebastian Vettel, Lewis Hamilton, Adrian Sutil, Vitaly Petrov and Jaime Alguersuari - all of whom joined the sport after Schumacher's retirement - not thinking twice about banging wheels with the smudgy-silver Mercedes, even if the helmet within it is of a similar hue to the one which so inspired them as juniors.
It must be worrying to Schumacher that he is now treated by the younger generation precisely as they perceive him: an 'old man' playing a young drivers' game - particularly given the fact that he is now old enough to be Vettel's father.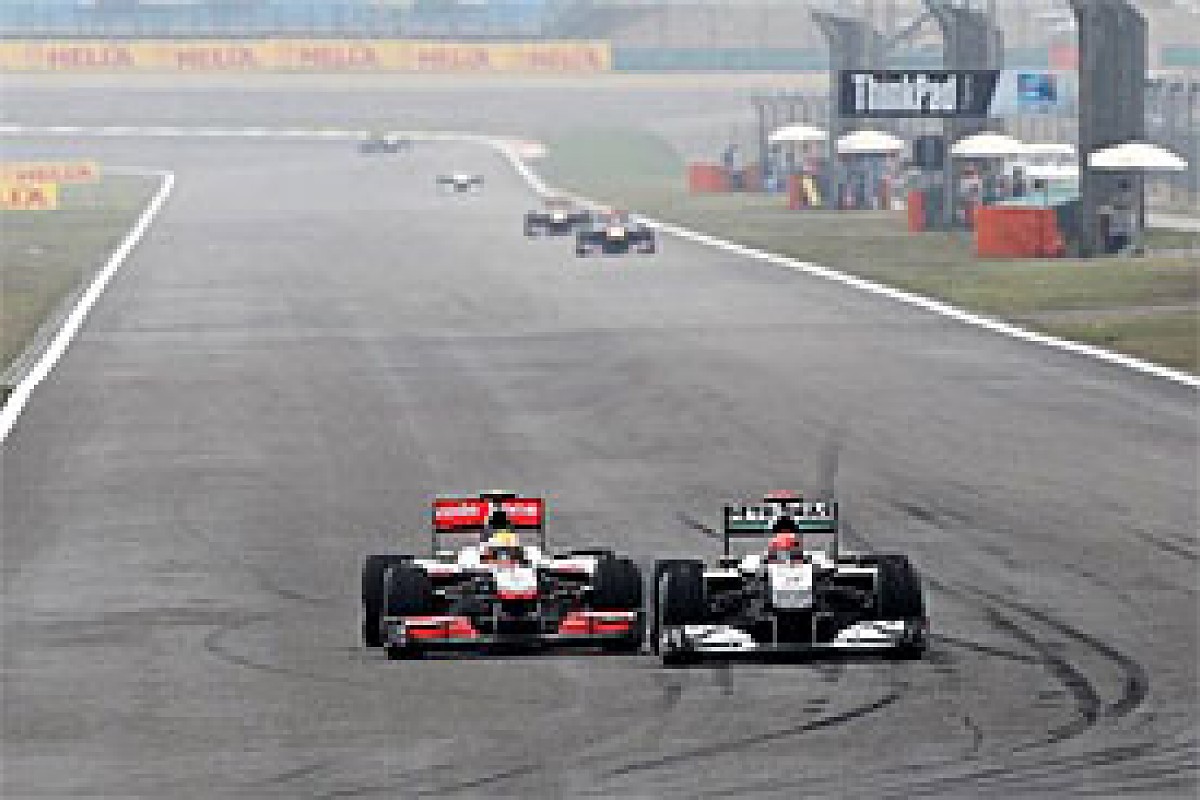 Michael Schumacher battles with Lewis Hamilton in China © Sutton
When first he made his return, Mercedes Motorsport boss Norbert Haug suggested the driver should be granted three races to settle into a sport that has changed vastly since he left it in 2006 before judgement was passed.
Haug obviously recalled the similar window Niki Lauda imposed on himself upon the Austrian champion's return to F1 in 1982. As detailed here, Lauda promptly won his third race, while in Malaysia - Schumacher's third comeback race - the German retired (through no fault of his own) while languishing in the mid-field.
In China Haug suggested there could be something amiss with Schumacher's car, and that said chassis would be exhaustively examined upon its return to Brackley after this spell of four flyaway grands prix. True, the calendar has made thorough inspection of the car difficult, but according to a (Mercedes) team source, any defect responsible for the one-second deficit Schumacher presently has on the other car would surely have been isolated during the four races.
An opposition team member is similarly unconvinced the fault lies with the car, stating "Overlaid data from both cars should have pinpointed any issues even if they can't be sorted on-site before the cars get back to base."
"But," he added, "they seem mystified."
Indeed, as Ross Brawn, Schumacher's former Benetton/Ferrari technical chief and now Mercedes team principal, admitted Sunday: "We have some issues [with Michael] that we need to understand with the deterioration of his tyres and therefore his pace is a problem that we need to resolve before the next race."
But, just as it is unimaginable that Schumacher suddenly lost his edge due to aging, so it is inconceivable the F1 legend Brawn has lost his technical skills. During his reign he was F1's 'most travelled' driver, testing at every opportunity, at times even creating sessions simply to get behind the wheel to improve the car. Does that sound like a driver unable to identify problems specific to his own car while that of his team-mate sails serenely to two consecutive podium places?
Equally unthinkable is that the team led by Brawn has failed to identify a car issue despite having some of the very best engineering brains and facilities at its disposal - as last year's double title wins prove. Stranger things, though, have happened in F1.
Which brings us neatly to the third option: that F1 has changed substantially in three years and that this conspired against Schumacher equally so. He simply no longer enjoys the advantages he once did, no longer holds all the aces: a Ferrari made up of the best design/engineering/management team dedicated to providing cars perfectly suited to his style, with the biggest budget in F1 history funding their endeavours.
Add in Bridgestone tyres developed (by him) to his liking; veto over team-mates ensuring total subservience; pick of Ferrari's three circuits offering open-ended testing; above all, that intimidatory driving style towards newcomers who challenged his superiority and you had a driver who could not help but mop up wins and titles. And then he was gone - having lost two consecutive titles to a far younger challenger.
In 2010, though, he returned, having clearly underestimated the changes to F1. Yes, he is back with Brawn, but the rest of his support team has moved on.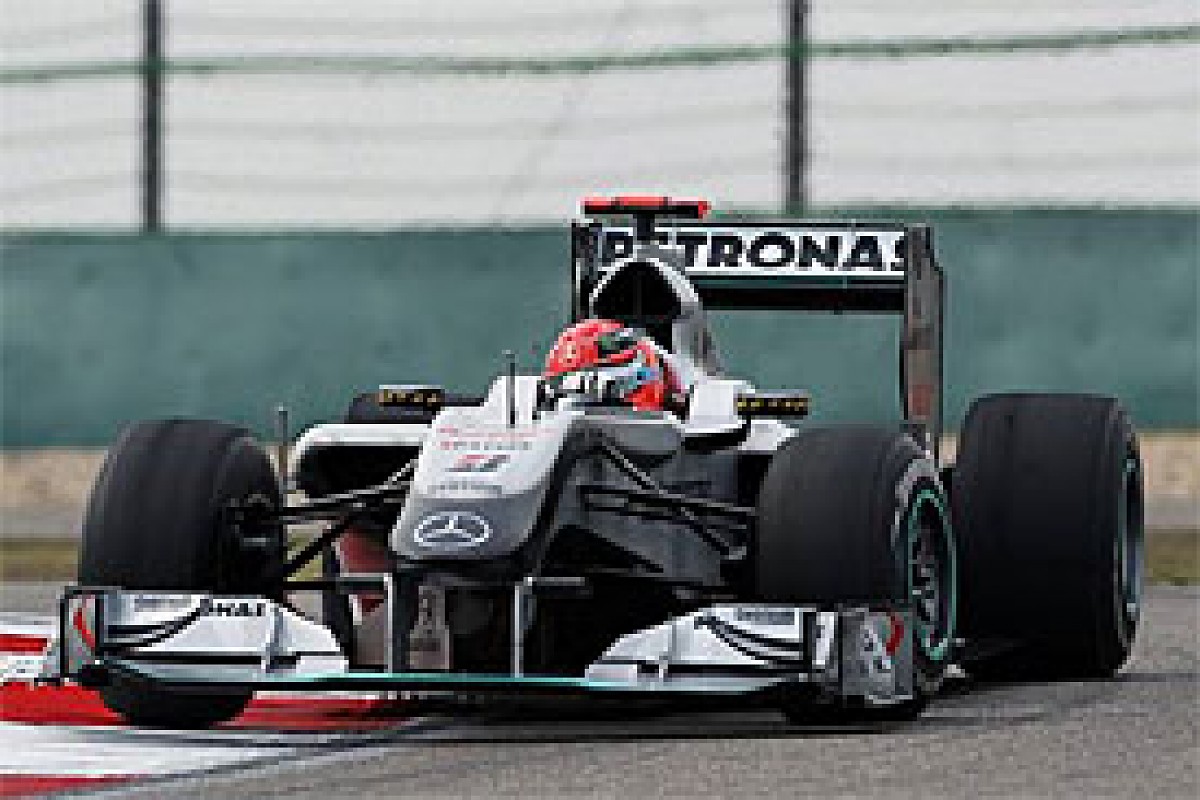 Michael Schumacher, Mercedes, Chinese GP © Sutton
Budgets have become restricted (and controlled) by the Resource Restriction Agreement, which, if anything, panders to smaller teams. Then, F1 runs on control tyres. Yes, these are Bridgestone-supplied, but were developed during his retirement, in the absence of another tyre competitor.
Current regulations prescribe narrow(er) front tyres for weight distribution reasons, while Schumacher's driving style demands a 'pointy' car, which demands maximum adhesion up front. In addition, Schumacher thrived on refuelling - dividing grands prix into two or even three sprints - enabling him to pace himself according to tyre wear and compensating by running light. Now each stop is costly...
His car was designed - way before he took the decision to return - by a team grown used to Jenson Button's silky style, one with little access to the wind tunnels and test tracks Schumacher used to take for granted in Maranello. Plus, the teams' design budget was Brawn GP-sized - the Mercedes takeover occurred in November, with 'Schumi' signing a month later. Just as the test ban kicked in...
Thus he had just 16 days of testing a non-refuelling car designed by a 'strange' team to run on 'strange' tyres before heading for his first grand prix in three years. Thus, where previously he had used open-ended methods to force the car around his will, to 'come' to him, he is now required to 'go' to the car. That is patently an alien experience for him.
Since retiring from F1 he raced motorcycles, suffering serious neck injuries in a crash. Thus he occasionally wears scarves, and on Thursday in China he was dressed so, fuelling rumours he was considering re-retirement in the near future.
In fact, during the conference bets were being placed as to precisely when he would evaluate his position, with Silverstone being favourite, enabling him to ease out ahead of his home race in Hockenheim (if desired) and leaving Rosberg and Mercedes GP tester Nick Heidfeld to fly the patriotic flag at Mercedes' home event.
Such speculation abounded even before Friday practice, with Schumacher's qualifying/race performances only serving to fuel the matter. At Shanghai in 2006, a fortnight after announcing his decision to retire at season's end, Schumacher drove an absolutely scintillating race to keep his (eighth) title hopes alive, coming through from sixth on the grid to win in conditions similar to those experienced on Sunday. During the post-race conference AUTOSPORT's then-executive editor Anthony Rowlinson asked the German why, after a performance such as that, he still intended retiring.
His response: "I explained myself pretty extensively at Monza and it is very nice that you ask the question and it is better to go maybe when you are still asking the question than that you hint that it is time to go."
Monday past the international media had a field day hinting at precisely that...