Bernie Ecclestone must have said a few prayers after the sport took a slagging in the aftermath of the dismal Bahrain Grand Prix. For a third race running Mother Nature looks set to play a part in how a race unfolds, and we could get a show that puts any concerns about the 2010 rules to the back of everyone's minds.
After the early race shower in Australia and the soggy qualifying session in Malaysia we are almost certainly in for a wet afternoon in Shanghai on Sunday. How wet it will be, and how mixed the conditions are, is as hard to judge as when any of those in the F1 paddock will make it out of China this week.
"I think tomorrow's race will be determined by the weather," summed up Fernando Alonso, who qualified third. "When it will rain, if it's wet all race, only the first part, only the middle or only the end? We don't know. Anyone can win those types of races because there is so much difference in terms of lap time if you make the right choice at the pit stop or whatever.
"If you make a wrong tyre choice, you put on intermediates when you should have put on extreme or vice versa, you can lose ten seconds a lap. That's the problem of wet races for us, for the teams, for the championship contenders. It's very nice to watch a wet race on TV but it's very risky for us..."
It goes without saying that absolutely anything might transpire if the rain does indeed come.
The one thing we can say is that the guys on the front row will be favourites, come what may. Last year we had a soaking Chinese GP and no one could get near to Sebastian Vettel and Mark Webber, who rather handily are at the head of the field this time too.
If we get a start on extreme wets behind the safety car they will be at even more of an advantage when the field is finally released.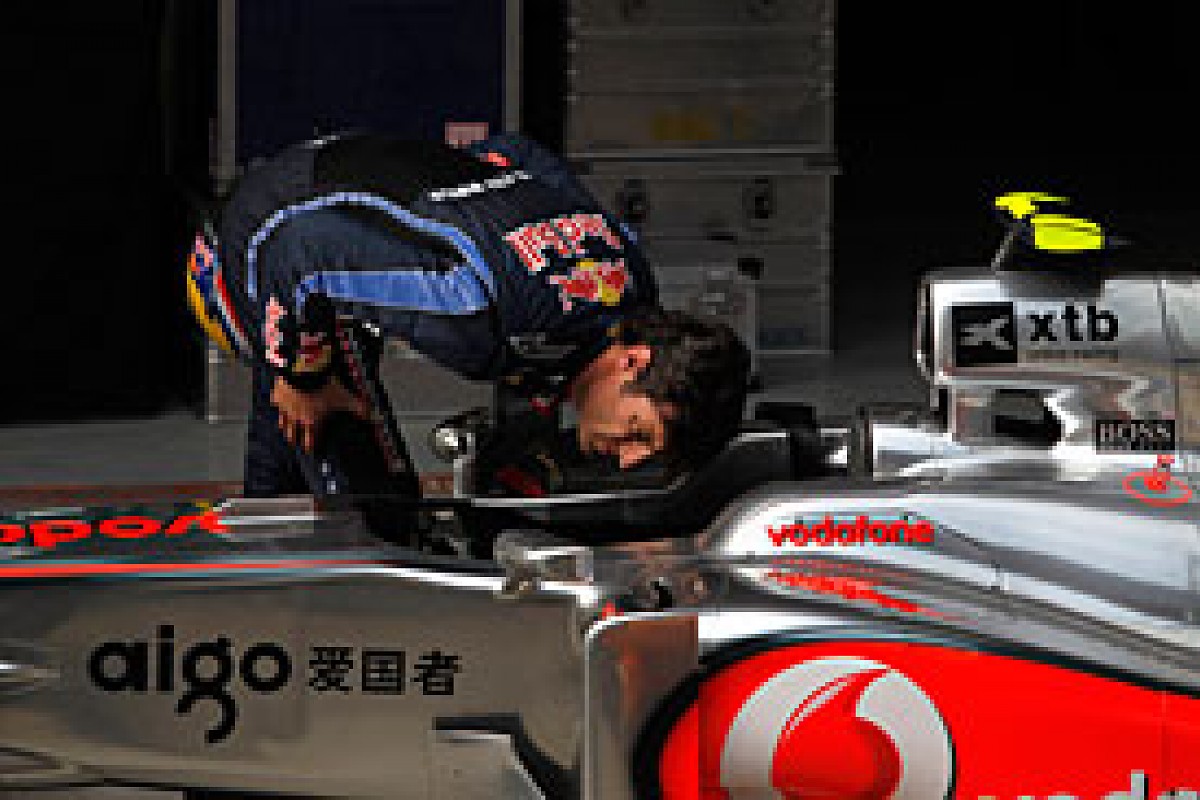 Mark Webber educates himself on F-Duct technology © LAT
It may look like business as usual with the blue cars at the front, but things were not quite so clear cut this time. Lewis Hamilton had looked good all weekend, before topping both Q1 and Q2, and Red Bull didn't quite have its act together. But when it really mattered, Vettel once again showed us that he is destined for a place among the greats - and left poor Webber scratching his head.
"Where Sebastian's final lap came from, I have no idea," says team boss Christian Horner. "He sort of built up to it throughout the qualifying, and Mark had banged in a really competitive lap.
"Sebastian had been uncomfortable in Sector One throughout the weekend compared to Mark, and suddenly he went purple in the first sector and pulled it all together, and had an incredible final couple of corners and produced a stunning lap time. It was probably his most impressive lap of the season so far.
"We really expected a big challenge from Lewis today, and were surprised that it seemed to fizzle out in Q3. I don't fully understand that, but it's not our problem!"
Horner is pretty sure of what to expect come Sunday: "Rain at some point, it's just a matter of when. I think there is a very high percentage that it will rain, but we're in the best position to react to that. The wet isn't something we fear. I'd just prefer it to be one thing or the other, the worst thing is when it's that horrible is it wet, or isn't it?"
There is still a possibility that at least some of the race will be dry, but if it is, tyres won't be much of an issue. Despite the high wear associated with this track both compounds have proved pretty sturdy, and can go a long way.
"The option is a better tyre than the prime," says Horner. "But both are relatively conservative. You saw Alguersuari do a huge amount of laps on the option on a relatively green track, and it was fine, no problems at all. I would have thought most people outside the top 10 will start on the option, because you lose too much time.

"I think you can get to half distance easily on the options, or longer if you'd prefer. I think that the tyres are sufficiently safe here that you haven't got a marginal choice at any point. I think you could probably drive back to Europe on the prime!"
Of course all of the top 10 are already committed to starting on the option, as that's what they've qualified on. The first man who has a choice is Rubens Barrichello, and as far as what the Brazilian will do is concerned, Williams technical director Sam Michael is playing his cards close to his chest.
"I think there's a 50% chance of rain," he says. "If it's dry then both tyres are solid, prime and option. We haven't decided yet! They are pretty close. It was four or five tenths in qualifying, but on a long run they will be very similar to each other. But I think you're always better off to be on the fastest tyre, whatever that tends to be."
Williams had a disappointing time in Sepang, qualifying both cars superbly in the wet but losing out in the dry, in large part because the team had leaned towards a wet set-up.
"This time we're not, we're on an intermediate setting, so it'll be interesting to see what happens. The most important thing in the wet is being on the right tyre at the right time, keeping things nice and simple. It's always easy to say that, until you mess it up. If it's dry it'll be pretty boring. That's the way it is, though..."
The top 10 has a familiar look about it, with Adrian Sutil and Robert Kubica - two men who could do great things on Sunday - both in the mix with the big four teams. Once again the Pole extracted the maximum from his car, even pipping the Mercedes of Michael Schumacher.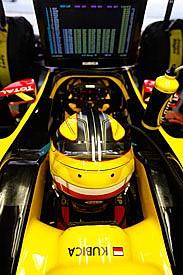 Robert Kubica studies the times in China © LAT
"We're very happy, Robert did a solid job again," says Renault engineering head Alan Permane. "And it's nice to be closer to the front, and in front of one of the Mercedes. We were pretty worried on Friday because our low fuel pace didn't look fantastic, but Robert and his engineers have done a great job with the car, and we're very sure that putting fuel in makes us more competitive, so we're looking forward to a good race."
Renault expects rain as well: "It's sort of three out of five at the moment, from 12pm onwards. If it starts, it'll be in for the day. But I'll go with that! It could help us, but it can also go the other way quickly, and given the absolute choice I'd rather have a straightforward dry race."
If we do get a fully wet race, it presents a fascinating challenge for the strategists.
This year of course there is no refuelling, so timing any tyre change is entirely down to the conditions, And in theory at least you can run from start to finish without a pitstop. It could be possible to do that with extremes, given ongoing rain and the odd safety car to give the tyres a little respite.
"It was very, very wet here last year," says Permane. "I think it totally depends on water level, it really does, and the pace. So in theory, yes you could, but it would be quite an ask."
The downside is that someone who switches to a new set of wets at the right time could suddenly have a big advantage, and maybe get back the time lost in the pits in 10 laps or less.
"I think it would be easier with fresh wets to overtake someone on worn out wets, compared with fresh and worn out dry tyres. So there is more incentive to stop, especially if you are wearing them down. You'd gain it back quicker, and you'd overtake easier, for sure."
Although Kubica is committed to starting on options if it is dry, Vitaly Petrov can still make a call. And one interesting choice could be to do what the likes of Alonso and Hamilton did in Malaysia - start on the harder prime tyre with the option of going as far as possible into the race, and perhaps catching the change to inters or wets at just the right time.
"I think it could work," says Permane. "I don't think the warm-up here is quite as good, so you may suffer on the first lap or two if you're on primes against options. But it could be worth a punt, if you thought it was going to rain at two-thirds distance for example."
Like Michael, Permane says if it stays dry all the way, we might not get very much excitement: "They are tyres that we're getting to know really well obviously, because we've used them for the last three races now. I would imagine it would be one stop and it's not going to be an awful lot different to Malaysia.
"There we stopped when we found a gap, and that's kind of what you've got to do. The windows are a lot bigger now because you're not going to a defined lap with fuel, and you haven't got to exploit that. So you stop when you can."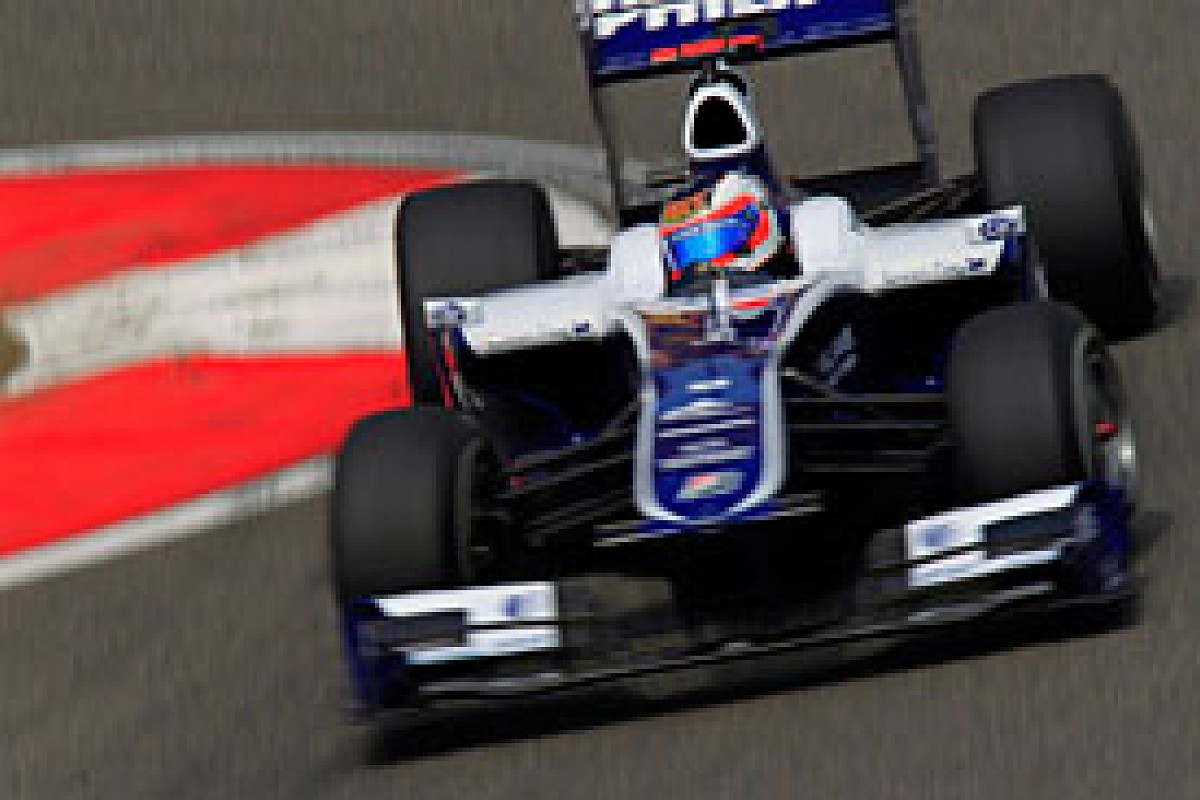 Rubens Barrichello, Williams, China 2010 © LAT
Michael says Williams have gone for an intermediate set-up (intriguingly the team tops the speed trap, which doesn't suggest a high downforce level!), and Toro Rosso have made a point of telling us that it has split its options, with Alguersuari going for dry and Buemi wet.
It'll be interesting to see who else has edged towards the wet.
Speaking of the speed trap, Williams aside, the McLarens are - unsurprisingly - in the top group, as is Sutil, and of course that will help all of them defend their positions on Sunday. Vettel and the Mercs are somewhere in the middle, while Webber and the Ferraris are in the bottom group, although the margins involved are relatively small.
As I mentioned before Malaysia, watch out for a new procedure if the race is suspended, with the resumption taking place with lapped cars mixed up with those on the lead lap.

In theory the slower guys are supposed to move out of the way pretty pronto at the restart, but things might get a bit confusing if some don't move out of the way quite as successfully as others. Especially if there's still a lot of spray in the air...