Three races in and still no one team or driver has taken the initiative in the championship. Ferrari, McLaren and Red Bull have all won races, while the drivers' championship leader, Felipe Massa, has yet to win in a season that is still to find its shape.
Red Bull's one-two finish in Malaysia two weeks ago confirmed that, pace-wise, it is the one to beat, but we've yet to see a balls-out battle for victory be played out in full. Hopefully, the seventh Chinese Grand Prix will produce that, and in doing so will tell us just how much work the rest have to do to catch Red Bull heading into the start of the European season.
The curveball that has been thrown into the mix is the FIA's clarification of suspension regulations that bans any pseudo-active ride system. Red Bull has steadfastly denied running any such system, while McLaren made no secret of the fact that it had developed a package that replicated what it believed Red Bull to be doing.
The team has now admitted that it has had to modify the system that it planned to bring, so the question is will Red Bull's qualifying supremacy be in any way harmed? Probably not. And most expect Sebastian Vettel and Mark Webber to come to the fore once again on Saturday afternoon, especially with Shanghai being such a heavily aero-dependent circuit even by Formula 1 standards.
Race pace is a different matter. With drivers conserving tyres, it's impossible to say just how close the Ferraris or McLarens will be able to get in a straight fight. Race laptimes so far this season suggest there isn't much in it, and if the McLarens or Ferraris can get to the front, we will really see just how hard the Red Bull's can push in the races.
Webber needs to get on terms with Vettel © LAT
Fascinating as the inter-team battles will be, the intra-team battles should be even more gripping. At Red Bull, Webber will be determined to put one over Vettel to ensure that his young team-mate does not become the team's title focus, while at McLaren the competitive advantage has ebbed and flowed between Jenson Button and Lewis Hamilton.
There will also be intense scrutiny on championship leader Massa. Despite the positive noises coming from the team about the Brazilian, who is out of contract at the end of the year, Ferrari is considering its options for that seat next season. Massa is far from out the door, and has every chance of proving he deserves to stay on, but probably needs to do slightly better than being Mr Consistency to be absolutely sure of staying at the team where he is immensely popular and well-regarded.
Then we come to Mercedes. The German manufacturer is continually being lumped in as part of the 'big four', but frankly the car is not yet quick enough to win races. Michael Schumacher's pace was shrouded in Malaysia by cooking his wet tyres in Q3 and, despite the willingness of many to write him off, he is on an upward curve. The question is whether Shanghai, not the happiest of hunting grounds for Schumacher, is the place for him to put one over Nico Rosberg.
Whichever team wins in China can rightfully claim to have won the opening leg of the season before F1 returns to Europe. If it's Red Bull and Vettel, we might have a genuine championship favourite on our hands at last.
Weather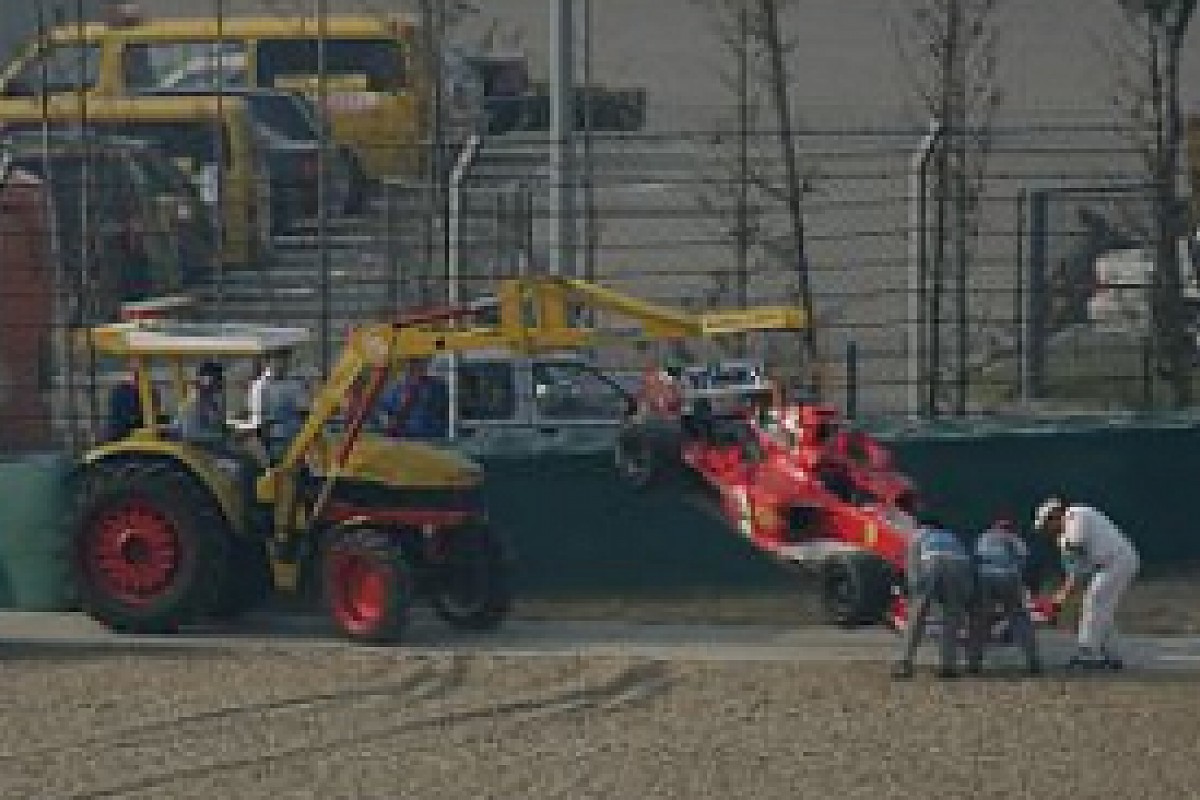 Strategy
It's hard to see this being anything other than a one-stop race, especially with Bridgestone opting to bring harder tyres to Shanghai this year, and the low temperatures expected. That said, during practice in 2009 teams suffered a lot of graining to both fronts and rears, and drivers will have to be wary about going too hard on rubber during the race.
It won't be clear until practice what the ideal tyre choice to start the race on will be, but expect most to start on the option tyre before switching to primes for the second stint. In Malaysia, in terms of speed, the ideal strategy would have been to start on primes and switch to options, but the disadvantage in terms of track position meant that, in the real world, it was slower.
Although you would expect most to run similar strategies, the punishment for any driver pushing too hard in the race could be an extra pit-stop. If it's close at the front, the ability to conserve tyres without backing off too much could be key. Everyone points to Melbourne hero Jenson Button as having the advantage in that situation, but Fernando Alonso is arguably even stronger on that front.