A week can be a long time in grand prix racing, and the contrast in emotions in the Red Bull camp between Australia and Malaysia was marked.
After the flag in Melbourne, team principal Christian Horner was struggling to keep a brave face. Having already endured a frustrating opening race in Bahrain, he'd now seen one of his cars slide out of the lead and into the gravel with what turned out to be a wheel retention problem, while the other was lucky to salvage ninth after getting involved in a silly late collision with Lewis Hamilton.
Two poles for Sebastian Vettel had resulted in but a humble fourth place, and the two main opposition teams were piling up the points. As team boss, Horner had to face a barrage of criticism of both the reliability problems and the team's strategy in pitting Mark Webber for a second time in Oz. "We have to win in Malaysia," he admitted.
Fast forward to Sepang, and the scene was very different as Horner hugged and congratulated everyone he came across in the RBR garage. The sense of relief was palpable. This time it was McLaren and Ferrari who had made bad calls in screwing up qualifying, while Ferrari (Alonso's engine) and Mercedes (with Schumacher's loose rear wheel) had problems in the race.
After taking so much flak - and even putting up with conspiratorial suggestions that the broken spark plug in Bahrain was a cover for a fuel consumption problem - Horner had a perfect right to look relieved.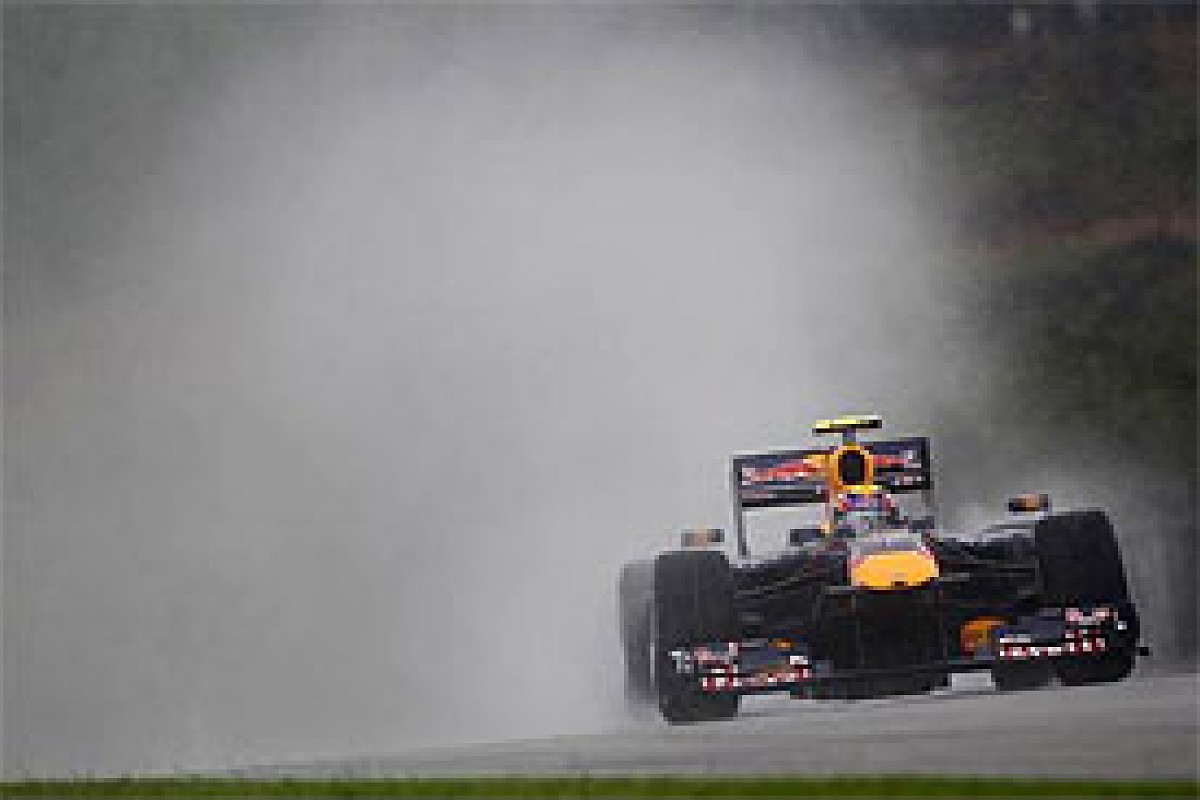 Mark Webber during qualifying at Sepang © Sutton
"Absolutely, it was the perfect way to silence critics," he smiled. "Arguably this is one of the hardest circuits on the cars. We saw a couple of teams have reliability issues, and today our cars ran impeccably from start to finish, so it's testimony to a brilliant team effort. We worked tremendously hard, we had great support throughout the weekend. We had people who gave up their Easter to ensure we had two reliable cars today.
"I feel great relief and satisfaction for all the hard work that's gone in from the crew here and the team in Milton Keynes, and from the drivers. We've got a great car. Our main rivals didn't have a great result, so it puts us right back in there in the championship."
In the end it was a perfectly executed race. We've seen in the past that, wet or dry, Vettel is at his best when leading from the front. He didn't get pole this time, but he might as well have done. As Nico Rosberg suffered excessive wheelspin on the dirty side of the track, Seb initially surged into second, dragged up behind pole man Webber, and then flicked decisively to the inside to claim the lead.
"Both drivers were firm but fair with each other. That's all I asked in the briefing before the race - please don't take each other off into Turn One. Webber gave Vettel the space, and vice versa. Seb picked up the tow down the straight. If it had been the other way round, Mark would have won the race. There was just nothing to split them by today."
Indeed there was nothing Webber could do but stare at Vettel's gearbox for the duration of the race. Last year he jumped the German on more than one occasion with some favourable strategy and strong middle stints, but this year there's virtually nothing to be done once you're behind someone, especially if they are your team mate and they get the first call on strategy.
In Malaysia everyone had an eye on the heavens, and the long first stints of Hamilton and Alonso certainly factored in the possibility of rain. But even before the start, the teams knew it was unlikely to affect the race.
"We assumed it was going to rain," said Horner. "But the forecast kept saying no, and it was 70kms away before the race, and moving very slowly towards us. At no point in the race did it look like it was even threatening that it was going to rain."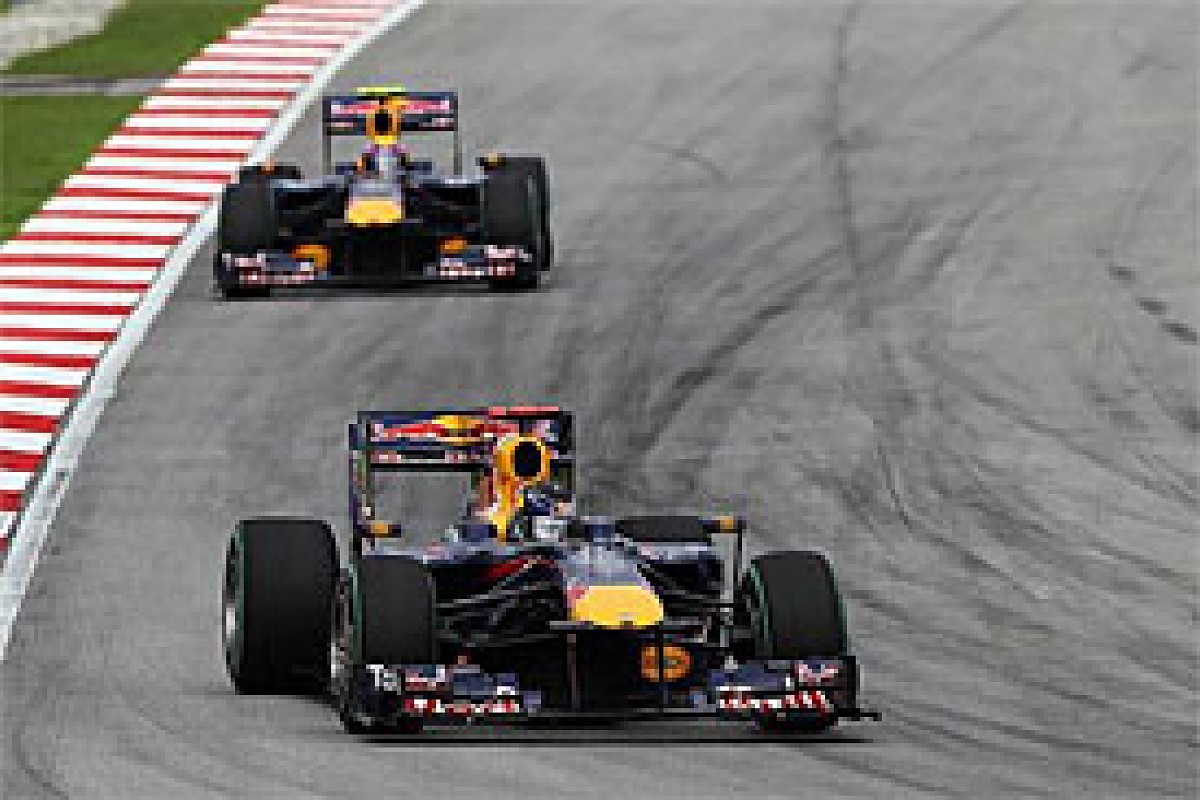 Sebastian Vettel, Mark Webber during the Malaysian GP © Sutton
As has become the norm this year, the strategy of the guys at the front was determined by that of their main opposition. Nico Rosberg finally blinked and came in on lap 22, so Vettel followed a lap later, and Webber a lap after that.
Intriguingly, Webber went the longest on the soft tyre of the top runners who started on it, without apparent problem. His 24-lap opening stint was exceeded by the 26 of Hamilton and 30 of Alonso on softs in the second half of the race, both having started on the harder tyre. But of course they did those longer stints with less fuel on board.
"We weren't struggling on the option, we just wanted to make sure we covered Rosberg with both cars," Horner explained. "They went a remarkable distance on the option tyre without any issue. There were really no issues at all, we were just trying to look after the tyres in the second half of the race."
Two races in succession Webber has had to wait for Vettel to pit, a by-product of the 2010 rules which mean that fuel plays no part in the decision to stop. The bottom line is that if your two cars are close together you cannot pit them on the same lap. In Australia, Webber wanted to come in, but had to wait for Vettel. That extra lap cost him some vital time on a drying track, and a few places. In Malaysia he again had to wait, although it wasn't as expensive this time.
"In that situation it's only fair to give priority to the leader. As soon as Rosberg was in, we covered with Seb, and then a lap later with Mark. He had a sticking front right wheel socket, which delayed him a couple of seconds. But it made no different to the result."
That extra delay in the pits was a little unfortunate, and it's worth noting that not one but two sceptical drivers from rival teams suggested to me that Webber had been deliberately held up for a few seconds, to prevent him from charging out of the pits and into a potential conflict with his team mate. One driver even called it a 'Ferrari pitstop!'
Such mischievous gossip may be a little far-fetched, but nevertheless one can understand if Webber has been a little frustrated at having to wait his turn, even if there if logic to the team's choice.
Indeed, that frustration may have been a little evident towards the end of the race, when Webber set the fastest lap. Naturally the potential to go faster is there as fuel loads drop, but the Aussie wasn't exactly under threat from behind.
"With 15 laps to go we said OK, we've had a few reliability issues, let's look after the engines, they've still got to go a long way," said Horner. "So they turned the engines down, and they started doing purple sectors! And Mark set fastest lap with the engine turned right down, which was quite surprising. And Sebastian was close to his time as well. I just made sure the engineers passed on the message that there's no point in chasing fastest lap..."
You couldn't help but feel sorry for Webber. After his disastrous home race he came to Sepang with the weight of the world on his shoulders, only to suffer an engine failure on Friday. And yet he put in a superb performance in qualifying, taking that bold decision to go to inters, and making it work. It's worth noting too that he was the last driver to go out in Q1, and he still sailed through into Q2 when Hamilton, Alonso and Massa didn't, thanks to a fully committed first lap.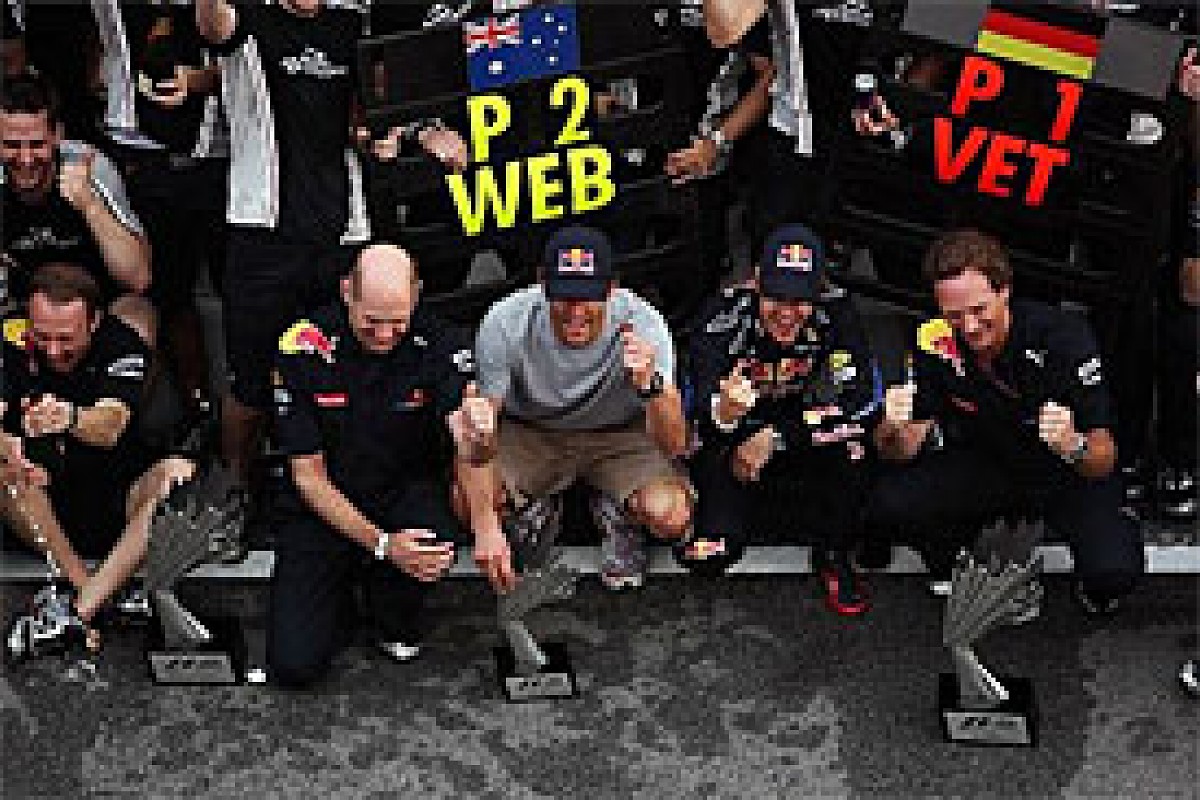 Red Bull celebrates in Malaysia © Sutton
Having done everything right he watched helplessly as Vettel dived past at Turn One. The race was over for him at that point. What more does he have to do to beat this guy?
"Ultimately it came down to that first corner," said Horner. "He shouldn't be disheartened at all. He drove brilliantly all weekend. A second place is a lot of points, and it's a long season. He'll stand on the top step I'm sure before long."
Last year showed how important it is to take your chances when they come. Jenson Button won six of the first seven starts and built a cushion that he was able to nurse until the end of the championship. Had Button come out of the first two races with just a fourth to show for the clear advantage he had, things might have turned out very differently.
Of course Brawn had the benefit of the double diffuser, and everyone knew that it would evaporate as others caught up. This time RBR has a brilliant all-round package, albeit highlighted of course by the car's qualifying pace, which may or may not be directly related to the team's supposed ability to run an optimal ride height.
Obviously rivals would like to see the RB6 reined in on that point, but Horner denies that the team is doing anything untoward in qualifying. Unless the others find a way to emulate whatever RBR is doing, it seems likely that the blue cars may retain that one-lap advantage for a while. And as we've already seen, being in front on the first lap is even more important than in the past, given that fuel strategy plays no role.
The RB6 may well continue to be the pacesetter for longer than the Brawn BGP001 managed last year, but nevertheless those two lost wins could prove expensive for Vettel. This time around, the opposition is a lot stronger, and there are more quick cars waiting to pounce. Horner needs no reminding of how tough it might be.
"It's such a long championship. We should be on victory three, but still it's great to get the first win of the season, and now we need to make sure that we build on that in China and when the circus returns to Europe.
"What's interesting this year is it's not all about one team that's stolen a march. Ferrari had a rough day, they lost an engine, so that puts them on a par with us. Compared to last year you've got eight contenders, or perhaps six contenders, for this year's championship. So we haven't got one driver that's winning all the races."
Obviously everyone will bring major updates to Barcelona, but in the mean time RBR is likely to continue to set the pace in China, where the team won so convincingly in the wet in 2009.
"We need to do what we did last year in China," said Horner in Sepang. "It's the scene of our first win, we need to go back there and make sure we perform at our best."