PRACTICE
Practice 1 - Friday AM
The McLarens of Lewis Hamilton and Jenson Button were first up to speed and, quickly happy with their pace, moved onto high fuel runs early on. The two Mercedes were the nearest challengers, with a late effort from Nico Rosberg jumping him to second place.
The Red Bulls and Ferraris finished a way adrift of the front, but both had shown flashes of potential speed between the odd glitch of off-track excursion.
Fairuz Fauzy made his first appearance of the season and finished 22nd, while the other tester, Paul di Resta, was 15th for Force India.
Practice 2 - Friday PM
Lewis Hamilton was quick in all three practice sessions © LAT
McLaren looked good again on raw pace in the dry, as most of the teams struggled to find a balance on the softer tyre with the circuit still green so early in the weekend.
Sebastian Vettel and Rosberg stuck in quick laps at the sharp end too, and Michael Schumacher was the only other driver close to the leading times.
Webber lost most of the session with an engine failure, while Ferrari spent the vast majority of the session way off the ultimate pace doing high fuel runs.
Saturday Practice
Hamilton looked set to take a clean sweep of quickest times in practice until the two Red Bulls unleashed their true dry pace with Webber going quickest and Vettel third.
Fernando Alonso unveiled Ferrari's ultimate pace for the first time in the weekend in fourth, just two tenths off Vettel, with both Mercedes and Button all within about half a second. It looked set to be a close contest in the dry, up until qualifying...
Qualifying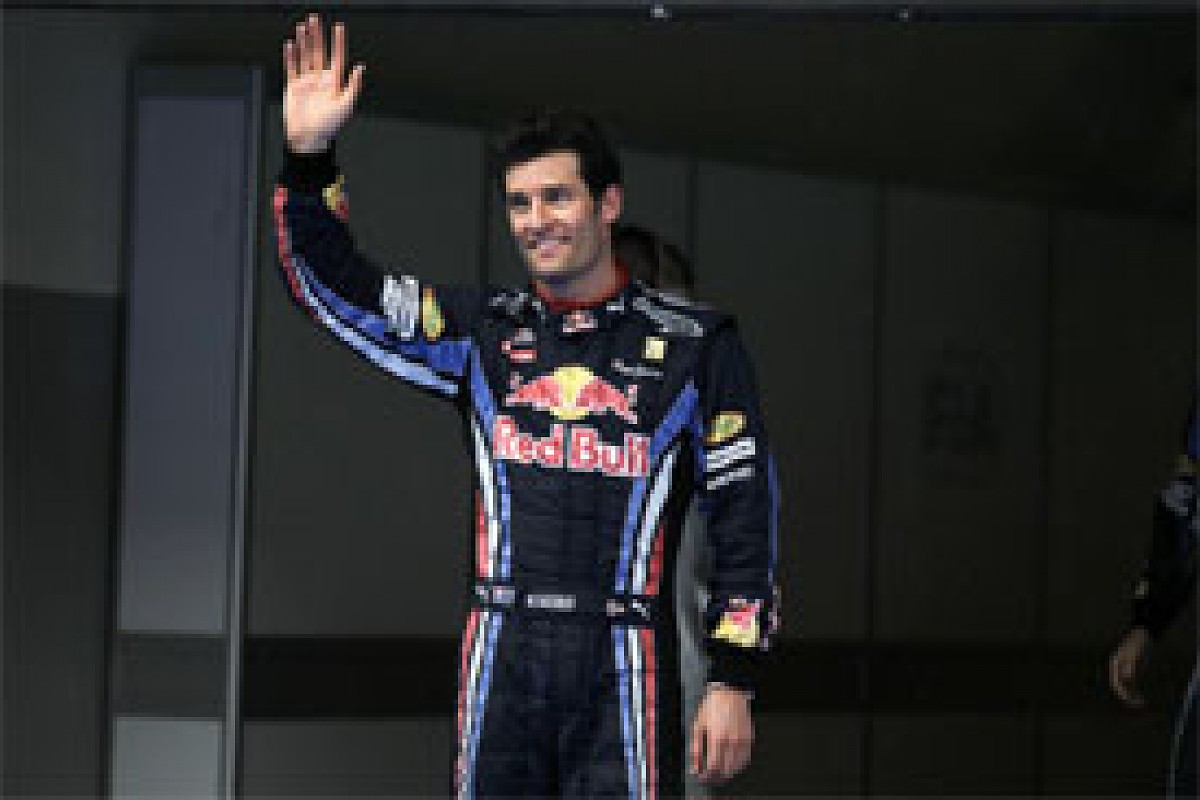 Mark Webber took pole position © LAT
1. Mark Webber, Red Bull
Team-mate qualifying battle 2-1
He only just squeezed through to Q2 in the last 30 seconds of Q1, as one of the big hitters who stayed in the pits at the beginning of qualifying.
But once through to Q3, Webber and his engineer made a gamble on intermediates that turned out to be an inspired choice. He protected the tyres for the first couple of laps, allowing the track to improve up until the last lap before really going for it. It looked like a tight call at first, but his final effort put him more than a second clear.
2. Nico Rosberg, Mercedes
Team-mate qualifying battle 3-0
Rosberg was another to leave it late. He'd shown well in dry practice, but in the chaos of wet qualifying it took him a while to come to the fore. Another to wait too long in the pits at the start, he only scraped through Q1 as the second-to-last to progress, and was only fifth in Q2.
In Q3 he elected to take the full wet tyre with six minutes remaining. It was enough for him to edge out Sebastian Vettel by a tenth, but he was left looking at Webber's final time and wondering what might have been possible had he taken the intermediate.
3. Sebastian Vettel, Red Bull
Team-mate qualifying battle 1-2
He was the only driver in the top four teams to take to the track at the start of Q1 and, although his initial times were nowhere near the front, he pressed on and finished the segment third quickest.
Vettel switched wets for inters half way through Q2 and set the fastest time of the session, but opted to keep the wets on for the duration of Q3 while his team-mate took the inter and went quicker.
4. Adrian Sutil, Force India
Team-mate qualifying battle 3-0
Showed excellent form in the tricky conditions, finishing Q2 third fastest and setting the initial pace in Q3. For a while it looked as though nobody would topple him, but the track was at its best at the end for the Red Bulls and Rosberg.
5. Nico Hulkenberg, Williams
Team-mate qualifying battle 1-2
The rookie coped well in the madness and was briefly quickest of all in Q2. He was sitting second in Q3 until the last 50 seconds when he was bumped down to row three.
6. Robert Kubica, Renault
Team-mate qualifying battle 3-0
Kubica was disappointed with sixth in the end, which says as much about the potential of the Renault as it does his ability in changing conditions. He was fastest in Q1 and second in Q2 after Vettel relegated him in the last two minutes. He was first out in Q3 as the track worsened but the red flag prevented him from setting a time.
After the restart he shot his bolt too early and destroyed his tyres on the first quick lap, leaving nothing in reserve for when the circuit was best a couple of laps later.
7. Rubens Barrichello, Williams
Team-mate qualifying battle 2-1
Like his Williams team-mate, Barrichello looked good in the wet and sat atop Q2 for a while. But he regretted not taking intermediates for the last run of Q3 and felt he could have done a lot better than seventh.
8. Michael Schumacher, Mercedes
Team-mate qualifying battle 0-3
In Q1, he left the pits as late as the McLarens and Ferraris but strapped on some full wets and did enough to get through. He was quickest early in Q2 but dropped down the order at the end and only just scraped into Q3. He was another to complain that his tyres were shot by the time it mattered.
9. Kamui Kobayashi, Sauber
Team-mate qualifying battle 1-2
The Japanese went well all through qualifying, fifth in Q1 and was thrilled to make Q3 for the first time. He couldn't compete with the big hitters but would start a promising ninth.
10. Vitantonio Liuzzi, Force India
Team-mate qualifying battle 0-3
Had a big spin in Q1 at the same place as Jenson Button, but caught it and made it through. Happy to make Q3 but complained that a locking brake cost him on his last run.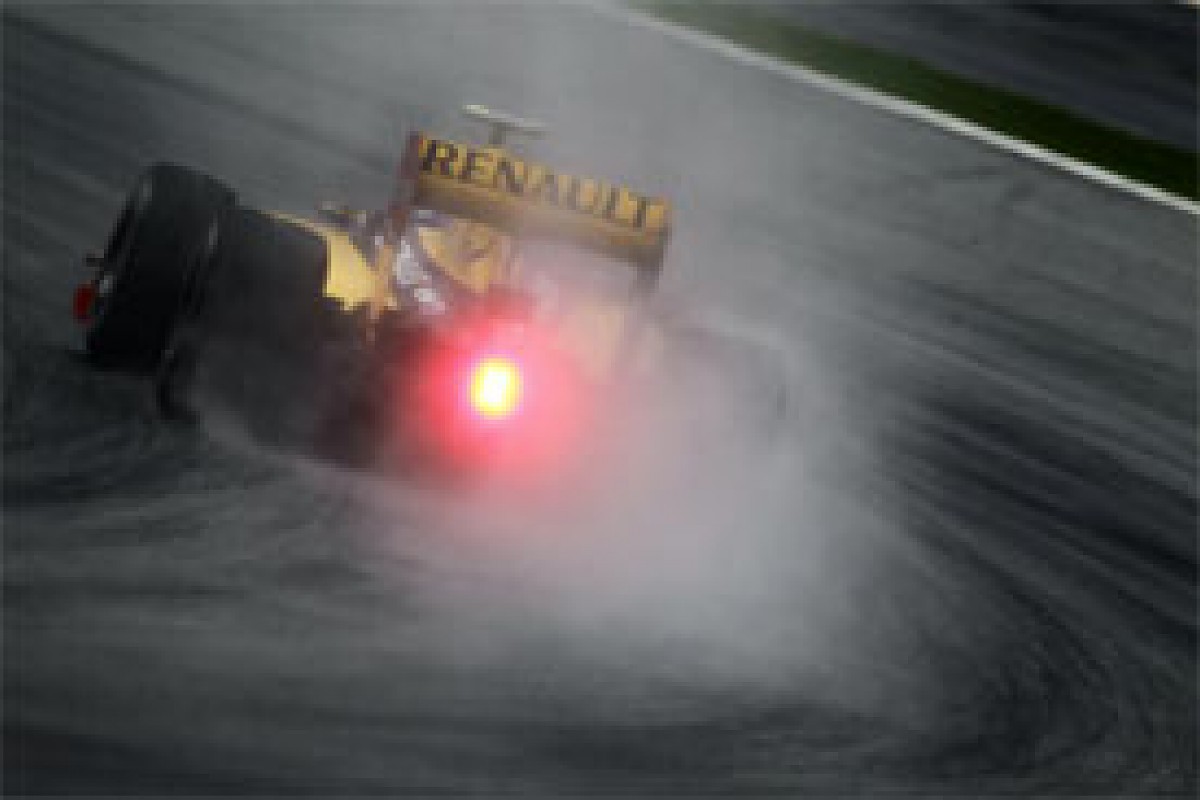 Vitaly Petrov just missed making Q3 © LAT
11. Vitaly Petrov, Renault
Team-mate qualifying battle 0-3
Survived some wild moments early in Q1, including following Button into the gravel, but kept going so kept his fourth place in Q1.
He was fastest in Q2 while it was at its wettest, but tumbled at the end and was the first car to miss out on a place in Q3.
12. Pedro de la Rosa, Sauber
Team-mate qualifying battle 2-1
One of the first out of the pitlane at the start of Q1 and his early time kept him second fastest throughout. Went out in Q2 but reckons he'd have made the top 10 with a clear lap.
13. Sebastien Buemi, Toro Rosso
Team-mate qualifying battle 3-0
Flew off the road several times in Q1 and Q2, and finished the day angry with himself for staying on wets too long in Q2 and costing himself a shot at making Q3.
14. Jaime Alguersuari, Toro Rosso
Team-mate qualifying battle 0-3
Sixth fastest in the first segment, but he and his team-mate were comfortably shy of making Q3. He also wished he'd changed to inters earlier when it counted.
15. Heikki Kovalainen, Lotus
Team-mate qualifying battle 2-1
Easily Lotus's best qualifying as he took advantage of the blunders of Ferrari and McLaren to claim the last spot out of Q1. Never expected to go beyond Q2 but was pleased with a late effort that put him ahead of Timo Glock's Virgin.
16. Timo Glock, Virgin
Team-mate qualifying battle 3-0
Another to sneak into Q2 thanks to mistakes elsewhere, but he had a big spin early on which prompted him to change tyres earlier than planned, meaning his rubber was shot by the end and he couldn't respond to Kovalainen.
17. Jenson Button, McLaren
Team-mate qualifying battle 2-1
Frustrated by the decision to wait in the pits and, by the time he got out, his first flying lap was six seconds shy of the quickest. He did enough to make it into Q2 but binned it into the gravel and lost his place.
18. Jarno Trulli, Lotus
Team-mate qualifying battle 1-2
Disappointed not to make it through to Q2 while his team-mate did, claiming that someone spun in front of him on his last chance at a quick lap.
19. Fernando Alonso, Ferrari
Team-mate qualifying battle 2-1
Had a huge 720-degree spin in the final minute of Q1 and ended up missing a place in Q2 by less than two tenths of a second.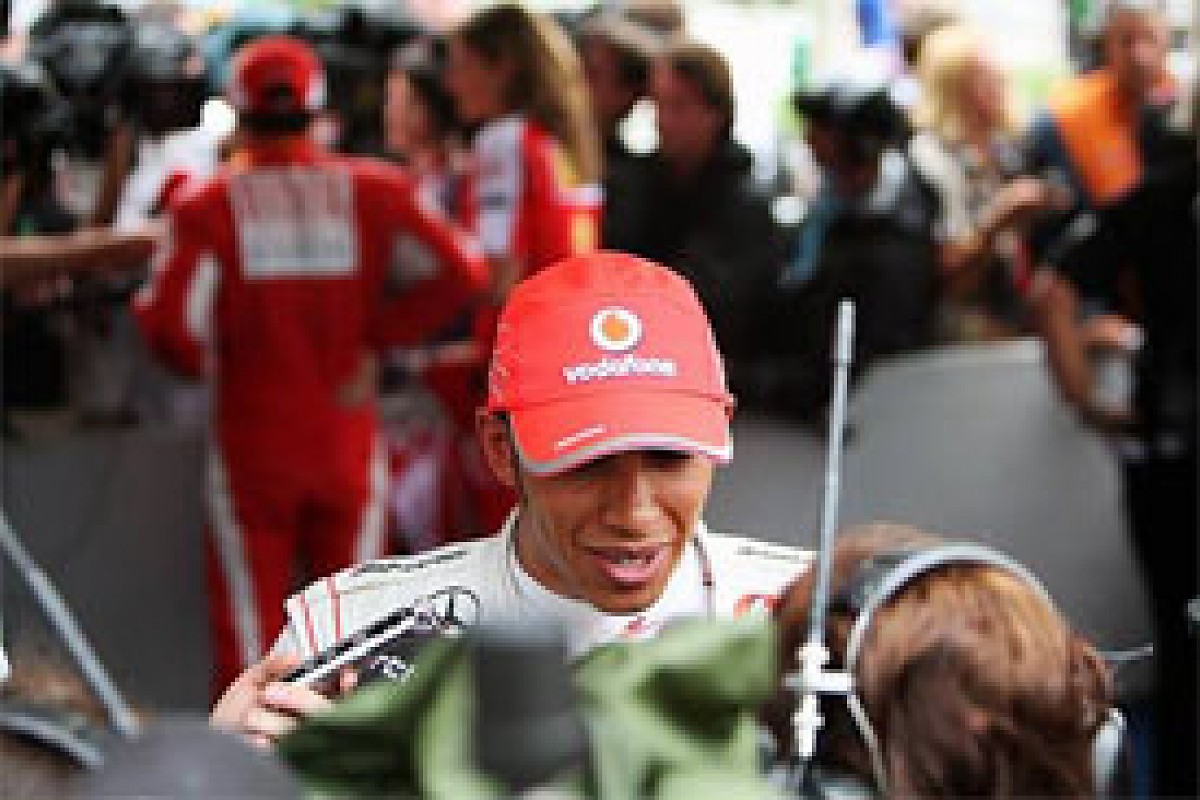 Lewis Hamilton and Felipe Massa speak to the press after being knocked out of Q1 © Sutton
20. Lewis Hamilton, McLaren
Team-mate qualifying battle 1-2
Was hurt by the team's decision to sit in the pits, but was on track at the same time as others who made it through.
Spun before setting a time, pitted for full wets and, like Alonso, missed the cut by less than two tenths.
21. Felipe Massa, Ferrari
Team-mate qualifying battle 1-2
Had a trip through the gravel while trying to set a time late in Q1 and like many of his peers, wound up lamenting the call to go out too late.
22. Karun Chandhok, HRT
Team-mate qualifying battle 1-2
Happy to outqualify his team-mate for the first time, also his first time in wet qualifying. Didn't think he'd be starting a race looking at the back of Alonso, Hamilton and Massa so soon.
23. Bruno Senna, HRT
Team-mate qualifying battle 2-1
Also he first wet Formula 1 qualifying session and a spin into the gravel hindered his chances of setting a better time in Q1.
24. Lucas di Grassi, Virgin
Team-mate qualifying battle 0-3
He spent most of the session sitting in the pits while the team repaired a problem from practice earlier in the day, but just made it out for a couple of laps at the end of Q1.
Qualifying results:
Pos  Driver         Team                   Q1        Q2        Q3
 1.  Webber         Red Bull-Renault       1:51.886  1:48.210  1:49.327
 2.  Rosberg        Mercedes               1:52.560  1:47.417  1:50.673
 3.  Vettel         Red Bull-Renault       1:47.632  1:46.828  1:50.789
 4.  Sutil          Force India-Mercedes   1:49.479  1:47.085  1:50.914
 5.  Hulkenberg     Williams-Cosworth      1:49.664  1:47.346  1:51.001
 6.  Kubica         Renault                1:46.283  1:46.951  1:51.051
 7.  Barrichello    Williams-Cosworth      1:50.301  1:48.371  1:51.511
 8.  Schumacher     Mercedes               1:52.239  1:48.400  1:51.717
 9.  Kobayashi      Sauber-Ferrari         1:48.467  1:47.792  1:51.767
10.  Liuzzi         Force India-Mercedes   1:49.922  1:48.238  1:52.254
11.  Petrov         Renault                1:47.952  1:48.760
12.  de la Rosa     Sauber-Ferrari         1:47.153  1:48.771
13.  Buemi          Toro Rosso-Ferrari     1:48.945  1:49.207
14.  Alguersuari    Toro Rosso-Ferrari     1:48.655  1:49.464
15.  Kovalainen     Lotus-Cosworth         1:52.875  1:52.270
16.  Glock          Virgin-Cosworth        1:52.398  1:52.520
17.  Button         McLaren-Mercedes       1:52.211
18.  Trulli         Lotus-Cosworth         1:52.884
19.  Alonso         Ferrari                1:53.044
20.  Hamilton       McLaren-Mercedes       1:53.050
21.  Massa          Ferrari                1:53.283
22.  Chandhok       HRT-Cosworth           1:56.299
23.  Senna          HRT-Cosworth           1:57.269
24.  di Grassi      Virgin-Cosworth        1:59.977

The race
For all the talk of rain, all the looking at the sky, all the holding a hand out the window and a little bit too much trusting of radar screens, the Malaysian Grand Prix ran from start to finish without a drop from the sky.
It was fitting proof that Formula 1 2010 can produce an entertaining 90 minutes of action on a Sunday afternoon, without the aid of a wet track - although much of the action was as a result of Saturday's rain.
The teams had been expecting rain for the race and the greatest irony was that, to aid its chances in the race, McLaren was hoping for rains that never came just 24 hours after it was out-foxed by the opposite.
But the conditions allowed the race to play out without interruption and it was Sebastian Vettel who laid to rest the anguish of his year so far and soundly punted the opposition into touch with a victory that was as classy as it was dominant.
With the McLarens and Ferraris starting down the back, Vettel showed the pace to have beaten them even if they were up front, but in reality the biggest drubbing he sent out was to the other side of his own garage.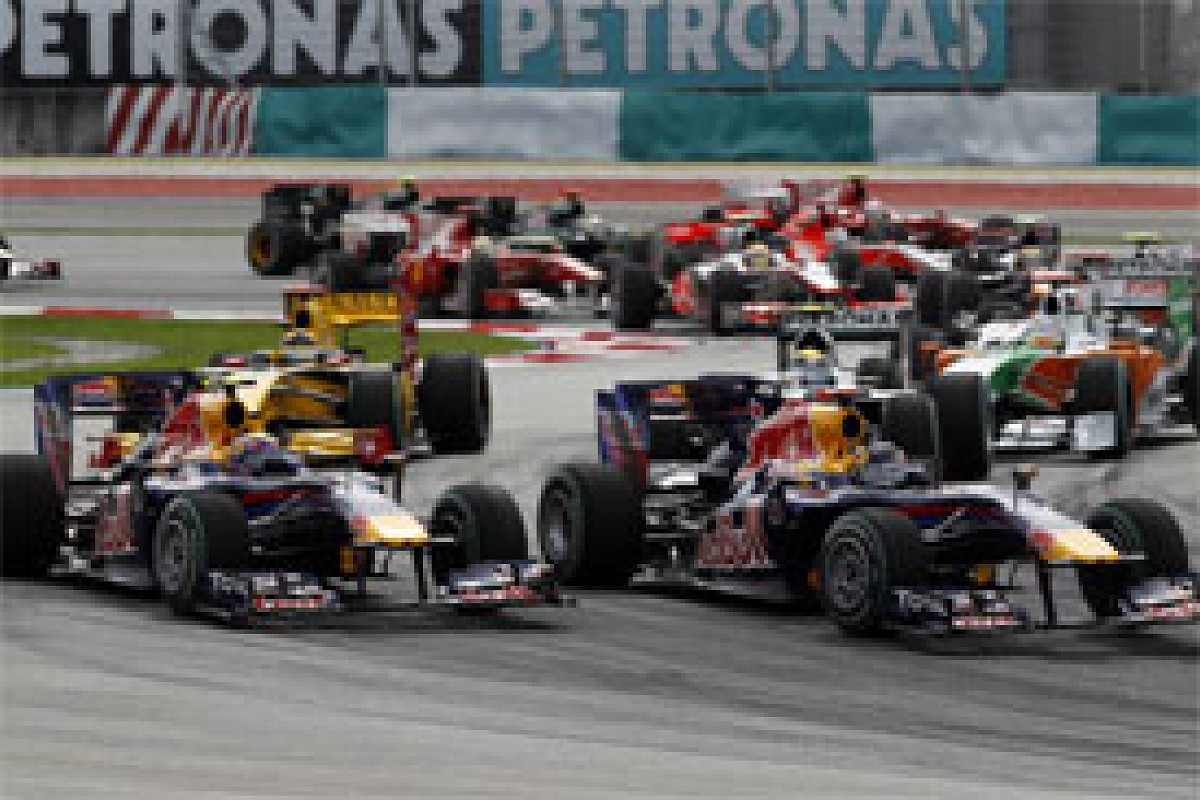 Sebastian Vettel and Mark Webber fight for the lead at the start © LAT
Poor Mark Webber just can't seem to get the better of his team-mate; Vettel has an answer for him at every turn. The Aussie looked particularly sick when Vettel beat home to pole in his own back yard a week earlier, and he appeared positively nauseous as he gritted his teeth on the podium at Sepang and congratulated his team-mate's faultless drive in the press conference.
And that was the difference - Vettel was faultless while Webber made the significant error.
"We know with the strategy and the way race unfolds, the first part of race is crucial. I got a little bit of wheelspin and Seb had a big tow. I didn't really know where Nico was either, I didn't know whether to go middle or left... It was a good fight today but he deserved the victory," Webber admitted afterwards.
It wasn't a big error, just enough. This one was won at the first corner, and Webber had started from pole with Vettel only third. How on earth did the latter get there first?
Nico Rosberg made a pretty poor start, with just enough wheelspin to let the two Red Bulls slip away, but Webber was ahead even on the approach to the first corner. He just, quiet literally inexplicably - Webber himself was at a loss to explain why afterwards - left the inside of Turn 1 open as he swooped wide. Vettel didn't even waste enough time to wonder what was going on and threw his RB6 into the gap, stopped it just in time to control the line to Turn 2 and disappeared off to victory.
"I took the chance I had into Turn 1, it was quite late and I just made it," explained Vettel. "We both tried to push and were fighting among ourselves, but we kept respect for each other. If Mark was in my position, he would have done the same."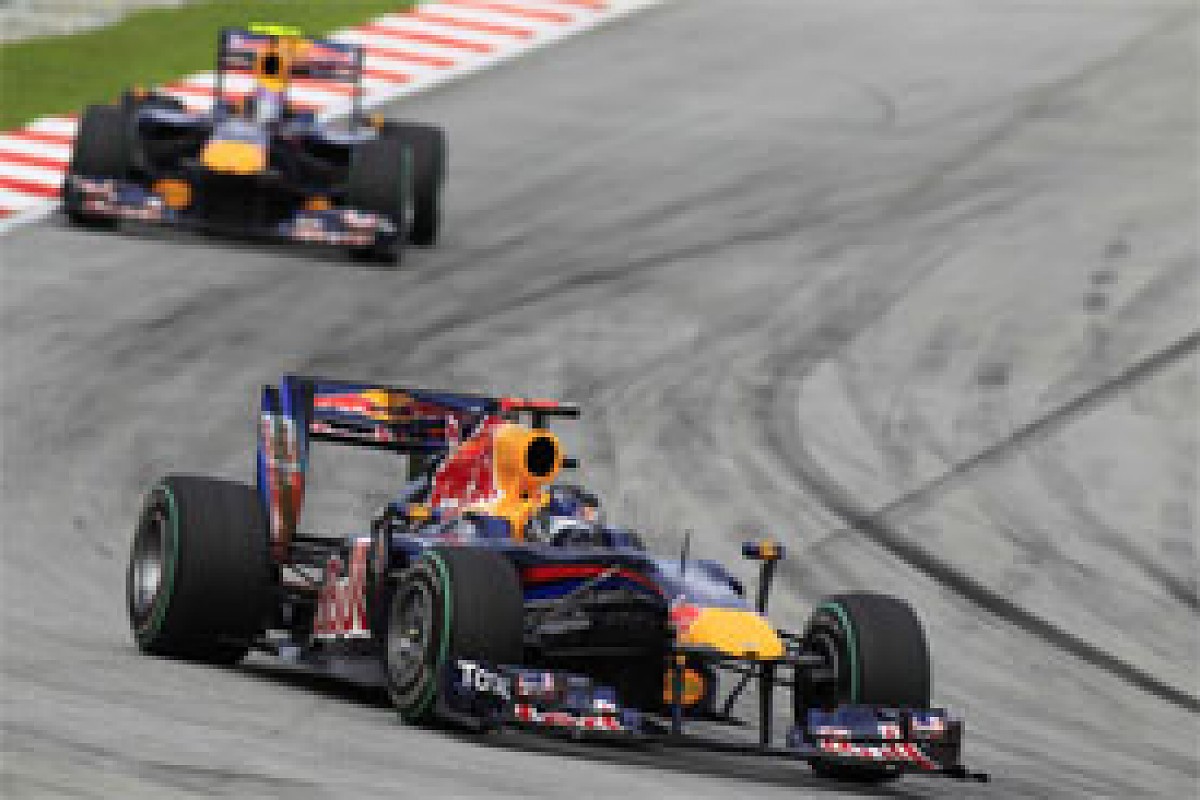 Sebastian Vettel and Mark Webber pull away from the field © LAT
Webber stayed in touch throughout the first stint, yet it was Vettel that opted to pit first, so would have extended his advantage even without Webber's sticking wheel gun costing him a second or so. That was another piece of bad luck for Webber, but it was the error of judgement at the start and the apparent lack of foresight to deviate from his strategy and pit a couple of laps earlier that took away his chance.
From there on, Vettel cruised home to his sixth grand prix victory - and not even Webber could argue it wasn't deserved, particularly given the events of seven days ago.
Behind the leaders was a string of cars making the best of their opportunities. This was a day when Rosberg might have taken the Mercedes among the Red Bulls, but for his poor start. But it wasn't a day that he had the car under him to beat either of them, so he was quite reasonably happy with a podium. That it was Mercedes' first, delivered on another weekend he outshone Michael Schumacher, who coasted into retirement from sixth place with a loose wheel, would only have added to the warm feeling inside Rosberg - somewhere deep down, safely away from all those people just itching for him to say he's got Schumacher sorted out.
Robert Kubica, fourth, once again showed the true pace of this year's Renault. He made good work of the start to find himself fourth, but he spent the whole afternoon with a decent view of the Mercedes rear end, even if he didn't have the speed to get to it.
And Adrian Sutil's fifth wasn't just the best of today's opportunity, but also several previous ones when a promising day for Force India slipped away. No doubt aided by a few McLaren bits and pieces, and the same Mercedes power plant as sits behind Lewis Hamilton, he resisted the Briton for more than half an hour without ever really having to sweat.
Then to Hamilton himself. Lewis didn't exactly cover himself in glory in Australia. The (wrong) decision to pit twice there wasn't his call, but his reaction to it was, and losing his cool in the middle of the race wasn't the most productive solution. But today he was back to his absolute best.
There are times in F1, particularly in 2010 F1, when a measured, patient and controlled approach is required - see Jenson Button's Melbourne victory for the most recent example. But there will always remain other times - happily for Lewis - when it just needs to be grabbed by the throat and thrashed into submission.
Starting a race 20th on the grid, behind Fernando Alonso's Ferrari and three places behind your team-mate, is one of these times - and Hamilton's first 14 laps of Sepang showed just why he is right up there with the best in the world, in spite of his flaws.
You could call it fortune that the road opened up in front of him on the inside on the way to Turn 1 - so much so that Massa saw it and followed him down there from the other side of the track. But it was Hamilton's aggression, controlled to the millimetre, that made the difference - 20th to 13th on the opening lap and seven more places in the next 13 laps.
Pedro de la Rosa and Rubens Barrichello were freebies and he also passed the Lotuses of Jarno Trulli and Heikki Kovalainen and Timo Glock's Virgin, but jumping Button and Alonso at the start is no easy feat. He then swept around the outside of Sebastien Buemi at the quick Turn 5 and blasted by Jaime Alguersuari next time down the pit straight. Kobayashi succumbed next time round as Hamilton dived too deep into Turn 1 but just held the line for Turn 2.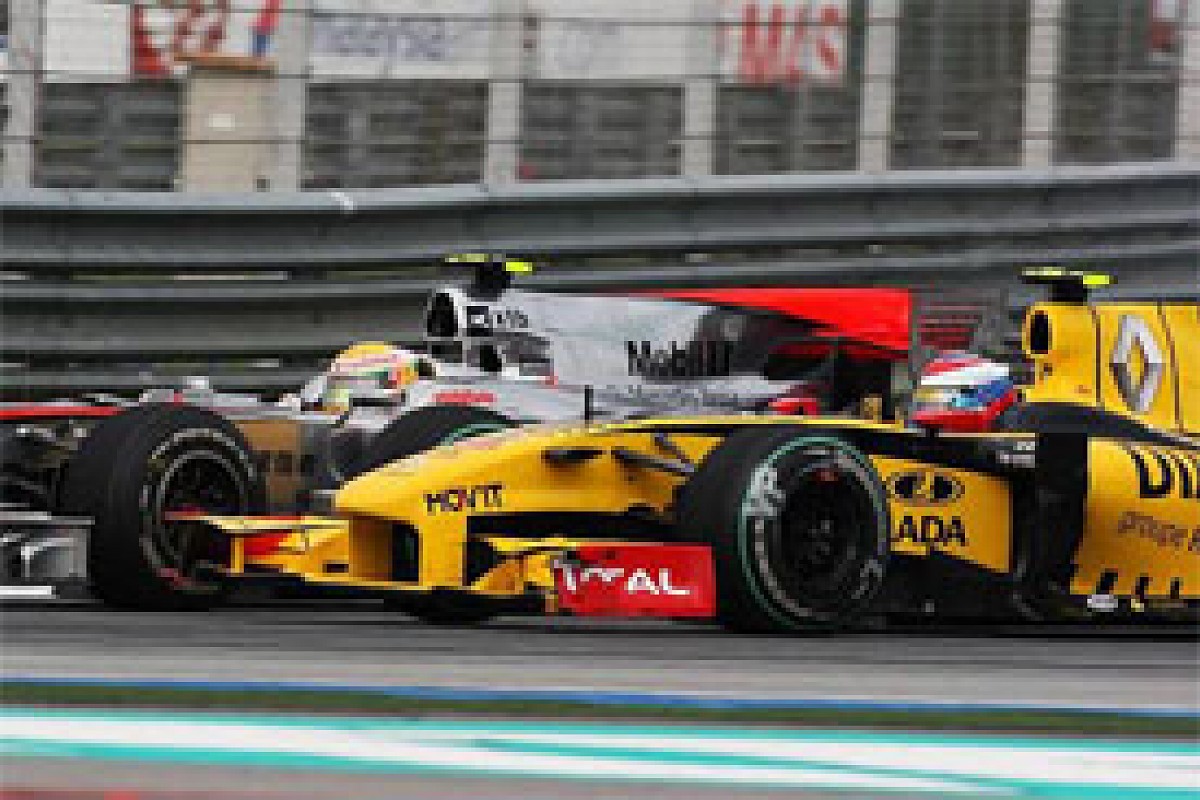 Lewis Hamilton and Vitaly Petrov duel into the first turn © Sutton
Then came a memorable dice with Vitaly Petrov, in which the Russian impressed just as much as his hunter. Petrov ran too deep into the final hairpin, giving Hamilton the place, but the Renault sprung a surprise by appearing back up the inside at regaining the place at the first corner.
Next time round and Petrov was still chasing the McLaren down the main straight. Hamilton weaved left, right, left again, right again, and left again to take the inside for the corner. He was warned for it and opinions were divided over the severity of the crime. The rule prevents drivers making more than one move in defence, but it comes down to what constitutes defence when Petrov was not making a move to pass and Hamilton was trying to break the tow, rather than block off his opponents advance. Either way, Hamilton cemented the place and roared on.
He caught up the battle between Nico Hulkenberg and Vitantonio Liuzzi in no time, but was spared the effort of passing either as Liuzzi dropped out with a throttle problem and Hulkenberg was forced to make his pitstop early due to an electrical glitch.
The alternative approach was again demonstrated by Button, who was stuck back in the pack with the Ferraris while Hamilton surged forward. Right after getting down the inside of Alonso at Turn 1, for 15th place, he made for the pitlane. It was lap 10. Once again he'd have to make a set of tyres last all day. Though he was only one of the McLarens or Ferraris to start the race on the softer compound.
Button got out with a clear track and pressed on, lapping a second quicker than the Ferraris straight away. When things started to shake out, it looked like Button had made another masterstroke - he was about three feet away from leapfrogging his team-mate, but Hamilton emerged from the pitlane and held onto what was then seventh by the narrowest of margins. But from there on, Hamilton on fresh soft tyres went forwards and Button, on not so fresh hard tyres, went backwards.
With only 20 laps to run on the softs, Hamilton could lap as quickly as he pleased. But as it happened he wouldn't overtake another car. He ran down Sutil quickly enough, but the Force India was too quick on the straight and Sutil didn't flinch. At least the Hamilton complaining on the radio was calm and in control this time.
"My visibility for the first couple of laps wasn't great but, I didn't even know I got past that many cars. But the pace was great and I was able to stay out very long," said Hamilton. "I'm well happy with that, I could not have asked for any more."
He was in such a good mood that he congratulated his mate Sutil for holding him off: "They've got the same engine as us. We had a good race, I tried my best to get past him but he drove a fantastic race, he was faultless so really well done to him."
Button slipping backwards brought the Ferraris back into play, long after it looked as though Massa's lack of urgency in the early stages had crippled his race, and Alonso's too, again.
Massa followed Hamilton over the line at the end of lap one, having copied his approach at Turn 1 to get by Alonso and Button. But from lap two, Massa just sat behind Buemi. He stayed there until the Toro Rosso pitted, and then sat behind the sister car until that pitted. Most of the time he wasn't even close enough to claim they were holding him up. Still, he was still only seven seconds behind Hamilton when Alguersuari pitted.
After his own stop, Massa rejoined behind Button who was already 16 laps into his stint. He followed the McLaren for another 16 laps before engineer Rob Smedley got on the blower and talked him past. Then he unleashed the Ferrari's true pace and stormed up to the back of Sutil and Hamilton at over a second per lap. He ran out of tyres before getting close enough to have a stab, though.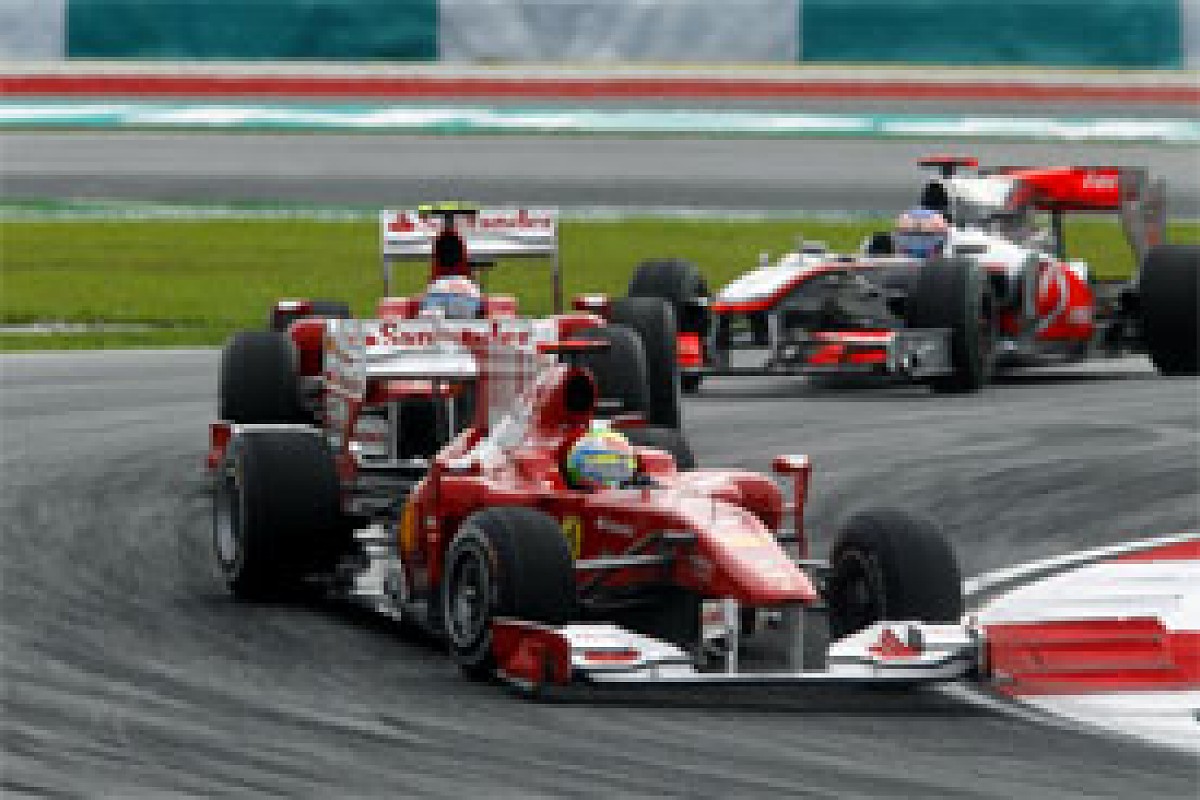 Felipe Massa, Fernando Alonso, and Jenson Button battle for position © LAT
For Alonso, it looked like a second straight Sunday of grumbling angrily in Spanish about having to follow his team-mate around. But instead his fury was saved for his Ferrari, which was plagued with downshift problems all race long - though surely adding to his Massa anger if he was being held up by his team-mate while driving a sick car.
From 19th on the grid, after 54 laps of driving with no clutch, having to thrash the throttle at every downshift to engage a gear - heaping enormous unexpected stress on the engine - Alonso found himself harassing Button for eighth place, having also set the fastest lap of the race at that point. He had a couple of stabs at Button but was clearly struggling to drive the Ferrari around its problems and was ragged on the brakes and couldn't make a move stick.
Ultimately, he was following the McLaren closely into Turn 1 when his gears escaped him and deprived him of his ability to stop in time. He shot down the inside of the Button to avoid contact and his engine promptly blew up. He's unlikely to spend another afternoon fighting harder for no points. But he was philosophical afterwards ...
"From the start things went wrong," Alonso explained. "On the formation lap my gearbox broke and I had no clutch during the race, so I had to brake in a weird way. I had to first gear down and then push the throttle hard so it would engage the gear for that corner.
"It was probably the hardest race of my whole life in terms of driving, because I had to improvise for every corner. But even so, we were going to get a few points, which in the end was not possible because of the engine. But if the gearbox and then the engine are going to break, it's better that it happens when you are ninth than when you are leading."
Jaime Alguersuari scored the first points of his Formula 1 career in ninth place, in what was fittingly his best drive to date. After jumping his team-mate at the start, he left Buemi behind. There was a good move down the inside of Petrov at Turn 1 for 11th, and then a brilliant one around the outside of Hulkenberg's Williams at Turn 5 for 10th. He then doubled his money when Alonso dropped out at the end and he was promoted to ninth.
Hulkenberg inherited the final point on a pretty terrible day for Williams. Both cars had lined up in the first four rows, but Barrichello stalled at the started with a hot clutch, while Hulkenberg just worked his way backwards. He was unfortunate that an electrical systems glitch forced him to make his pitstop early. It meant he lost out to the McLarens and Ferraris, but in the end Alguersuari was the only car ahead of him that he'd have had a hope of beating.
Virgin came out best of the new teams, with Lucas di Grassi a creditable 14th, although three laps down. The Brazilian survived an attack during the race from Kovalainen, who overshot down the inside and took some of the Virgin's front wing with him. Di Grassi also had to back off to save fuel in the last 10 minutes, but was still easily clear of the Lotuses and HRTs.
Hispania got both cars home and both ran ahead of at least one Lotus for most of the day. Lotus, meanwhile, just refused to surrender in its semi-home grand prix. Kovalainen punctured a tyre while assaulting di Grassi and later developed a hydraulic problem which cost him several laps in the pits, while Jarno Trulli had to run 20 seconds off the pace for the last few laps with the hydraulics on his car also causing internal mayhem. Both were still moving at the flag, though.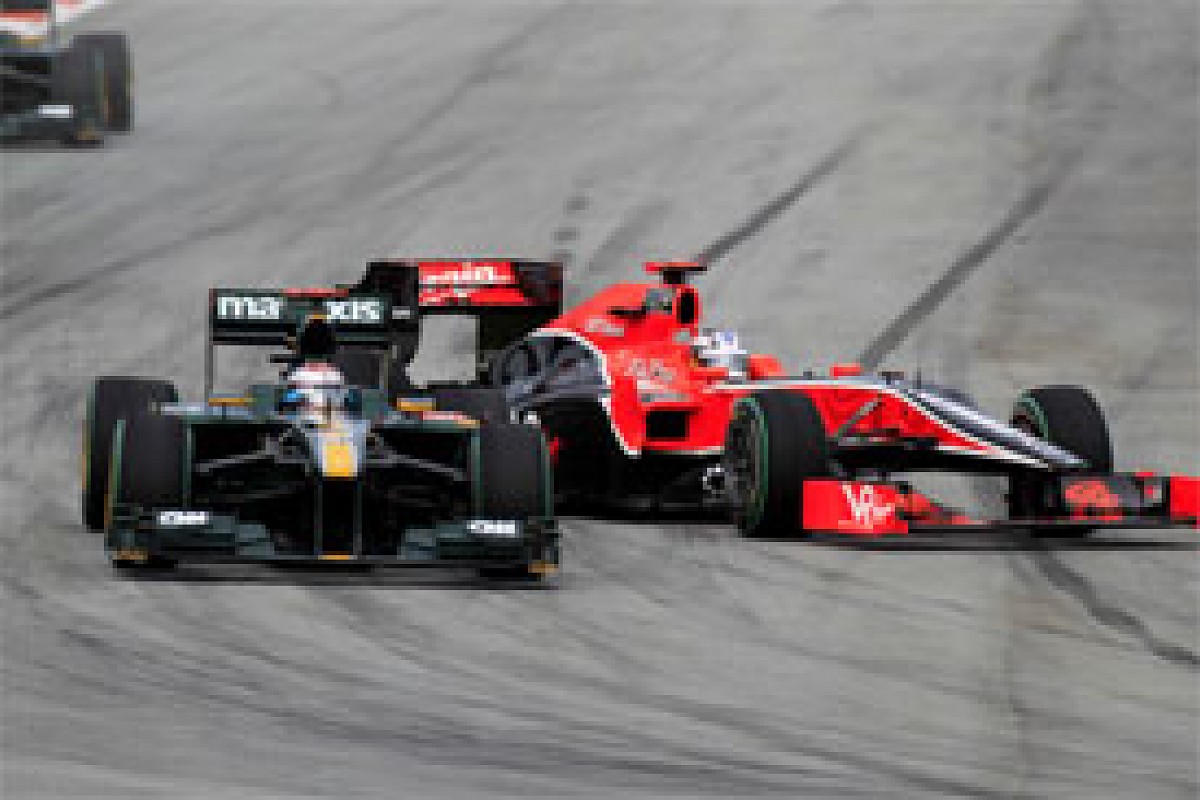 Timo Glock spins into Jarno Trulli © LAT
Timo Glock was the only one of the new cars not to make it home after hitting Trulli while trying to pass him. Petrov dropped out with a gearbox problem, but his enthusiastic race had already begun to slide in the wrong direction after he seemingly squandered the best of his rubber squabbling with Hamilton and had to pit on lap 13.
Liuzzi fell by the wayside with a throttle problem, Schumacher parked his Mercedes on lap 10 with a loose wheel and the Saubers had a miserable day with de la Rosa's engine packing in before the start and Kamui Kobayashi's only lasting nine laps longer.
So with Red Bull running away with it, while its main rivals could only score minimal points, the championship has closed back up in one swift move.
With just eight points covering Massa, Alonso, Vettel, Button, Rosberg and Hamilton, it's just as well Vettel didn't win the first two races.
Race results:

The Malaysian Grand Prix
Sepang F1 Circuit, Malaysia;
56 laps; 310.408km;
Weather: Sunny.

Pos  Driver       Team                  Gap
 1.  Vettel       Red Bull-Renault
 2.  Webber       Red Bull-Renault      + 4.8s
 3.  Rosberg      Mercedes              + 13.5s
 4.  Kubica       Renault               + 18.5s
 5.  Sutil        Force India-Mercedes  + 21.0s
 6.  Hamilton     McLaren-Mercedes      + 23.4s
 7.  Massa        Ferrari               + 27.0s
 8.  Button       McLaren-Mercedes      + 37.9s
 9.  Alguersuari  Toro Rosso-Ferrari    + 1m10.6s
10.  Hulkenberg   Williams              + 1m13.3s
11.  Buemi        Toro Rosso-Ferrari    + 1m18.9s
12.  Barrichello  Williams-Cosworth     + 1 lap
13.  Alonso       Ferrari               + 2 laps
14.  Di Grassi    Virgin-Cosworth       + 3 laps
15.  Chandhok     Hispania-Cosworth     + 3 laps
16.  Senna        Hispania-Cosworth     + 4 laps
17.  Trulli       Lotus-Cosworth        + 5 laps

Not classified/retirements:

     Kovalainen   Lotus-Cosworth        46 laps
     Petrov       Renault               32 laps
     Liuzzi       Force India-Mercedes  12 laps
     Schumacher   Mercedes              9 laps
     Kobayashi    Sauber-Ferrari        8 laps
     Glock        Virgin-Cosworth       2 laps
     De la Rosa   Sauber-Ferrari        0 laps


Fastest lap: Webber 1m37.054s 

World Championship standings, round 3:

Drivers:                   Constructors:
 1.  Massa         39       1.  Ferrari                    76
 2.  Vettel        37       2.  McLaren-Mercedes           66
 3.  Alonso        37       3.  Red Bull-Renault           61
 4.  Button        35       4.  Mercedes                   44
 5.  Rosberg       35       5.  Renault                    30
 6.  Hamilton      31       6.  Force India-Mercedes       18
 7.  Kubica        30       7.  Williams-Cosworth           6
 8.  Webber        24       8.  Toro Rosso-Ferrari          2
 9.  Sutil         10
10.  Schumacher     9
11.  Liuzzi         8
12.  Barrichello    5
13.  Alguersuari    2
14.  Hulkenberg     1
Lap-by-lap as it happened on AUTOSPORT Live
TEAM BY TEAM
McLaren
It was peaks and troughs all weekend for McLaren. It looked to have the legs on even Red Bull in the dry early in the weekend, but qualifying was a catastrophe and left Jenson Button and Lewis Hamilton 17th and 20th.
The team expected that it would need the rain for a charge to the front, but Hamilton very nearly managed one in the dry. He stormed up to sixth place but could get no further as Adrian Sutil's Force India proved too quick on the straights. Button gambled on an early tyre change and gained several places, but lost out to Felipe Massa later once his tyres were shot.
Mercedes
Nico Rosberg had his strongest weekend so far, qualifying on the front row and finishing on the podium. He might have got among the Red Bulls were it not for a poor start, but the car didn't have the pace for anything better than third.
By contrast, Michael Schumacher had a bit of a struggle. Schumacher qualified eighth and ran sixth in the early stages, but pulled off to retire just 10 laps in with a loose wheel. Rosberg is starting to put daylight between them now.
Red Bull
The perfect way to respond to the mechanical gremlins that cost the team dearly in Bahrain and Australia - a dominant one-two, commanded by the faultless Sebastian Vettel.
Webber just can't seem to get the better of his team-mate when it matters and was made to regret leaving the door open at Turn 1.
Definitely the team to beat, and the championship would be looking a lot less exciting had Vettel won three from three.
Ferrari
Gave itself a bit of a struggle with the qualifying blooper, starting 19th and 21st. The pace there, intermittently, during clean air laps in the race, but neither driver made enough progress early on to threaten serious points.
Massa followed Hamilton up the inside at the start, but didn't follow him through the field, while Alonso's heart will have sank when his team-mate shook out of the first turns ahead of him.
The Spaniard's day only got worse, battling with a downshifting problem all day that eventually caused his retirement with a blown engine while hounding Button in the closing laps.
Williams
Williams will have to fight Sauber for the least happy team award for Malaysia. Things looked so good after qualifying with Nico Hulkenberg fifth on the grid and Rubens Barrichello seventh, but on Sunday things went wrong, and fast.
Barrichello stalled at the start, got away last and showed few signs of speed all day long, only making his way ahead of the new teams. Hulkenberg dropped to seventh early on and had to stop early due to an electrical problem, which only aided his backwards progress through the field. He lucked into a point at the end thanks to Alonso's late retirement.
Renault
Another better-than-expected showing from Renault - people are going to have to start expecting more. Robert Kubica flew in qualifying and could easily have started higher than sixth. He jumped Hulkenberg and Adrian Sutil at the start and sat in a happy fourth all day long, rarely more than a couple of seconds adrift of Rosberg.
Vitaly Petrov too was quick in qualifying and could easily have made Q3. As it was, he ran inside the top 10 for most of the day and went up in most peoples' estimations thanks to a spirited fight with Hamilton, which included sticking it back down the inside of the former world champion at Turn 1 after being overtaken. He seemed to take too much out of his tyres early on and had started heading backwards before a gearbox problem sidelined him.
Force India
Another giant-killing performance from the supposedly little team as Adrian Sutil held off Lewis Hamilton for more than 20 laps for fifth place. It shouldn't be a surprise though, as well as the excellent straight-line speed, Sutil had been quick all weekend and qualified on the second row.
Vitantonio Liuzzi had less fun, though he did make Q3. The Italian harassed Hulkenberg for ninth early in the race but dropped out after 12 laps with a throttle problem.
Toro Rosso
A bit of a battle of attrition got the Toro Rossos home in 9th and 11th places, but it genuinely out-paced Williams and Jaime Alguersuari drove the best race of his short career so far.
He made a good move stick on the lively Petrov at Turn 1 but bettered with a courageous pass on Hulkenberg around the outside at Turn 5 to earn his first points.
Buemi was quieter behind and couldn't keep up with his team-mate after the pitstops.
Lotus
A desperate and persistent showing from Lotus on semi-home soil. Qualifying was the highlight as Heikki Kovalainen marched into Q2, but the race wasn't the same success story and both drivers had to keep plugging away to get the cars home after problems and/or repairs.
Hispania
A solid display as both cars made it all the way to the end. There was no fairytale qualifying story with Bruno Senna and Karun Chandhok both going out in Q1. Their races were largely uneventful and off the pace but, for HRT right now, just getting both to the flag is creditworthy.
Sauber
Williams' main opposition for most downbeat team of the weekend. Like its British counterparts, Sauber enjoyed qualifying with Kamui Kobayashi starting ninth and Pedro de la Rosa 12th.
But that was as good as it got, with de la Rosa's engine expiring on the way to the grid, while Kobayashi dropped outside the top 10 and then retired on lap nine when his engine died.
Virgin
The best weekend so far for Virgin, with Timo Glock qualifying 16th and Lucas di Grassi leading the new teams home in the race. Conversely, di Grassi missed most of qualifying while his car was being repaired and Glock retired from the race after hitting Jarno Trulli's Lotus during an overtaking attempt.
But di Grassi's 14th place, well ahead of both HRT and both Lotuses, gave the team its moment in the sun.