There was plenty to talk about after the Australian Grand Prix and inevitably much of the focus was on the respective ups and downs of the Red Bull and McLaren drivers. Somewhat lost in the mix was the awesome performance of Robert Kubica and the Renault team, who turned ninth on the grid to second place at the flag - and with only one car in front retiring.
In the build-up to this season, we talked a lot about the top four teams and Renault was largely overlooked. But Kubica was always going to be the strongest wild card, the man waiting to pounce should those ahead get it wrong. Much as he was with BMW-Sauber in 2008.
Last year Kubica was almost forgotten, so poor was the F1.09. Only in Brazil did we really see something special as he grabbed the slenderest of opportunities and converted it into an unexpected second place. Australia was a similar performance, one that also gave a huge boost to the Anglo-French team and its new management after an uncertain winter.
"It's definitely a great relief for the team," says Renault team principal Eric Boullier. "We know that we still have a lot of work to go through to be capable of fighting for pole. But we know as well that we improved the car a lot from last year, and any opportunity, any problems within the top four, we know we can take advantage.
"We still have a lack of global performance, we have to be faster, but at least we know that on used tyres, the car has got the pace. And it's a good surprise for us to see that our car is saving the tyres. Of course it's a relief for the whole team in Enstone, because they worked like hell all the winter to catch up. We can keep our speed of development and I think we will be closer and closer."
Kubica qualified ninth in Melbourne, just as he did in Bahrain. But while in the opening race he was a victim of a first corner tangle, this time he benefited on the slippery track. When the dust settled he was fourth, behind only Sebastian Vettel, Felipe Massa and Mark Webber.
As the track dried and Jenson Button showed that slicks were the way to go, Massa and Kubica led the charge into the pits. Renault did a great job to get Robert out ahead of the Ferrari. He lost a place to Button, but gained another from late stopper Webber and ended up in third.
"He got a great start and overtook a couple of cars," says Renault chief race engineer Alan Permane. "And then of course there was the first corner melee, and we wound up fourth there. I think we got the call to go onto dries pretty much right. We saw Button come in and then we saw him go off as he went out, and we thought let's hang on. Then we saw Button set a couple of quick sectors, and it was 'get him in now'. We jumped Massa in the pitstop which was nice.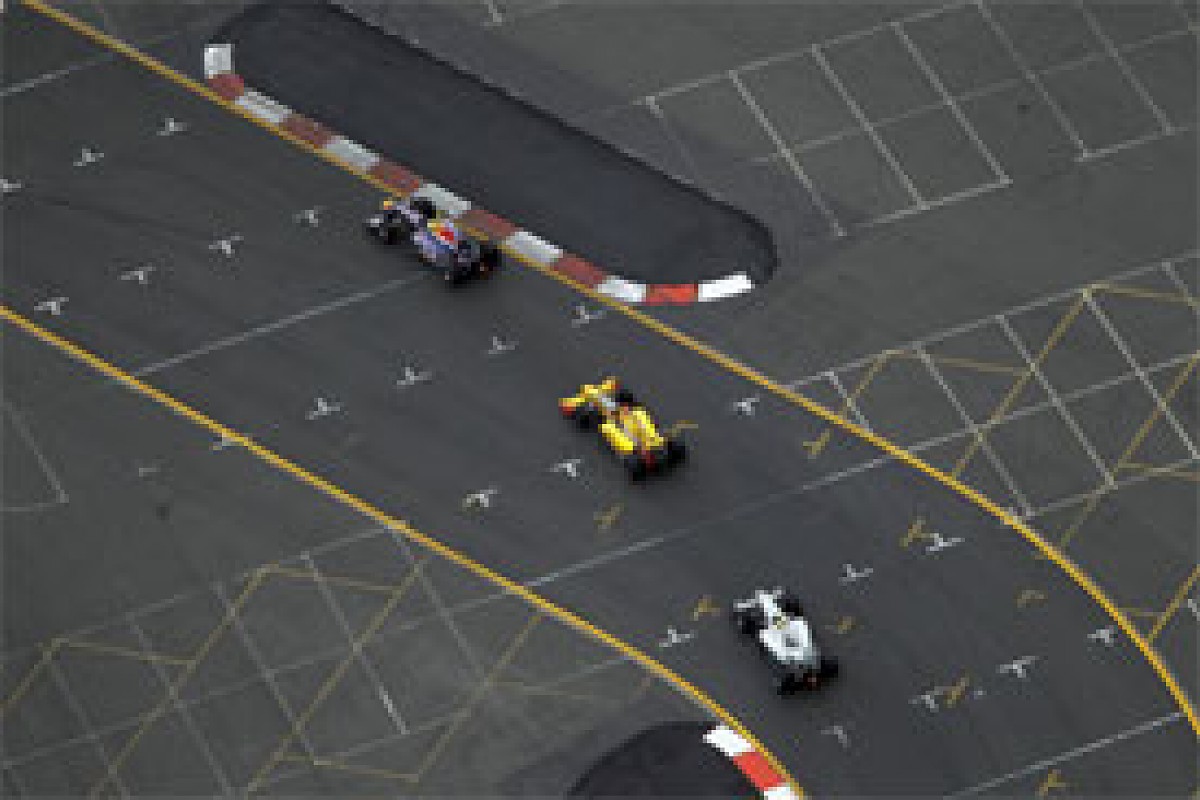 Robert Kubica battles with Mark Webber and Nico Rosberg © LAT
"It was a difficult call and maybe one lap later wouldn't have made a lot of difference, I don't think there was a huge amount in it. I think it was probably a bit wetter in the first sector than in the other ones, so it was a bit of a tricky thing."
"I was able to keep up quite a consistent pace, taking care of my tyres," says Kubica, "and was able to defend quite well the position. Of course, the big job was done in the start. I gained two or three positions, and then at Turn 1 there was some action and I managed to avoid the accident. We did a good pitstop and I managed to overtake Felipe."
Vettel's retirement promoted Kubica to second, and then he his hands full keeping Hamilton at bay.
"He knew he was going to the end, so he was managing his tyres," says Permane. "He wasn't pushing at all. He knew he couldn't get Button and we had Hamilton behind us for quite a while, and he didn't get past us."
Things became interesting when Webber, Rosberg and Hamilton all pitted for a new set of slicks. Robert then had Massa in his mirrors.
"We'd never intended to make another pitstop when we started the race," Permane insists. "It was always going to be a one-stop, whether we started on wets or didn't, although they had to do a bit more than we originally intended to. I must admit, when I saw other cars coming in, I was very surprised. I was gobsmacked when I saw Hamilton come in, and then Rosberg. It just didn't make any sense at all.
"Maybe they thought their tyre wear and degradation was going to be worse than ours, but we knew pretty much from our work on Friday that, durability-wise, the tyres would do it, no problem at all. It's just if the degradation was bad - and there was a point in the middle of the race when it was bad. If you looked at the TV you could see the rear tyres had got some abrasion on them. And then that cleaned up. We weren't as quick as the Ferraris, no way. But they didn't have enough pace to overtake us. I certainly wasn't worried about Massa getting past us."
"It was a gamble to keep the same tyres," Boullier admits, "because we didn't know about the degradation. But I think we understood when Ferrari tried to push and they closed the gap that they had to back off a bit because they were destroying the tyres, which means our car definitely had the pace at the end of the race. About 12 laps before the end we were a little bit worried, but five laps before the end we knew that Alonso would never let them past."
With the Ferraris riding shotgun, Robert brought the car safely home. He was able to successfully pace himself, despite that pressure from behind.
"It's always good to be on the podium," he says. "Especially when the podium is not expected it's a special feeling. For now, as our full performance is not up to the podium, we have to take our opportunities. With a bit of luck but also with consistent driving, a good pitstop and a good strategy we managed to finish in second place, which was a great result for the team.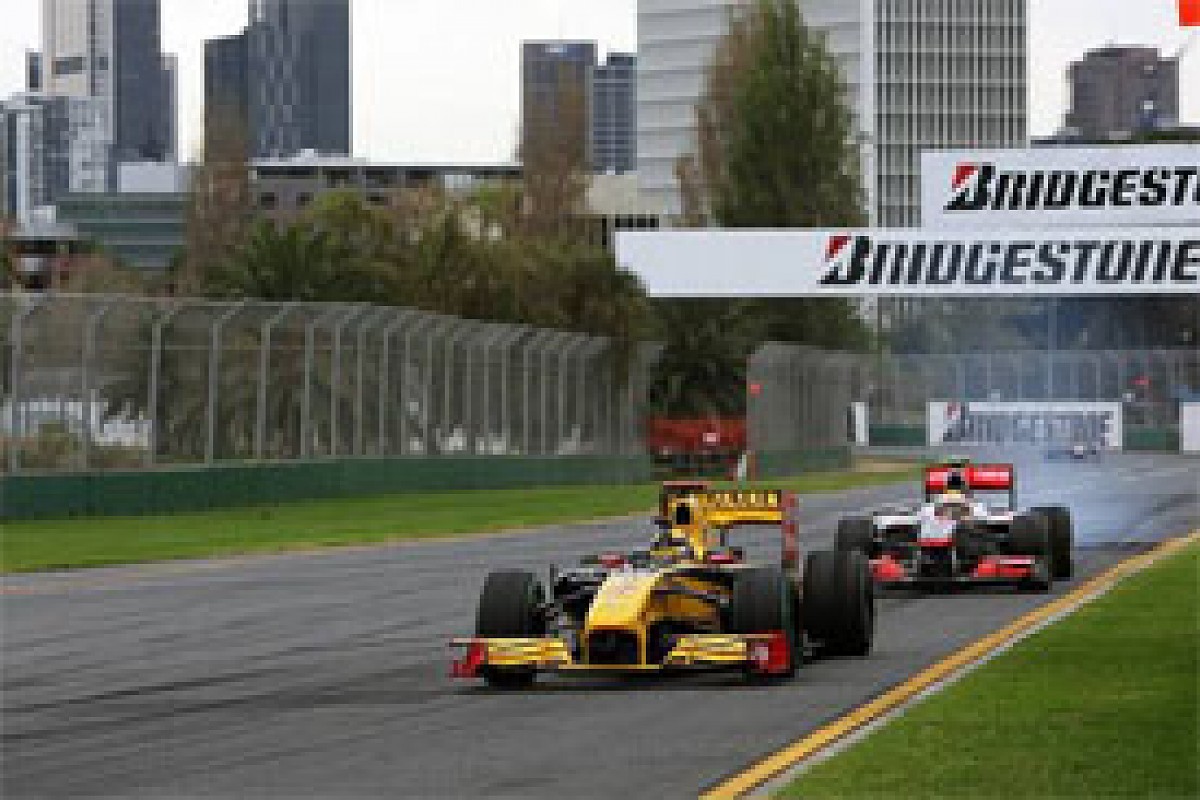 Robert Kubica holds off Lewis Hamilton © Sutton
"Reviewing the race I think many people have made mistakes, and this helped me. I didn't do any mistakes, I kept driving consistently, taking care of my tyres and I brought good points for my team."
It was a brilliant performance by the Pole, that reminded us that Renault has found the ideal replacement for Fernando Alonso. He's a guy who can motivate a team and make things happen.
"I think he showed that he's really one of the key assets of the company," says Boullier. "He clearly drove very well, no mistakes at all. Every lap was just brilliant, even under pressure, he never gave up, and he even brought pressure on the others. I think you see a proper driver fitting in a good team, and they're all racers. So it's good."
"He's a terrific driver, he really is," Permane concurs. "I've said it many times over this winter, the effort he puts in is incredible, much more than any other driver I've worked with. He deserves that and the team deserves it too. Back at the factory the team have worked incredibly hard over the winter, and especially when the season started.
"The factory gave us a new complete aero kit for the first race, we had new parts for Australia, new parts for Malaysia. China and Barcelona are all scheduled in. It's a good reward for everyone, here and back at the factory. We've got our heads held high.
"We're not as quick as them, but we had the pace of the Mercedes in the race, and I think we did in Bahrain - we just had a very poor first lap there. We can't get near them in qualifying, but our race pace isn't bad. The only thing to do is more hard work and put more downforce on than the other people."
There must have been times during the winter when Kubica had doubts about his decision to sign for Renault, but now he's clearly a very happy man. The team is known for its ability to progress during a season - admittedly there have at times been pretty poor starting points - but that knowledge must give everyone extra confidence.
"I think everybody knows where we have to work, and everybody's working really hard," says Kubica. "So I don't think [the result] really changed anything. We had already a good, positive atmosphere in the team. Of course it's a nice feeling for everybody, for the guys, not only on the race track but in the factory. They have worked really hard after some uncertain times in the winter, when there were some doubts about the team. I think scoring a podium in the second race is a good achievement and a good result for everybody.
"We know where we are lacking a bit. Of course top cars, I think they have everything. I can only compare our car with what I have driven in the past, I have been in one team. Definitely we have quite strong areas, which we are still trying to improve, because when you want to be a top team you have to have everything and you have to be better than the others."