If the Bahrain Grand Prix was all about "nothing to see here", last Sunday's rain-skewed race-around-a-park in Melbourne was the perfect riposte. So much so that many of those who called for wholesale changes to the sport performed an abrupt U-turn (not using the handbrake, for that would fall foul of anti-hoon laws) and decried those who had been calling for just that two weeks earlier.
The Sepang pitlane on Thursday © Sutton
That position conveniently disregards the fact that pre-race downpours cannot be relied on and that temporary tracks have historically been incident magnets in F1. Located between the two extremes, there is a lot to admire about the moderate view, although there is reason to expect the Malaysian Grand Prix weekend to produce a spectacle closer to that we saw in Australia than in Sakhir. If the on-track action is so-so, things are heating up a treat off it.
With two races down, neither of the drivers in the fastest car has made the podium; the biggest impression made by the most successful driver in the history of the sport has been wheelbanging with a midfield car driven by a man two decades his junior; the McLaren driver that many expected to play second fiddle has taken the team's first win and, all the while, Fernando Alonso has racked up a handy championship lead.
The oldest adage in the paddock has it that "to finish first, first you have to finish" and that's a mantra that Red Bull has, in part, disproved. Sebastian Vettel did indeed make the finish in Bahrain, albeit a hobbled fourth running on seven cylinders, proving that just getting to the finish isn't enough. Red Bull needs to repeat its performance in last year's third race, when it dominated in China, or what is right now the best car of 2010 might once again be condemned to a frustrating game of catch-up. There will be a lot of questions about reliability over the next few days, but the only answers that matter will come on Sunday afternoon.
Red Bull generally bat off the reliability questions with ease, but press them a little and you catch a glimpse of the frustration that has built up. The failures in Bahrain and Australia were unrelated, the only common thread being that they cost Sebastian Vettel likely victory, so it's unfair to leap to the conclusion that the car is fundamentally unreliable.
But there are concerns. After the race in Melbourne, Helmut Marko, Red Bull owner Dietrich Mateschitz's eyes-on-the-ground, tasked one of the team's mechanics to show him exactly what had caused the costly front-left wheel failure and there's no doubt that all of the quality-control stops will have been pulled out. A couple of DNFs can be excused or put down to bad luck, and one of the big stories of this weekend will be whether Red Bull can get Vettel to the finish cleanly. If it does, chances are it will be first place. If not, the foundations may already have been laid for a frustrating spring and summer playing catch-up. Again...
So to Schumacher. It's hard to overcome the feeling that he's someone's older brother hanging around with the cool kids because he can't accept that this phase of his life has passed. He certainly didn't come back to spend most of the race, as he did in Australia, trying to get past a 20-year-old not hit his second birthday when Schumacher made his famous debut at Spa in 1991. So far, he has looked good, but not great. Is that it, or is he easing himself back in? Is he finding F1 harder than he expected, or is this just a waypoint on his re-learning curve?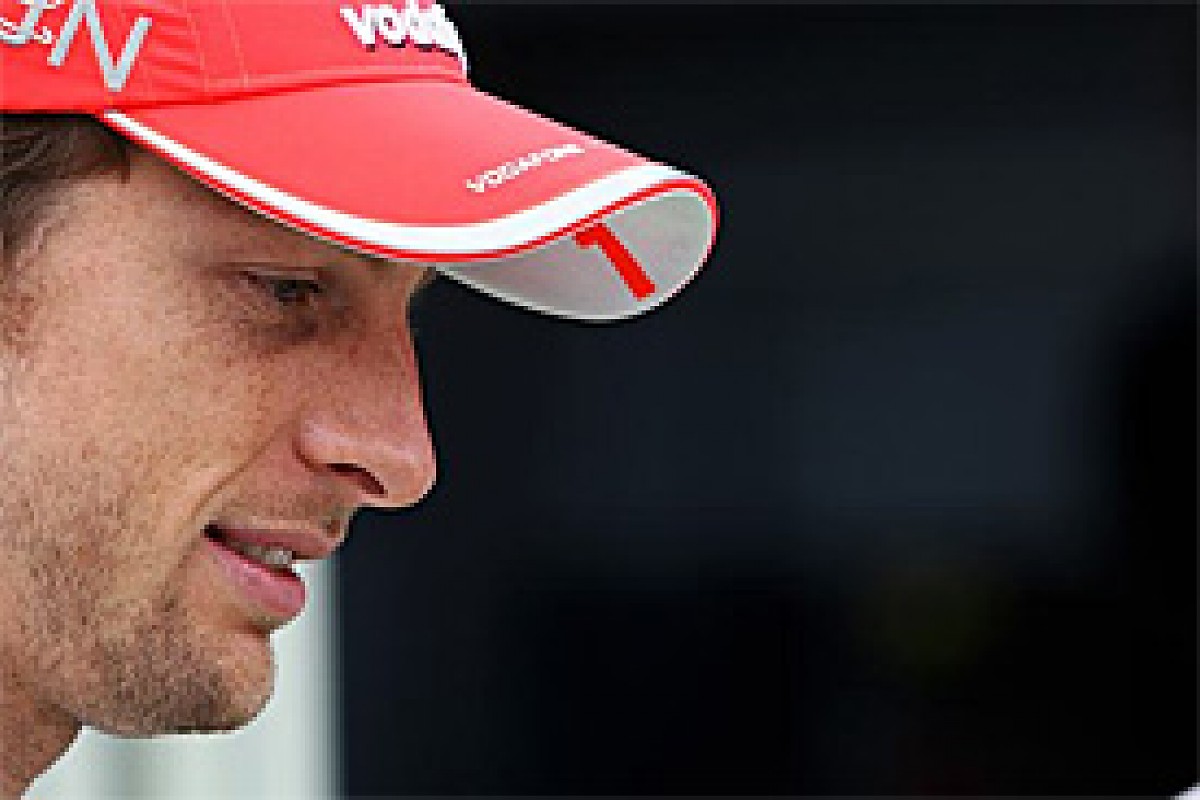 Jenson Button at Sepang © Sutton
Set against being outqualified and outraced by team-mate Nico Rosberg in Bahrain and Australia and the fact that he looks like a mere mortal behind the wheel is the knowledge of what he once was. Only a fool would write off Michael Schumacher this early. Much as it defies belief that a 41-year-old should be able to throw himself back into F1 after three years out and be the same driver that he was all those seasons ago, don't forget that this is the man who made the impossible commonplace during his "first" career. He will be under intense scrutiny this weekend, but you can't help but feel that the die has yet to be cast.
Jenson Button drew comparisons with Schumacher during his world championship campaign from no less than Ross Brawn, and there was a little of the old Schuey magic to his Melbourne victory. A bold call to switch to slicks on a damp track, an intelligent tyre-protecting drive, serene progress while at the front and that little slick of luck all played their part in making him McLaren's first winner of 2010.
Set against Lewis Hamilton's frenzied weekend of hooning, stunning overtaking manoeuvres in the race, bad luck and assaults from all-Australian hero Mark Webber, Button's trip down under seemed positively serene. There's little sign that the pair might become anything other than ferociously friendly adversaries, but both know that what happens in the next few races could set in stone the intra-team dynamic.
At the McLaren launch, everyone was looking at their body language to get a feel for what form the battle between them will take. That was the wrong place to look; this one is being fought out on the timing screens and on the track. Button will be looking to build on Australia and Hamilton will want to make sure that it's him that the team is building a title tilt around.
As for Alonso...there's not much to say. Last season wasn't a good one for either the Spaniard or for his new team, but there's a feeling that the pair belong together and that they belong at the front. Ferrari might not have the fastest car, yet, but based on the evidence we've seen so far the Scuderia is looking like the best team.
It's taking a while to get used to seeing Schumacher back in the saddle, or Jenson in the environs of McLaren. But Ferrari and Alonso seem made for each other. In a way, that's the biggest story of all, and don't be surprised if he jets off from Malaysia having further consolidated his championship lead.