Despite (as a direct result of?) his Germanic character he endeared himself to a whole generation of tifosi, and arguably this blonde race driver saved Ferrari from extinction. The statement certainly has merit: when he joined the Scuderia, the Italian team had not won a grand prix in 19 starts. In fact, if the whole picture is analysed, the team had scored only twice in the preceding 35 events.
Put another way, when the driver joined Ferrari, the team had not won a world championship for over a decade. In any event, at the time many believed the 'wrong man' had won it under contentious circumstances, having been fated to be on the wrong side of the Commendatore.
Michael Schumacher, Barcelona testing in 2001 © LAT
But, back to our slim, trim and blonde hero: when he departed the team, having become somewhat disillusioned by the politics forced downwards from the top office, he left an infrastructure of sufficient depth and strength to enable a multitude of successors to win grands prix, one of whom took the world championship before walking away from F1.
It all began, of course, in an August mostly forgotten in the mists of time for a rent-a-driver with a struggling, at times controversial entrepreneurial outfit based in low-rent facilities near Silverstone. His grand prix debut took place at the circuit he could later call his own on account of it being both an extension of his character, and on account of being close to his area of birth. He impressed whilst with his next team, again British but this time tobacco sponsored, but it was only when he joined Ferrari that the legend truly took off.
Of course, having a former rally specialist as team boss went some way towards to easing his tasks, as did a stellar support crew and the biggest budget of the time, but he made virtually every victory happen through sheer force of will. He did, however, suffer a serious accident on the opening lap of a grand prix on conceivably the most hallowed circuit in F1 history. Said crash caused him to sit out too many races for his liking, costing him yet another world title. At the time many wondered whether he would ever race again, but his steely resolve ensured he was back in the fray before season's end.
The (points) damage, though, had been done, and he was forced to watch as his arch-rival of the year, driving for McLaren, took the title in Japan. No worries, though: more titles would follow in subsequent seasons.
By then he was the highest paid Ferrari driver of all time (and, saliently, of his generation), the man against whom all others were measured and generally found wanting. But, he deserved every cent: not only was he the winningest Ferrari driver at that stage (a record which could, though, be broken in years to come), but he had taken fitness and race strategy to new heights. In short, he redefined the profession of grand prix driver, and came to be recognised wherever he went.
At his peak he was recognised as being the one man on the grid who could win with a car which had no right of being near the podium - not that such situations occurred often, for he was a relentless tester, who pounded around Fiorano day in, day out, and derived great pleasure in working with his engineers, who, in turn admired him all the more for it. He made Ferrari his own.
So closely linked was he to the team that he was appointed F1 consultant to the Maranello operation after retiring, and, while there had been widespread speculation as to his success in the role, the bottom line is he was drawn to the task by a deep-rooted desire to see the team build on his successes. Plus, he had of course, been lured by the lucre which came with the appointment.
Away from the circuit his love for his children, his devotion to dogs and the mega deals he struck for sponsorship of his caps attracted column inches, but ultimately retirement beckoned. It came, according to those in the know, for entirely the wrong reasons. His spirit was, however, too restless (and, again, the money surely played a role) so that within a couple of years of inactivity his mind played 'what if' games in the early hours. Still, the jury was out as to whether he would take the plunge...
Initially there were doubts about his race fitness, but he was soon in the training zone - which meant jogging through the Alps - but, when push came to shove, there simply was no room for him at Ferrari. So, decision to return taken, out came his contacts book, and he signed for the team which had run him successfully in German-powered sports cars many years before.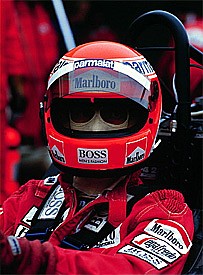 Niki Lauda - 1984 Dutch Grand Prix © LAT
Of course, speculation immediately followed: would he win his first race, could he take another title, could he stand the strain of grand prix racing after upwards of two years away.
His return put his team-mate's nose seriously out of joint, yet he reacted in fine style by comprehensively outqualifying the returnee upon their first face-off, then out-raced him in the second - a task made all the easier, though, by a crash involving our man of the moment. It was hardly his fault, but was grist to the mill for his many critics, particularly those in the British media, who felt he should have stayed retired...
Thereafter things looked up. He had promised his team boss (and, equally importantly, himself and those close to him) that he would take stock of his situation after the third 'comeback' grand prix. He gridded second and won the race, going on to take a further world title two years later to further cement his legend.
Come this weekend in Sepang, Michael Schumacher will need to qualify second and win the Malaysian Grand Prix merely to equal Niki Lauda's remarkable comeback record of 1982.
Notes:
Paragraph 1 - While Michael Schumacher is German, Niki Lauda hails from Austria, which country has German as national language.
Before Schumacher joined Ferrari the team had not won a grand prix in 11 starts and won two in 24 starts, making Lauda's achievements all the more remarkable.
Paragraph 2 - In 1974 when Lauda joined Ferrari, the team had not won a championship since 1964; the Austrian won his first a year later. By contrast, when Schumacher joined for 1996, the team had not won a title since Jody Scheckter in 1979; it took the German until 2000 to win a first 'red' title.
Paragraph 3 - Scheckter won his title two years after Lauda won his second and departed immediately. In Schumacher's case, his last came in 2004, Kimi Raikkonen took Ferrari's championship next three years later in 2007.
Paragraph 4 - Lauda's F1 debut came at Zeltweg in Austria in August 1971 driving a rent-a-March operated out of a factory in Bicester; Schumacher made his debut at Spa-Francorchamps (across the border from his home in Kerpen, Germany) in August 1991 driving a rent-a-Jordan paid for by Mercedes/Tic-Tac.
Lauda spent the 1972 with March before heading for BRM. Schumacher left Jordan immediately after his debut, famously moving to Benetton and taking two titles in 1994/5.
Paragraph 5 - Lauda's team bosses at Ferrari were Daniele Audetto and Luca di Montezemolo - rally exponents both - while Schumacher's boss was Jean Todt, the rally co-driver of his generation. Lauda had his near fatal accident at the Nurburgring in 1976; Schumacher crashed at Stowe in 1999.
Paragraph 6 - Lauda lost the 1976 title to James Hunt at Fuji; Schumacher the 1998 championship to Mika Hakkinen at Suzuka.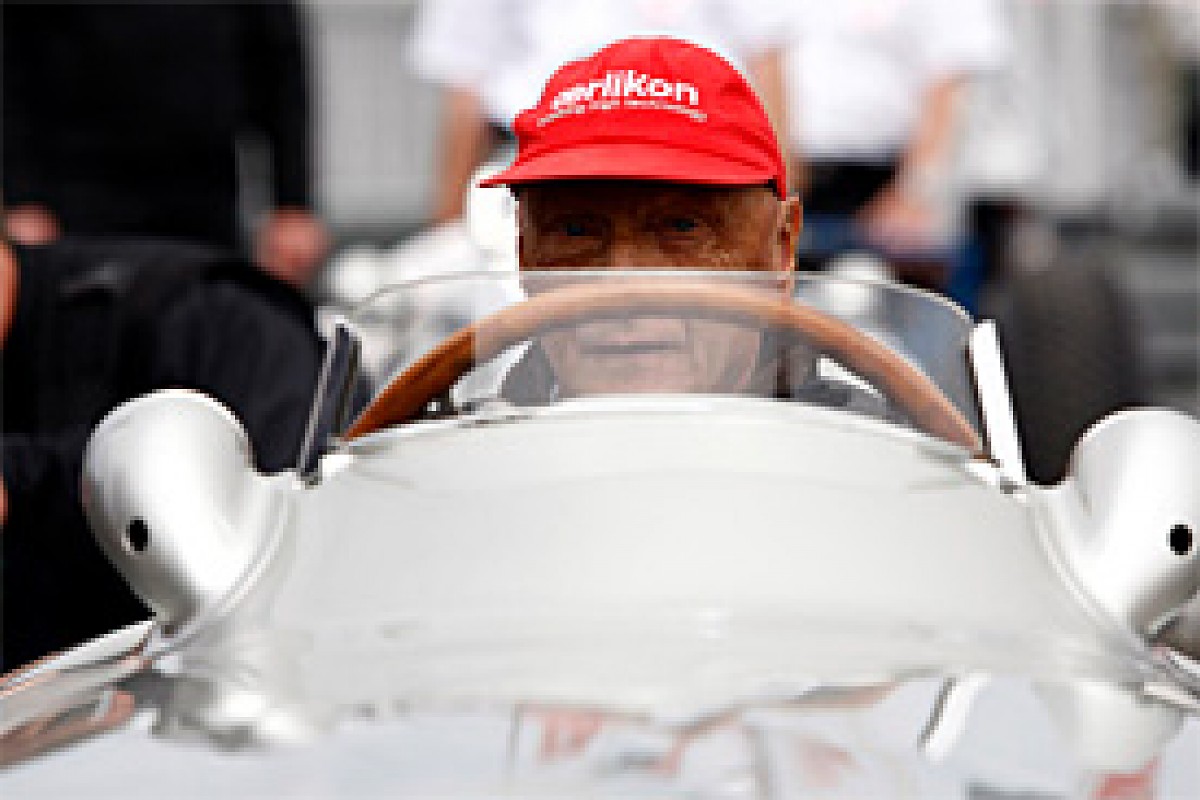 Niki Lauda, Nurburgring, 2009 © LAT
Paragraph 10 - Lauda loved canines to such a degree he 'donated' his trophies for use as dog bowls by his pack - and allegedly chastised a race promoter for awarding patterned trophies which could cut his dogs' tongues were they used for such purpose; Schumacher (and wife Corinna) adopted a mongrel in Brazil, taking the dog back to Switzerland afterwards. Lauda has four children, the last born a year ago, while the Schumachers have two.
Lauda struck sponsorship deals for his caps with companies as disParagraphte as Parmalat and Viessman, while Schumacher's Dekra and DVAG deals are equally famous.
Paragraph 11 - Lauda made his return with McLaren, for whom he raced in the BMW M1 Procar Series, while Schumacher raced for Mercedes-Benz in sports cars and saloons before his F1 debut.
Paragraphs 12-14 - Lauda made his return at Kyalami in 1982, qualifying 13th to team-mate John Watson's ninth, although the returnee finished fourth to Watson's sixth. In Brazil Lauda qualified fifth and Watson12th , although the latter finished second while Lauda retired after a collision. Lauda's third comeback race, at Long Beach, saw him qualify second and win.
Indeed, one wonders whether Schumacher would at all have had a Ferrari to 'save' had it not been for the skills and efforts of Andreas Nikolaus Lauda those many years ago.