Front row sweep
• At its 90th race, Red Bull scored its best ever performance, locking out the front row for the first time. Up to Australia its best effort was China and Great Britain last year, where Sebastian Vettel was on pole with Mark Webber in third.
Melbourne front row: Mark Webber, Sebastian Vettel and Fernando Alonso © LAT
• However, the Red Bull drivers weren't able to turn this front row dominance into even one podium place. The last time a team wasn't able to capitalise on qualifying this advantage to that extent was at this very same track, back in 2003: poleman Michael Schumacher finished fourth and his Ferrari team-mate Rubens Barrichello spun off five laps into the race.
• For the eleventh time out of fifteen races run in Melbourne the front row was filled by a single team. The only years when there were two different makes on the front row were 2005 to 2008.
Melbourne front row sweeps:
 
Year  Team      Pole          Champion
1996  Williams  J Villeneuve  D Hill
1997  Williams  J Villeneuve  J Villeneuve
1998  McLaren   Hakkinen      Hakkinen
1999  McLaren   Hakkinen      Hakkinen
2000  McLaren   Hakkinen      M Schumacher
2001  Ferrari   M Schumacher  M Schumacher
2002  Ferrari   Barrichello   M Schumacher
2003  Ferrari   M Schumacher  M Schumacher
2004  Ferrari   M Schumacher  M Schumacher
2009  Brawn     Button        Button
2010  Red Bull  Vettel        ?

Track record beaten
• The absolute record at the Melbourne track was beaten four times during qualifying. The previous one was set in the race by Michael Schumacher in 2004 with a time of 1m24.125s. These are the faster times from this year's qualifying:
Vettel 1m23.919s (Q3), Webber 1m24.035s (Q3), Vettel 1m24.096s (Q2) and Fernando Alonso 1m24.111s (Q3).
Race notes
• Jenson Button posted his eighth win. He hadn't been able to lead since his last win in Turkey last year. He is the first driver since Michael Schumacher in 2000 to 2002 year to win consecutive races in Melbourne.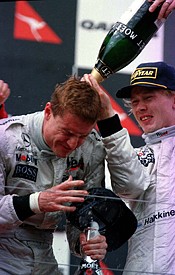 David Coulthard and Mika Hakkinen were first and third for McLaren in Melbourne in 1997 © LAT
• This was the tenth win in an Australian Grand Prix for McLaren, equally split between both Australian tracks: five in Adelaide between 1986 and 1993 and five in Melbourne between 1997 and 2010.
• Tenth podium for Robert Kubica and 30th for Felipe Massa. The Pole took a Renault car to the podium in Australia for the first time since Alonso's win back in 2006.
• Vettel wasn't able to turn two successive poles into wins. The last time this happened was in 2006, when Kimi Raikkonen wasn't able to win in Germany or Hungary despite starting from pole. Vettel finished his Australian Grand Prix with a damaged car for a third straight year. In 2008 and 2009 this was due to collisions, this year in the gravel trap after a wheel problem.
• Webber set the fastest race lap for the third time in the last five races. Red Bull scored it four times in the last five races.
• The Ferrari drivers now occupy the first two places in the drivers' championship table, which hasn't happened since Raikkonen and Massa led the standings after the 2008 Turkish GP.
• His 11th place is Jaime Alguersuari's best result in his ten-race career.
• Karun Chandhok started the weekend well - running more laps in the first free session than in the whole Bahrain weekend (19 versus 7) and then was able to complete his first race in 14th place.
• New teams' problems: so far the cars of the new teams have retired (or not started) nine times out of twelve with mechanical failures.
• So far this season McLaren has placed its cars in the top two spots of the speed trap classification eight times out of the ten total sessions. The only session when a McLaren was not at the top of the speed trap was the first free practice in Melbourne (Kubica), while in the second, Button was first and Hamilton third, split by Kubica. But it's not all about speed: Red Bull locked out the front row in qualifying despite being at the bottom of the speed trap classification during that session, 13-14 km/h slower than McLaren.
Qualifying notes
• Vettel scored his seventh pole and his tenth front row, starting from the first spot in back-to-back races again after Turkey and Great Britain last year. Button in 2009 did the same in the first two races, winning both, while Vettel has yet to score a win in 2010.
• Ten drivers qualified in the same spot they had in Bahrain: Vettel, Alonso, Schumacher, Kubica, Adrian Sutil, both HRTs, both Saubers and Lucas di Grassi.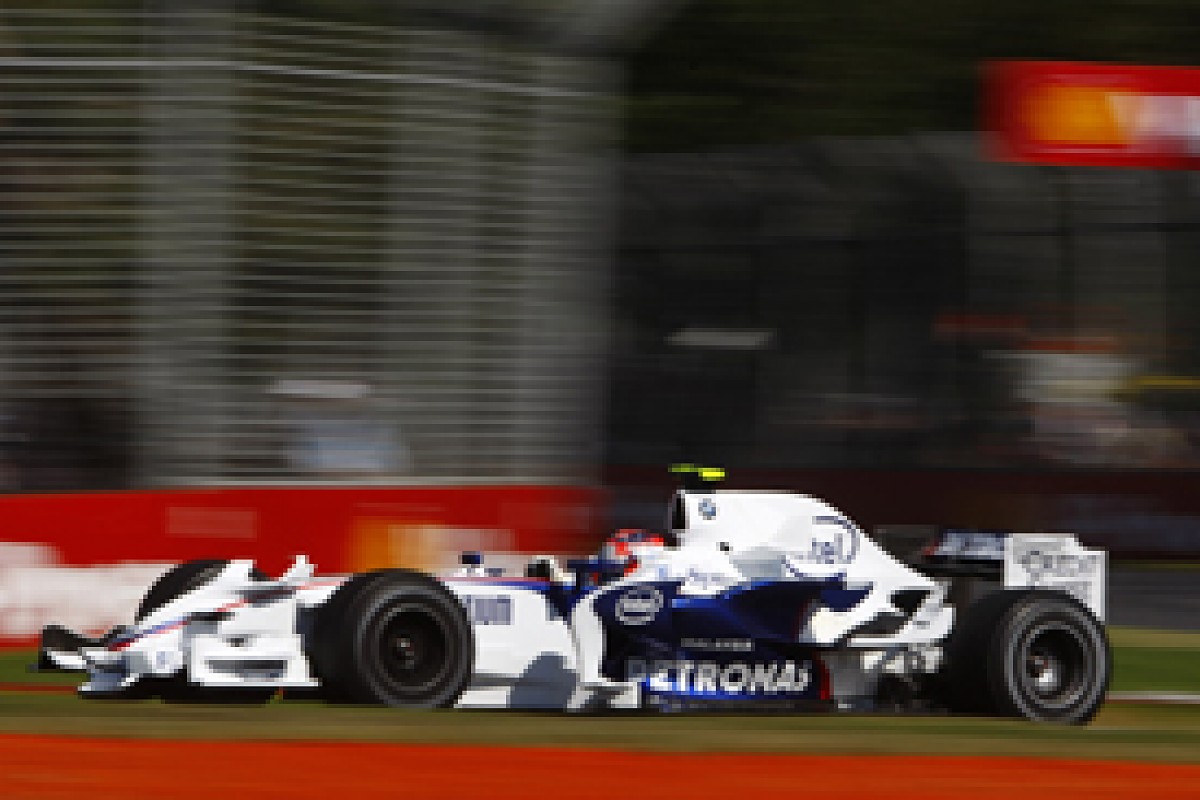 Robert Kubica put BMW Sauber on the Melbourne front row in 2008 © LAT
• Sauber failed to reach the top 10 in Melbourne for the first time since it has run under the BMW Sauber title.
• Sutil gave Force India its first ever Melbourne top 10 start.
• Both Ferrari (Alonso, third) and Renault (Kubica, ninth) obtained their best result at this track since 2007. Curiously for Kubica, it was his worst result in Melbourne.
• Vettel was the seventh different driver to score pole in the last seven editions of this race, Red Bull the sixth different team in the last six years.
• A new worst qualifying result in Australia for Jarno Trulli, 20th. In his entire career the Italian has never qualified so low down the grid in back-to-back races, as he was also 20th in Bahrain.
• The gap from the best driver from the new teams (Kovalainen, 19th) went down in terms of seconds (from 2.6 seconds to 2.3s from to 18th place and from 5.1s to 4.0s from the best Q1 time) but grew in terms in percentage from 4.5 per cent to 4.7 per cent.
• Between the first and the last positions in Q1 there was a 5.8s gap (6.9 per cent). All the established teams were inside 2 per cent of the fastest Q1 lap time.
• It's the second time in history that a German and an Australian started together on the front row. The other time was the 2004 Malaysian Grand Prix, with Michael Schumacher on pole and Webber alongside him.
• Webber was the first Australian to qualify on the front row for his home race.
Head to head qualifying curiosities
• Vettel has always defeated his team-mates in three visits to Australia, while Webber beat his team-mates there from 2002 to 2007, while in the last three edtions he fell behind his partners.
• If we exclude the 2008 race (against Barrichello), in the last seven editions Jenson Button always defeated his team-mate in Australia. But prior to Melbourne this year, Button wasn't able to qualify in front of his team-mate since the 2009 Hungarian Grand Prix.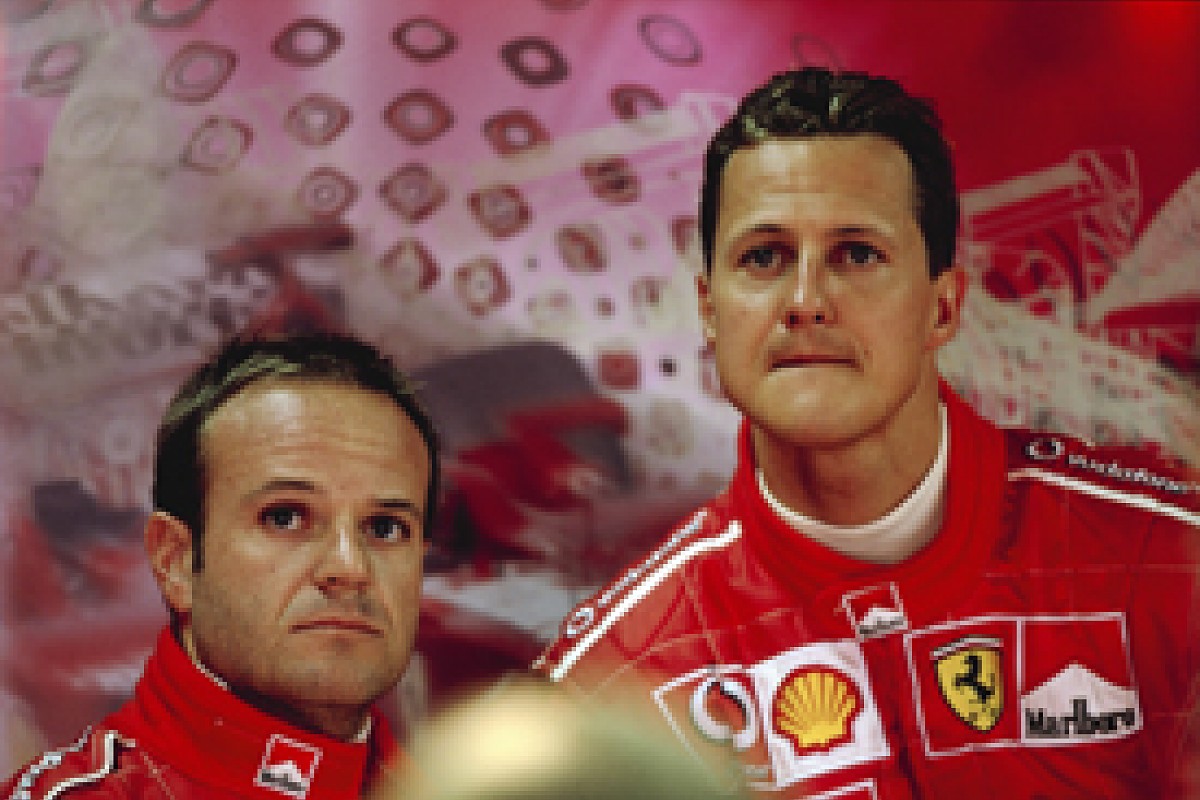 Barrichello had the edge on Schumacher for a spell in 2003 © LAT
• Michael Schumacher is living through the worst run of performances relative to a team-mate in his career: for the second time he was beaten by Nico Rosberg. The string goes up to four races if we also consider the last two races of the 2006 championship (against Massa). Up to Melbourne his worst streak compared to a team-mate amounted to being out-qualified by Barrichello for three races in 2003, from Britain to Hungary.
• For the fourth straight year in Melbourne Alonso was able to beat his team-mate. In his career he was only beaten by a team-mate at this track in 2005 and 2006 (by Giancarlo Fisichella) - although in both years he would win the world title.
• The team-mate qualifying balance for Barrichello in Australia in his long career is 8-7: on this track he was able to beat all his team-mates at least once (Martin Brundle 1996, Jan Magnussen 1997 and 1998, Johnny Herbert 1999, Schumacher 2002 and 2005, Button 2008, Nico Hulkenberg 2010).
• Perfect balance for the Lotus drivers in Australia: Trulli at this track has a 7-7 score in the team-mate battle, Kovalainen 2-2.