After the disappointment that was Bahrain, Formula 1 is in desperate need of an exciting Australian GP on Sunday. Will we get one? Well quite possibly, especially if we have the sort of safety car carnage that we have grown used to over the years. The threat of rain adds another intriguing element. But without either or both of those factors, the chances are we'll see a demonstration run from Red Bull Racing.
"I think the weather and the safety cars will be the spectacle tomorrow, to be honest," says Ross Brawn. "And I think the start will be very important..."
Robert Kubica and Sebastian Vettel collide in the 2009 Australian GP © LAT
Last year tyres proved to be a major factor here, specifically in the case of Robert Kubica. Starting on the option, he struggled in the first part of the race, but he rode his luck through the safety car periods and was flying at the end, when others had switched to the soft. Of course it ended in tears when he tangled with Sebastian Vettel, but his charge was a great spectacle.
It would have been nice to imagine that we might see more of the same on Sunday, but we won't. It's become clear over the last couple of days that both the hard and soft tyres stay in good shape even over very long runs, and thus they won't be much of an issue.
"I think the degradation is nowhere near where it was two weeks ago," says Christian Horner. "And certainly not like it was here last year. If you remember the soft tyre was very soft, and the rears were a big problem. This year the soft rear tyres are no problem whatsoever, and it will probably be a case of looking after front tyres I guess, and that will vary from car to car.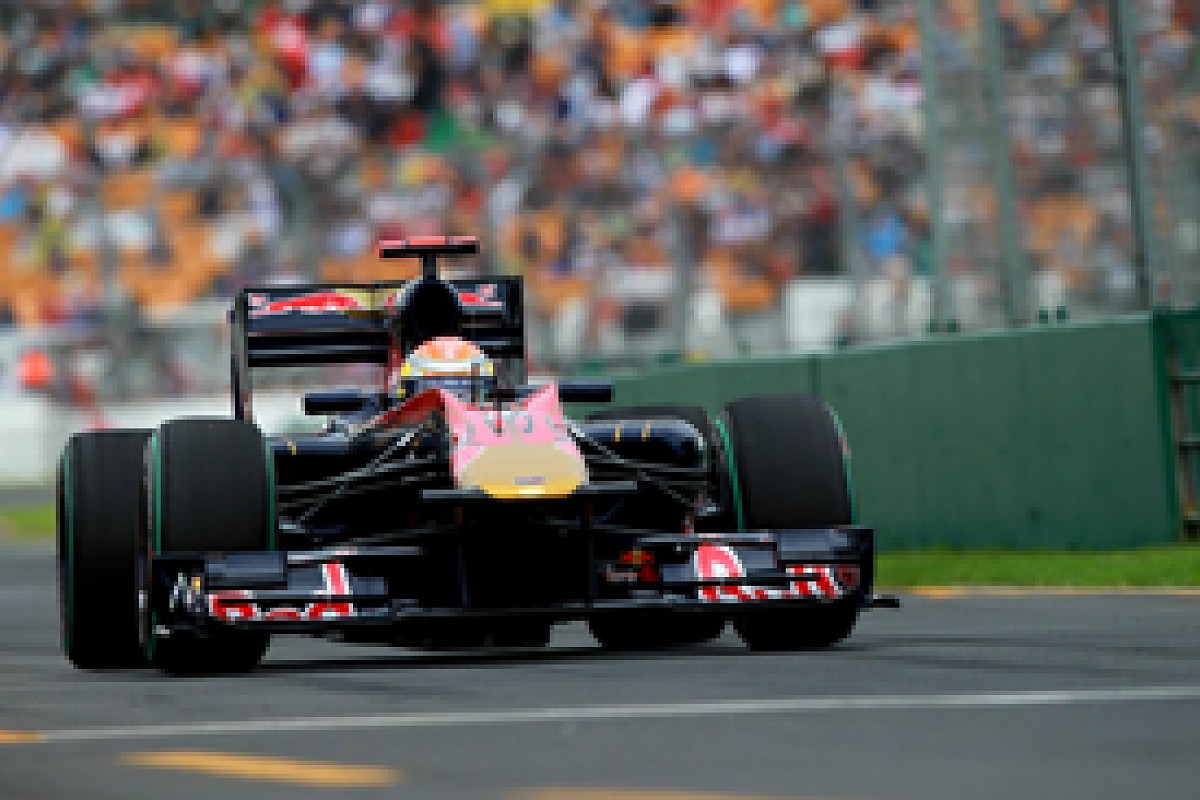 Jaime Alguersuari in Friday practice © Sutton
"We saw one car [Jaime Alguersuari] do approximately 50 laps yesterday on the soft tyre, with his fastest lap at the end of that run. So I don't really see the soft tyres being an issue tomorrow."
The only real point of interest is that the hard takes a lap or two longer to switch on, although even the soft needed some miles in qualifying to get up to speed. That added to the traffic problem on Saturday afternoon.
"The tyres do take a lap or two to warm-up," says Brawn. "And that's what's making the traffic particularly difficult, because cars are out there for three or four lap runs, as opposed to just going out there and doing a lap and coming back in. Cars are out there running round, slowing down, and speeding up, and it's making it rather messy."
Once working, both have a very similar performance, to the point that even over one lap they were almost indistinguishable in terms of lap time.
"I think you could see that in qualifying," agrees Martin Whitmarsh. "Lewis [Hamilton] did a quicker time on the prime on a less evolved track in Q1 that he managed on the option in Q2, and you see everyone was flipping backwards and forwards. I think we went into it with the belief that the option was quicker. I think the option is quicker, the warm-up is quicker, and it has inherently quicker pace for two or three laps.
"There will then be a crossover point. But I think that crossover point isn't in three laps, I think the degradation is lower than expected. It may be a tenth or two inherently quicker, and then the crossover is probably beyond 10 laps. I still think the vast majority of the field will start on options."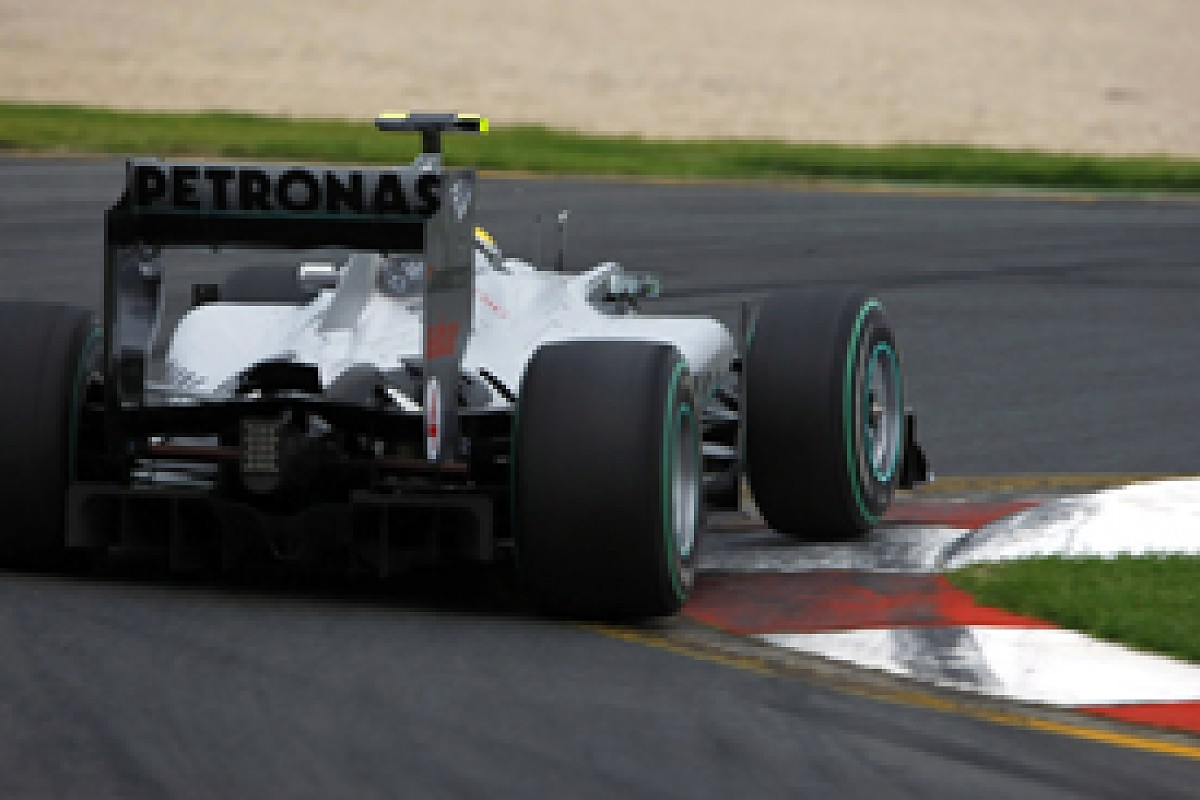 Nico Rosberg in qualifying © LAT
The top 10 are committed to options of course, because that's what they set their times on. Brawn says that the drivers will have a tricky time on the first few laps after they change to the harder tyre: "I think everyone did their best time on the option tyre, so the leading group will be going to the option tyre at their first stop, and that takes a lap or two to come in for some teams, so there's not quite the sharpness of response you need at that stop necessarily.
"We'll know once we see cars making their stops how they get on when they come back out. It's going to be 5.30pm I guess when we start making our stops, and the track temperature will be low, and not so easy to get the harder tyre to come in."
But from 11th placed Hamilton on back, drivers still have a choice. The thing that might push them towards starting on the prime is that when they switch to the option, they will get instant performance after the pitstop. And that could be very valuable when fighting for position. It's certainly worth a punt for Hamilton.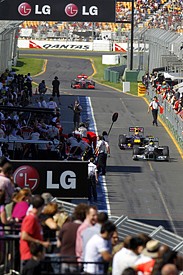 Pitstops will be critical tomorrow © LAT
"That's the one reason why you might want to start on the prime," says Whitmarsh. "If you're worried, particularly if the weather is cold again... The feature now is that if you can turn the tyre on, you will be quicker than the car that hasn't stopped.
"And that makes it quite intriguing and real time decision, to time that stop. You're looking at the traffic opening up behind you, where you're going to drop in, and as soon as you can sense that you can get in and use the speed of that tyre over a number of laps to be able to beat the car in front. To an extent that's how Lewis got past [Nico] Rosberg last race."
The fact that the tyres last and are so similar means that - assuming there are no safety cars to confuse matters - we might not see the ultra-early stops that we saw in Bahrain.
"It actually makes it a little easier," says Horner of the strategy choice. "And the speed limit has been reduced here as well, which will probably make the stop laps a little later, because you'll be longer in the pitlane than usual. So you'll see the stops happening a little later in dry conditions - although the weather looks a little mixed for tomorrow...
"I think with the tyres being relatively conservative, it depends where you are on track, where you're going to come out. It's very difficult to pre-empt. We obviously run many, many simulations, but it's difficult to cover every possible scenario. If you've got a lead and you're in the front you're in the best place to be able to react, as we did in Bahrain. Obviously the further back you are, the more aggressive you have to be."
Whitmarsh says his strategy guys have told him that there's a 52 per cent chance that there will be a safety car, based on past form, although my memory suggests it's more like 99.9 per cent!
The safety car presents a major challenge for the teams. If one comes out around the lap 8-10 mark, in theory it's pretty much a no brainer for the guys at the front to come in and make their compulsory change. But if some people choose not to stop, things get more complicated.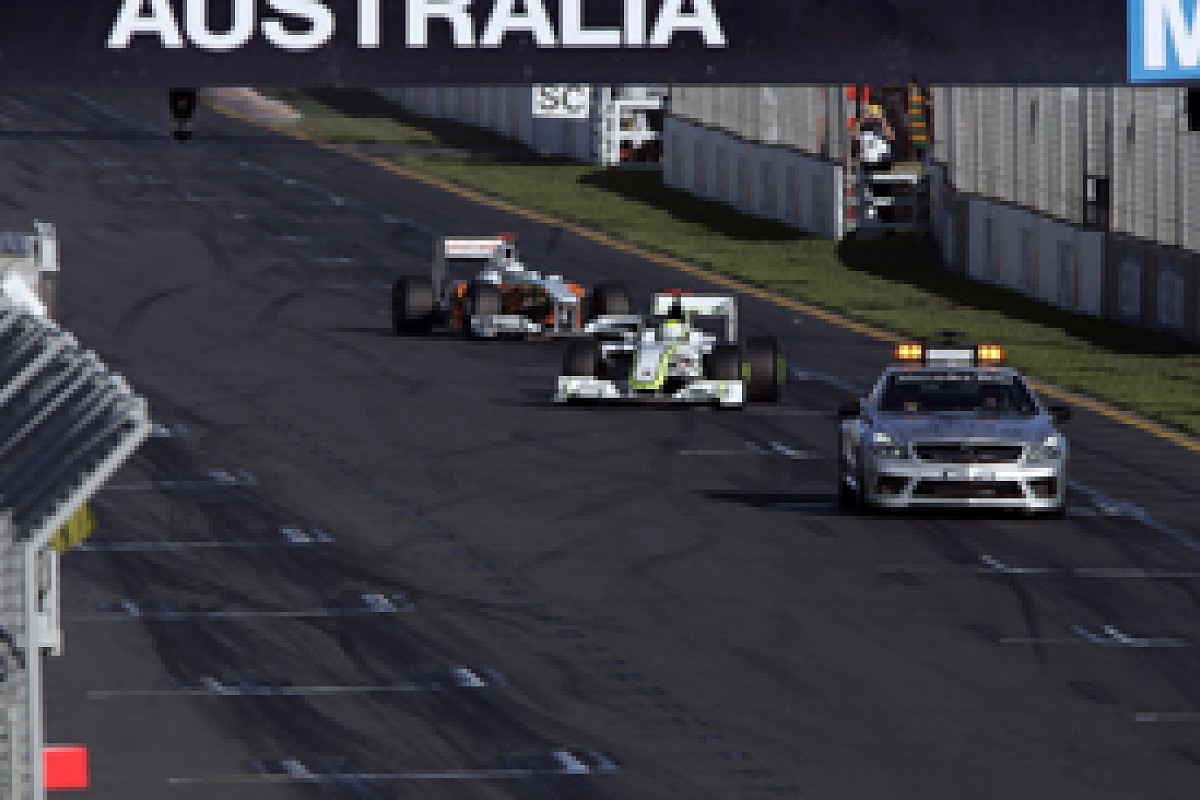 Safety cars feature strongly in Melbourne © LAT
"Effectively a stop behind the safety car is a free stop," says Horner. "But then if you get a load of cars that don't stop and then move up the order and they're on either the hard or soft tyre, they could run a lot of laps. And you could spend a lot of time behind them, because it's very difficult to overtake here. It's going to be a very interesting strategy..."
If a safety car does come at around that time, teams have very little time to judge where they might come out in traffic. The other major problem is that it could be very hard to bring both cars in and stack them, because the pitlane here is so tight.
"The problem is by lap eight if you haven't opened the traffic gap, it's quite a teasing one. I think the other one is you go and look in that pitlane - 14m between boxes, the double shuffle is almost impossible without impeding the car behind you, and if your second car is the front half of the grid by double shuffling you'll lose out to every leading car from every other team," said Horner.
"Lap eight would be quite teasing! If you look at the history of safety cars, you get a spike at the beginning, it is in the first 10 laps that you are most statistically likely to have a safety car."
The prospect of a pitlane traffic jam means that if both of your cars are running close together, you may roll the dice and leave one of them out - effectively splitting your options.
"Particularly with this pitlane, for the car that's second, there's a pretty strong argument to stay out for rain or a second safety car or something else as your next opportunity, and give it a go," Horner continued.
Brawn however believes that everyone will head in come what may: "It's going to be a challenge. The only good thing about a safety now is that when it's thrown, people keep their gap, they don't all bunch up before they come into the pitlane.
"Given that speed is controlled, then the gaps will be spread, but it's going to be very busy if there's a safety car around lap eight or 10, because I think everyone will want to come in and change tyres, and those that don't will need special circumstances to benefit from it."
Of course everyone will have to work out what the opposition is doing. If the crew rushes out into the pitlane, are they stopping both drivers, or just one, or maybe none at all?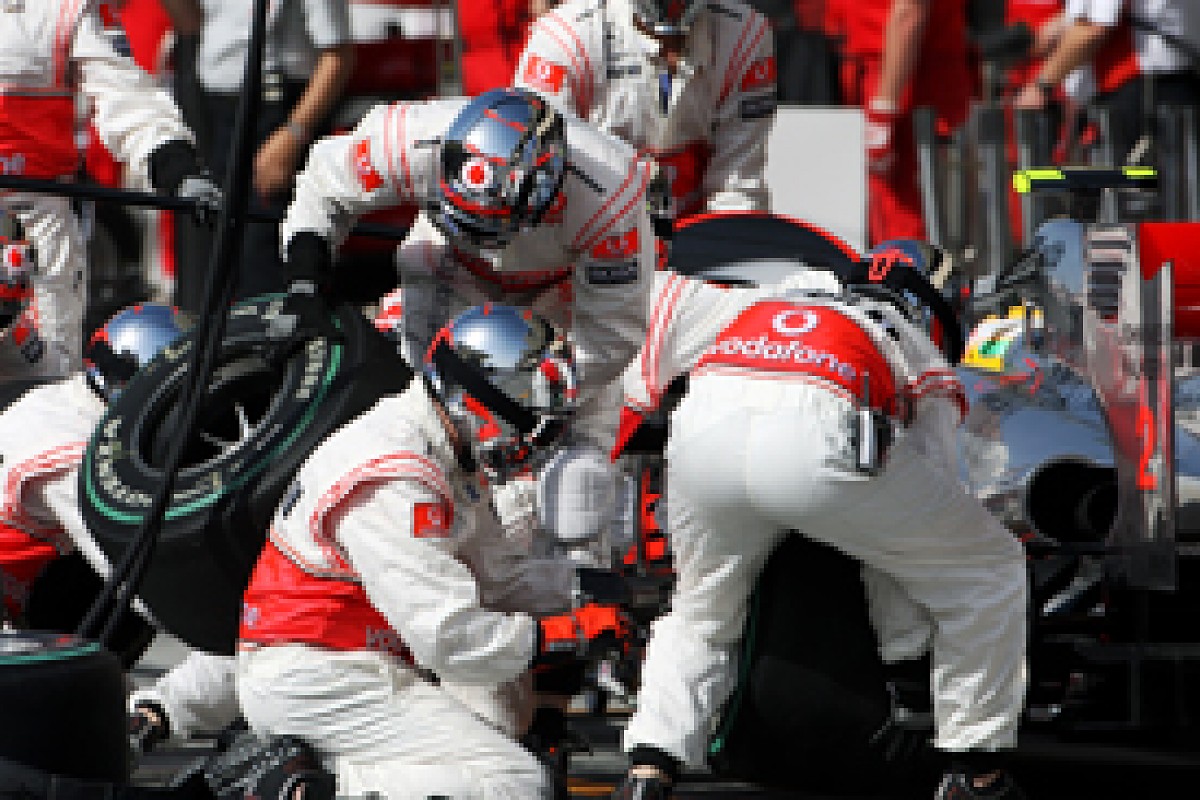 McLaren pit crew at work © Sutton
"People are going to rush out anyway," says Whitmarsh. "If there's a safety car from lap five on, every crew is going to rush out. It doesn't mean that you're coming in, just that you're getting ready for it anyway. Or you're sending a message to the other teams - we all do that from time to time, rush a crew out just. You shouldn't do it actually, because you're not allowed in the pitlane unless you're about to service. But people do it..."
The other big factor on Sunday, and one which could really throw a spanner in the works, is rain. Will that give those further back some hope? I wouldn't bet on it.
"I don't think there's a reason why it should be that different," says Brawn. "There are issues with using these dry tyres which we have, and the wet tyres perhaps aren't quite so critical. But I think what always helps is downforce, what always helps is balance, and those things are just as critical in the wet.
"I think the order you see at the moment is the order you'll see in wet racing. If we have a wet race it's quite tricky to get the car nicely balanced when you're going from a dry set-up to a wet set-up, so you might find some teams have a set-up which is more appropriate for the wet should it rain. So that could be a factor."
Sebastian Vettel starting on pole in the wet? I think we've heard that story before.
"I think in the rain there's no reason to believe that we'll have a disadvantage to anybody else," says Horner. "The best place to start if it is wet is at the front, which is where we are..."