Bahrain, Australia, Malaysia, the moon... wherever Formula 1 sets up shop it's the same paddock populated by the same familiar faces. How could a travelling circus so oblivious to its environs be anything other than introspective?
Navel-gazing is an occupational hazard, but to write off the latest bout of hand-wringing over the quality of racing as little more than self-indulgence would be a mistake. Be it drivers or teams, the feeling is that the Bahrain Grand Prix has set the template for races in 2010 - with the only real difference of opinion being whether the sport has merely shot itself in the foot, or gone the whole nine yards and blasted its whole leg off.

That's just a question of degree. The real question that will vex the paddock this weekend is what is to be done? In every press conference, media briefing and paddock conversation, this topic has rarely been far below the surface.
The main topic of discussion - how do we fix F1? © Sutton
If you think this is a media-driven storm in a teacup dreamed up to fill the space originally earmarked for hoped-for tales of Michael Schumacher and Fernando Alonso's wheelbanging battles for the lead, or Lewis Hamilton and Jenson Button's rivalry exploding on track, it's not. Although inevitably there is an element of the knee-jerk to the Bahrain fallout, it is a hot topic. And it will remain so until Melbourne produces the kind of action-packed, crash-filled, topsy-turvy lie-fest that it has been known to throw up over the years... at which point everyone will probably decide all is well in paradise.
After all the pre-season hype, the race-in-a-desert predictability of Bahrain was a huge blow. Processional races are nothing new, but fact that the refuelling variable had been willfully removed (to save costs, not to improve the show) is not lost on the paddock. Lessons are there to be learned when it comes to shaping the future of grand prix racing, but as one paddock insider put it: "It'll be the same as it always is. We'll talk about the problem, solutions to the problem, who caused the problem and even if there's a problem at all, and all come to the same answer - that it's someone else's problem."
This isn't just about band-aid solutions for this season - a mandatory two-stop race will make negligible difference as anyone who has ever watched a DTM race will know - and talk about overtaking lanes and other gimmicky ideas distracts from the very serious debate about F1's long-term direction. The looming tyre supply vacuum for 2011 should at least focus attention on one area where the sport could make big gains.
Being a control tyre supplier in any form of motor-racing is something of a fool's errand - only when things are perceived to have gone wrong does anyone take any notice (when was the last time you saw "Bridgestone wins again" on the cover of AUTOSPORT?). And here's why - bear this in mind every time you read someone mouthing off about tyres this weekend. During 2008, it was considered that the tyre compounds were too similar and that the option tyre was not degrading quickly enough. Bridgestone's fault, of course.
Roll on to Australia 2009 and the super soft tyres were rooted in a few laps if you went flat-out, creating circumstances for Robert Kubica's medium-shod late-race charge that ended when he collided with Sebastian Vettel while taking second place. Bridgestone's fault, of course.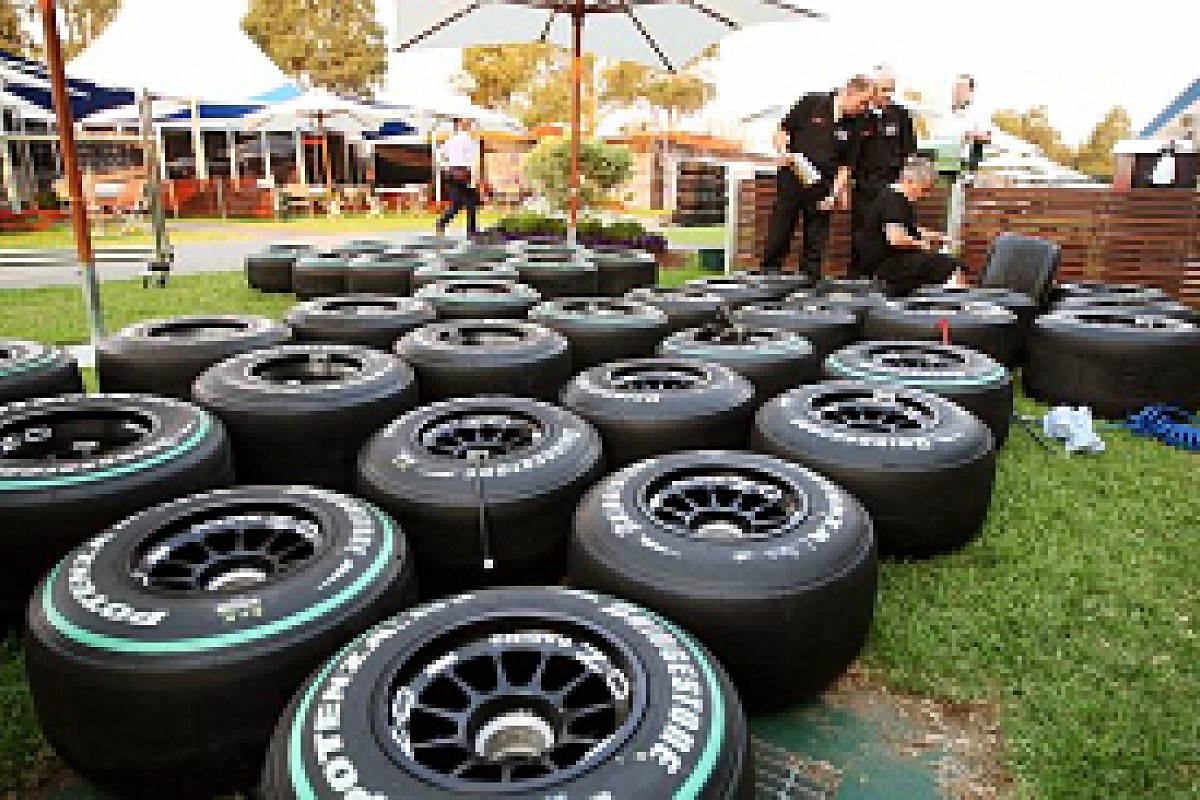 Bridgestone is taking heat for doing what the teams wanted © Sutton
A year later and to Bahrain. Bridgestone, responding to the desires of the teams, has again moved the performance of the four compounds closer together, meaning that the option tyres simply didn't go off quickly enough, if at all, in the race in Bahrain. As a result, we had a processional race with most on the same strategy. If only the tyres would go off more quickly... Bridgestone's fault, of course.
But it wasn't simply Bridgestone's fault - much of the blame has to lie with a formula that asks a company to pour vast resources into supplying F1 to showcase its tyre technology... and is then surprised when its product doesn't fall apart after five laps. There will be more noises about Bridgestone's tyres being too durable this weekend - even though degradation will be more of a factor at Albert Park than it was at Sakhir - but there will also be more talk about what F1 is going to do in 2011 once the Japanese manufacturer leaves.
Bridgestone is resolutely sticking to its decision to walk away (although it would consider staying on under very favourable commercial terms) so there is an opportunity for F1 to have a good, hard think about exactly what is expected of its rubber in the future.
The short-term fixes might grab many of the headlines - with some minor tweaks expected to be introduced after the flyaways - but the stuff to really watch out for are the debates about F1's long-term direction. Tyres are top of the agenda on a weekend where ideas of where the sport should be several years down the line start to crystalise.