The Bahrain GP was the start of a new chapter in the history of the Lotus name in F1, even if this one comes under the 'Racing' rather than the more familiar 'Team' banner.
Some purists may have their doubts, but the new project has been endorsed both by the Chapman family, and by past Lotus drivers. And there could be no better reminder of the glorious history of the marque than the appearance of Emerson Fittipaldi and Mario Andretti in their original title-winning cars in the Bahrain 60th anniversary celebrations.
"Just a minute before qualifying the chief mechanic said everyone stop what you're doing and look in the back of the garage," says Lotus Racing technical chief Mike Gascoyne. "And there were Mario, Emerson and Nigel Mansell.
"You think, 'S***, that's really something!' They're so supportive of the name coming back, and so keen to be involved. Mario came and asked to see me. I was quite touched that one of the legends of the sport was asking to come in, and can he meet Mike? It struck me as a little bit bizarre..."
In the end the new team did a more than respectable job, bearing in mind the difficulties that all three rookie outfits faced in Bahrain. While HRT and Virgin both posted two early retirements, Heikki Kovalainen made it to the chequered flag, while Jarno Trulli parked his hobbled car on the very last lap. He didn't actually cross the line, but he was still running when the winner did, and he earned a classification.
Perhaps even more importantly the lap times during the race were very respectable, and while the green cars were inevitably at the bottom of the list of those who went the distance and ran their fuel loads down, they were much closer to those ahead than anyone might have expected. All things considered, it was not a bad start.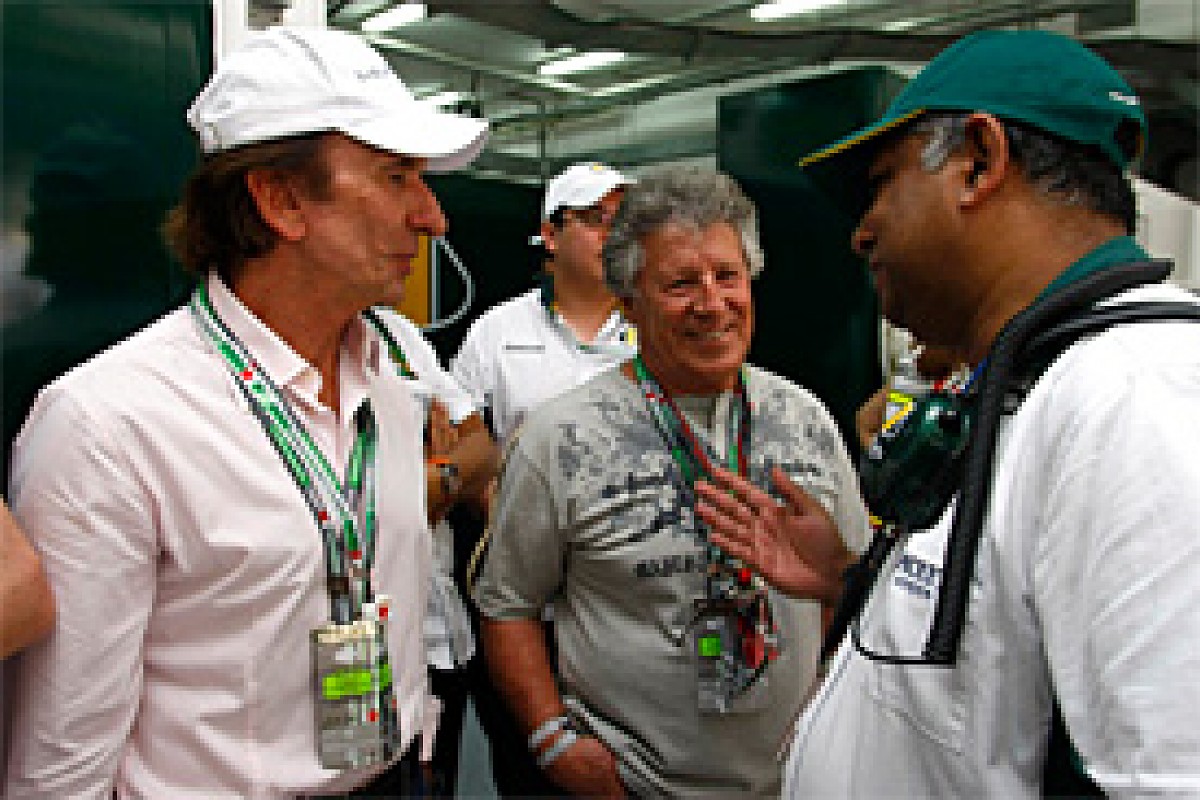 Emmerson Fittipaldi, Mario Andretti with Tony Fernandes © LAT
Mike Gascoyne: "We've done the first massive step..."
Of course just finishing is not what this or any of the new teams is about, and they all have much bigger ambitions. But for the moment getting a car to the flag is an achievement that is worth noting.
"To get two cars classified was great," says Gascoyne. "We had a problem with Jarno at the end, but he got it to practically the end of the race. That's what we were going to say we were going to do, and actually race pace was very respectable. I think we can be very pleased, and it's a great platform to build on. We always said that's what we do, and then from Barcelona onwards, we'd make it quicker. We've done everything up to now, and we'll do the next bit from Barcelona onwards."
Trulli was suffering with a clutch issue, but Gascoyne says it was not related to the plague of Xtrac-related hydraulic problems that affected the other new teams.
"We haven't had the sort of problems that the others have had, we saw he has a problem with something in the clutch, something failed and went wrong in the clutch and then the sensors went, and then he started losing hydraulic pressure. So it's not the hydraulics issue that they've all been talking about.
"There is a common system, we're using basically that system, but we don't have a problem. There was an issue, we identified it early on, and we've been able to run fine. We're on top of it."
Bahrain was as much about getting the team to work as the car itself. February's testing was the start of that process, but nothing beats a race weekend for forcing everyone to gel.
"The one thing we wanted to do and I've always done in the past is to put a group of people together who a) are good at their jobs, because you need that, and also b) work together and enjoy working together. That just feeds on itself. You get so much done. I think we've put that together here, and there's obviously great spirit."
Lotus had a head start in that the engineering team, under Dieter Gass, has come en masse from Toyota. They are a group that have not only worked together, they have also worked with Gascoyne and with Trulli.
"We've got a very experienced group of guys on the pit wall, most of whom have worked together. So we're very confident that we can be very competitive on that side. And I worked with Phil Spence, our chief mechanic, at Jordan in 1999. He was at Super Aguri, and a lot of our guys worked with him there."
There hasn't been much time to make progress since Bahrain, but Gascoyne says that having got the first weekend out of the way, Lotus will be off to a flying start in Melbourne.
"We have a great group of guys, everyone's working together, and there's a great team spirit. OK, we had some late nights, but no one's baulked at anything, and they've got two cars to the finish. We had the first car out on the track every day, and it was a good professional performance.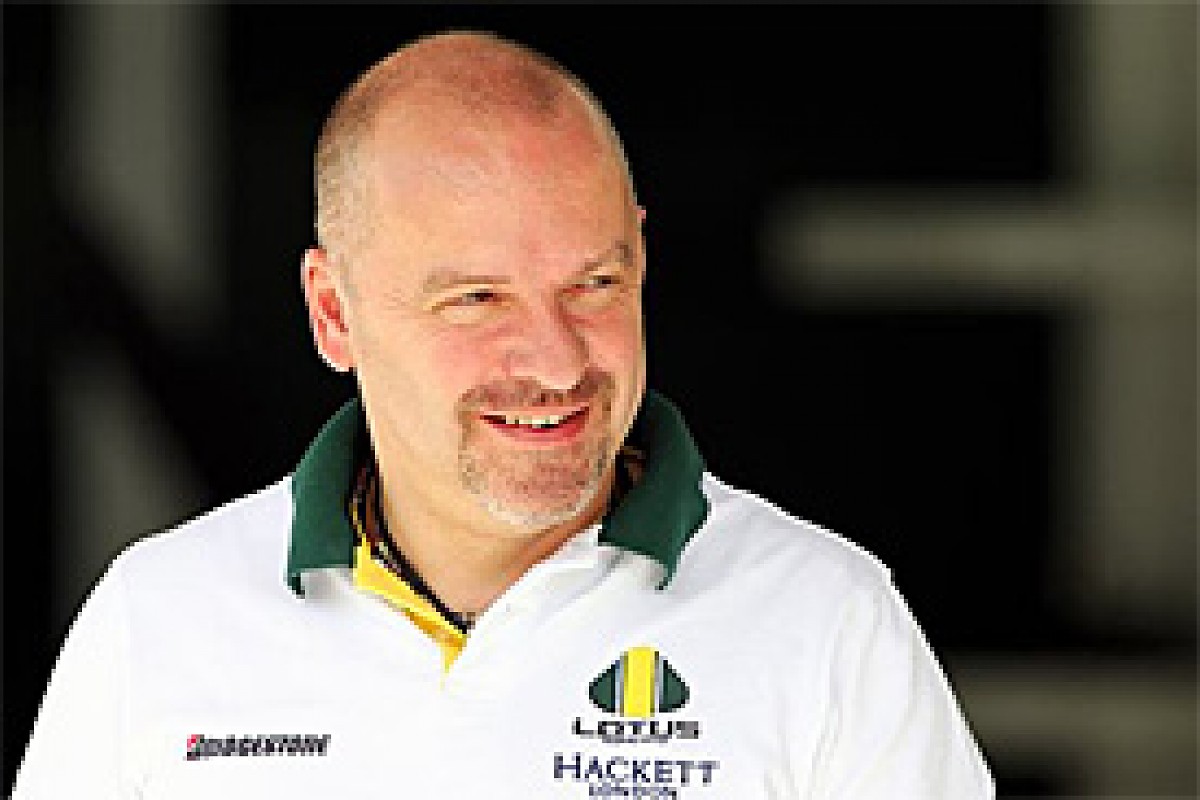 Mike Gascoyne © Sutton
"We'll obviously be much better prepared. In Bahrain we had a lot of work on. For example, because we had cars that were fine and ready to go, we put in new hydraulic systems. We were running fresh systems, so we had back up if we had had a problem - which we didn't. We didn't create work, but it was not primary work but secondary work, to make sure we had everything covered. We'll obviously be in much better shape for the coming races.
"In Melbourne we'll not be trying to fix anything. We know what we've got works and we can concentrate a little bit more on performance. Hopefully we'll get some aero bits out there."
Having proved that the car can run the distance, Lotus may have a chance to go one better this weekend. Australia is traditionally a race of high attrition, and with safety car periods likely to juggle things around, anything could happen. If one of the green cars has a good, clean run and others don't then points are not out of the question.
"We'll go into every race saying if something happens here, we'll pick up a point," says Gascoyne. "We've got to keep the hammer down. Ultimately we've got to make the car quicker, but we always say it's not about where we were in Bahrain, it's where we are in Barcelona, where we are in Silverstone, where we are in Abu Dhabi that's important. We've done the first massive step, now we can get on with the rest..."
Jarno Trulli: "The next step will be finishing more races"
One year ago Jarno Trulli started the Bahrain GP from pole position, so this year's race was always going to be something of a culture shock for the Italian. During Friday morning practice, as he sat at the side of the garage waiting for some work on the car to be completed, he looked more than a little frustrated.
"To be honest I was not frustrated, because I knew that it would be a very tough start to the season," he insists. "Well, maybe I was frustrated because during the testing I never had problems, small gremlins, but I was still running. In Bahrain I had all sorts of troubles which we never experienced before, so it was really bad luck!"
Come the race itself Trulli was able to put that behind him and get down to some serious lappery, at least until he hit trouble.
"The start was good, I gained a couple of positions, and then there was the accident ahead. There were cars spinning around and I had to avoid one, so I was on the gravel. I found myself from gaining a couple of positions to being last. So from there I had to pick up pace and start to closing the gap to the guys in front, which was Timo [Glock] fighting with Heikki.
"Then with the second set of tyres I was doing very well. The pace was reasonable, and then unfortunately after a few laps I had a problem, so I couldn't push anymore, and I had to slow down.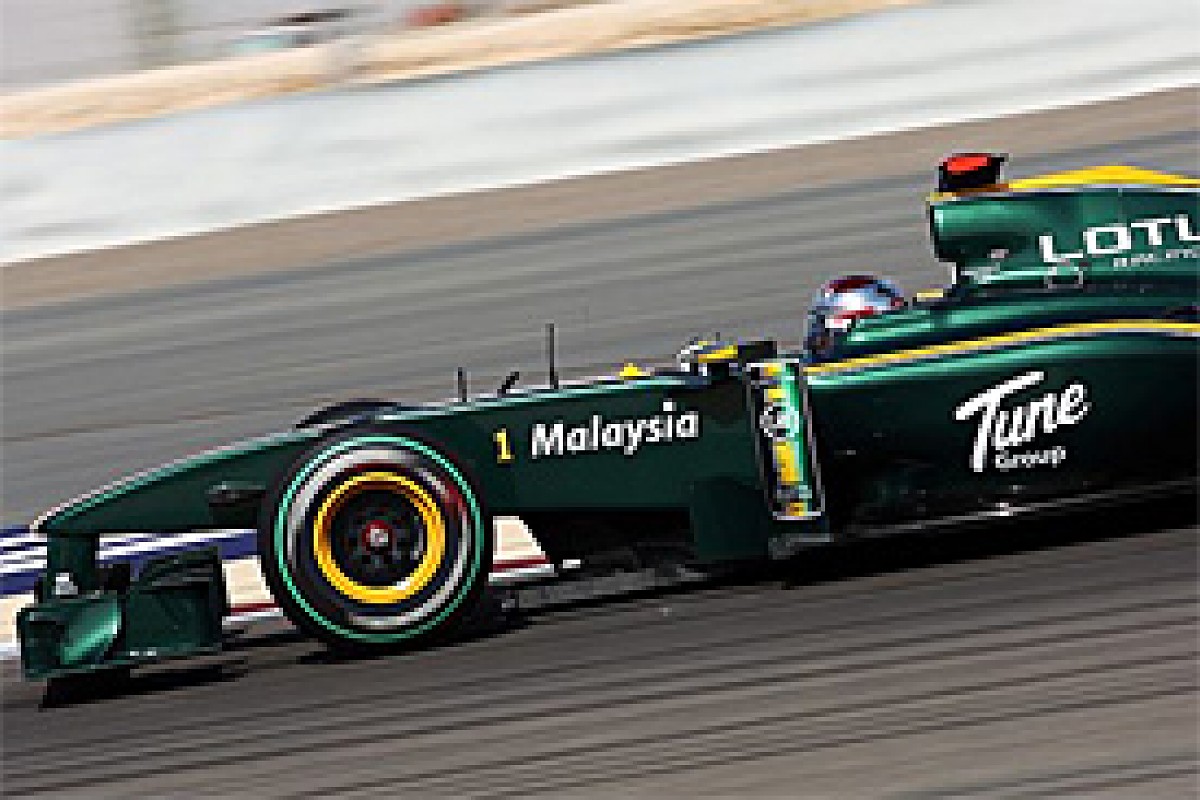 Jarno Trulli, Lotus, Bahrain GP © Sutton
"I made it to the end but it I would say it was more difficult at the end driving slowly than it had been for the rest of the race! The gearbox was still working, but I had no power steering, no diff, nothing, so I was just handling the situation in order to try to finish the race, because that was our target. And we did it."
For Trulli the main thing is that the team is making good progress, and those targets are being met one by one.
"I think first of all we have to say that so far this team has achieved in six months all the targets they wanted. So it's good for them. I know it doesn't mean much in terms of results, but for a team that didn't exist until six months ago, it's really good.
"I have a lot of respect for the guys back at the factory, for Tony [Fernandes], for Mike. I'm happy for them, I'm really happy. Obviously now we have to start building up confidence and moving forward, because the next step will be finishing more races and trying to put mileage on the car in order to make it quick."
The team obviously hopes to make a step this weekend, but Trulli is realistic, and like Gascoyne he knows that Barcelona is when the hardware will be available to take things to the next level.
"I think the next races will be hard in general for us. We are in a lot of trouble with the brakes, which don't really suit my driving style. It's locking a lot the front, the brake balance is shifting forwards, and basically it's not the way I like driving. So basically I just have to deal with it.
"At the moment I can't really get the best out of the car, with the potential the car has. We can't see it because we have other problems which are covering it, really. We know that we are slow, but still it's not really the pace of the car."
He did learn one important thing during the race in Bahrain: the Cosworth engine allowed him to drag up behind other cars. That's not something he'd been able to do for a while. A clear indictment of the engine used by his previous team? He doesn't want to be drawn.
"I don't want to comment on that, but it's years since I had this kind of feeling, I promise you..."