While the media has rightly been scrambling to work out how to improve the show after Bahrain, the engineers have spent the past five days ploughing through the data, trying to work out just what the first race of the no refuelling era was all about.
In the end, much came down to qualifying and the start. That's no great novelty, but under the current rules - with one stop the likely norm - it's clear that teams will have to pay even more attention to single-lap performance and drivers will have to be ever more aggressive into Turn 1.
There were no great dramas this time, but things did get mighty close between Fernando Alonso and Felipe Massa, and between Nico Rosberg and Michael Schumacher. The apparent harmony in those camps might not last for long.
"It was a little bit tight with Nico and myself," said Schumacher. "I think we even had a little kiss. If it just stays among team-mates, it's okay, nothing serious."
As for the rest of the race, it was a peculiar affair, as laptimes didn't appear to improve by as much as we might have expected. We knew that in the latter part of the race as the fuel weight went down, so tyre degradation would cancel out much of the advantage, but nevertheless it was amazing to see drivers lapping 4-5s off their qualifying pace right until the end, on near empty tanks.
Fernando Alonso's fastest lap was over 1s faster than the next best (by Adrian Sutil) and it was something of a one-off, set perhaps purely because he wanted to see what he could do. But even that lap, set with fuel for only four laps still on board, was 3.6s off his qualifying time.
It was intriguing too to see Jaime Alguersuari lapping consistently fast as his two-stop schedule played out. It didn't help him get a result, but it demonstrated how much more potential there is in these cars when the drivers have a little more freedom to get performance out of their tyres because they have to do fewer laps on them.
The top guys ran 32 to 34 laps on their second (prime) set in the race and afterwards the consensus was that the tyres held up better than expected. So how much harder could they have pushed throughout? And would it have made much difference given that in Bahrain it proved so hard to run close behind a rival?
Certainly Ferrari and Red Bull left Sakhir having drawn some satisfaction from the weekend, although in RBR's case the knowledge of the car's pace was tempered by the spark plug problem that dropped Sebastian Vettel from the lead to fourth.
But what of the other two teams that comprise the big four? Both McLaren and Mercedes GP came away from Bahrain scratching their heads a little, aware that there was still a lot of work to do.
McLaren: "We underperformed in qualifying"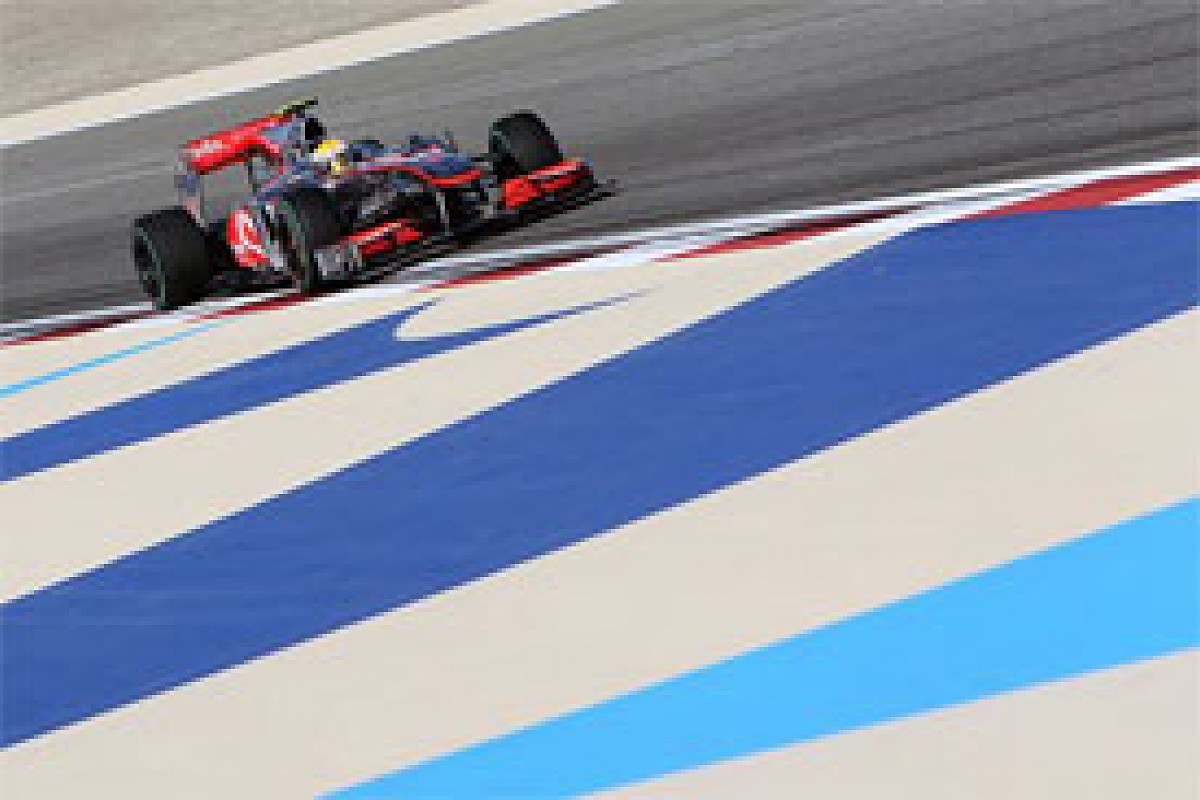 Lewis Hamilton at speed © Sutton
Heading to the first race, McLaren was regarded by many as the favourite. Not only had the team topped the testing times, but there was the unfair advantage others felt the team had found with its clever aero development. It was hard not to see a parallel with last year's double diffuser situation, when Brawn GP arrived at the first race and blew everyone away.
That didn't happen this time, although the cars did top the speed-trap figures, which is the point of the 'F-scoop'. In the end, McLaren was relieved to come away with a third place, albeit one earned after Sebastian Vettel slowed with a problem. And while Lewis Hamilton set a faster lap than any by runner-up Felipe Massa - who was clearly hampered by his temperature issue - the huge 1.3s margin to the overall fastest lap by Alonso gave everyone food for thought.
"It's one of those things where you'd say there are positives and negatives," Martin Whitmarsh told AUTOSPORT. "The negatives are we qualified poorly. We were fourth, but there was a big time gap. That was quite shockingly disappointing.
"The negatives in the race were that we got ourselves in traffic at the beginning. Losing and getting behind Rosberg at the beginning meant Lewis was quicker but just couldn't get by. Jenson [Button] was in traffic most of the race, so they were both behind slower cars for a good portion.
"The positives were the stops, two well-timed and well-executed stops. Effectively, we got Lewis past Rosberg and we got Jenson past Webber with two great stops, in particular the Red Bull one was quite enjoyable - we came in behind and left in front, you can't do it more compellingly than that.
"The most important thing was once we were in clear air, Lewis - who was on more used tyres than those in front - was if anything as quick or catching them very slowly. So I think had it not been for traffic at the beginning, we could have kept up there. So, overall we had reasonable race pace."
Whitmarsh was adamant as to where time had been lost, the team having struggled in particular at bumpy Turn 6, where the car bounced around. Intriguingly, he made it clear that there had been differing opinions in the team about downforce levels and suspension stiffness.
"We underperformed in qualifying, we struggled in the mid-section of this circuit with bumps and that slower speed stuff. We probably didn't have enough downforce, may have been a bit too hard on the suspension, but to come away with a solid podium and two points finishes from the guys was a reasonable place to be. And one I would have been delighted with this time last year."
On the face of it, McLaren did a better job than most with strategy, given that the team gained places with both cars. But even Whitmarsh admitted that going into the race, it wasn't clear how things would pan out.
"We didn't know, but I think the tyres will decide everything this year. Here the option tyre was actually more durable than I suspect people thought it was going to be in the race. We started the pitting trend, because we wanted to pit before Rosberg to get past him. That worked. We were setting out to do the same with Webber, obviously they covered, but we still managed to do it.
"If you start on the option, once people start the pitstop sequence, we've all got to follow really. We'll see as the season progresses whether the tyres can really throw slightly more curve balls at us than they did this weekend, because I think ultimately the difference between prime and option in the race was less than anticipated, and that didn't make as dramatic an impact as it might have done."
If Hamilton's third place represented a useful helping of points at the start of a long title battle, Button's seventh place wasn't really where he wanted to start his defence. He finished over 22s behind Lewis, although to be fair for most of the race he was looking at the back of someone's gearbox.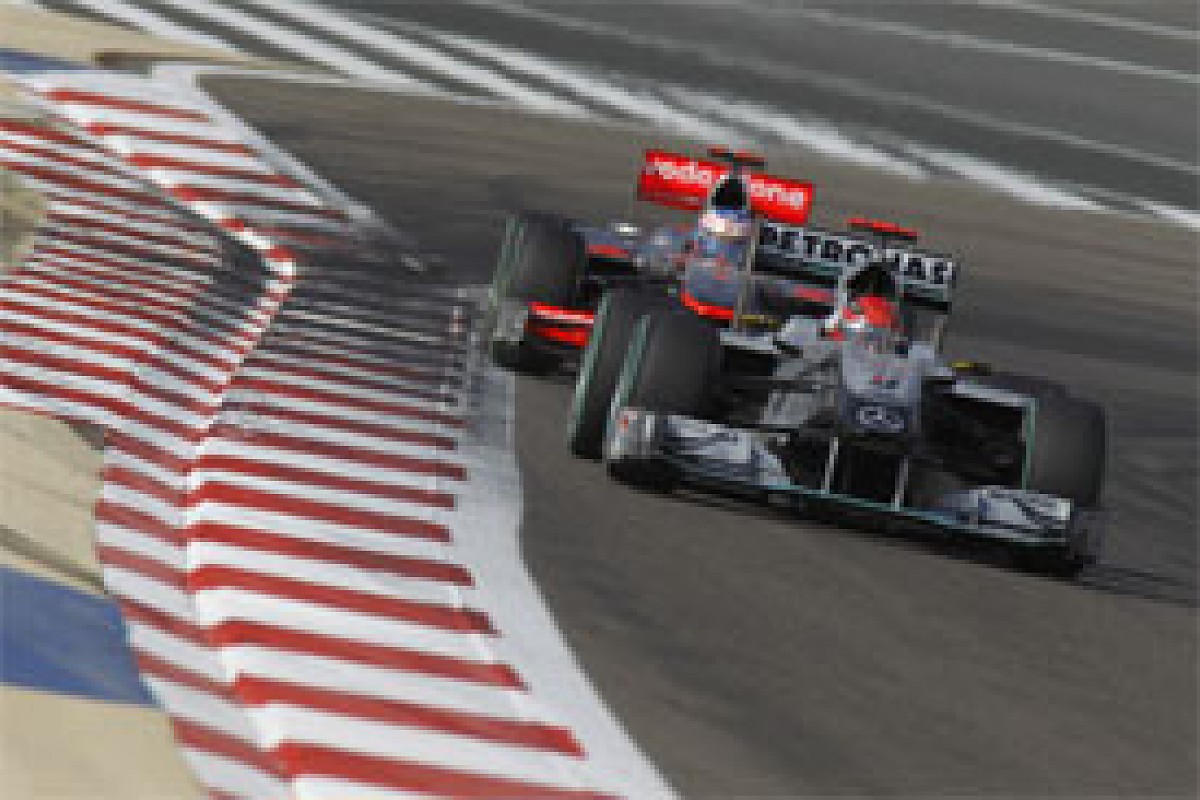 Jenson Button chases Michael Schumacher in the closing laps © LAT
"I was stuck up behind Michael for the last 15 laps and I couldn't get any closer, so that's frustrating, that we still can't overtake.
"Initially I was very cautious with the tyres, but they seemed to be holding pretty well, which is surprising actually - they were better than I thought. We were pretty good at looking after our tyres, but there's always room for improvement. We all want more speed and we all want more downforce.
"Set-up wise, the car was okay. There are a few things that I need to look at to make it more my style. But it's a good first race, I'm reasonably happy with it."
Clearly Jenson still has to get the MP4-25 to his liking.
"For me, in the low-speed I'm not entirely happy with the car. But that's just a set-up thing. The car I think is a good car, it's just finding the correct set-up for me."
Mercedes: "We need to improve"
For Button's former team, the Bahrain GP undoubtedly came as something of a shock. Early on during testing the team seemed to be a bit behind its rivals, but by the end of the Barcelona sessions the car appeared to be up there and Schumacher began to make more positive noises. Some even suspected that even if the team had not been actively sandbagging, it had at least been saving some performance for the first race.
Rosberg qualified fifth and that meant the Merc was the slowest of the big four teams, albeit only a tiny 0.024s off Hamilton in the quickest McLaren. Rosberg then improved his lot in the race by getting past him at the start, although he lost out again in the pits. Whitmarsh was rightly proud of his team's stops, but Ross Brawn pointed out that the unlucky Rosberg lost precious time in a pitlane traffic jam and otherwise might have stayed ahead.
The curious thing was that even when Vettel was apparently crippled, the Mercs didn't seem to be able to find the pace with which to catch and pressure him, and Rosberg was still 1.4s off at the end.
"What was surprising was that there appeared to be no reaction from Mercedes to the Vettel problem," said Whitmarsh. "If you look at their laptimes, they didn't switch in response to a wounded Vettel, which I thought was quite surprising. You could see it happening and certainly we saw it with Lewis. But there appeared to be no laptime reaction."
The most intriguing statistic is that Rosberg set only the 13th fastest lap. Perhaps if he'd found a little more speed he could have caught the Red Bull, although to be fair by the end Vettel had somehow managed to get back up to speed and was able to stay safely ahead.
"We need to improve, no doubt about that," team CEO Nick Fry told AUTOSPORT after the race. "But we've got plans in place to do that, so I'm sure that we'll be up there soon.
"The first thing I'm especially pleased with is how both drivers have just slotted into the team, which is completely remarkable. Both would appear to have been with the team for years. The rapport in the engineering meeting, the level of communication is exceptional, almost immediately.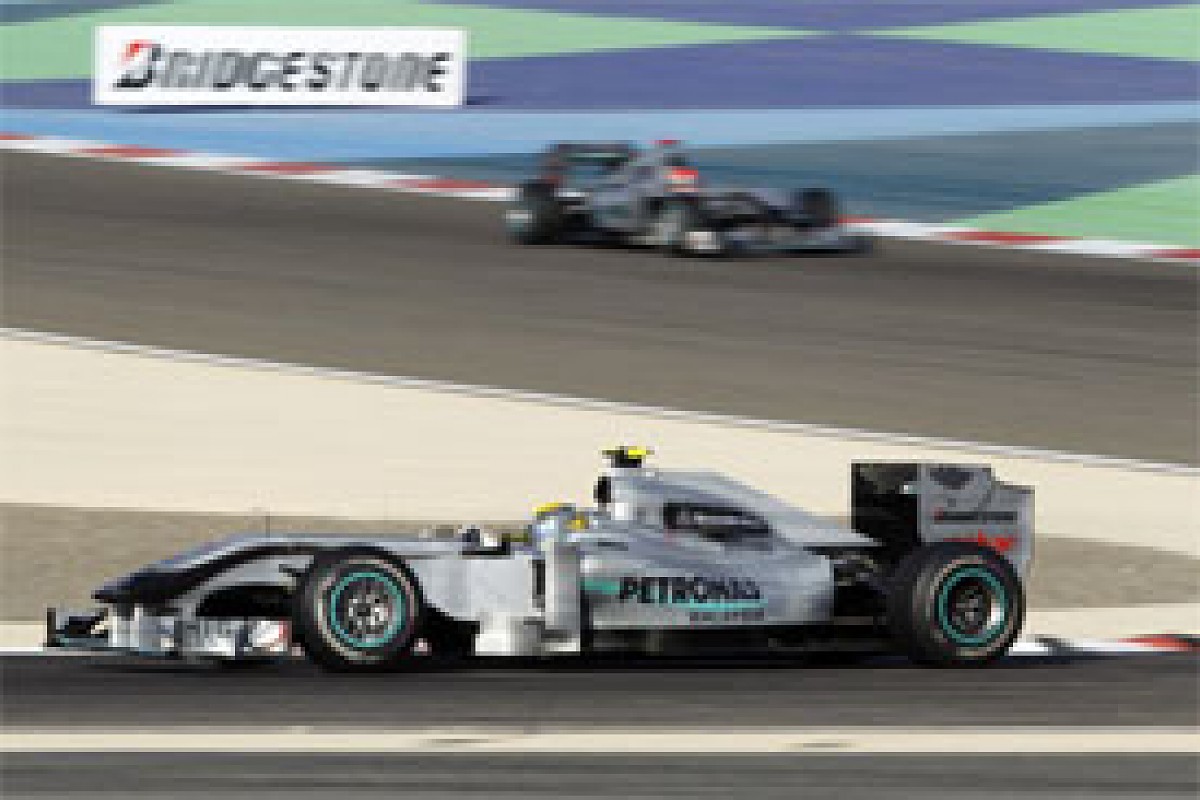 Nico Rosberg and Michael Schumacher © LAT
"There's nothing I'm listening to which is the reason why we're a little bit slower than some of the others. There's a list of things that we need to improve, I think they will all contribute on just improving the balance of the car, which is a bit variable at the moment - when it works well it clearly is quite quick, but we have difficulty finding that balance.
"I think there will be a raft of improvements which undoubtedly will improve the car. The others will do the same, but it's a long season ahead of us. I'm confident that we've got the people, the facilities and the fire power."
It was clear from early in the weekend that Schumacher wasn't happy with the W01, and as Rosberg set quicker times session by session, inevitably there was some negative focus in his direction.
The reality is that after an absence of three years, the world - and perhaps Michael himself - were expecting too much. Of course it's going to take time for him to get back to where he was, which is why he's given himself a three-year programme. The bottom line is that he finished just 3.9s shy of Rosberg and actually set a marginally faster race lap.
"Michael's done a fantastic job this weekend, there's no doubt in my mind," said Fry. "He's come out of the car as fresh as a daisy, looks like he's just gone for an afternoon stroll. But he's thoroughly enjoyed it and I think that's the most important thing. To qualify where he did and race where he did is a fantastic achievement.
"Unfortunately for the others I can only see upsides and improvements over the next few races. I think it's very much what we all expected, which is that you can't come into any sport after three years away and beat the top athletes. But he's come very close to absolute top level performance and after two or three races, he's going to be there."
Was it too simplistic to suggest that Schumacher is struggling with the car's understeering characteristic?
"I think that is too simplistic, it's not a specific concern of Michael versus Nico, where the car understeers in areas where they'd prefer it not to," replies Fry. "As far as I can see, the feedback from the drivers is very similar."
I'd asked that question because a few minutes earlier I'd heard Michael give a surprisingly detailed summary of what he was missing.
"It's a little bit limited, from my perspective, on the front tyres," he'd said. "They're pretty, pretty small. So my style of driving is not the most suitable. I have to adapt to that and I have to work with the car to get around this."
That makes total sense, and any driver has the right to get a car to his liking before he can perform at his best. His 11-year relationship with Ferrari ensured that the Italian team knew exactly what he required. Every January he would climb aboard the latest model, head out of the pits and it was just so.
In the past we tended to think of Schumacher as the guy who can drive around any problem, deal with any situation. Things are rather too close at the front for that to happen now.