Back in May 2006, during the second of three events staged by the now defunct Grand Prix Masters series, its medical director Dr Stephen Olvey, known for saving the life and racing career of Alex Zanardi, granted this column an interview focussing on the effects of the aging process on race drivers.


Our discussion took place in Qatar the evening before what was retrospectively hyped as 'the world's hottest ever race' with in-car temperatures hitting a record 77C - nine higher than the previous highest figure - and during the race none of the illustrious pilotes anciens retired due to the conditions despite the 44C ambient heat visibly taking its toll.
However, during the interview it became clear aging was way less of a problem than had been universally believed. The signature sentence of the feature concluded - six months before Michael Schumacher hung up his Schuberth - 'on that basis, Michael Schumacher could be around for the next 30 years...'
The then-38-year-old seven-time champion retired at the end of that season, but not before taking the title fight to the very last race.
In order to sate his cravings for adrenaline, Schumacher continued racing in karts and one-make motorcycle series before switching to German Superbikes. A fall testing bikes resulted in him seriously injuring his neck and that ultimately scuppered a sub role with Ferrari in the wake of Felipe Massa's freak accident during last year's Hungarian qualifying session.
Now, though, Schumacher is back, and before the Bahraini race one of the questions was how the 41-year-old would fare after three years away. Particularly given the location of the Sakhir circuit - slap-bang in a Middle Eastern desert.
Present at the season's opening race in his personal capacity as a guest of Ferrari - for reasons which will become clear - was Dr Steve, now director of the Neuroscience Intensive Care Unit at the Jackson Memorial Hospital in Miami, Florida, and an (active) founding fellow of the FIA Institute for Motorsport Safety, undertaking research on behalf of the governing body.
So, how would Schumacher fare in the race, and how would the aging process since Brazil 2006 have affected the most successful grand prix driver ever, I asked.
"Well, obviously we all age, it's part of the natural course of things," he said. "But what has happened in recent years, because of nutrition, people paying better attention to staying healthy and doing necessary things to stay healthy, one can compete within a few percentage points of their maximum ability now well into their 50s.
"I think what you might lose in your reflexes and response time is counter-balanced by what you have in maturity and knowing as situations develop what you need to do to avoid getting into difficulties from which you cannot easily get out of."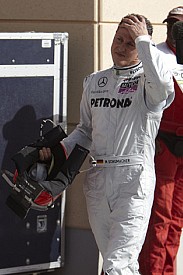 Michael Schumacher © LAT
So, in his second career, is Schumacher likely to sacrifice a touch of his awesome speed, but more than compensate for that loss through the sheer experience provided by being the world's third-most prolific grand prix starter (behind Rubens Barrichello and Ricardo Patrese - both, coincidentally, former team-mates to 'Schumi')?
"I think experience plays a big role in how you do things, sometimes even more so than the innate physical ability of a younger person. But there is no question that drivers are getting younger and younger, with some professional series now having drivers as young as 14 and 15 years old, and that is one of the reasons why we [the Institute] were in a hurry to develop the youth helmet, because they needed a different helmet to adults.
"So you have kids that physically have the ability to drive, but the worry with the younger ones is the emotional and maturity levels they have, and whether they can deal with some of the pressures and the things that develop, and that they don't do things on impulse that could be very dangerous."
While some could argue that Schumacher's career is littered with instinctive manoeuvres (over the years his defences at Adelaide, Jerez and Monaco centred on his actions being unpremeditated, which is euphemism for 'instinctive'...), Olvey is adamant Schumacher is okay in this department.
"Getting back to Michael - and somebody in that age group - I don't see any reason why they can't compete competitively based on almost as good a physical ability as they had when were in their twenties, but on their ability related to maturity and experience."
Age does extract its tolls though, and according to Olvey, Schumacher would need to devote 'a little more time to his fitness regime than you do when you're younger, simply because the older one gets the less flitting about and being active throughout the day one is'. Then there is the question of recovery after races.
"It takes longer to get over things, if you get involved in a crash for example, it is going to take longer to recover," he said. "If you do some form of exercise [as an older person] that you haven't done for a longer period of time, you are going to be sorer for a longer period of time than if you were 18 or 19 years old. That's just the way it is.
"But knowing those things, there is no reason why he can't compete. You see this in all sorts of sports - there are older players. Look at Brett Favre [born 1969] in American Football, you look at some of the soccer players and the [ice] hockey players, they go on a lot longer than they did in years past."
Yet, drivers are also getting younger - Sebastian Vettel set records for youngest grand prix participant, was the only teenager to score a championship point, the youngest to score pole position and taste grand prix victory, and seems well on track to be the youngest world champion, beating Lewis Hamilton, who less than two years ago lowered the mark for the second time in three years.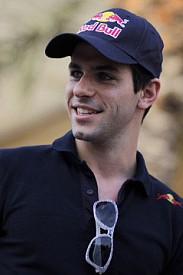 Jaime Alguersuari, Formula 1's youngest ever racer © LAT
Then, in August, Toro Rosso's Jaime Alguersuari became the youngest grand prix starter, having been born in the 90s.
Yes, the oldest world championship winner was Juan-Manuel Fangio (46 in 1957), but due to the effects of the World War and the 'culling process' inherent in prevailing F1 meant many seasons lacked youth and qualitative depth. However, Schumacher was at one stage the youngest double champion of all time (1994/5) and could well become its oldest if he continues for another five or so years. Could, though, some young gun have an even longer career than the seven-time champion?
"I think the age ranges in all professional sports, unless there are age limits, are going to widen as we go on," believes Olvey, who cannot, though, foresee Formula 1 being populated by drivers between the ages of 16 and 60. "I'd hate to guess, but I can't imagine drivers of 60, but I can easily imagine 50, and I think that could happen. We're seeing senior triathletes run marathons in their 80s, this was unheard of 20 years ago, nobody would ever have believed it."
Advances in medical science and the ability to correct certain aspects of the aging process, such as corrective eye surgery, mean drivers are able to enjoy longer careers than ever, although reflexes are likely to prove to be the final insurmountable hurdle.
"That's an issue, the ability to correct vision with laser surgery, continues to develop at a rapid pace, so you sort of eliminate the visual difficulties, but reaction time - that is the big if. I think the limiting factor is your ability to react appropriately to situations that might develop. But those issues will weed themselves as the driver gets older and less and less competitive before finally getting into something else."
However, what about the other side of the same coin - could grands prix soon be won by what are effectively school children?
"In fact, we recently discussed that [the minimum age for professional motorsport series, currently 16 in most motorsport countries], and what limit would be acceptable, and decided to not lower it from where it is now. Again, it's based on emotional maturity, that's the risk. Physically there are going to be kids that can handle a car in their early teens - there is no doubt about that - but whether they have the emotional stability is the big issue."
Surely, though, Olvey is not suggesting 16-year-olds should be let loose in 800bhp F1 cars?
"For Formula 1 I would not feel comfortable under 18," says the doctor immediately, who has worked in motorsport medicine since 1966 and thus seen a massive span of drivers pass through the sport in virtually all categories and is thus best qualified to judge.

Still, the thought of Schumacher bookending the world championship age records - simultaneously holding every meaningful title record in between - should have his legions of fans salivating about the 2016 F1 season.