Ferrari
• Fernando Alonso and Felipe Massa's one-two finish in Bahrain was the 80th in Ferrari's history - its last was France 2008
• Alonso tied Damon Hill at 10th on the all-time list for wins (22), Niki Lauda for podium places (54) and took his tally of points scored past 600 (602)

Juan Manuel Fangio/Luigi Musso winning the Argentine GP for Ferrari in 1956 © LAT
• Alonso joined a list of six other drivers who won in their debut for Ferrari. The others were Juan Manuel Fangio and Luigi Mussi in the 1956 Argentine Grand Prix (a shared drive), Giancarlo Baghetti in the 1961 French GP, Mario Andretti in the 1971 South African GP, Nigel Mansell in the 1989 Brazilian GP and Kimi Raikkonen in the 2007 Australian GP
• Massa has scored back-to-back podiums - the last race he entered before Bahrain was the 2009 German Grand Prix, in which he finished third
• His second place was the first time Massa has finished on the podium in a season opener. Before this year, his best result was sixth in 2007. He has endured four retirements in his seven opening rounds of a season to date
• Ferrari became the first team to pass 5000 points scored, with the one-two in Bahrain taking it to 5038.27
Lucky #8
• Alonso took a car carrying #8 to the top step of the podium for the first time since the 2003 Hungarian Grand Prix. It was Alonso who scored that last win in a #8 car, his first in F1.

Divided by numbers
• Cars carrying numbers 1-8 occupied the first eight spots of the race classification, while the ones with the six highest numbers didn't finish.
• It's only the fifth time in history that cars numbered 1-8 were classified in the first eight places. The other occurrences were Brazil 1998, Luxembourg 1998, Belgium 1999 and Monaco 2003. The 1998 Luxembourg GP has the distinction of having cars numbered 1-9 in the first nine posiitons.

Race notes
• The pole-sitter failed to win the Bahrain GP for the third successive year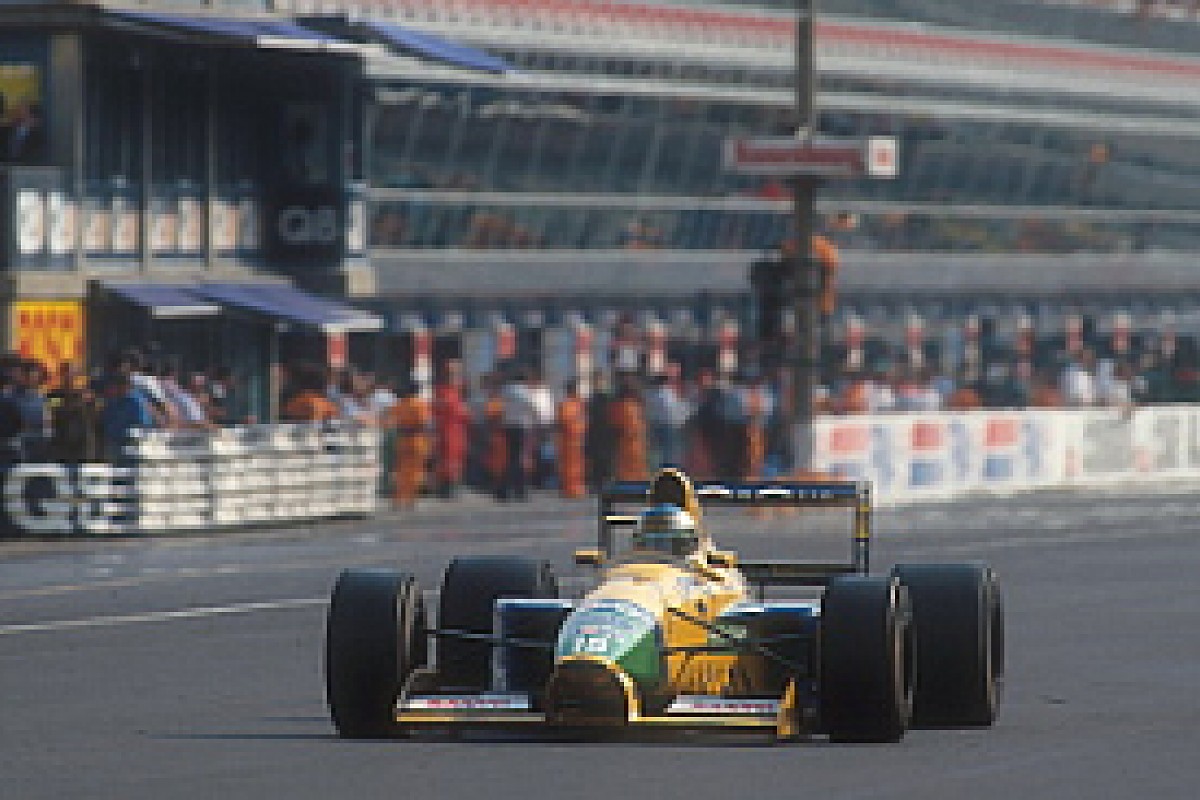 Michael Schumacher scored his first F1 points with fifth at Monza for Benetton in 1991 © LAT
• Michael Schumacher set a new record for the longest time between first and last points scores. It's now 18 years, six months and six days. Schumacher takes the record away from his former team-mate, Rubens Barrichello, whose 10th place in Bahrain extended his to 16 years, four months and 18 days
• McLaren became the second team, after Ferrari, to race more than 70,000 laps (70,028)
• Thanks to the new scoring system, Tonio Liuzzi scored his first points since the 2007 Chinese GP
• In Bahrain, Barrichello's career reached exactly 17 years, the second longest of all-time behind Schumacher's 18 years, six months and 17 days
• Alonso's fastest lap was 1.106 seconds faster than the second best, recorded by Adrian Sutil. The last time there was a bigger gap between the first and second fastest laps was in the 2008 Italian Grand Prix, when Raikkonen put 1.211 between himself and Sebastien Bourdais in a race affected by rain. The last time a higher gap was recorded in a dry race was back in 2002, when Michael Schumacher was 1.385s faster than Juan Pablo Montoya in Spain
Qualifying notes
• Felipe Massa out-qualified Fernando Alonso in their first event as team-mates. It was only the second time Alonso has been beaten by a team-mate in qualifying since the beginning of 2008. The other occasion was the 2009 German GP, when Nelson Piquet Jr was 10th and Alonso only 12th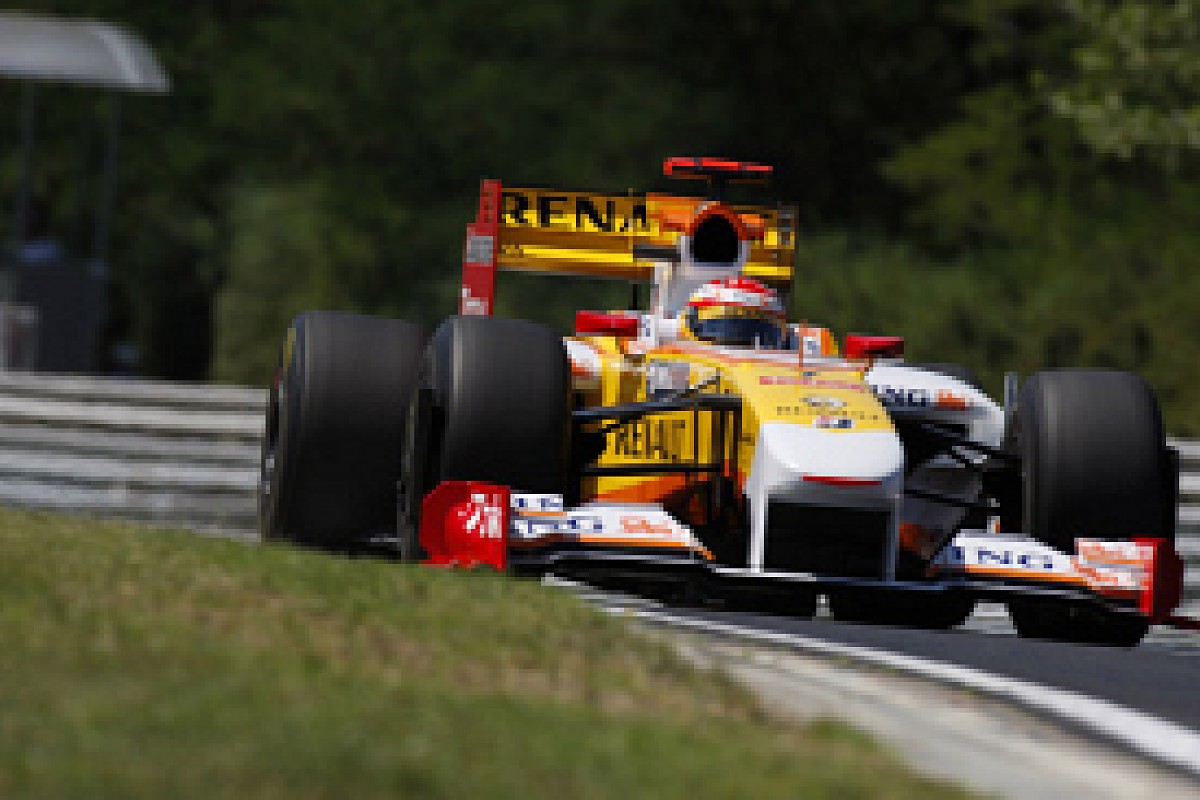 Fernando Alonso's in Hungary last year © LAT
• Ferrari was back on the front row for the first time since Monaco 2009, when Kimi Raikkonen started second (the only front row start for the team that season).
• Lewis Hamilton and Jarno Trulli have always beaten their team-mates in Bahrain qualifying: Hamilton four times and Trulli seven. Trulli's current team-mate, Heikki Kovalainen, had his fourth straight defeat in Bahrain. But 20th was Trulli's worst qualifying position since the 2006 German GP, when he occupied the same spot
• Schumacher qualified in the same grid spot as on his Formula 1 debut in the 1991 Belgian Grand Prix - seventh
• Timo Glock was fastest of the new teams' drivers in qualifying, 2.7s slower than Jaime Alguersuari whose Toro Rosso was slowest of the established teams. Glock's time was 4.5 per cent slower than Alonso's, compared to 2009 when the slowest driver - Sebastien Bourdais - was 2.3 per cent slower than Rubens Barrichello's fastest Q1 time.