PRACTICE
Practice 1 - Friday PM
With so many questions needing answers: Lewis Hamilton v Jenson Button, Fernando Alonso v Felipe Massa, Michael Schumacher etc, the first session of the 2010 season was always likely to be something of an anti-climax. It was nice however to see the new Lotus team lead out the field with Jarno Trulli at the wheel.
Adrian Sutil was fastest in opening practice for Force India © Sutton
In the end the session answered few of those questions as Adrian Sutil stole the top spot for Force India ahead of Alonso's Ferrari and Robert Kubica an unexpectedly competitive third for Renault.
Much was made of the McLaren MP4-25's F-duct, the periscope device on the nose of the car designed to help stall aerodynamic flow over the rear wing. But in the end the two silver cars ended up fifth and sixth behind Massa's sister Ferrari. Schumacher would end up tenth in his Mercedes, 0.4s behind Rosberg.
Significant interest focused on the three new teams. Despite Heikki Kovalainen's Lotus inadvertently cooking his rear-end due to a problem in the cockpit mid-session, both he and Jarno Trulli did a respectable job at the back of the field, completing 36 laps between them.
In front of the green cars was Timo Glock in the Virgin, fastest of all the new cars. The Hispania Racing Team also managed to create a little bit of history when it reintroduced the Senna name to F1, 70 minutes into the session. Bruno, Ayrton Senna's nephew, did two installation laps in the Dallara - after a mammoth effort by the team to get the car on track in time.
Practice 2 - Friday PM
Another question still awaiting an answer was the field's long-run form, more significant now that refuelling is banned from the sport. Again the session ended with more evidence required, but interestingly most teams reported serious rear-tyre wear, specifically with the super-soft option Bridgestone.
Nico Rosberg would end the session fastest of all, maintaining his gap to Schumacher (third), and his pace was enough for Jenson Button to identify the Mercedes' strong low-fuel speed. The world champion, like fellow title winners Alonso and Hamilton, was happier with his car's long runs, despite the new trend in visible oversteer up and down the field.
Sebastien Vettel was fifth, which was about the best thing that could be said about a troublesome day for Red Bull - Mark Webber sat out most of the session with a gearbox problem. Williams driver Nico Hulkenberg was the fastest rookie, in sixth.
This time Lotus was the fastest of the new teams, some 5.5s away from the ultimate pace, but with another 37 laps banked. Timo Glock and Lucas di Grassi were another second away in the Virgins, while Senna managed 17 very slow laps in the HRT. Team-mate Karun Chandhok could only watch on as 24 hours after beginning their build, the team couldn't quite get the car ready for him.
Saturday Practice
At least one of those questions was answered in P3, when both Ferrari and Mercedes showed they had genuine low-fuel pace ahead of qualifying. In the final moments, most of the teams began qualifying simulations. Ferrari and Fernando Alonso proved most effective in this phase as they continued their seamless build-up to the first race.
But the Spaniard's feathers weren't completely unruffled as Rosberg would have been quicker but for a slow third sector on his qualifying simulation. The Mercedes driver incidentally still boasted a 0.2s advantage to his famous team-mate Schumacher.
Down at the other end, things were rather more chaotic. Karun Chandhok failed to make it out of the pits at all, though the Indian did at least get his crash helmet on. Sitting in the cockpit of his HRT Dallara, with the Cosworth engine fired up, he couldn't select a gear.
Another new team that endured a difficult morning was Virgin. Lucas di Grassi lost seventh gear during his installation run, while team-mate Timo Glock watched his left front wheel depart from his car and head off in a general desert direction. This proved to be the result of an under-torqued wheel gun.
McLaren's Lewis Hamilton also spent much of the 60-minute session garage-bound as his team laboured to solve a problem with his brakes, so the former world champion would not get in a qualifying simulation of his own.
QUALIFYING
1. Sebastian Vettel, Red Bull Racing
Team-mate qualifying battle: 1-0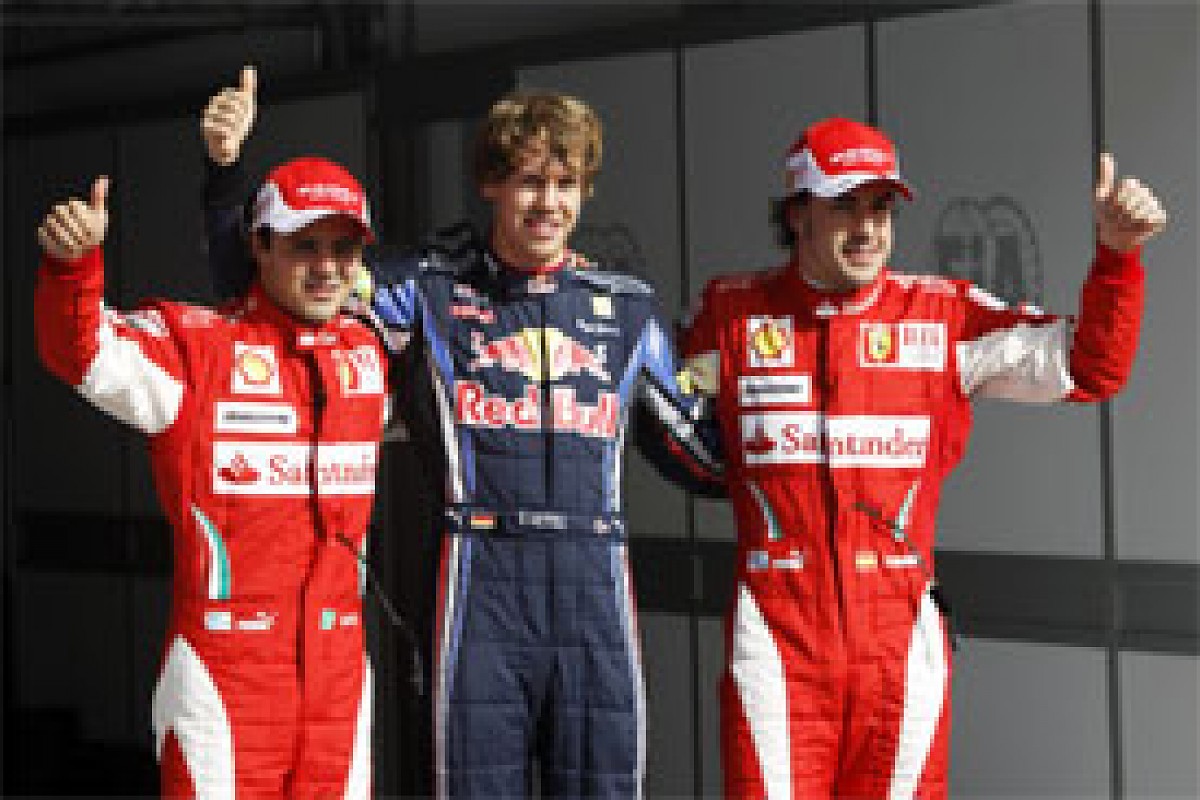 Felipe Massa, Sebastian Vettel, and Fernando Alonso © LAT
There were little doubts about Red Bull's pace over a single lap, and Vettel confirmed it with a set of blistering laps during qualifying day. The German was the only man capable of lapping in the 1m53s, in Q2, and then secured the first pole of the season in superb fashion.
2. Felipe Massa, Ferrari
Team-mate qualifying battle: 1-0
Having been outpaced by Alonso in the final practice session, Massa raised his game when it mattered and eclipsed the Spaniard. The Brazilian driver was the only man who was able to get close to Vettel's time, finishing less than two tenths of a second behind.
3. Fernando Alonso, Ferrari
Team-mate qualifying battle: 0-1
It wasn't the ideal start for the Spaniard, who failed to secure a place on the front row, but it was nonetheless a very pleasing day for Ferrari, which felt its F10 could be stronger than the Red Bull come race day. Alonso was happy to confirm he has a car to fight for victories.
4. Lewis Hamilton, McLaren
Team-mate qualifying battle: 1-0
Hamilton admitted he was overwhelmed after qualifying in fourth position, highlighting the difficulties McLaren was facing during the Bahrain weekend. The MP4-25 was simply not quick enough around the Sakhir circuit, both in qualifying and race trim.
5. Nico Rosberg, Mercedes
Team-mate qualifying battle: 1-0
After topping the times in Friday's practice, Rosberg claimed he was expecting to be able to fight for pole. But the reality was very different for the German, however, who finished nearly a second off Vettel's pace.
6. Mark Webber, Red Bull Racing
Team-mate qualifying battle: 0-1
No matter how you look at it, it was a disappointing day for Webber, who finished over a full second behind team-mate Vettel. The Australian made costly mistakes during his flying lap and had to settle for a place on the third row of the grid as Vettel celebrated pole.
7. Michael Schumacher, Mercedes
Team-mate qualifying battle: 0-1
Schumacher conceded he was still lacking rhythm after finishing in a low-key seventh position and, perhaps more significantly, behind team-mate Rosberg. The Mercedes did not seem to have the pace of Ferrari or Red Bull, but Schumacher said he was still satisfied with his performance, something that few in the paddock believed.
8. Jenson Button, McLaren
Team-mate qualifying battle: 0-1
After feeling more comfortable with each run, the world champion claimed something went wrong with his car on his final flying lap, during which Button struggled with the handling of the McLaren. In the end he said he was surprised to manage eighth.
9. Robert Kubica, Renault
Team-mate qualifying battle: 1-0
Despite reaching Q3, which was no mean feat, Kubica admitted he was disappointed with his performance, as he believed seventh position should have been possible. The Pole reckoned a big snap of oversteer in the hairpin at Turn 16 cost him around four tenths.
10. Adrian Sutil, Force India
Team-mate qualifying battle: 1-0
Strong since the start of the weekend, Sutil took a gamble for qualifying, being the only driver in the top ten to do his running with the medium tyre compound. So different was his strategy, that Bridgestone declared the Force India driver "the key point in this race."
11. Rubens Barrichello, Williams
Team-mate qualifying battle: 1-0
Despite not reaching Q3, the Brazilian was satisfied with his performance, especially considering he had to play catch-up after being hit by some problems on Friday. Barrichello had a good run in qualifying, but was still some four tenths off making the final cut.
12. Tonio Liuzzi, Force India
Team-mate qualifying battle: 0-1
After a strong performance in practice, Liuzzi was baffled to explain why his car's balance had changed so much for qualifying. At it was, the Italian was disappointed with how the Force India handled, especially when coming out of the slow corners.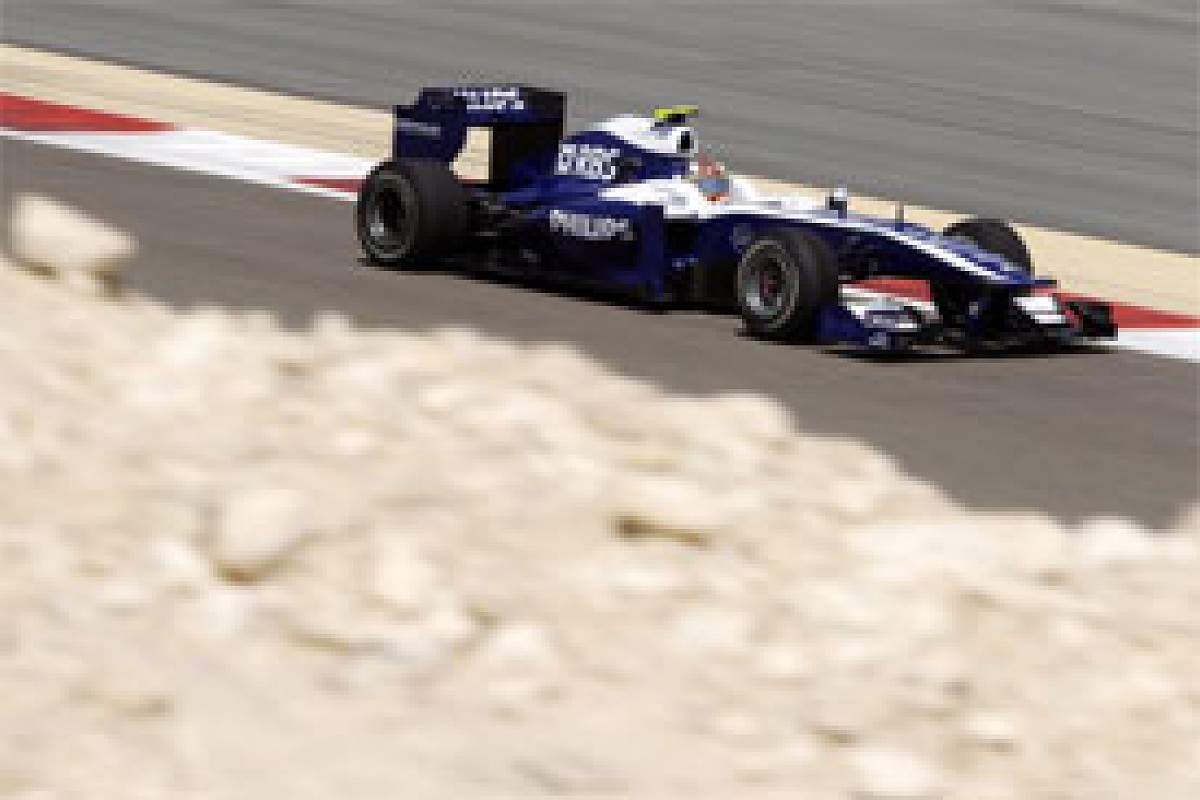 Nico Hulkenberg qualified 12th in the Williams © LAT
13. Nico Hulkenberg, Williams
Team-mate qualifying battle: 0-1
After claiming on Friday that he was targeting a place in the top ten, the Williams driver was rather disappointed to finish down in 13th. Hulkenberg said his car's handling was not perfect, adding that his lap could have been better.
14. Pedro de la Rosa, Sauber
Team-mate qualifying battle: 1-0
In his first qualifying session in years, de la Rosa was a pleased man, at least given his own performance. The Spaniard admitted the Sakhir circuit did not suit his Sauber and he never expected to reach Q3. He still conceded he had overdriven on his final flyer, but de la Rosa was still confident of a stronger showing in the race.
15. Sebastien Buemi, Toro Rosso
Team-mate qualifying battle: 1-0
With the Toro Rosso's strongest point being runs with lots of fuel onboard, Buemi's performance was close to the maximum he could have achieved. The Swiss driver admitted his lap could have been around two tenths quicker, but that would have gained him just one position.
16. Kamui Kobayashi, Sauber
Team-mate qualifying battle: 0-1
The Japanese driver admitted he was expecting more from his car during the weekend, but the Sauber really struggled with the bumpy middle sector, also lacking top speed on the straights. With that in mind, Kobayashi's effort was still solid, as he finished less than a tenth off de la Rosa.
17. Vitaly Petrov, Renault
Team-mate qualifying battle: 0-1
To his credit, Petrov made it to Q2 without too much trouble, despite it being his first ever qualifying session. From there, however, the Russian could not make any more progress, being unable to match his own pace in Q2, where he was over half a second slower than in Q1.
18. Jamie Alguersuari, Toro Rosso
Team-mate qualifying battle: 0-1
The Spaniard had the dubious honour of joining the three new teams in being knocked out in Q1. But it was not a big surprise for him, as the Toro Rosso driver has struggled to get all the performance out of the car over a single lap and had a wild slide on his last run in Bahrain.
19. Timo Glock, Virgin
Team-mate qualifying battle: 1-0
Glock and Virgin were the happiest of the newcomers on Saturday after emerging as winners of the battle of the new teams in qualifying. Like all his direct rivals, Glock could not escape trouble, however, with his car allowing him to do just eight laps in first practice and three in the second session. That meant Glock faced qualifying with just 21 laps completed, so all in all he had reasons to be happy.
20. Jarno Trulli, Lotus
Team-mate qualifying battle: 1-0
After a good 29 laps on Friday, Trulli's luck changed on Saturday morning and a mechanical problem meant he could only manage five laps in final practice, which was far from ideal ahead of qualifying. Nonetheless, the Italian finished as second quickest of the men in a new team, and just a tenth off Glock.
21. Heikki Kovalainen, Lotus
Team-mate qualifying battle: 0-1
Kovalainen admitted his flying lap could have been better after finishing half a second off Trulli's pace, but the Finn had to be content giving he had a relatively trouble-free weekend, especially when compared with the other newcomers.
22. Lucas di Grassi, Virgin
Team-mate qualifying battle: 0-1
Blighted by reliability problems for most of the weekend, di Grassi was another man facing a hard time in his first ever qualifying. The Virgin driver arrived in the grid-deciding session having managed less than 30 laps, so finishing less than a second off Glock was a respectable effort.
23. Bruno Senna, HRT
Team-mate qualifying battle: 1-0
Bahrain was always going to be a big struggle for the new HRT team, which had not turned a wheel ahead of the first practice session. Senna was fortunate enough to get his car running before the end of the morning's session, and by qualifying he had at least completed some 20 laps. Finishing less than ten seconds off the pace was something of an achievement.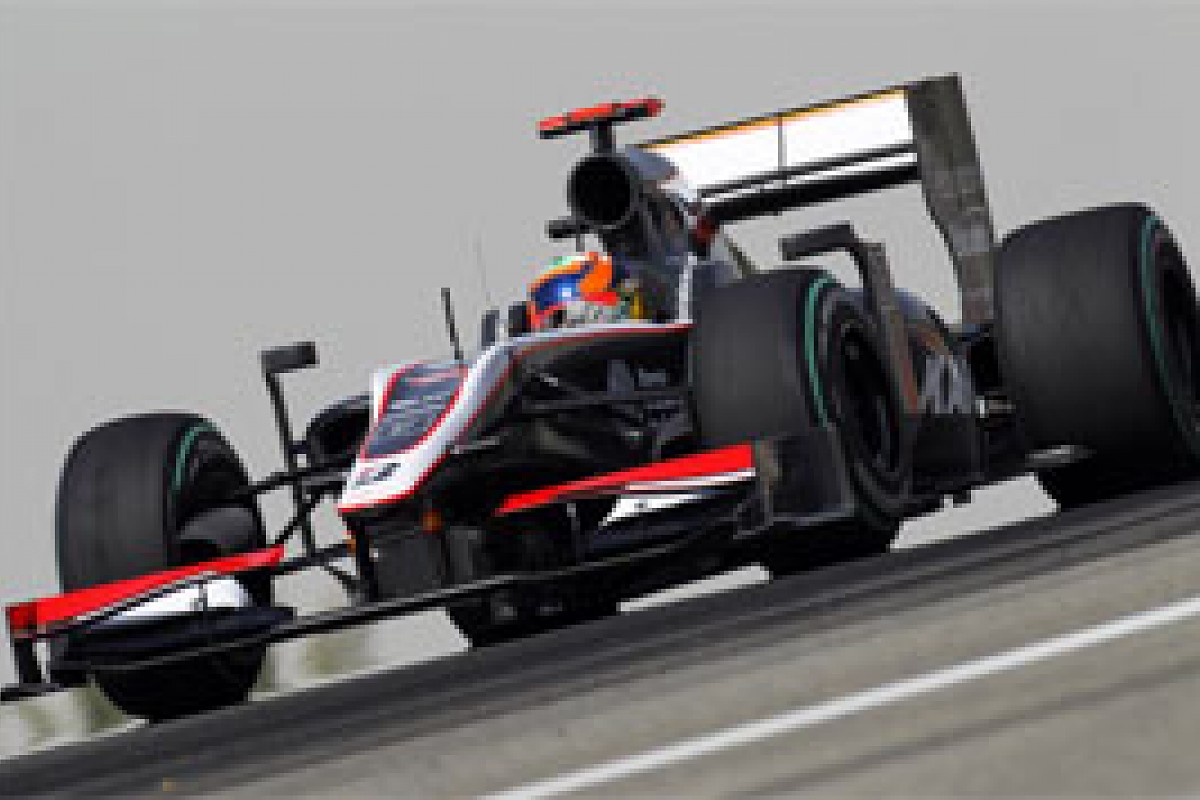 Karun Chandhok did his first laps of the weekend in qualifying © LAT
24. Karun Chandhok, HRT
Team-mate qualifying battle: 0-1
All things considered, there was nothing more than could have been asked from the Indian rookie, who got his first taste of the HRT car in qualifying, after the team was unable to get it running in any of the practice session. After just seven laps, Chandhok finished around 1.7 seconds off Senna's pace, so he was pleased after the practice struggles.
QUALIFYING RESULTS
Pos  Driver         Team                   Q1        Q2        Q3       
 1.  Vettel         Red Bull-Renault       1:55.029  1:53.883  1:54.101  
 2.  Massa          Ferrari                1:55.313  1:54.331  1:54.242 
 3.  Alonso         Ferrari                1:54.612  1:54.172  1:54.608 
 4.  Hamilton       McLaren-Mercedes       1:55.341  1:54.707  1:55.217 
 5.  Rosberg        Mercedes               1:55.463  1:54.682  1:55.241 
 6.  Webber         Red Bull-Renault       1:55.298  1:54.318  1:55.284 
 7.  Schumacher     Mercedes               1:55.593  1:55.105  1:55.524 
 8.  Button         McLaren-Mercedes       1:55.715  1:55.168  1:55.672 
 9.  Kubica         Renault                1:55.511  1:54.963  1:55.885 
10.  Sutil          Force India-Mercedes   1:55.213  1:54.996  1:56.309 
11.  Barrichello    Williams-Cosworth      1:55.969  1:55.330 
12.  Liuzzi         Force India-Mercedes   1:55.628  1:55.653 
13.  Hulkenberg     Williams-Cosworth      1:56.375  1:55.857 
14.  de la Rosa     Sauber-Ferrari         1:56.428  1:56.237 
15.  Buemi          Toro Rosso-Ferrari     1:56.189  1:56.265 
16.  Kobayashi      Sauber-Ferrari         1:56.541  1:56.270 
17.  Petrov         Renault                1:56.167  1:56.619 
18.  Alguersuari    Toro Rosso-Ferrari     1:57.071
19.  Glock          Virgin-Cosworth        1:59.728
20.  Trulli         Lotus-Cosworth         1:59.852
21.  Kovalainen     Lotus-Cosworth         2:00.313
22.  di Grassi      Virgin-Cosworth        2:00.587
23.  Senna          HRT-Cosworth           2:03.240

All Timing Unofficial

THE RACE
Red Bull boss Christian Horner promised that the first race of the new no-refuelling era would be a "fascinating journey into the unknown" - and it would be his man Sebastian Vettel who led that voyage as he easily maintained his pole advantage off the line and through the first corners.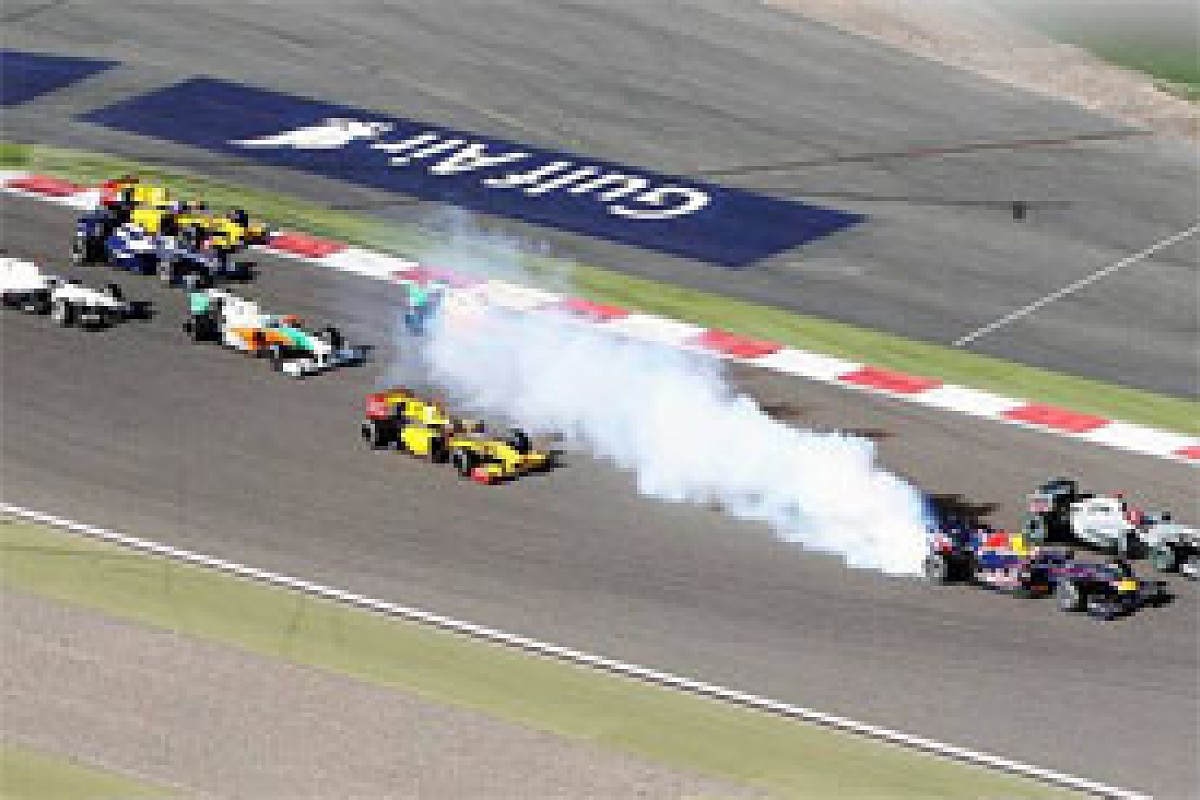 Smoke from the Red Bull of Mark Webber temporarily obscures the grid at the start © Sutton
In his wake, things were more complicated. Fernando Alonso managed to slip around his Ferrari team-mate Felipe Massa for second as they negotiated the opening complex, and Lewis Hamilton tried to follow him through, but was firmly rebuffed by the Brazilian.
Hamilton then ran slightly wide at Turn 4, giving Nico Rosberg chance to nip through and grab fourth for Mercedes. His team-mate Michael Schumacher slotted in behind Hamilton in sixth, as Jenson Button lost seventh to Mark Webber amid the jostling through the new section of track.
Webber had inadvertently sabotaged his pursuers at the first corner as a huge plume of excess oil smoke briefly blinded those behind. The Red Bull was perfectly healthy, but somewhere in its cloud, the unsighted Adrian Sutil and Robert Kubica made contact and spun to the tail of the field, to Kubica's annoyance.
"There was massive smoke, so I think Sutil just didn't lift off," he said. "He couldn't see anything and then he hit me. Unfortunately the race and the whole weekend of work got screwed by his mistake."
Up front, Vettel seemed absolutely untroubled in the opening laps. While the Ferraris were not exactly being left standing, neither did they look to have any answer for the Red Bull, which led by 5s by the end of a short first stint on soft tyres that looks set to become standard under the 2010 rules.
It had already become a three-car race for victory, with Rosberg falling 18s adrift by the pitstops - to his disappointment.
"I'm concerned by my pace in the race, it was not quick enough - especially in the first stint on the options," he said. "Lewis was able to put a lot of pressure on me, which was not so nice."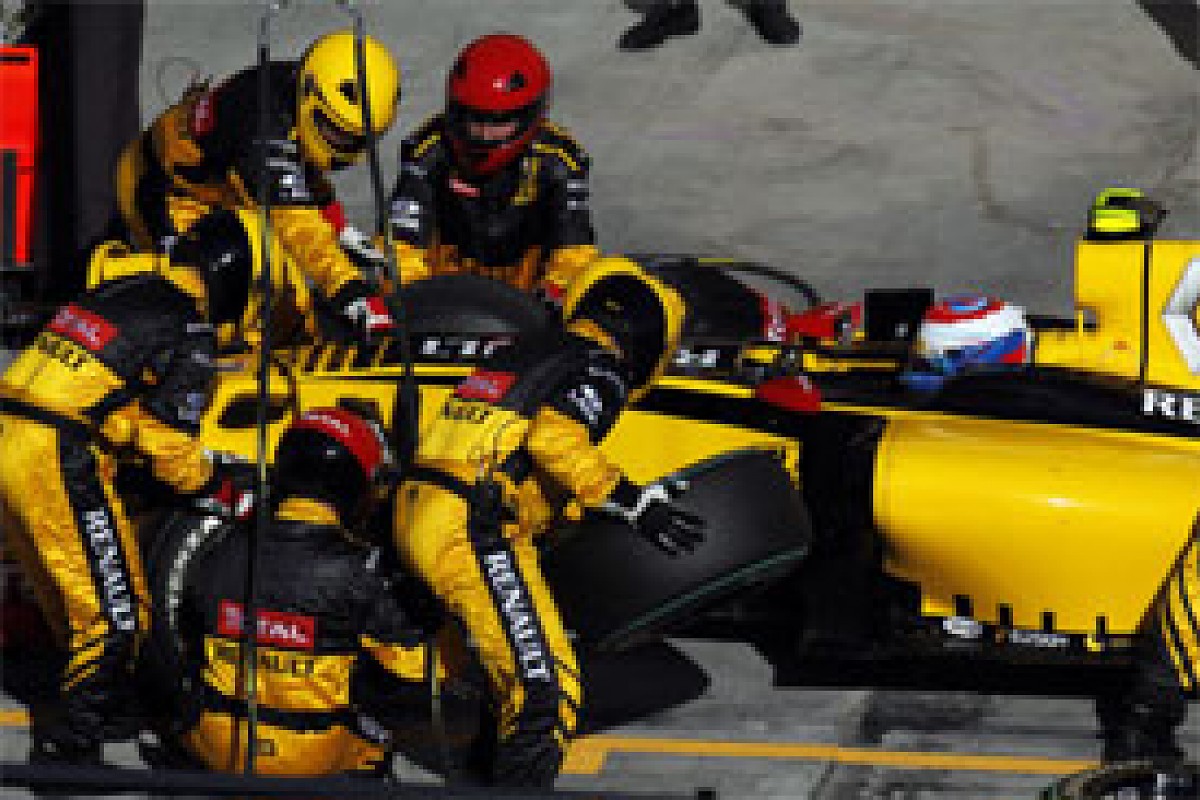 Pitstops were faster without refueling, but not for Vitaly Petrov © LAT
Hamilton, along with Schumacher, became the first of the frontrunners to pit for the harder tyres on lap 15, and that extra lap on fresh rubber - plus a momentary pause by Rosberg's crew to avoid pitlane contact with Button - let Hamilton grab fourth once the Mercedes had pitted a lap later. Button and Webber also swapped places when they stopped in unison on lap 16.
Alonso pitted on the same lap, one tour earlier than Vettel and Massa, which helped the Spaniard to get a little closer to the leader and slightly further ahead of his team-mate.
With those the only stops expected, and overtaking as hard as ever, it looked like stalemate would then set in. Returnee Schumacher was one of many to voice fears that the current rules will not be conducive to entertainment.
"It's just a case of going at your pace and not doing mistakes, because overtaking is basically impossible unless somebody makes a mistake," he said.
"Lewis Hamilton made one so Nico was able to get past him, he got back past at the pit stop, and that was it, that's the action we're unfortunately going to have with this kind of environment of race strategy."
This race would see more drama in the lead battle, though, and it was Red Bull that reluctantly provided it.
Alonso nibbled away at Vettel's lead on his fresh tyres, getting the gap down to 1.5s, the German was confident he had everything under control, especially as Alonso's tyres started to wilt once in Vettel's dirty air.
"At one point Fernando got a bit closer but then I think he realised that if he continued that way his tyres wouldn't last very long," said Vettel.
But Vettel was to be denied his straightforward coast to the flag, as on lap 34 a spark plug problem caused his engine to suddenly lose power. Immediately the two Ferraris were all over the back of the Red Bull, and although it still had the speed to hold them off around the twisty sections, Alonso breezed past approaching the final corner, and Massa easily followed him through into Turn 1 on the next lap.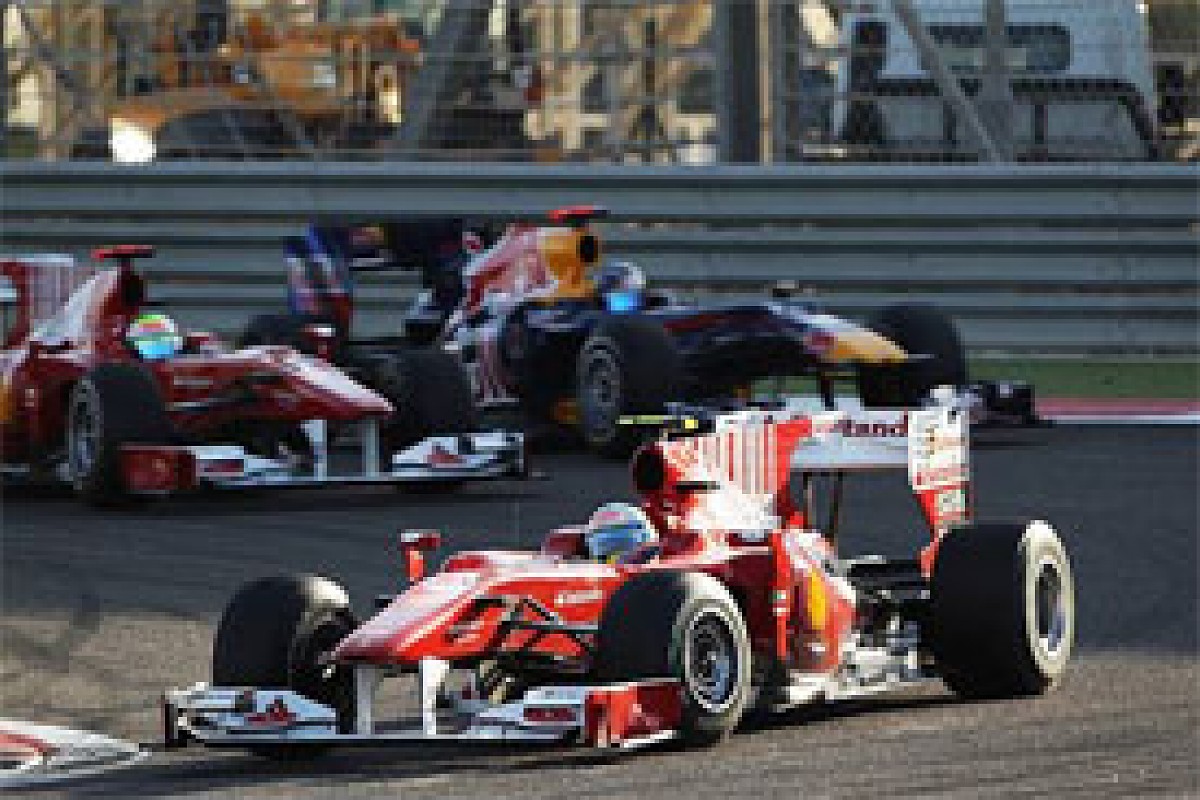 Fernando Alonso and Felipe Massa overtake an ailing Sebastian Vettel © Sutton
Alonso then made sure that Massa didn't have any notions of mounting a victory charge by banging in a series of new fastest laps. The gap between the Ferraris eventually rose to 16s, although this was not just due to Alonso's relentless pace, but also Massa's need to conserve fuel.
"I started to have a problem in terms of temperature in the car," Massa explained. "That made a lot of fuel consumption, so I started to save fuel maybe in the last 25 laps, even with 30 laps to go."
With no such concerns, Alonso was free to dominate the final part of the race. It was the perfect start to his Ferrari career, and given the frequency with which opening round winners go on to clinch titles, a good omen for the rest of his 2010 season too. But would he class it as an inherited win, or could he have passed Vettel's Red Bull had it stayed healthy?
"I did not know exactly," he mused. "I had some pace in the pocket at that time of the race but I was concentrating on managing the tyres.
"I was waiting for the time to attack Vettel, maybe waiting for the last 10 or 12 laps. I think he was very quick, especially with soft tyres at the beginning as I could not follow him at all, but with the hard tyre maybe we had a little bit more pace. But it's difficult to know."
Even with his engine wilting, Vettel was still not short of pace. He initially lost 3s per lap to the Ferraris, but as he adapted to the problem, that deficit came down. Although Hamilton was able to grab third from him with 11 laps to go - noting along the way that even the sickly Red Bull looked more stable in the corners than his McLaren - Rosberg could never quite get close enough so Vettel still salvaged fourth.
A few seconds behind Rosberg, Schumacher completed his F1 return with a low-key sixth place, fending off Button and Webber.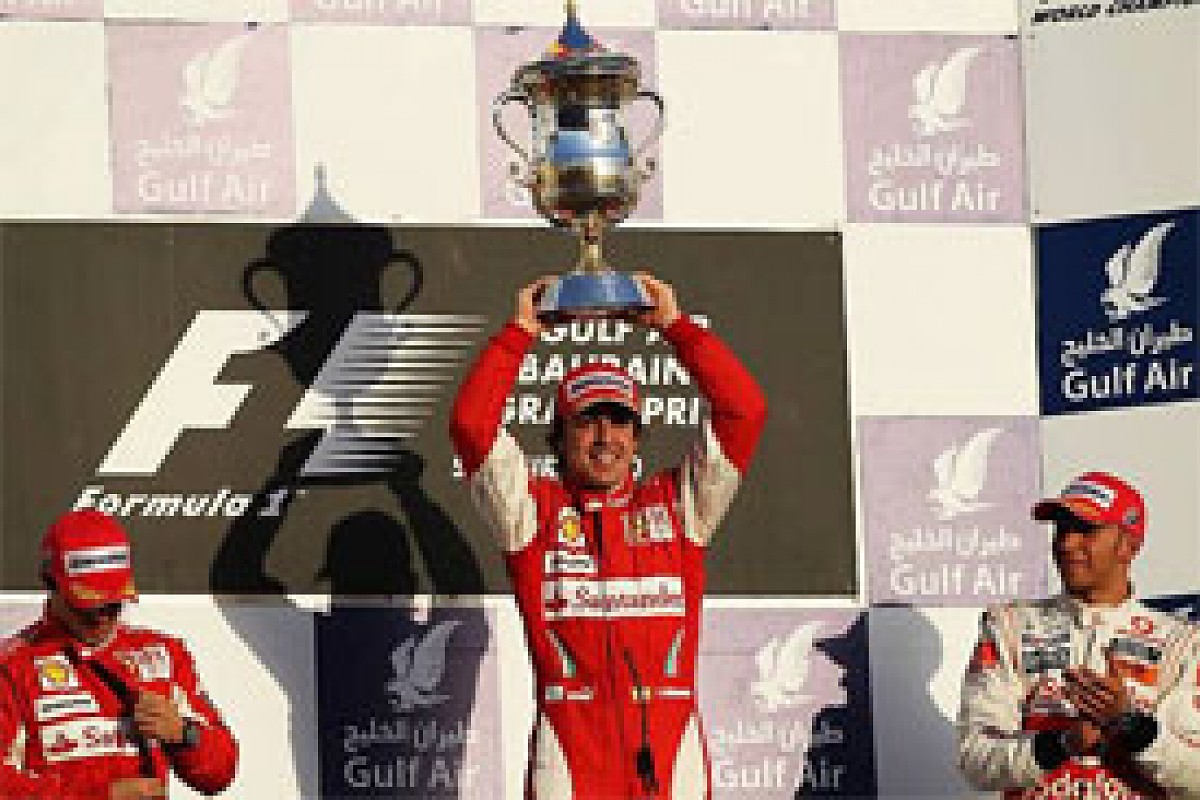 Felipe Massa, Fernando Alonso, and Lewis Hamilton on the Sakhir podium © Sutton
Things were pretty static behind too: Tonio Liuzzi and Rubens Barrichello got into ninth and 10th at the start, and that's where they still were 49 laps later, becoming the first people to take points for those positions in F1 as the new scoring system took effect.
His tyres ruined by the first corner incident, Kubica made his sole pitstop on lap 12. Some startling lap times immediately afterwards helped him gain a little ground, but ultimately 11th would be the limit of his comeback. His lap one nemesis Sutil was 13s further back, and comfortably ahead of Jaime Alguersuari - the only Toro Rosso driver to reach the chequered flag as late electrical problems halted Sebastien Buemi.
Also unable to finish were the Sauber duo, who both hit hydraulic problems, and Renault's Vitaly Petrov, who made a great start to run 11th but later parked with a suspension issue. Fellow rookie Nico Hulkenberg narrowly avoided the first corner mess then had a solo spin two laps later, leaving him 14th at the end of the race.
Before the race there had been as much intrigue over the new teams' chances of completing 49 laps as there had been over the four-way battle at the front. And as testing had hinted, it was Lotus that lasted the distance. Heikki Kovalainen came home 15th, and admitted he would have to get better at being lapped having shipped too much time with excess politeness in Bahrain, with Jarno Trulli nursing a hydraulic problem at the end and classified 17th behind late retiree Buemi.
Virgin's Lucas di Grassi and Hispania's Karun Chandhok both lasted less than three laps - yet more hydrualic problems hitting the Brazilian, and the Indian crashing on a bump he reckoned he would have anticipated had he managed more than a handful of pre-race laps. His team-mate Bruno Senna dropped out with an overheating car on lap 17, just after gearbox issues halted Virgin's Timo Glock, who had passed Kovalainen to take the lead of the unofficial newcomers' class shortly beforehand.
RACE RESULTS

The Bahrain Grand Prix
Bahrain International Circuit, Sakhir, Bahrain;
49 laps; 308.405km;
Weather: Sunny.

Classified:

Pos  Driver        Team                       Time
 1.  Alonso        Ferrari                    1h39:20.396
 2.  Massa         Ferrari                    +    16.099
 3.  Hamilton      McLaren-Mercedes           +    23.182
 4.  Vettel        Red Bull-Renault           +    38.713
 5.  Rosberg       Mercedes                   +    40.263
 6.  Schumacher    Mercedes                   +    44.180
 7.  Button        McLaren-Mercedes           +    45.260
 8.  Webber        Red Bull-Renault           +    46.308
 9.  Liuzzi        Force India-Mercedes       +    53.089
10.  Barrichello   Williams-Cosworth          +  1:02.400
11.  Kubica        Renault                    +  1:09.093
12.  Sutil         Force India-Mercedes       +  1:22.958
13.  Alguersuari   Toro Rosso-Ferrari         +  1:32.656
14.  Hulkenberg    Williams-Cosworth          +     1 lap
15.  Kovalainen    Lotus-Cosworth             +     1 lap
16.  Buemi         Toro Rosso-Ferrari         +    3 laps
17.  Trulli        Lotus-Cosworth             +    3 laps

Fastest lap: Alonso, 1:58.287


Not classified/retirements:

Driver        Team                         On lap
De la Rosa    Sauber-Ferrari               30
Senna         HRT-Cosworth                 18
Glock         Virgin-Cosworth              17
Petrov        Renault                      14
Kobayashi     Sauber-Ferrari               12
Di Grassi     Virgin-Cosworth              3
Chandhok      HRT-Cosworth                 2


World Championship standings, round 1:                

Drivers:                    Constructors:             
 1.  Alonso        25        1.  Ferrari                    43
 2.  Massa         18        2.  McLaren-Mercedes           21
 3.  Hamilton      15        3.  Mercedes                   18
 4.  Vettel        12        4.  Red Bull-Renault           16
 5.  Rosberg       10        5.  Force India-Mercedes        2
 6.  Schumacher     8        6.  Williams-Cosworth           1
 7.  Button         6       
 8.  Webber         4       
 9.  Liuzzi         2       
10.  Barrichello    1       
         
       
All timing unofficial

Lap-by-lap as it happened on AUTOSPORT Live
TEAM BY TEAM
McLaren
Things didn't look too bad after practice, but once into qualifying it becomes clear that McLaren is not a victory contender in Bahrain. Hamilton is fourth on the grid, but a second off pole, while Button only manages eighth.
Hamilton attacks Massa for third on the first lap, runs a little wide doing so and loses fourth to Rosberg. He remains stuck behind the Mercedes until the pitstops, where he jumps ahead and thereafter runs close to the leaders' pace, eventually picking up third from the slowing Vettel.
Button gets past Webber for seventh in the pits and stays there, closely sandwiched between Schumacher and the Australian.
Mercedes
Quick practice times, including the fastest time of all on Friday afternoon, hint at a good weekend ahead for Rosberg, who has a slight edge on Schumacher in every session.
Having predicted a challenge for pole, the younger German is a little disappointed with fifth on the grid, two places ahead of his team-mate.
Rosberg gets ahead of Hamilton for fourth on the first lap of the race, loses the place again in the pits, then has a quiet run to fifth, unable to pass Vettel at the end. Schumacher finishes sixth, with Button and Webber on his tail.
Red Bull
Vettel has brake problems on Friday but unleashes his true pace in qualifying and takes pole with ease. Webber also loses practice time to mechanical problems, in his case a driveshaft issue, and a less than perfect Q3 run leaves him sixth on the grid.
Vettel leads the race from the outset, pulling away from the Ferraris at first. Alonso later reels him in, but the German looks comfortable up front until a spark plug problem saps his engine power. Nevertheless he still nurses the car home for fourth.
Webber loses out to Schumacher on lap one, is jumped by Button in the pits, and chases the pair home in eighth.
Ferrari
A perfect start to Ferrari's resurgence sees Alonso leading Massa home in a one-two finish.
The duo qualified second and third, with Massa ahead, then had a scare when abnormal data traces convinced the team to change both their engines before the start.
No gremlins in the race though, as Alonso gets in front of Massa on lap one and they then pursue Vettel until the Red Bull's engine problem lets them into the lead. With Massa having to save fuel, Alonso secures a commanding win.
Williams
Hulkenberg has a good first day and ends up sixth in second practice. Barrichello is less lucky and spends much of it in the garage with an electrical problem. Saturday proves better for the Brazilian, but he is frustrated to just miss out on Q3 in 11th. Hulkenberg blames his 13th position on not getting the car set up right.
Barrichello starts the race on the prime tyre, which proves to be the less competitive option, but still brings home a point for 10th. Hulkenberg's debut is more dramatic. The German narrowly avoids getting involved in the confusion from Mark Webber's oil smoke at the start. Two laps later he spins of his own accord and damages the car. The rest of his race is spent recovering to 14th.
Renault
The team shows up to the party in practice after a quiet pre-season build up, getting a car in the top ten in each session. Kubica was third fastest of all in the first session of the season. The Pole carries this form into qualifying and promptly makes it into Q3. He's then disappointed not to place higher than ninth after making a mistake. Petrov makes Q2, but then makes a mistake at Turn 9, rendering him 17th.
Kubica's race is compromised early when Webber's oil smoke causes havoc. Sutil hits the Pole, who spins and damages his rear option tyres. Kubica pits early and completes the race on primes, just out of the points. Petrov makes the most of the melee to get up to 11th, but then runs over a kerb and damages his front suspension, forcing retirement.
Force India
Sutil delights Force India by going fastest of all in FP1 while his team-mate Liuzzi backs up that pace with seventh. By the end of practice both are still hovering around the top ten, prompting hope for the team. It's well founded as Sutil makes Q3, qualifying 10th. Liuzzi encounters traction issues and places 12th.
Sutil's race is destroyed by the blinding plume of smoke exuded from Webber's Red Bull. The German spins, collects Kubica, then recovers to 12th. Liuzzi fares much better and scores two points with a clean run to ninth.
Toro Rosso
Buemi does well to make into Q2 and qualify 17th after missing most of Friday practice with a technical issue. Team-mate Alguersuari starts 18th after making a mistake in Q1.
The Spaniard makes up for it in the race running trouble-free to 13th, one of two drivers to attempt a two-stop strategy. Buemi makes a poor start and opts for a one-stop strategy starting on the prime. The Swiss pits too late and drops several positions to 14th behind his team-mate, only to stop altogether with an electrical problem three laps from home.
Lotus
Lotus doesn't have a totally perfect run through free practice, but it's far more serene for Kovalainen and Trulli than for their new team rivals. While they have reliability, Virgin still seems to hold a slight edge on pace, and they line up just behind Glock on the grid.
Kovalainen has a hard-fought battle with Glock early in the race before the Virgin retires, after which the Lotus driver's only problem is that he is too keen to avoid baulking the leaders and therefore loses a lot of time getting out of the way to be lapped. He reaches the flag in 15th.
Trulli goes off avoiding the first corner mess and later has to slow with hydrualic problems. He takes 17th place, with the double finish delighting the team.
Hispania
It takes the team nearly all the first practice session to get Senna's car out, but the Dallara finally turns a wheel near the end and the Brazilian manages three installation laps. Chandhok is not so lucky and could not leave his garage until qualifying, his car having several problems that the team could not fix in time.
Senna gets more running ahead of qualifying, where the Brazilian finishes less than 10 seconds off the pace. Chandhok, meanwhile, finished not so far behind his team-mate after his first seven laps in the car.
The race was short for the Indian, who was caught out by one of the big bumps in the middle sector, crashing before the end of lap two. Senna takes the start from the pitlane and manages a decent 17 laps before his radiator runs out of water and overheats the engine enough to force him to retire.
Sauber
The pre-season testing promise seems to disappear as soon as Sauber hits the track in Bahrain. The team doesn't look remotely competitive at any stage of the weekend, and hopes it is just ill-suited to Sakhir's nature, while admitting it has a lot of work to do.
De la Rosa and Kobayashi start from 14th and 16th respectively, and run in the midfield until both retire with hydraulic problems.
Virgin
The team continued with the reliability problems that blighted its pre-season testing, with neither Glock or di Grassi enjoying significant track time. Glock's best practice session sees him complete 10 laps, although that didn't stop the German from being the best of the newcomers in qualifying.
Di Grassi has a similar weekend and can only complete a timed lap in second practice, being constantly hit by hydraulic fitting failures. He still qualifies within a second off Glock, but his race lasts just two laps, the Brazilian succumbing once more to hydraulic issues.
Glock is looking good in the race, but his gearbox fails after 16 laps and Virgin is the first of the new teams to start packing.