Bahrain personal scorecard
• Jenson Button's history in Bahrain has been a healthy mixture, with three points finishes and three retirements. Last year's race winner has also accumulated a third and a fourth, but has equally been put out of action via mechanical or driver error. Never a pole sitter, the best Button has attained to date is a third, back in 2006.
• Lewis Hamilton's Bahrain history is just as unpredictable as his new team-mate's. Hamilton's best result came in his debut year. In 2008, his race was marred by a poor start and a collection of costly mistakes. Last year marked an improvement, with a fourth placed finish.
Michael Schumacher won the augural Bahrain GP in 2004 © LAT
•
Michael Schumacher's
efforts in Bahrain comprise two poles, a win and a fastest lap. Schumacher won the inaugural race in 2004, while in 2005 he fell victim to a hydraulic failure. He was second in 2006, beaten by Alonso in the second round of pit stops.
•
Nico Rosberg's
2006 result of seventh is his best in Bahrain, which is not to be sniffed at considering contact at the start put him at the very back of the field on lap one. Nico climbed to seventh and in the process scored the fastest lap in his debut race, making him the youngest driver to post a fastest lap, a record that still stands.
•
Sebastian Vettel
was an impressive second last year behind Button, having put the car on row two in qualifying. Unlike 2008, when he failed to complete a single race lap after a contact in Turn 1.
• Sixth place is the best result for
Mark Webber
. Given Red Bull's form last season, you could expect more from the Aussie. But traffic in qualifying meant he was down the grid in 18th place, with him finishing 11th.
• Back-to-back victories in Bahrain are commonplace in the Ferrari team,
Felipe Massa
notched up victories in 2007 and 2008. Last year, contact with team-mate Raikkonen cost him his front wing and chances of a triple, finishing a lowly 14th.
• Winner in 2005 and 2006 with Renault,
Fernando Alonso
has seen his fortunes change in Bahrain over the last three seasons. Alonso has only able to score two points finishes since. Since starting from pole in 2005 he has consistently qualified in the top 10.
•
Rubens Barrichello
has seen less fortune at the Sakhir circuit. In 2004 he came home second behind Schumacher, before entering a points drought that lasted until last year when he finished fifth.
•
Robert Kubica
, a three-time starter in Bahrain, had his best result in 2008 - a third place and his first pole position on the same weekend are the highlight amongst sixth and 18th place finishes.
• Over the same period as Kubica,
Adrian Sutil
hasn't been able to qualify better than 19th last year. Sutil is yet to finish any better than his 15th place, back in 2007.
• Last year,
Jarno Trulli
started from pole, but the wrong tyre strategy resulted in a third place finish. His best result here is was a second place back in 2005. Trulli is usually a strong contender in Bahrain, only failing to score in 2006.
• By contrast,
Heikki Kovalainen
has only been able to finish in the points only once in his outings at the Sakhir circuit. He was fifth in 2008 after starting from the same grid spot. In both 2007 and 2009 he fell outside the top 10.
•
Timo Glock
was impressive at his last outing in Bahrain, putting the car on pole and leading through the early stages of the race. However, a poor tyre choice, which resulted in him using the prime tyre ended in him slipping down the order to his finishing place of seventh.
•
Pedro de la Rosa
is a one shot wonder in Bahrain. His only outing was in 2005, when he substituted Juan Pablo Montoya in the McLaren. He managed an impressive fifth posting his first and only fastest lap.
Team performances in Bahrain
• BMW Sauber has only managed to climb onto the podium in 2008, when Kubica came home in third. In 2006 and 2009 it was unable to crack the top 10, reaching 12th in 2006 and 18th last year.
• Ferrari has accumulated three victories here, with the last coming in 2008. 2005 marked a low for the team, with Schumacher retiring and Barrichello only able to bring the car home in ninth. With the exception of 2008, Ferrari has always managed to put a car on the front row.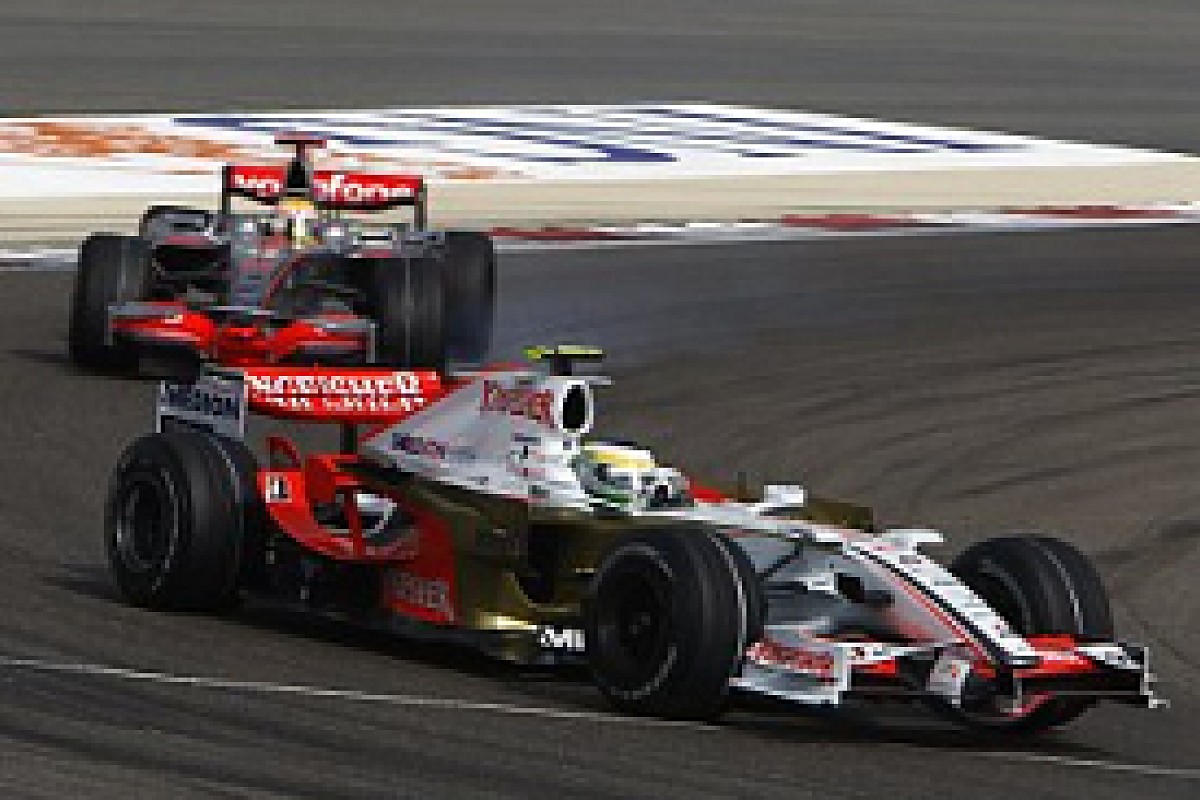 Giancarlo Fisichella finished 12th, ahead of Lewis Hamilton, at Sakhir in 2008 © LAT
•
Force India
has yet to record a top 10 place in qualifying or the race in Bahrain. Its best result came in 2008 with Fisichella coming home in 12th place.
•
McLaren
is yet to record a victory in Bahrain and has been absent from the podium since Hamilton's second place back in 2007. The 2007 season was McLarens only front row start at the circuit.
•
Red Bull
notched up its best result last year with a second place. Before 2009, the team hadn't been able to climb on the podium, as prior to this its best result was seventh in 2008.
•
Renault
celebrated victory with Alonso both in 2005 and 2006, but in its last three outings it has only been able to hit the low points with a eighth place in 2007 and 2009, by Fisichella and Alonso respectively.
•
Toro Rosso
has had a series of bad results since its impressive debut year. 2007 and 2008 both resulted in DNF's and in 2009 the team was only able to get into the low teens in terms of places.
•
Williams
is the opposite to the Toro Rosso, achieving a points placing four times out of six. Williams best result was sixth in both 2005 and 2006 by Webber.
And if you like superstition
• The winner of the Bahrain GP has been crowned champion four times out of six (2004, '05, '06 and '09). Felipe Massa's '07 and '08 victories are the only times the race winner didn't become world champion at the end of the year.
• Over the last two races in Bahrain, the pole-sitter did not win the race, in each instance, Kubica and Trulli ended the race in third.
• The only reigning world champion to set pole was Schumacher back in '04.
• Three drivers set their first fastest lap in Bahrain; De la Rosa in '05, Rosberg in '06 and Trulli last year.